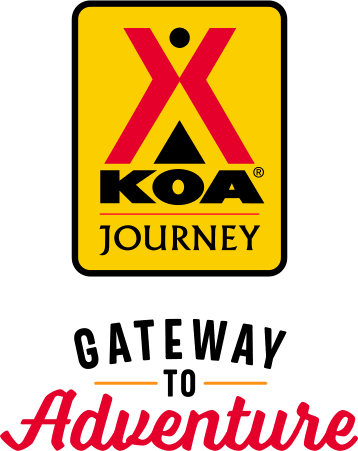 KOA Journey Campgrounds
KOA Journey campgrounds are the perfect oases after a day on the road. Whether it's along the way or a quick getaway, they've got you covered. Located near the highways and byways of North America with long Pull-thru RV Sites, they deliver convenience to the traveling camper. Pull in, ease back and take a load off.
KOA Journeys Feature:
Pull-through RV Sites with 50-amp service
Premium Tent Sites
Well lit after hours check-in service
Directions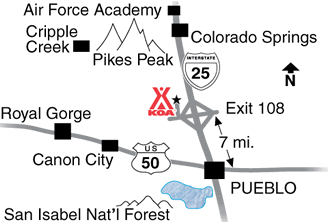 7 miles north of Pueblo at Exit 108. Take road next to Southbound exit ramp. Exit 108 has a tunnel under the highway that is 13'3", please call us if that will be a challenge, we will be able to help you with an alternate route.  Do not rely on GPS to find us.  Call or use these GPS coordinates: N38.40952, W104.61642
Get Google Directions
Jan 06, 2023
Friendly staff willing to help
Dec 22, 2022
The people where not helpful and they over charged you for everything the place is all bad I would not stay there again ever and if you have kids I would not stay there they let anyone in I was Harassed by several different men working on the roads in Pueblo West I was scared for my life at night
Dec 20, 2022
the workcamper and his wife were wonderful and welcoming. The improvements are nice but hopefully the rocks are temporary that line the streets and campsites. As a camp host myself, I can tell you they will constantly be moved and rearranged by campers to suit their needs. Opt for bulkheads perhaps or split rail between the sites? I would return.
Dec 19, 2022
Great campground with a wonderful staff.
Dec 18, 2022
A very friendly and accommodating staff. Clean and level groomed site. A large enclosed clean dog run. We stayed one night on our way to Denver in December. Heated hose bib and clean restrooms and showers.
Dec 07, 2022
Very friendly and efficient staff.
Dec 05, 2022
This review has been removed by KOA due to profanity.
Dec 05, 2022
Staff was very helpful providing information re mobile rv mechanics and rv supply stores.
Nov 29, 2022
Best place to stay at Pueblo, Colorado!
Nov 25, 2022
amazing staff as always! Love this KOA!
Nov 14, 2022
Stayed here many times. I never have any complaints.
Nov 11, 2022
This is a nice property. The rest rooms are under renovation which would have been helpful information, as the temporary facilities were always occupied. The cabin was clean and cozy, and employees were friendly.
Nov 09, 2022
This review has been removed by KOA due to profanity.
Nov 09, 2022
Great Building a new shower!!
Nov 08, 2022
Very friendly staff. The front desk is exceptional with their service and care for the customers. The young pizza lady and the blonde that work the front desk are very friendly, warm and welcoming. I'll be back!
Nov 08, 2022
Staff was very accommodating and welcoming! Turns are a little tight for a 40' 5th wheel, but Joe did a great job escorting me safely to my site. The campground was very clean. I enjoyed my stay and would stay again.
Nov 07, 2022
Nice facility. Close access to I-25. Staff was friendly and helpful.
Nov 04, 2022
Nice size sites. A little noisy from the highway traffic Staff very friendly and helpful
Nov 04, 2022
Loved Frank and Barb's customer service and appreciated their help!
Nov 03, 2022
Staff very friendly and helpful. Did not like the rocks, dirt and dust .
Nov 03, 2022
Sites are laid out poorly and there is too much dirt and not enough gravel. Sewer dumps are too far to the back of the rig. Way too expensive for what they have to offer.
Nov 02, 2022
Very accomidating staff. A well run park.
Oct 31, 2022
Love this place The staff has been great and the facility is great. Only downfall is it is near the freeway so you do get occasional light freeway noise.
Oct 31, 2022
bad bathrooms, should have been told that the normal restrooms were closed and had portable ones
Oct 29, 2022
Good stay except for temporary bathroom.
Oct 26, 2022
It was a great place to relax while visiting Pueblo and to forget about the weather for a couple of days.
Oct 24, 2022
We stayed here a full 2 weeks as we were visiting family. I have to say this was one of the best KOA's ive ever been to. The staff was wonderful, the sites were well groomed and each of the staff going around daily were extremely helpful! We will stay here again for sure!!
Oct 23, 2022
the little cabin worked perfect for our week stay
Oct 23, 2022
It was very clean
Oct 21, 2022
Been here a couple times always pleasant and comfortable.
Oct 18, 2022
The stay was ok except the bathroom and showers were terrible, they were temporary, because they were remodeling, but 2 showers and 2 bathrooms for the whole campground that is unexceptionable, and the shower curtains were to short and the bathrooms were underwater when you were done showering.
Oct 18, 2022
A Colorado desert oasis. A little noisy due to freeway traffic and trains, but a nice place to stay. The office staff are awesome.
Oct 17, 2022
The first time they said the kitchen was open, when I got there it was closed. Wish they had told me when it closed I would have gone shopping for food. Second time they were renovating the bathrooms, both at the same time, men and women's. The alternative was to shower and clean up in a trailer that had only 2 bathrooms for a campsite and very small. The grounds were clean though.
Oct 17, 2022
Very nice staff. Campsite was large enough to fit our 35' camper and Yukon. Nice trees and store. Pizza and ice cream at camp store!
Oct 16, 2022
All we can say is EXCELLENT!
Jan 23, 2023
Very clean and friendly people. A little expensive but that's the area.
- Robert Hanks on Google
Jan 02, 2023
Camped here back in July for one night. We had just got to Colorado on our cross country van trip, it was scorching hot, we had a small rv spot for the night but it was way too hot to camp in the van. We called the front desk and asked if one of the cabins was available, thankfully it was and for an $18 up charge we had a cabin with air conditioning for the night. We had pizza which was good and used the pool which was much needed!
- Pat Roell on Google
Nov 08, 2022
Great parked plugged in. Slept 😴
- Jerry D. Gossel on Google