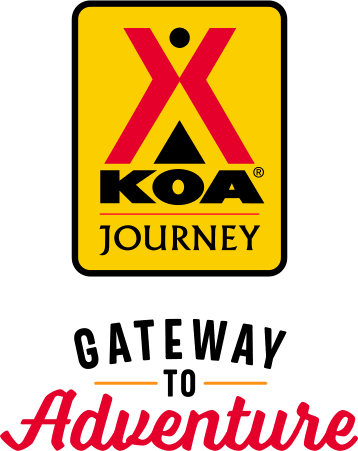 KOA Journey Campgrounds
KOA Journey campgrounds are the perfect oases after a day on the road. Whether it's along the way or a quick getaway, they've got you covered. Located near the highways and byways of North America with long Pull-thru RV Sites, they deliver convenience to the traveling camper. Pull in, ease back and take a load off.
KOA Journeys Feature:
Pull-through RV Sites with 50-amp service
Premium Tent Sites
Well lit after hours check-in service
Directions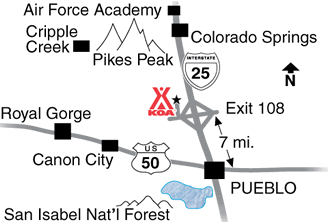 7 miles north of Pueblo at Exit 108. Take road next to Southbound exit ramp. Do not rely on GPS to find us.  Call or use these GPS coordinates: N38.40952, W104.61642
Get Google Directions
Jan 23, 2021
Awesome, clean, great staff. But need to plant trees.
Jan 19, 2021
Camp was under construction while we visited... but that didn't bother us a bit. It was quite exciting to see that the bathrooms, etc. were being updated. We hope to visit (again) when the hot tub and other fun amenities are available.
Jan 15, 2021
We needed some supplies to get or septic tank hooked up. The store hours said they were open till five my husband got there at 4:50 And the gal said we're closed , and they would not let him purchase anything even though officially the store wasn't supposed to close for another 10 minutes. And he would've had time to purchase what we needed. But on a good note, it was super clean and nice.
CAMPGROUND RESPONSE / COMMENTS:
Hi Deb, We are sorry you weren't able to get what you needed. Our store is open until 6 pm and I'm surprised that the staff didn't help. I know that we don't have a lot of inventory of RV supplies this time of year and hope it was a case of us not having what you needed. I will check into this.
Jan 07, 2021
It was very good
Jan 07, 2021
They were absolutely wonderful to work with. So kind and helped us every way they could for us to be comfortable . Rough weather ,terrible drive.. it was so good to nestle in and feel like we were at home... Even had a K—9 park which was great for our two pooches.. definitely stay again when through this area.
Jan 04, 2021
Stayed here for 15 weeks for a work assignment and had an excellent stay. We stayed in the west end of the park where we enjoyed views of the desert and Pikes Peak. Interstate and the train noise was minimal. Laundry room was always clean and washers/dryers worked wonderfully. The staff was exceptional. Appreciated that they picked up garbage and filled propane tanks at site. Would stay again.
Jan 04, 2021
Great stay on New Years Eve. Winderfully comfortable cabin. Great Bon Fire complete with Chili and Great Fireworks from Pikes Peak. Willstay here again. Friendly people. 5 stars!
Dec 29, 2020
Great campground!
Dec 28, 2020
I usually would give you all five stars I have stayed here many time over the past couple years in both cabins and at you tent sites. The last two time I have stayed in the cabin k1 and k3 there has been dog hair on the mattress covers. The last time in addition to the dog hair there was no cups for coffee in my cabin. Not to big of an inconvenience but I should have just got the cheaper cabin.
Dec 23, 2020
Our 3rd stay, like the cleanliness of the camp, the kindness shown by the staff. Will stay again.
Dec 19, 2020
It was a short overnight stop. Park is very clean. My site gravel was raked- how nice.
Dec 18, 2020
Clean campground, friendly staff and beautiful views. What more could you ask for!
Dec 18, 2020
Winter stay so it was less about amenities and more about proximity to he shower/ bath building. :-) Actually we would stay again in a heartbeat. Thank you
Dec 07, 2020
Everyone was very friendly! Clean facility
Dec 03, 2020
Everyone that works at the KOA were super friendly and helpful. And the KOA was kept very clean.
Nov 27, 2020
I love the location. It is well kept and staff are amazing. I will recommend and return for sure. I think it was better than some of the huge ones!!
Nov 25, 2020
Great as alway
Nov 13, 2020
Good location for our needs. Very clean sites and facilities. Pleasant and accommodating personnel.
Nov 11, 2020
I was screamed at repeatedly by a worker named Mike and then he chased me down in his gold cart to scream at me again. I will NEVER stay there again and will tell everyone I know to NOT go there!
CAMPGROUND RESPONSE / COMMENTS:
We apologize for you being screamed at by the owner, Mike. But he was concerned about you driving WAY, WAY over the speed limit. There are adults, children and campground cats that should not have to fear for their lives from your crazy driving. SLOW IT DOWN.
Nov 10, 2020
Very clean laundry too!
Nov 10, 2020
Lovely staff. Camp is well maintained and work is in progress to make improvements. The camp is close to the interstate so you hear road noise and trains are frequent close to the camp throughout the night. We have a big rig and it was tight getting to the camp from the off ramp. Roads within the park are tight for big rigs as well, especially if you are towing.
Nov 09, 2020
Was just for overnight but it was a very nice campground
Nov 09, 2020
Very clean and friendly.
Nov 09, 2020
The cabins we stayed in was nice and clean and was a better option compared to the hotels in the area for a similar price. The highway noise left a little to be desired. My wife had another guest label her as a "stupid person" responsible for spreading Covid, simply because she wasn't wearing a mask while BRUSHING HER TEETH.
CAMPGROUND RESPONSE / COMMENTS:
We apologize for your wife being reprimanded by another guest. We would not have done that. Why did you penalize us with a poor score for it?
Nov 05, 2020
The staff is great. The cabin and bathrooms were very clean. Nice little get away. Very very difficult to find if you come after dark. Be sure to call and get the correct directions. My GPS has no idea what to do. Once you figure out where the street is, it's easy. Would stay there again.
Nov 04, 2020
Everything was great!
Nov 04, 2020
We were only there one night. But it was fine.
Nov 02, 2020
Awesome campground! Friendly hosts and staff. Will definitely visit again!
Oct 30, 2020
Amazing customer service, precise instructions and very welcoming. Tent/RV site was clean and gravel was evenly raked. Bathroom and laundry was clean and well maintained. I would visit again if traveling in Colorado in the future.
Oct 28, 2020
This is our favorite place to stay! They have made some wonderful improvements to the campground. Close to all the sights
Oct 26, 2020
Awesome!! The view was great.. would have been better without clouds since it faces West. I bet it has beautiful sunsets. Very clean. Very comfortable. It was quite cold so the only thing that would have made it better is to have had the heat turned up before we got there. Loved it!!
Oct 26, 2020
We were given a MUCH bigger lot than expected and we were thrilled!
Oct 26, 2020
Lovely place, very friendly employees. The kids loved the handcarts, they were fun. Have to come out again when we get another chance to go camping
Oct 26, 2020
Nice and clean! Big sites!
Oct 23, 2020
Would have liked better internet
Oct 22, 2020
Showers a little cramped. Otherwise nice convenient.
Oct 21, 2020
The hosts were friendly and very helpful
Oct 21, 2020
We were pleasantly surprised by this park. We've driven by it so many times, decided to give it a try. They have made many improvements to the park and it looks nice. Only downside is the wifi, it was hit and miss and generally couldn't use it. Otherwise was very happy with the accommodations.
Jan 01, 2021
Very nice place to stay by stayed in cabin for New Year's Eve it was very nice. This park is very well kept and the people are very nice here. Very welcoming. They had a very nice bonfire for New Year's Eve. Watched the fireworks from Pikes Peak and had chili. I will stay here again😁
- Ryan Wilcox on Google
Dec 07, 2020
Clean park friendly service
- Denise E Ortiz on Google
Oct 10, 2019
Nice camp ground centrally located and the amenities you could want.
- Jessica Nation on Google