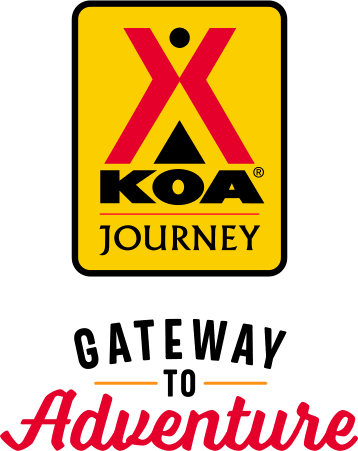 KOA Journey Campgrounds
KOA Journey campgrounds are the perfect oases after a day on the road. Whether it's along the way or a quick getaway, they've got you covered. Located near the highways and byways of North America with long Pull-thru RV Sites, they deliver convenience to the traveling camper. Pull in, ease back and take a load off.
KOA Journeys Feature:
Pull-through RV Sites with 50-amp service
Premium Tent Sites
Well lit after hours check-in service
Directions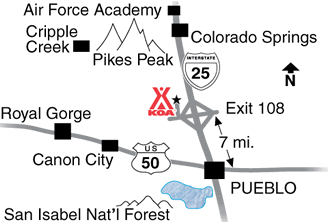 7 miles north of Pueblo at Exit 108. Take road next to Southbound exit ramp. Do not rely on GPS to find us.  Call or use these GPS coordinates: N38.40952, W104.61642
Get Google Directions
Jun 19, 2021
The place is very clean and the restrooms were very well taken care of and cleaned. The staff is amazing I recommend this place.
Jun 18, 2021
They advertise having a pool, but it was not open when we arrived. It never opened. Each time we asked, a different answer was given, saying it would be open later that day, the next morning, after lunch that same day. I believe I should be refunded because of not being advised that the pool was not open when I made my reservation. They knew it was not going to be open until 7/4/21.
Jun 18, 2021
I was there for surgery...so didn't get to play. everyone was very nice.
Jun 18, 2021
Very nice owners and conveniently located just off the I 25. We'll be back.
Jun 17, 2021
Nice campsite! Nice patio area and friendly staff who were very helpful!
Jun 17, 2021
Nice campground. Glad they had pizza and salad you could buy since there wasn't anything close. It was very good.
Jun 16, 2021
Great location for surrounding areas. Only issues with the park is the highway entrance, and we had the deluxe patio pull thru site, when leaving the park it was very tight to make the turn to leave, neighbors in front had trucks too close the road. Also delivery truck was blocking the exit we had to go around to the entrance to leave. Over all the park is great & staff is very helpful & friendly.
Jun 16, 2021
We stayed in a kamping cabin. It was exactly as described & exactly like the others I've stayed in at KOA's. There is no shade at this KOA & in the summertime, it's HOT!
Jun 15, 2021
Staff and service were excellent. We were treating this KOA as a basecamp to explore a possible move to Pueblo and it worked perfect for that. With it being stationed right by a main interstate it was quiet noisy.
Jun 15, 2021
We were there for a total of 3 consecutive months while we worked in the area. The office staff did a great job getting us re-located to the long term section of the camp when a spot came open. They also were good at letting us know when we had a package delivered. They made rounds and picked up trash and filled propane tanks several times a day. Laundry room was always clean.
Jun 15, 2021
Very friendly staff and the campground was well cared for. Even the sound of trains passing was reminiscent of wander-lust.
Jun 15, 2021
Have to clean the showers.
Jun 14, 2021
Very relaxing great customer service
Jun 14, 2021
Nice overnight stay but no pool for the children
Jun 13, 2021
Not for long term. Pool was inoperable and closed with no change in price. We did not sleep because of the interstate and loud train whistles all night.
Jun 13, 2021
Only stayed overnight. Got in late and left fairly early. Paperwork and directions were waiting for us as promised. Did not know about a busy one-way tunnel we would have to go through.
Jun 12, 2021
Campground worked with us to give extra days as we had a mechanical issue and were uncertain when we would be free to go. Very accommodating to us.
Jun 12, 2021
Very nice campground. Clean restrooms and great staff. The RV sites are slightly closer together than some other KOAs we've been to, but not obnoxiously so. Nice walking areas. We already have another stay booked!
Jun 12, 2021
Wonderful stay staff was so accommodating we are s handicapped couple they made extra effort to make our stay enjoyable
Jun 10, 2021
What a JOURNEY this was, for the most part everything was very good all things considering. I have 1 CON & 1 PRO comment. Went to ask about ICE & water, but the manager, I guess, was too busy complaining to even acknowledge me until I was ready to walk out; ended up going to Walmart. Tornado watch/winds, I called & they sent help to get my tent down, into my car & the heavens opened up!!!
Jun 10, 2021
The most amazing view of Pikes Peak! Clean property & friendly staff. Deluxe cabin & private patio area was great! We will be back for sure!
Jun 10, 2021
Amazing park. Helpful staff, very clean, great views. Can't wait to stay again!
Jun 10, 2021
Nice place to spend a night.
Jun 09, 2021
The tiny pool had no water! Lots of people living there. Not much in the area to choose from is how they get your business.
Jun 09, 2021
Just what we needed for a quick overnite stay. However entrance coming from the north is a nightmare for larger rigs. Very quick u turn
Jun 08, 2021
Very nice campground. Great pizza. Glad our rv was short enough to comfortably go thru the underpass. Staff very friendly & helpful.
Jun 08, 2021
It's a nice place. The staff was great.
Jun 08, 2021
Nice amenities, but traffic noise and train noises were much more than we had expected..
Jun 08, 2021
We needed an overnight for a break on a long drive. The only reason for 4 stars and not 5 is the location to the freeway. When sitting outside it is loud. Otherwise we were very happy with our stay.
Jun 07, 2021
Our stay at the Pueblo KOA was very peaceful. The staff was very friendly and they worked hard to keep the entire area in good working condition and very clean. I look forward to our next visit.
Jun 07, 2021
Attendants were very helpful and nice! Clean restrooms and cabin was comfortable and cozy!
Jun 07, 2021
Staff very friendly and helpful!
Jun 06, 2021
Very Nice! Would stay there again!
Jun 06, 2021
We have been staying at KOAs on our RV road trip. This KOA was just ok. Staff was friendly, checkin fast & easy. Sites have easy hookup & good water pressure, wifi however is very weak. The main concern is site pads are gravel (as are some KOAs) which is annoying as you bring gravel into your RV. It rained and it was a mess. Investment in asphalt or concrete would make this KOA much better.
Jun 06, 2021
Outstanding. We especially liked having the playground right next to our cabin. Our 6 year old granddaughter loved it.
Jun 06, 2021
This is the best KOA we've stayed at from the friendly guy Rick who showed us our place, explained our private patio, to the little things they did to make our stay amazing. They told us to put our trash out before 8pm and they would pick it up throughout the day and dispose of it. If we needed propane, just put our tank out and they would fill it and add to our account. An amazing experience!
Jun 06, 2021
Well maintained, easy, kind of, in and out, Way to much nightly cost for just a nightly stop over, management was friendly, place was clean and offered good amenities, a little cool for the pool and the snakes were at bay.
Jun 05, 2021
Impressed with the continuing upgrade of the facilities and the staff that shows genuine concern for your satisfaction.
Jun 16, 2021
Beautiful views. Air is thin. Currently under construction. Can only make it to the top by shuttle bus.
- Michael Griesemer on Google
Jun 11, 2021
Loved the place far enough away from road you don't hear much traffic the staff is wonderful I will stop there every time I get through there
- Joe B Bean on Google
Jun 09, 2021
Nice campground with a very understanding staff. I snapped a lift cable and the staff was very helpful helping me resolve the issue. The Cortez/Mesa Verde KOA on the other hand hit me with a $20 fine for departing a spotless campsite and we were only 90 min past checkout time.
- Christopher Mooney on Google