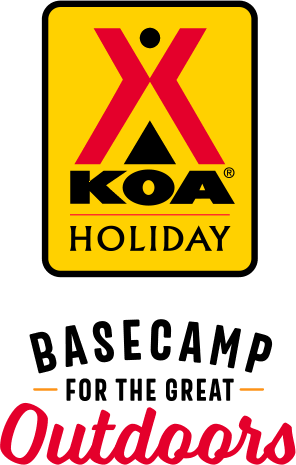 KOA Holiday Campgrounds
Whether you're exploring the local area or hanging out at the campground, KOA Holidays are an ideal place to relax and play. There's plenty to do, with amenities and services to make your stay memorable. Plus, you'll enjoy the outdoor experience with upgraded RV Sites with KOA Patio® and Deluxe Cabins with full baths for camping in comfort. Bring your family, bring your friends, or bring the whole group – there's plenty of ways to stay and explore.
KOA Holidays Feature:
RV Sites with a KOA Patio®
Deluxe Cabins with full baths
Premium Tent Sites
Group meeting facilities
Directions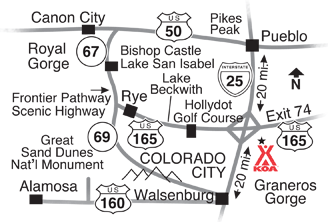 Take Exit 74 E: go east over 1-25, then 900' south.
***PLEASE DO NOT USE A GPS TO FIND US AS IT WILL TAKE YOU OFF I-25 AT THE WRONG EXIT.***
BACK UP PHONE IS (719) 404 - 4448
Get Google Directions
Jul 23, 2021
Great facility,Beautiful setting. Lots to do. Would suggest a KOA sign at the top of the off ramp going south on I- 25
Jul 23, 2021
It was clean, neat and quiet. We would stay here again.
Jul 23, 2021
User friendly campground, easy to park with pull-through slots. We advised during booking we would be a late arrival, nice lady called late afternoon and asked our ETA, she kindly walked us through what to do upon arrival. Seamless, exactly as she stated, a quiet night's sleep. Thank you!
Jul 23, 2021
The cabin was a nice size, the drains didn't drain so we ended up using the main bathrooms to shower. Also, the a/c was exceptionally loud. Bed was very soft and the linens did not fit on the bed. Pillows were flat as pancakes so bring your own. Mini golf course was full of weeds and needs some tlc, like new cups. Pool was great. Despite all those things, the staff was nice and always friendly.
CAMPGROUND RESPONSE / COMMENTS:
If you would have let us know about the drains we could have fixed it right away. Haven't had any issues with it. Not sure why you had problems with the linens, haven't had any issues with it or the pillows.
Jul 22, 2021
We are a RV club and very much enjoyed our visit.
Jul 22, 2021
Very nice peaceful campground. The area was clean.
Jul 21, 2021
This campground is awesome! We stayed May through July for work. Everyone was friendly and helpful the entire time. Facilities were clean and well maintained. The water, power, and wifi were all great. They have fabulous views of the Greenhorn mountain range. The local area is awesome as well. The The three sisters and Bolt will keep you well fed, and there is fuel less than a mile away!
Jul 21, 2021
Nice park. Well kept. The staff has been amazing! Friendly and very helpful. My husband had a medical emergency and the staff has been extremely valuable in this situation. I can't thank them enough for all their help.
Jul 20, 2021
good park, very clean and well run, but compared to others that were full a bit expensive. If other parks are open when traveling through the area I will stay elsewhere.
CAMPGROUND RESPONSE / COMMENTS:
Well we hope that the other parks are not full when you come back thru, so you can stay there instead.
Jul 20, 2021
This KOA is well staffed yet no one seems to know what's going on. The staff is not accommodating and or willing to make the stay memorable. Skip this KOA and go somewhere else.
CAMPGROUND RESPONSE / COMMENTS:
When we have a full park we can't move your last minute reservation to a different site just to please you. So please stay elsewhere next time.
Jul 19, 2021
Need more trees and additional waste container. WiFi great. Kid activities and pool good. Well maintained facilities.
Jul 19, 2021
Stayed in a cabin. Cabin was clean , quiet area ,staff was friendly. We visited family in Pueblo so was gone most of the time. Will stay here again next time we are in the area
Jul 19, 2021
Excellent as always
Jul 19, 2021
Friendly staff and very clean areas.
Jul 19, 2021
Quick stay but clean and comfortable!
Jul 19, 2021
I was disappointed to be led to a camper parking lot with NO TREES. Other parts of the campground had trees but the larger rigs (and group area, I assume, since my rig is not large)were in a field. Please plant trees for the future of your campground. Yes, you're in the high desert, but you're watering your grass so the trees could grow as well. Otherwise, staff was great, amenities were good.
CAMPGROUND RESPONSE / COMMENTS:
We have tree's in a lot of our park. The sites you were put into was our satellite friendly sites so we will not plant tree's there. Sorry you were not satisfied. Hopefully you find a park that meets your requirements.
Jul 18, 2021
Pool needs a heater
Jul 18, 2021
Absolutely great place to stay!! Staff here are the best!! Clean facilities, beautiful surroundings! Wish we could of stayed longer!! We definitely will be back!
Jul 18, 2021
Too many aggressive dogs
CAMPGROUND RESPONSE / COMMENTS:
Aggressive dogs? Please fill us in. If you are talking about the incident with the child walking a dog, that was not aggressive at all yours caused it and then making threats with a gun is not ok. Do not return to our park!
Jul 17, 2021
We had wonderful stay and will definitely be back.
Jul 17, 2021
We were only there for one night but it was a very positive experience.
Jul 16, 2021
Love staying here. Convenient close to highway and nice spots. Definitely be back.
Jul 16, 2021
Great friendly staff. Clean campground and facilities. Easy to access.
Jul 15, 2021
Sites are a little to tight, close together. Came in a little late in the day and most things were closed.
Jul 15, 2021
We needed an overnight spot. This camp was very accommodating. Very clean, well-kept. Looked like a great team was working to keep the grounds tidy and campers happy.
Jul 15, 2021
We have stayed at both Pueblo KOA campgrounds the south KOA has many more amenities, is easier to access from the highway, and is better maintained. Staff we're courteous and helpful during our stay. Will definitely visiting again.
Jul 14, 2021
Nice place with grass and trees. Cable was nice to have after a long day on the road. Staff was helpful and friendly. Utilities worked well.
Jul 13, 2021
Wide open, beautiful view and one of the prettiest sunsets I've seen in a while. It was a great place to recharge after a couple of long drives. Staff was helpful and obviously took pride in their park. Nice level sites, easy access...trees would have made it perfect! Thanks for the nice stay.
Jul 13, 2021
Great experience
Jul 13, 2021
Nice place to stay, good restaurants near by. However the price for one night was to high, $59. That was the highest I have ever paid for a KOA stay. Should be ~ $40/night.
Jul 12, 2021
Comfortable and relatively quiet. Met some nice people during our stay. This includes the office staff.
Jul 12, 2021
Great RV spot great views no problems while I stayed for two weeks
Jul 12, 2021
Only stayed one night but campground and facilities were very clean and nice.
Jul 12, 2021
Was a very nice place friendly! Do wish we could've locked door on covered wagon made our sleep uneasy worrying
Jul 11, 2021
Great view, kind people.
Jul 11, 2021
Had a wonderful time! Will be back again!!
Jul 10, 2021
I enjoyed my stay very much. Staff was very friendly and helpful. It's a nice size camp ground; not too big and not small. I was there over 4th of July and although the camp ground did not do anything special, you could see fireworks all around. I liked that it was away from any big cities. The camp sites were a little close.