Pueblo South / Colorado City KOA Holiday Recreation
We have many activities to choose from around the campground, from Mini Golf, horse shoes, hillbilly golf, basketball, volleyball, and Frisbee golf - something for everyone to enjoy. We have weekend Ice cream socials to enjoy during the summer months. You can even take a stroll on our walking trail around the park or feed the gold fish in our small pond.
Ice cream Socials (May through mid-October)
Join us at the  Social Hall for our Ice Cream Socials. Enjoy  ice cream sundaes while you socialize with your fellow campers! This is offered most weekends. You get to choose your own toppings to go on your ice cream.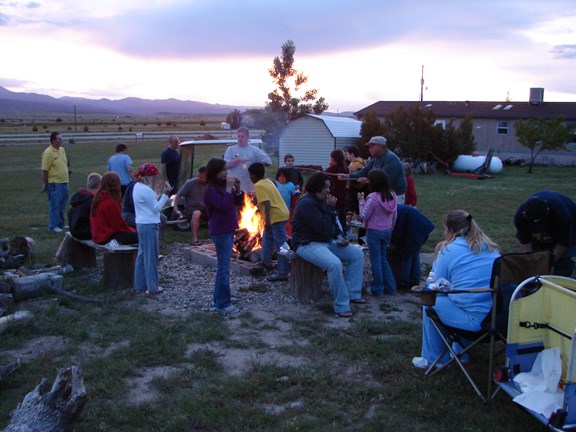 CAMPGROUND ACTIVITIES
Enjoy our heated pool (open May 1-Sept. 30) or Hot Tub (open year round)

Work out in the fitness center

Play a game of mini-golf

Don't miss the BBQs and breakfast (during certain weekends)

We have the facilities and provide equipment for horseshoes, hillbilly horseshoes, croquette, Frisbee golf, basketball, and volleyball

OR, just relax in the shade of your campsite or one of our park areas, and enjoy incredible views of the Rocky Mountains. Located in the Greenhorn Mountain Valley, the campground is a great place to escape the big city surroundings to a quiet mountain atmosphere. Spring, summer and fall days are warm to hot, but evenings are always cool and enjoyable. Don't miss our gorgeous evening sunsets and nightly light shows with a 360 degree view of the stars.
- We do breakfast and dinner on most holiday weekends and on a request from large groups!
We welcome groups and reunions, and offer the use of our covered pavilion or indoor social room to hold your own activities. SERVED BREAKFASTS (May through mid-October)
On holiday weekends and while groups are here, you can enjoy our cooked-just-for-you Pancakes, Belgian waffles, French Toast, or Biscuits and Gravy, all served with bacon or sausage, tropical fruit, assorted juices and hot coffee. We also do breakfast on request by large groups.
BBQs, DINNERS AND CAMPGROUND POT LUCKS (May through October)
We offer dinner/ BBQ's during our summer season on Holiday weekends and while we have groups here in the park. Our menu changes often.