Alert
SMILE, you are on vacation! The camping world is a bit different this year. Safety is our #1 priority.
Please make note of these items:

When you arrive you will be checked in by our Curbside checkin process between 1pm-6pm. Please call the number on sign in driveway upon arrival,, if phone line is busy or isn't answered, please wait a few minutes and call again. Please do not leave a message. If you will arrive after 6pm, we ask you to call us to do a pre-registration over the phone & to find out your site number.

Our washrooms, showers, pool & playgrounds are open. Our mini golf is also open and free.
Pool & mini golf hours are 10-6pm daily.
Bring your own basketball, horseshoes, soccer ball if you wish to play in our fun field.

Please note all visitors MUST stop & call the office upon arrival. The cost is $10/adult & $5/child. Extra cars are $10/night.
Registered campers only are permitted on our grounds & all vehicles must have a car tag.

Please be patient and kind as we maneuver through this new world together.

Thank you
Team Parry Sound KOA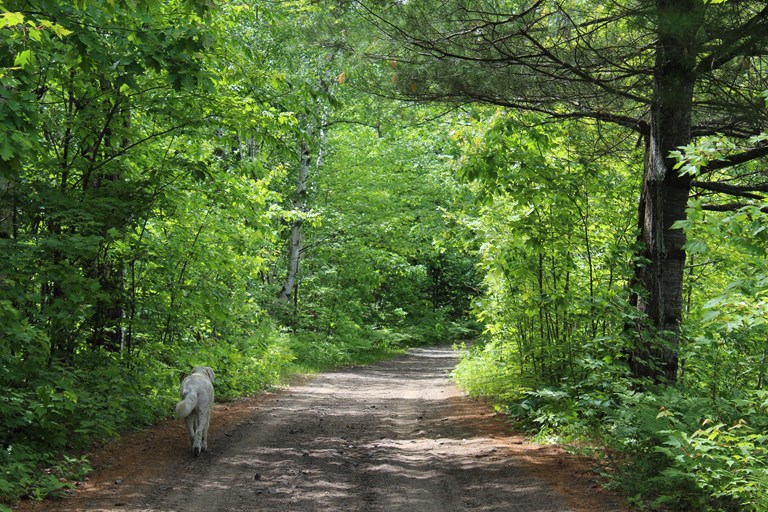 Parry Sound KOA Reviews
Directions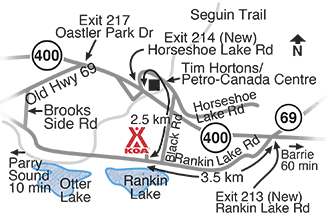 From the South: Exit 213, turn left, go 3.7 km. 
From the North or South: Exit 214, south on Horseshoe Lake Road (past the travel centre), right on Black Road, right on Rankin Lake Road go 1 km to the KOA on the right. 
**Please Note: If entering coordinates into a GPs, input Seguin, ON as city.
Get Google Directions
Aug 04, 2020
The stay was wonderful and I would come back in a heartbeat. The Wifi could of been alot better as we were close to the tower .This was the only downfall. It's a great campground and close to the atv trails and Petro Canada. Our trip was wonderful and we all had fun.
Aug 04, 2020
This was the third year we have camped at Parry Sound KOA and we have stayed for a week each time. We enjoy our time there and the out doors is so fresh. The staff is friendly and the campgrounds are well kept. We look forward to seeing you next year.
Aug 04, 2020
Omg so we'll kept clean and just plain awesome place to spend on vacation services were amazing staff was super awesome so friendly and helpful!!
Aug 04, 2020
Staff very courteous I like the way they escort you to your site and stay there with you till you are 90 percent established it was a great experience thanks to triston and his stalli
Aug 04, 2020
Great place! Super clean! Very friendly and helpful staff. :)
Aug 04, 2020
We had a good stay and the only thing that made me uncomfortable was a sermon my family heard for being in the swimming pool for 15 minutes (we had just checked in and mounted our tent). There was a lot of concern with the pool, but no concern about the amount of people in the washroom. The air hand dryer was on, and I suppose if could spread the virus very fast if someone was contaminated.
Aug 03, 2020
We really loved our time at your campground. All the staff were very pleasant and courteous. Your campground is very quiet and that is something we look for during a holiday. We will be back for sure. Sylvie Lobsinger
Aug 03, 2020
Fantastic facility! Super friendly staff... I'll be back for sure. Many thanks!!
Aug 02, 2020
Great place to stay!! Staff are crazy friendly and helpful!! 10 out of 10!!! Our family will be going back!!!
Aug 02, 2020
We had a great time , the staff super friendly and helpful The trails so close for dirt biking . The beach 3 km away was great.
Aug 02, 2020
First time here. Park was well kept. The service from the staff was excellent. Bathroom was very clean and well maintained. We will definitely return in the future.
Aug 02, 2020
Had an amazing week as usually, everyone is friendly, the park is clean & kids have a great time! Can't wait to go back!
Aug 01, 2020
we had wonderful time , great place to spend your holidays , my kids and us we love it Many thanks to the team owner of KOA , Michelle , her husband , cacy , sam , you are GREAT PEOPLE we will come back for sure , i do recommend this site
Aug 01, 2020
Service fast efficient and informative. I am used to national o� prov. Parks so the private cgs are a little busy. But that is just me. Thanks for being there when we need you!
Jul 31, 2020
Cabin was clean upon arrival and nicely situated on the hill overlooking the rest of the campground. Nice circular area for kids to bike around. It would be better if the pool opened earlier for little kids and the kids bunks were not that comfortable and quite thin. All staff were very pleasant and the little beach nearby was nice - would definitely return.
Jul 31, 2020
When we arrived at our campsite, we discovered that we were missing a roof vent. The owner Tristan came to our rescue with his ladder and climbed up and put a temporary cover on it for us. That night we had torrential rain. No leaks. Thank you Tristan you are our hero.
Jul 31, 2020
Great people and great sites
Jul 31, 2020
Great Kampground, sites were in the woods, not a clear cut area that makes you feel like you are camping in a parking lot. There are some hills, not all the sites are perfectly level so bring leveling blocks. The staff was great, overall everything was pretty good. The only detractor was the train that passes by 3x a day, and once late at night.
Jul 31, 2020
It was great and we will be back again Thanks for everything
Jul 30, 2020
I have stayed at many KOA in the time that I have camped. This park is clean, quiet, well maintained and they are amazing host. We stayed during the covid pandemic and I applauded them for all the measures they have taken to make sure that everyone stayed safe. I would and have recommended this KOA to all my friends family and coworkers. Thank you Michelle, Don and family for a great week. Lisa
Jul 30, 2020
store hour is too short and the quite policy seems not followed very well.
Jul 29, 2020
Awesome! Great hosts, fast and friendly service Felt very safe and welcomed Love love this place!
Jul 29, 2020
We loved parry sound KOA it's such a nice place & it has amazing ATV trails . Thanks for the great experience guys .
Jul 29, 2020
Cabin was extremely clean and well equipped. Staff was very friendly and helpful.
Jul 29, 2020
Very helpful staff. Very environmental conscious. Site a little awkward for hookups but neat and well maintained campgrounds. Good amenities.
Jul 29, 2020
As always site was wonderful, staff amazing. See you again in August
Jul 29, 2020
Train traffic was more than I expected but otherwise we loved it!
Jul 28, 2020
We just spent 5 nights at the Parry Sound Koa. it was incredible! Friendly staff, clean facilities, fantastic location. We had an incredible time.
Jul 27, 2020
We enjoyed the park , we would like to back in the fall people were very nice the help was truly help full. Place was neat , my wife did not like the tree roots found it hard to walk over.
Jul 26, 2020
Very clean very quiet
Jul 25, 2020
We had a wonderful 4 night stay with our granddaughter. Thank you to Don Michelle, Tristan and their team for another great stay.
Jul 25, 2020
Very nice clean park. Friendly staff. Tree coverage and clear spots for the sunshine. Internet not so good but free. No tv channels with antenna. Fire pits for evening was perfect. Beach and boat launch close by.
Jul 25, 2020
Everyone was helpful land the bathrooms were clean
CAMPGROUND RESPONSE / COMMENTS:
Thank you for staying with us and for your awesome compliments. We are trying very hard to maneuver these new times.
Jul 24, 2020
Short and sweet
Jul 23, 2020
A fantastic place to stay and visit all that Parry Sound has to offer. Of note this campground has the best wood we have ever experienced from a campground; finally someone gets it dry wood burns easier for guest. We will definitely be back sometime!
Jul 23, 2020
For the most part, it was great. On a couple of occasions I had to chase orders for wood that didn't show up. The staff is friendly and welcoming. The place is clean.
Jul 23, 2020
The interaction with staff was limited due to COVID. However, the young lady we dealt with by phone to check in was very friendly. The young man who escorted us to the site was friendly and brought is a campground map immediately when asked. We had to.eave early die to a family emergency and the campground offered to reimbure us 2 of the missed days. We are hoping to get back up there for ATVin
Jul 22, 2020
Friendly staff. They keep the park very clean and nice area
Aug 01, 2020
Great spot for ATVing with access to the trails directly from the park
- Mary Boudewyn on Google
Jul 27, 2020
Great place to visit. Very pleasant and helpful people.
- Tray Salter on Google

Parry Sound KOA
Open May 9 - October 14
276 Rankin Lake Road
Seguin, ON P2A 0B2 Canada
Check-In/Check-Out Times
Accommodations, Deluxe Cabins & Basic Cabins
Check-in: 2:00 pm, Check-out: 11:00 am
RV Sites, Tent Sites
Check-in: 1:00 pm, Check-out: 11:00 am
Get Google Directions

© 2020 Kampgrounds of America, Inc.