Tips for Camping with Your Dog at Outer Banks West KOA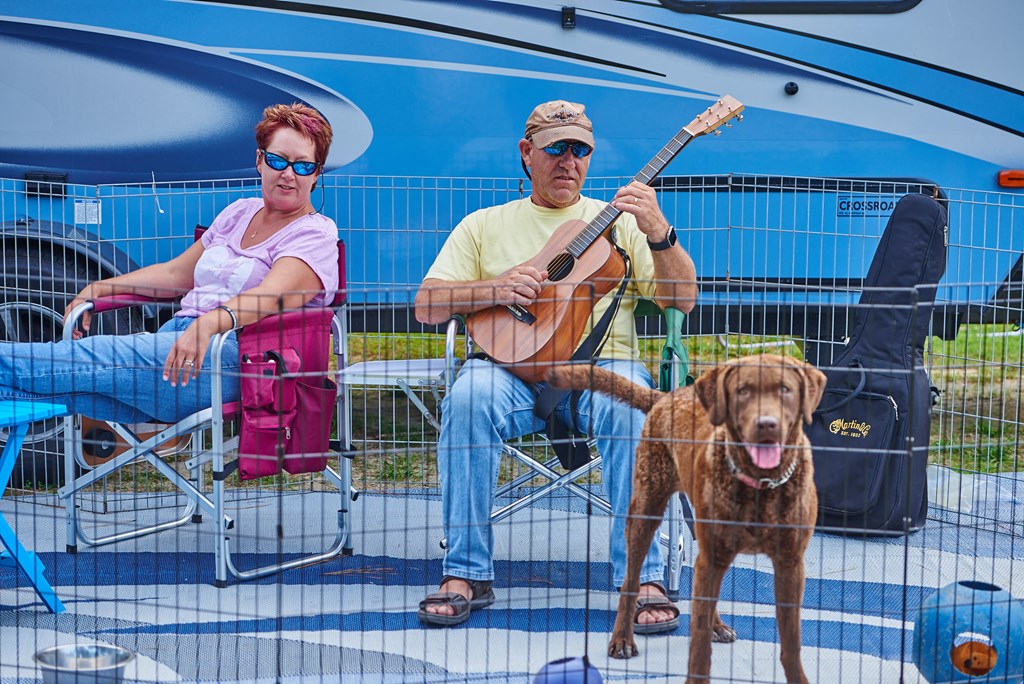 Your fur baby is an essential member of your family and that's why we try and make our campground as welcoming for them as it is for you. With no limit on pets on RV sites, pet-friendly accommodations and a roomy dog park, your pup will feel right at home.
We still want to make sure you and your doggo are prepared for a great stay at Outer Banks West KOA, so here are a few tips for traveling with your pup.
Brush Up
Before you leave home double-check that your pup is ready to travel. Make sure they are fully housebroken and brush up on their obedience skills before you hit the road.
Pack Your Documentation
Don't forget to pack your dog's rabies vaccination records and make sure they have ID tags with your address and phone number on them. You'll need to present their rabies vaccination records when you check-in.
Bring Water
Switching water sources can upset your dog's stomach. Bring bottled water with you to make sure your pup stays comfortable.
Set up Their Space
Create a space at your campsite for your dog, just like you do at home. Put out their water and food bowls, layout their bed and make a place for their toys. This will give your pup a place to settle.
Pick up Something Special
A new toy or a delicious chew is a big deal to a dog. Stop by the camp store and pick up something special for your pupper. Having something new and exciting will help distract your pet from barking or being anxious.
Be a Good Neighbor
Be a courteous camper and clean up after your pet on your site and anywhere else in the campground. Don't forget to keep your dog on a leash when they're not on your site and if your pet is barking try and calm them.
You May Also Like:
See the Wild Horses of Corolla
Outer Banks West KOA has an Abundance of Amenities