See the Wild Horses of Corolla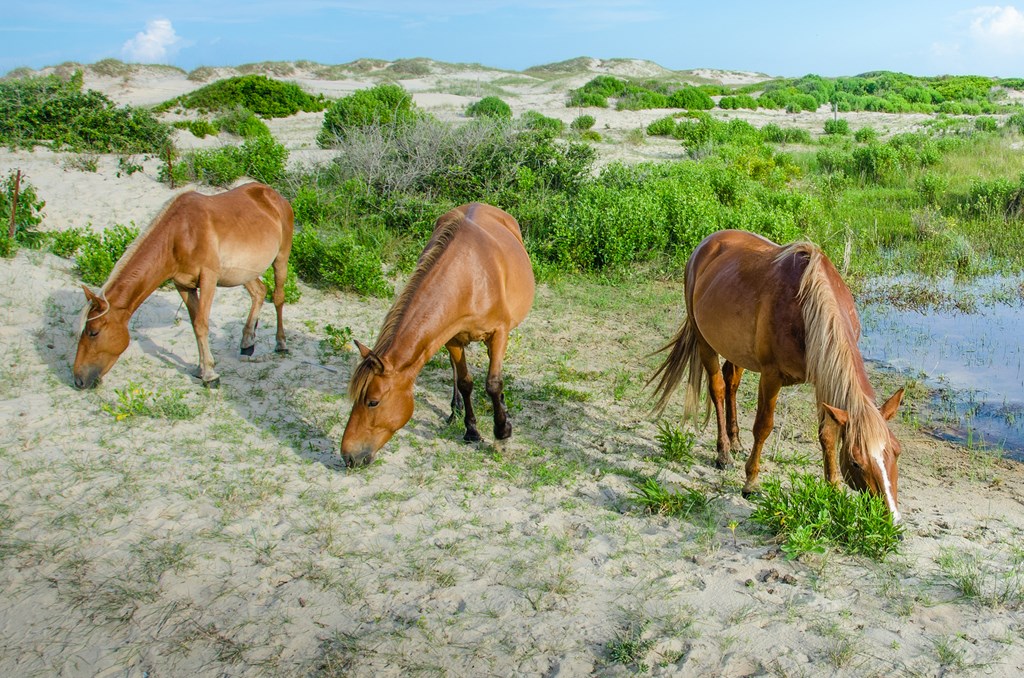 The northern beaches of the Outer Banks are home to the beautiful Corolla wild horses, also known as Banker Horses. Through tours or with a four-wheel-drive vehicle of your own you can go and see these majestic creatures, but first learn a bit about their history, how best to see them and how to interact with them.
The History of the Horses
The corolla horses are descended from horses brought to the Outer Banks by early settlers. There are rumors that some survived shipwrecks while others were left behind by failed settlements. Wild horses have roamed the beaches of the Outer Banks for more than 500 years.
In 1985 Route 12, the main highway on the Outer Banks, ended in Duck. When it was extended up to Corolla Banker Horses started to be hit by cars. In1989 the Corolla Wild Horse Fund was formed and they spent the next six years working to get permission and raise funds for a sound to sea fence and a cattle guard in the paved road and move the herd north. The Banker Horses now roam 7,544 acres, which they share with homes, cars and people.
The herd currently numbers about 100.
Stop by the Corolla Wild Horse Fund's museum and store to learn more about the horses and their history.
See the Ponies
If you want to see the wild horses you have options. You can tag along with a local guide who can educate you about the Banker Horses and the local area or you can make your own adventure by hopping in a four-wheel-drive vehicle and exploring the beaches.
Four-Wheel-Drive
If you have a four-wheel-drive vehicle you can head to corolla and seek out the Bankers on your own. The horses can be found on the northern beaches of Corolla and Carova, but you should also watch out for horses crossing Highway 12 in Corolla, especially at night.
Before you hit the four-wheel-drive area read these helpful tips and don't forget to obey all posted signs. There are no facilities on the four-wheel-drive beaches so if you want to get a glimpse of the horses and have a relaxing beach day pack supplies and make sure your gas tank is full.
Guided Tour
See the wild horses and get inside knowledge from a local during a guided wild horse tour. Bob's Wild Horse Tours is our favorite, but you can learn about more tours here.
Events
Meet rescued horses during events at the Betsy Dowdy Equine Center in Grandy, just down the road from Outer Banks West KOA.
Interacting With Bankers
Whether a wild horse wanders into your set up on the beach or you spot one crossing Highway 12, keep these rules in mind
Stay at least 50 feet away. This is not a suggestion. It's a state law. These are wild horses and though beautiful, they can be dangerous. Keep your distance.
Do not feed the horses. This is also against the law. Don't do it. No, not even apples or carrots.
You May Also Like:
The Ultimate Guide to the Outer Banks
Local Events to Check Out Near Outer Banks West KOA