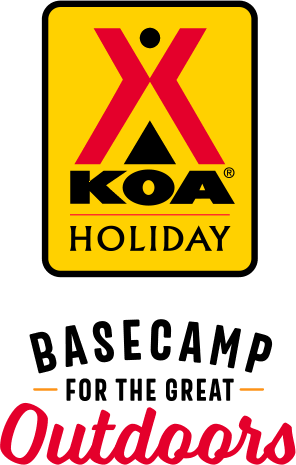 KOA Holiday Campgrounds
Whether you're exploring the local area or hanging out at the campground, KOA Holidays are an ideal place to relax and play. There's plenty to do, with amenities and services to make your stay memorable. Plus, you'll enjoy the outdoor experience with upgraded RV Sites with KOA Patio® and Deluxe Cabins with full baths for camping in comfort. Bring your family, bring your friends, or bring the whole group – there's plenty of ways to stay and explore.
KOA Holidays Feature:
RV Sites with a KOA Patio®
Deluxe Cabins with full baths
Premium Tent Sites
Group meeting facilities
Directions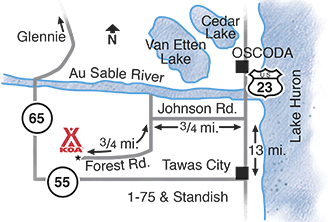 Turn west on Johnson Road from US 23. Take Johnson Road to Forest Road and turn left. Take Forest Road all the way into the campground. This KOA is one mile south of Oscoda and 1 1/2 miles west of US 23. 
GPS: N44.385284, W83.347758
Get Google Directions
Nov 18, 2020
Our absolute favorite place to stay!!!!!!
Oct 12, 2020
We had another wonderful stay! It was our 4th time! The Eller family is amazing and do a wonderful job! Such a clean campground and love the huge site 155. Thank you and looking forward to next year!
Oct 07, 2020
Great support from staff, beautiful!!
Oct 06, 2020
Great stay. The Hosts Mike and his wife are very nice and helpful people. Looking forward to staying there again next season.
Oct 05, 2020
We would like to send out a huge thank you to the team at Oscoda KOA. We spent the summer this year, their were times when my wife was alone and the team gave her help!! Jennifer was very pleasant and always helpful! I will be recommending your campground to our friends. Thanks for all the memories. Tim and Kelly Brown
Oct 05, 2020
There are no words to describe the camping experience we had at the Oscoda KOA. When we first went there it was our first experience camping with a trailer. We had previously only tent camped. Mike and Robin,Mike and Jennifer helped us when we needed a hand, thrilled our grandkids with nightiime candy hunts,and basically made sure our time spent there was pleasant. The Ellers are awesome!
Oct 05, 2020
The owners and staff went above and betond with this pandemic! Had the best summer ever!!!
Oct 05, 2020
even though it was the end of the season - enjoyed camping with you. Everyone with the campground was very friendly and helpful.
Oct 05, 2020
It was great! Nice park; well maintained. Great location. Great hosts. We thoroughly enjoyed our stay.
Oct 05, 2020
We were first time campers. They were extremely helpful to us. We especially liked the door to door service to our site. I was only disappointed that we were not that close to the water. I had thought we would have either view of the lake or river. Other than that it was great, just too cold and rainy
Oct 05, 2020
I've stayed there several times this summer. I typically stay at camp site 30. Everyone is so very friendly. The campground is very clean and well maintained. I cant wait until next year and my stay, particularly site 30 :) Thank You to all the staff and I hope they have a wonderful winter Season and holidays are wonderful.
Oct 05, 2020
Owners very friendly helpful beautiful camp grounds have been to many KOA hands down the best and most beautiful Camp ground will be back next season keep up the good work
Oct 04, 2020
We reserved a cabin because my mother is to old to get up and down in our RV. The cabin was so perfect, very clean and everyone that works there were so nice and willing to help us if we needed anything ! We give them 100 stars!
Sep 29, 2020
Awesome staff and owners.
Sep 27, 2020
This was a clean and friendly campground. Not much to do,the train tracks are close but not much use.
Sep 27, 2020
Outstanding!!!!!
Sep 25, 2020
Clean cabin, great site which was also clean. Friendly staff.
Sep 25, 2020
Always clean. Great staff. We always enjoy our stay at this campground. P.S. love the trains going by
Sep 24, 2020
Cite was dirt although raked can't imagine it in the rain. Was not told you could not use showers etc till we arrived. Although we were self contained would like to know restrictions, of which there were many due to COVID before arriving. Had to sign sign sign that I agree with all restrictions. Already had paid so not much choice. Just generally not on a par with other 8 koas we have stayed
Sep 23, 2020
We had a great time, very peaceful and relaxing.
Sep 23, 2020
Very nice place!
Sep 21, 2020
Very lay back weekend. Had a good time. See you next year.
Sep 21, 2020
Always a nice time camping at the Oscoda KOA. Everyone here is so nice that I feel right at home every time I stay.
Sep 21, 2020
We fully enjoyed our stay. The staff was very friendly and helpful. We will be back.
Sep 21, 2020
EXTREMELY friendly and welcoming Staff. Will stay here again.
Sep 20, 2020
We want to thank the Eller Family for a great week. It was our first stay at their KOA and we hope to be back next year. They met our needs for site accommodations. The park was clean and neat. It is a quiet park and really in a nice out of the way location. Thanks again Ellers!!
Sep 20, 2020
It was GREAT! Friendly staff, beautiful area,quiet and peaceful! We loved it and can't wait to gi back!
Sep 19, 2020
One of our favorites. It's been a few years since we were last here. Multiple upgrades. New well shaded sites and significant improvement in WiFi with several new towers. We'll be back.
Sep 19, 2020
Great place great people
Sep 18, 2020
It was great! Clean restrooms and showers, dog park, flawless utilities and nice employees. We will be back!
Sep 17, 2020
Stayed at Oscoda/Tawas both for business and pleasure. Our site and the campground was a great place, with friendly staff and a great place to centralize all our business visits. We would definitely go again. As a matter of fact, we tried to stay there the first 1/2 of October, but unfortunately they are closed for the season.
Sep 16, 2020
Beautiful area,very pleasant experience, staff is the greatest! We can't wait to co.e back!
- Arthur Listeman on Google
Sep 09, 2020
We had a terrific experience at the Oscoda / Tawas KOA. The staff was great, the grounds were really nice and the bathrooms were spotless!!!
- Mike on Google
Sep 09, 2020
We had a terrific experience at the Oscoda / Tawas KOA. The staff was great, the grounds were really nice and the bathrooms were spotless!!!
- Mike Kahan on Google