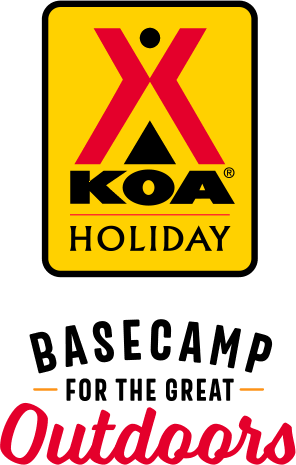 KOA Holiday Campgrounds
Whether you're exploring the local area or hanging out at the campground, KOA Holidays are an ideal place to relax and play. There's plenty to do, with amenities and services to make your stay memorable. Plus, you'll enjoy the outdoor experience with upgraded RV Sites with KOA Patio® and Deluxe Cabins with full baths for camping in comfort. Bring your family, bring your friends, or bring the whole group – there's plenty of ways to stay and explore.
KOA Holidays Feature:
RV Sites with a KOA Patio®
Deluxe Cabins with full baths
Premium Tent Sites
Group meeting facilities
Directions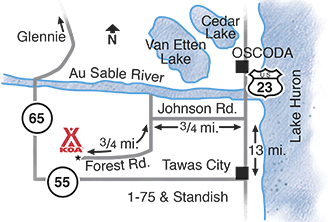 Turn west on Johnson Road from US 23. Take Johnson Road to Forest Road and turn left. Take Forest Road all the way into the campground. This KOA is one mile south of Oscoda and 1 1/2 miles west of US 23. 
GPS: N44.385284, W83.347758
Get Google Directions
Oct 11, 2021
Place is nice and clean, staff is terrific . We've stayed here before and will stay again. Stayed on Patio lot and it was really nice not to have to put our mat out .
Oct 07, 2021
Good location, great wifi, friendly staff. Would stay again.
Oct 05, 2021
Our home away from home! The Ellers are like family!!
Oct 05, 2021
Always clean, always helpful
Oct 05, 2021
Always a good time. The KOA Oscoda Team is always helpful and supportive. They make everyone welcome while maintaining a clean and quite park.
Oct 05, 2021
It's so relaxing once we get t our trailer. There's the beach close by and so many places to eat if you don't want to cook. My grandkids love that pillow they can jump on. Can't wait for May.
Oct 05, 2021
I really feel they need more pet cans around the park more. People were really friendly. Grounds were cleN
Oct 04, 2021
This year was our first seasonal after spending weeks and weekends all over the state. Nice shady quiet park. Pretty quiet even on holiday weekends. We wish the season was a little longer in spring and fall. We are all set to do it again next summer.
Oct 04, 2021
First year being a seasonal. Love the park and the staff are great. Always a friendly wave or greeting when staff drive by and always checking to see if we need anything. Very prompt in bringing firewood to our site when asked. The park is very well maintained. We have and will continue to recommend Oscoda/KOA.
Oct 04, 2021
Nice traditional campground managed by adults. Park is clean and peaceful. Rates are fair. Nice playground, game room and pool. Roads are a bit dusty during dry periods. I hope when the pandemic settles done they due the flashlight candy hunt again and the firetruck rides! My grandkids love seeing the train go by adjacent to the park. Would definately recommend the campground to friends!
Oct 04, 2021
I was very disappointed the pool was closed.. I felt you should have done it after the rewards weekend. My original confirmation reflected it would be open. We went to the beach instead. While I originally thought the permanent corn hole structures were a good idea, on closer inspection we realized there was a lot of debris in the hole & we decided not to use them..didn't want to put my hand in t
Oct 04, 2021
Best hosts and staff!! They take so much pride in their campground!! Come as a gurst, leave as a friend!!
Oct 04, 2021
The Oscoda KOA is by far our favorite place to stay. Very clean and well run, the Eller family does a great job. We look forward to our return next season.
Oct 04, 2021
Our absolute FAV. place to stay. Awesome staff and owners.
Oct 04, 2021
Very clean. Workers accommodating and Very friendly. Would recommend to anyone staying in the area.
Oct 04, 2021
Mike was a great guy! Friendly, helpful and clean campground! Definitely will return for longer stay next year!
Oct 04, 2021
Always friendly and great folks to deal with!! Beautiful place to stay and accommodations are nice.
Sep 28, 2021
No problems or complaints. Staff is very friendly.
Sep 28, 2021
Cabin was clean, spacious, and well-equipped. Campground is peaceful and well-maintained.
Sep 28, 2021
What another Great Experience at the Oscoda KOA a BIG Shout Out to The Campground Hosts Mike , Robin, Mike and Jennifer Thank you
Sep 28, 2021
Had an absolutely lovely stay. All facilities were clean, and everyone was so friendly! Will definitely be back.
Sep 28, 2021
Staff was very friendly. Took advantage of the campsite firewood delivery. Was generally quiet, and my son (6yr old) loved the air pillow . Arcade was nostalgic, and "most" machines still worked. Train came through late each day, but it was a barely noticeable from inside our camper with the fan running. We stayed in late September, will definitely go back next year.
Sep 27, 2021
Everyone was so nice!
Sep 27, 2021
We had a great camp site. We picked the wrong week though, it rained everyday we were there. We will definitely go back next year, the camp workers were very friendly and helpful. I would recommend this campground to anyone.
Sep 26, 2021
These are the greatest people to work with!! Will see um again next year
Sep 26, 2021
A nice campground, but not as attentive to detail as needed (e.g., dog feces in dog park; bbq grill wouldn't open). I get that seasonal campers provide needed income to park, but there should be more regulations about what seasonal campers do to their campsites (excessive/unsightly decorations; too many vehicles/equipment/storage; carpeting everywhere; fencing).
Sep 26, 2021
Our site was spot 4 we were 2 hundred feet from a train track.. The train came through twice in 3 hours 11pm and 130am. Also no fault of the grounds but a big tree fell 300 feet from us we realized on the way out. It had block. The park exit.
Sep 26, 2021
Great camp ground and really clean facilities. Just a shame it rained for three days, Will definitely stay In Oscoda and other KOA sites.
Sep 22, 2021
Facilities were clean, good WiFi, friendly staff, quit.
Sep 22, 2021
Excellent. Wonderful place to stay.
Sep 21, 2021
Spacious sites & large campground. Lots of bird activity due to the oak trees. Friendly staff.
Sep 21, 2021
The location was amazing! Beautiful and quiet. Lots of room at each spot. Bathrooms were nice and clean and the owner was extremely friendly and helpful. It was our favorite KOA during our Michigan road trip!
Sep 21, 2021
The campground was wonderful. Nicely kept and clean. My cabin was perfect. Lots of amenities at the campground itself and plenty of points of interest to see nearby. The hosts were fabulous and offered to help with anything I needed. I would most definitely recommend the Oscoda-Tawas KOA to my friends and relatives.
Sep 20, 2021
The staff was incredibly helpful. They went above and beyond to answer questions and help out with some issues we had with our camper. We who've added this KOA to our list of places to return!
Sep 20, 2021
Mostly pretty quiet -- except for the nightly train whistles; the first night was unexpected but after that it was taken in stride. Our visit was short so we didn't explore the area thoroughly but hope to next time.
Sep 20, 2021
The campground was OK and the staff is friendly. We booked 4 days at $55.41 (Monday thru Thursday). I called to add Friday night and they charged us $$73.41 for the Friday night. Kind of exorbitant considering the park was quite empty.
Sep 26, 2021
Fun camp for the family. The mining experience doesn't take long, but our son loved it. Very nice dog park area with some agility equipment. Our only complaint was the wood we purchased for a camp fire didn't burn well due to being too wet.
- Gretchen Derr Mullins on Google
Sep 25, 2021
Stayed at one of the deluxe cabins. Cabin was clean, spacious, and well-equipped. Great wifi and cable. Outdoor area was nice with a grill and great fire pit. Very peaceful setting. Will definitely come back.
- 416faiths on Trip Advisor
Sep 18, 2021
Was very nice we love that place.
- Jose Benavidez on Google