Oscoda / Tawas KOA Recreation
The activities below can typically be enjoyed from Memorial Day through Labor Day except in the case of inclement weather.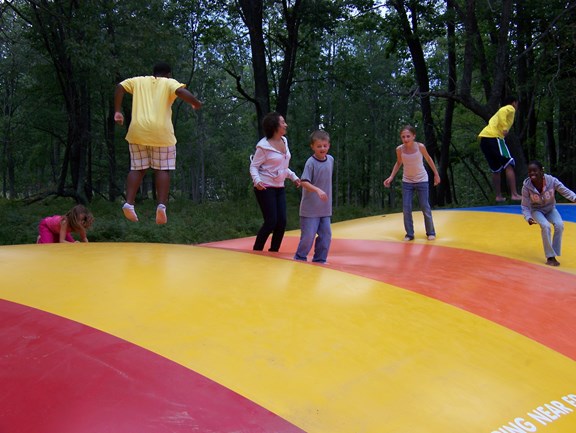 Jumping Pillow $
*This portion of recreation in our park has been temporarily closed due to Covid-19.
Fun for all ages on our (67x33 foot) giant jumping pillow! (Included in wristband program $10) Kids can jump for their entire stay from check in to check out when the pillow is inflated. Jumping pillow hours are generally from 10 AM until dusk.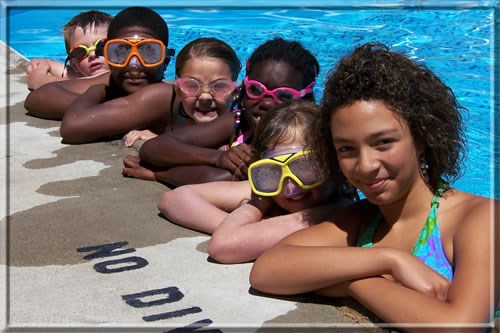 Heated Swimming Pool
*Amount of people allowed in the pool will be 25 at a time, due to social distancing and health and safety guidelines in the midst of Covid-19
Take a dip in our crystal clear heated outdoor swimming pool. Our pool ranges from 3 feet to 5 feet. (All children under the age of 14 must be accompanied by an adult.) (Open Memorial Day through Labor Day).
Fun Bike Rentals $
Check out our 4 wheel pedal karts! We also have 4 different sizes of fun bikes to pick from for all age ranges. These bikes are also referred to as banana bikes; they are low to the ground and offer a unique riding experience.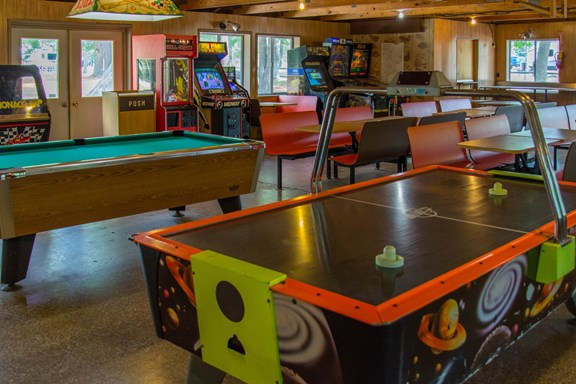 Rec Center
*This portion of our recreation is temporarily closed due to Covid-19.
We have arcade games, air hockey, pool table and a jukebox along with seating for 60 in our rec center. Pick your favorite song on the jukebox and reminisce over our retro arcade games, or have a friendly game of cards. It is fun for all ages and great for groups and potluck meals. Inquire with the office for further details on group reservations.
Jump Shot
*This portion of our recreation is temporarily closed due to Covid-19
Try your skill in our trampoline style basketball game- bring a friend and see who can score the most points! Wristband required inquire at the camp store.
Terrainable Kids Barrel Car Train Ride
Take a ride on our barrel train cars pulled by a golf cart. The kids always have so much fun!
*When our train schedule resumes, please social distance while in line to ride the train and respect your neighbor. We will be disinfecting touch points on the train between each ride. This means reloading will take extra time. Please be patient while we work to keep our staff and guests safe.
Gem Mining
Purchase a gem sand bag at the camp store and take it out to the mining sluice and see what goodies you can find! The kids always convince their parents to do this, and the parents have so much fun they come back for their own gem bag. Lots of fun family memories to create!
*When our gem mine reopens, we will allow one family at a time. When you've completed your experience, you will return your mining tray to the camp store to be disinfected so the next family can have their turn. Please be patient with this process as we work to keep everyone safe.
Local Area Recreation