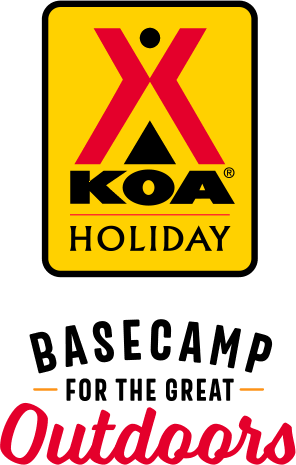 KOA Holiday Campgrounds
Whether you're exploring the local area or hanging out at the campground, KOA Holidays are an ideal place to relax and play. There's plenty to do, with amenities and services to make your stay memorable. Plus, you'll enjoy the outdoor experience with upgraded RV Sites with KOA Patio® and Deluxe Cabins with full baths for camping in comfort. Bring your family, bring your friends, or bring the whole group – there's plenty of ways to stay and explore.
KOA Holidays Feature:
RV Sites with a KOA Patio®
Deluxe Cabins with full baths
Premium Tent Sites
Group meeting facilities
Directions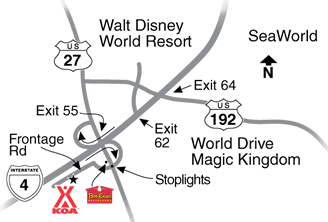 From I-4 (going west) take Exit 55, US 27 south. Stay in the right lane. Take a right at the first traffic light. We are located behind the Bob Evans Restaurant and Days Inn.
From I-4 (going east) take Exit 55. At the light go straight across and follow the access ramp. You will be able to see us behind the Days Inn.
From Hwy 27 (going south), take a right at the first light as you pass over I-4, behind Bob Evans and Days Inn.
From Hwy 27 (going north), Take a left at the light just before I-4, behind Bob Evans and Days Inn.
GPS: N28.226786, W81.652911
Get Google Directions
May 03, 2021
We felt so welcomed and loved that the camping area we were at was next to the bathrooms,basketball court, and to the playground. Can't wait to come back
May 03, 2021
veryclean and very friendly
May 03, 2021
Very clean. Great communication. All digital check in etc. Great location and amenities. We will be back. Stayed in a 1978 VW Bus.
May 03, 2021
Awesome! Staff nice. Roomy and easily accessible. Very relaxing environment.
May 02, 2021
Everything was clean & the staff was wonderful!
May 02, 2021
I stayed from February 1st until May 1st. I have absolutely no complaints about the campground at all. It's a wonderful place to stay and the staff was more than helpful in trying to help me in any way they could. I'm transitioning to a new job here in Florida and they were an important stepping stone into making that job possible. I will always be grateful for all the help they gave me.
Apr 30, 2021
Thank you for the helpful, friendly staff the Southwest....we enjoyed our stay and will recommend to anyone traveling your way.
Apr 28, 2021
Squirrels on the campground did great damage to my truck and RV. They had got into the engine compartment and chewed up my wiring. That cost me over $3,000 to repair. Also they got into my air conditioner and made a nest in it. A new air conditioner will cost over $1,000. The campground will do nothing about the squirrels. The staff are very kind and considerate. But they say they are not allowed
Apr 28, 2021
Went for my birthday weekend had a blast. Everything was so clean everyone of the staff we came in contact with was very friendly and helpful. Pool is refreshing. The kids loved the playground area and the bike rentals.
Apr 28, 2021
Wonderful staff and a very clean campground. The pool was clean, as were the restrooms and laundry. We were allowed to check out late.
Apr 27, 2021
beautiful campground with plenty of recreation to keep busy. staff was very friendly and helpful
Apr 27, 2021
This was a very nice campsite, nice pool, general store, even propane! Very relaxing visit, close to disney and other theme parks if thts your cup of tea.
Apr 26, 2021
Very nice campground. Pool very well maintained. Friendly staff. Kids loved the bike rentals and had a great time on the playground.
Apr 25, 2021
Late check in was simple. Very close to Disney. Very quiet and convenient.
Apr 25, 2021
Very clean bathrooms!
Apr 23, 2021
We stayed here for 1 night. Our site 029 was level. Easy on and off interstate. Would stay here again when in the area.
Apr 21, 2021
It was nice very clean easy in and out would be nice if some of the cement pads were bigger. Would like to of seen the premium sites have a little bit more space between campers. Overall it was a great experience and a decent place to stay so close to everything ..
Apr 21, 2021
Everything about this place is great except for one thing. Wifi is awful. If the wifi worked I would rate it excellent. Staff is friendly. Location is close to everything.
Apr 20, 2021
Very easy access from I4 the park is clean and convenient to the Orlando attractions and to Bok Towers.
Apr 20, 2021
We really enjoyed our time there, the only exception was there was so many squirrels that our dogs would try and catch them rather than using the toilet.
Apr 20, 2021
We will definitely be back! We didn't have reservations with you but when we arrived at the campground that we had booked we were less than impressed. I immediately called your KOA and was greeted by a very friendly and helpful gentleman that assured us that you had a place for us. :) We weren't disappointed. The spot was lovely, the help was amazing and the campground was PERFECT! Thank you.
Apr 19, 2021
Clean, quiet and nice amenities.
Apr 19, 2021
Good as usual
Apr 19, 2021
We really like this KOA. The people who work here are super friendly and very informative regarding local attractions and activities.
Apr 18, 2021
Outstanding everything was as expected. Very courteous and knowledgeable staff. The pool was amazing! The only reason for the 4 stars is that the dishes in our cabin were dirty upon arrival. The top 1 or 2 plates and bowls were clean then nasty after that. Outside of that, the overall stay was very good. Thank you all!
Apr 18, 2021
we did an overnight stay on our way to key west , going and coming back very friendly staff ,very clean an well maintained campground, we for sure will stay here again, Thanks we enjoyed ourselves!!
Apr 17, 2021
Nice clean campground. Easy trash pick up. Friendly staff. Internet needs to be faster (I work from "home"). Kind of noisy at time (sirens, construction back up beepers over on main highway). Have stayed there 4 months, 2 years in a row.
Apr 17, 2021
Pleasant, quiet, nice amenities and convenient location. We'll be back...
Apr 17, 2021
Friendly, easy to navigate, excellent experience.
Apr 15, 2021
Love the little cabins. The pool is very nice and so clean. Awesome updates on the showers.
Apr 14, 2021
For a holiday KOA it is a shame you close the office at 5pm so no one can participate in an of the amenities that require things to be checked out. Other Holiday KOAs keep their offices open to 7pm. Closing at 5pm is NOT family friendly. It prevented us from using most of the amenities aimed at the kids. After a day at the amusement parks, coming back at 6pm there is not much for the kids.
Apr 12, 2021
We have stayed here many times and never disappoints. All was great!
Apr 11, 2021
I personally would not return to this campsite. It was not BigRig friendly. Sits were very tight and some couldn't open their slides in the sites they were put in. Ours and our neighbors site was so sloped we couldn't have leveled it without others help. Staff there did nothing to warn us or help us when we asked. They dropped wood that literally broke in half when the dropped. Otherwise OK.
Apr 11, 2021
check in office very friendly, helpful people. As a preferred member of KOA, when we check in we received a stack of wood, table cloth, bench covers, cups, coolies, however when I questioned the front desk I was told you do not do that. The bathrooms were very clean, showers included but don't know why only 2 hooks in the shower area, don't understand why something so cheap more could be added.
Apr 11, 2021
just ok. Nothing great. Quiet park. We had site No:12. Not nearly enough space and we had a 42ft 5th wheel. Seems they put the large rigs in really small sites. Very tight We could not put our awnings out or open our outside kitchen because of trees. Also fire pit ended up underneath our slide out so could not use fire pit. Also broken slab outside our door was a danger everytime we went out.
Apr 11, 2021
The stay was good. Pool was nice. The negatives I would say is the sites are tight, and it's time fix the concrete pads.
Apr 11, 2021
Easy access to everything
Apr 10, 2021
Very nice place with a great location. Sites are large. Staff is friendly. We'd definitely stay there again!
Apr 09, 2021
Site were a little small, but well kept, bathrooms were very clean, staff very friendly and helpful. It was a nice place to camp. I would stay there again.
Apr 08, 2021
WiFi was not good parking in front of my rv needed repair the staff was very nice will definitely be back to stay
Apr 07, 2021
Nice park, friendly staff . Way too busy and too much traffic for me.
Apr 07, 2021
Staff was friendly Sites were well maintained. Great location for Disney vacation. Easy on/off highway and close to shopping.
May 03, 2021
Stayed 2 nights in a '78 VW bus. Very clean. Great amenities. Excellent communication. I would stay again. Thanks!
- Andy Nicol on Google
May 02, 2021
Love it
- Michael Friends on Google
Apr 30, 2021
It's clean. Friendly staff.
- Brigetta McVicker on Google