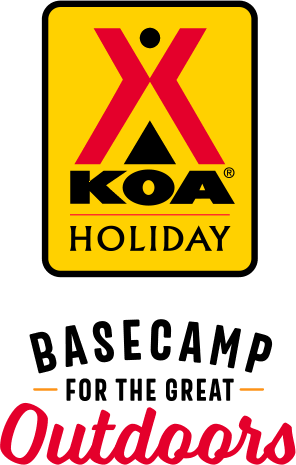 KOA Holiday Campgrounds
Whether you're exploring the local area or hanging out at the campground, KOA Holidays are an ideal place to relax and play. There's plenty to do, with amenities and services to make your stay memorable. Plus, you'll enjoy the outdoor experience with upgraded RV Sites with KOA Patio® and Deluxe Cabins with full baths for camping in comfort. Bring your family, bring your friends, or bring the whole group – there's plenty of ways to stay and explore.
KOA Holidays Feature:
RV Sites with a KOA Patio®
Deluxe Cabins with full baths
Premium Tent Sites
Group meeting facilities
Directions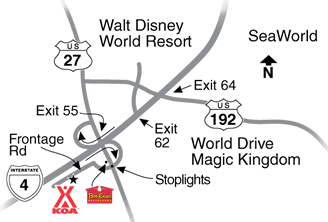 From I-4 (going west) take Exit 55, US 27 south. Stay in the right lane. Take a right at the first traffic light. We are located behind the Bob Evans Restaurant and Days Inn.
From I-4 (going east) take Exit 55. At the light go straight across and follow the access ramp. You will be able to see us behind the Days Inn.
From Hwy 27 (going south), take a right at the first light as you pass over I-4, behind Bob Evans and Days Inn.
From Hwy 27 (going north), Take a left at the light just before I-4, behind Bob Evans and Days Inn.
GPS: N28.226786, W81.652911
Get Google Directions
Oct 23, 2021
Very nice campground and excellent staff! Friendly, clean, spacious. It was a great experience, close to shopping, restaurants and attractions. Loved looking out the window while having breakfast and seeing the hot air balloons float by. Only disappoint was I could not stay longer for the rest of the winter season. Will definitely return.
Oct 20, 2021
The pool was beautiful. The property was very well maintained. The people who work for the campsite, Sherri, Steve and Scott were absolutely fantastic
Oct 20, 2021
Very nice place with children playground and other nice amenities. Friendly staff.
Oct 20, 2021
Everything was great. Clean camp ground, cabins, amenities, excellent customer service, very professional staff, etc. Some issues with cabin such as bathroom door won't close and no hot water. It was fine due to summer, but definitely issue to take shower with cold water in winter. It is reported, so hoping it is fixed for next guests. Deluxe cabin is presentation of tiny living.
Oct 19, 2021
Great place and service overall! Thanks!!!
Oct 18, 2021
Enjoyed will be back
Oct 18, 2021
Despite the location near the interstate and busy city the entire campground facility was amazing. It was clean, had all the amenities you could ask for, the staff was friendly and helpful, and the tent sites were the nicest i've ever seen.
Oct 18, 2021
Beautiful and well managed facility. Staff was friendly and professional. Our stay was very relaxing.
Oct 15, 2021
Great spot with easy access to Orlando and surrounding attractions. Sad to see the jump pad go, but nice improvements to tent sites and dog park.
Oct 12, 2021
Had a wonderful time as usual. The staff is outstanding. Will be back soon.
Oct 12, 2021
Had some type of bug on the cabin bed (staff said it was "dog dirt"(2 friends who I sent the pic to,one being a vet tech) said most likely fleas,or if alive,bed bugs). The whole cabin area outside & in the shower, as well as the laundry room smelled like sewage. It was so bad, I ended up physically ill with gastritis and had to leave the campground. I've been fine since I left.
Oct 11, 2021
everything was amazing!!! the sites, the playground, the restrooms! but the best of all was Sharon and her attention! can I take her home?! we will definitely be back! thank you!!!
Oct 08, 2021
Very friendly and nice cabins. Wish the pool was open earlier and the cabin had very cold water but other than that it was very nice!
Oct 05, 2021
Our stay was awesome. This is the second time we have stayed with you and we will back. We may request a 50 amp breaker since this lot kicked off and on a few times and burnt my power saver.
Oct 04, 2021
Everyone working was happy, friendly and helpful..Great Staff here!
Oct 02, 2021
While it's a nice place, I would be skeptical about staying there again. There was a water main break on the property and we were without water for two days. I realize you want to save money, but when your initial repair failed, you should have called someone who specializes in this type of problem. There also should have been some compensation for the inconvenience.
Oct 02, 2021
Overall very nice experience, great pool and several laundry facilities throughout the campground. Waterlines breaking were a bit of a problem.
Sep 28, 2021
Staff was super helpful, clean KOA we loved it
Sep 28, 2021
We stayed at this KOA because of the location. It was only a 15-20 minute drive from LEGOLAND. Nice facilities, very clean and staff was very friendly and helpful. They even have a putt putt golf course. We didn't have to time to play but it looked nice. Pool was nice and big and they even have a kiddie pool. The park wasn't to heavily crowded which made nice for a relaxing time.
Sep 27, 2021
We only stayed 1 night but the accommodations were great. The grounds were clean and the service was excellent.
Sep 27, 2021
Great employees and the campground was well maintained. I was able to get propane in the RV on an early Sunday morning. Thank you to the nice man who got up early to do this for us. He had a friendly attitude and said it was just part of the job. Both he and his wife work at this KOA. My observation is both of these employees are dedicated to their jobs!! Well done.
Sep 27, 2021
It was good. Host was friendly. Spots are rather skinny. But we noticed other spots had nice tree shade so hope to get one of those next time. nice patio and furniture. Overall nice Koa.
Sep 26, 2021
Our stay at KOA in Orlando was a great experience. The facility was clean and well maintained. The staff was very helpful and a pleasure to be around. We plan on returning soon.
Sep 26, 2021
Had a fantastic stay, the site was clean, friendly staff, reliable hook ups, and the extra curricular areas were fun! Only concern was the uneven, broken concrete slab that made it difficult to bring our steps down to. With a quick adjustment of the broken pieces we were able to level correctly. Not unexpected though considering RV's are rolling over it!
Sep 26, 2021
Very clean, very nice staff, very roomy spaces and very well centrally located close to parks, stores and many other facilities...
Sep 23, 2021
Very quite and relaxing. The Staff were excellent
Sep 21, 2021
Very nice and clean. Tent sites are amazing as is the dog play area. Office hours 9 to 5 and daily trash pick-up.
Sep 20, 2021
We were so excited for this weekend trip and we found ourselves with a very dirty floor, lots of what looks like dog hair. Wifi did NOT work at all we are all behind in school/work. Shower water was very cold never got warm and not relaxing. Expected more
Sep 20, 2021
Spaces are a little tight, WiFi is non-existent, wasp nest where you plug in your power, staff is excellent, need to have more places to take your dogs droppings only saw one. We really like it but need a stronger WiFi
Sep 19, 2021
We enjoyed it very much. Staff was very pleasant, professional, and helpful. Communication was outstanding. Will definitely come back.
Sep 14, 2021
We were very impressed with the campground as well as the staff. The grounds were immaculate and the staff was on top of any situation. The tent sites were beautiful. We are definitely coming back to this campground. I was a little disappointed that they charged for the mini golf, but the course looked new, so maybe they are just trying to earn back some of the money it cost them to build it.
Sep 11, 2021
Love it! Great place to stay! Quite and clean
Sep 11, 2021
We really love this campground, we will return. Thanks again, Jessica, Justin, Jace & Judd.
Sep 07, 2021
We had an amazing stay this weekend. Sharon was so great. WE have already made plans to stay next Memorial Day. We have now found a spot to "begin our summer camping" and "end our summer camping". We can't wait to return.
Sep 07, 2021
Staff is very friendly, campground is very clean and conveniently located
Sep 07, 2021
Staff was amazing sherry and her husband were rt there to assist with things as this was the 1st time in a brand new camper
Sep 05, 2021
Very friendly and super clean bathrooms with showers. Thank you for your hospitality!
Aug 30, 2021
This was our family's first trip in our camper, so we were nervous about most aspects of the trip. We came in late, and all of our information was super easy to find at the front desk. All of the facilities were incredibly clean and well kept, and our campsite was in a great spot. We were the only ones in the pool for the majority of the time, and the staff helped us with a late check-in. Killer!
Oct 21, 2021
We were traveling thru Atlanta and stopped at this IHOP. Glad we did. Great food and terrific service from Fitzgerald. Very attentive, anticipated what you needed before you asked. Very friendly atmosphere also.
- Ann Wall on Google
Oct 19, 2021
This is the nicest KOA we've stayed at yet. Very clean, very friendly staff, and awesome tent sites. We are definitely coming back
- Shawn Stunkard on Google
Oct 10, 2021
Amazing!!!! This place is awesome!! me and my family went there camping and we had a blast!
- Nathalie Ramos GarciaNatalia on Google