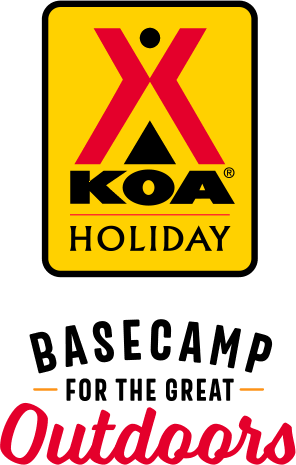 KOA Holiday Campgrounds
Whether you're exploring the local area or hanging out at the campground, KOA Holidays are an ideal place to relax and play. There's plenty to do, with amenities and services to make your stay memorable. Plus, you'll enjoy the outdoor experience with upgraded RV Sites with KOA Patio® and Deluxe Cabins with full baths for camping in comfort. Bring your family, bring your friends, or bring the whole group – there's plenty of ways to stay and explore.
KOA Holidays Feature:
RV Sites with a KOA Patio®
Deluxe Cabins with full baths
Premium Tent Sites
Group meeting facilities
Directions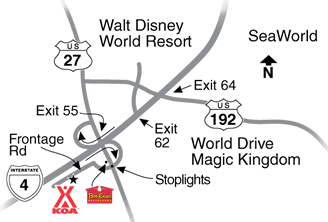 From I-4 (going west) take Exit 55, US 27 south. Stay in the right lane. Take a right at the first traffic light. We are located behind the Bob Evans Restaurant and Days Inn.
From I-4 (going east) take Exit 55. At the light go straight across and follow the access ramp. You will be able to see us behind the Days Inn.
From Hwy 27 (going south), take a right at the first light as you pass over I-4, behind Bob Evans and Days Inn.
From Hwy 27 (going north), Take a left at the light just before I-4, behind Bob Evans and Days Inn.
GPS: N28.226786, W81.652911
Get Google Directions
Jan 21, 2021
We enjoyed the campsite. The only downside was the wifi wasn't very good.
Jan 21, 2021
100% Satisfied
Jan 19, 2021
Great campground however our site was very sloped and difficult to get our rig level considering we do not have auto-leveling. Now know to ask for a level site for our next stay. We will return!
Jan 19, 2021
Nice campground with a GREAT playground, bath house, camp store, fun bike/ trike rental, pool etc. Seems like I was on the only row of (significantly) unlevel sites... needed to use every piece of wood I had both for both front to rear & also side to side to remotely get close to being level...(route 61-69) every other row of sites looked great (level) however.
Jan 19, 2021
Disappointed that rules only seem to apply to certain people. For example, a campsite with 4 vehicles, 2 of which are fully in the middle of the road. Or dilapidated rvs, or ac units in windows.
Jan 19, 2021
Nice campground but very noisy. You hear the traffic from I-4 all night. The staff was great, very friendly, super clean restrooms.
Jan 19, 2021
Absolutely awesome stay. Staff was friendly. Clean and spacious site. Definitely coming back soon
Jan 19, 2021
The staff was very friendly and the restrooms were extremely clean. The sites were very close together as compared to other KOA locations. Wifi was only available for email usage. Cell service was poor. The trees are in need of trimming as many rigs were dangerously close to limbs.
Jan 17, 2021
We paid for the best site available with the grill, table and chairs, and glider on the patio. All were there and in good condition.... but the 3 sites with them were horribly small. For the price I would have expected the site to be at least twice as far apart as they were. The laundry facility was very nice and clean. We'd much rather stay at state park. Much less expensive.
Jan 17, 2021
Always great at Orlando KOA.
Jan 16, 2021
The lower sites are less windy, but more money. Staff is awesome. We had some trouble with another campers dog that attacked our dog, but were assured that the cost of the vet would be refunded. Still waiting on that. Great location for Disney and other theme parks.
Jan 16, 2021
This is a beautiful campground, very convenient, the staff are very friendly and helpful. The bathroom is very clean and the tent kitchen and tent pad were a pleasant surprise. The reason I gave it 4 stars is due to the tent site being inside the children's playground. If the tent site had its own area I would had given it 5 stars. But I still enjoyed camping here !���������
Jan 15, 2021
Too expensive for an empty park needs to be less expensive to attract more people
Jan 14, 2021
Everything was good and the staff very friendly, but the internet was terrible!!!
Jan 13, 2021
Great staff, close proximity to everything that you would need. Had a great stay.
Jan 13, 2021
We have stayed at this KOA a number of times being that it's in close proximity to the Disney Parks. We travel from Ft Myers and usually stay in a camping cabin. Staff is always friendly and accommodating. Our last stay was right after New Years and we couldn't find any Firewood locally so we called KOA the morning before check in and asked if they could deliver 2 bundles to our site. They did.
Jan 13, 2021
Gravel pads for parking Rv, but it comes with patio and fire pit. Very dissatisfied with length of pull through site and gravel parking pad. Very clean and quiet.
Jan 13, 2021
Staff is awesome and the facility was very clean
Jan 12, 2021
Friendly staff and always enjoy our stay
Jan 11, 2021
Great folks who manage & work at this KOA. Clean facilities and the grounds are well maintained. The only concern I had was the sites are not level. It's very difficult to get the RV leveled. I observed quite a few people complaining & having trouble getting leveled. This included the big rigs as well. I would definitely come back because of the great office staff & excellent workers.
Jan 11, 2021
Gentleman working as the greeter and escort did an excellent job as I arrived ft hours
Jan 10, 2021
Stay was good. But, a big negative - very poor WiFi. Almost impossible to use. Also, lots of road noise.
Jan 09, 2021
We chose this park as a place close to home where we could learn more about operating our recently purchased RV. The entire staff was very friendly and extremely helpful. With some assistance, we were able to hook up to cable for the very 1st time. Our only negative discovery was the "pickleball court". There was no fence around it, debris on the court and a nearby brick wall.
Jan 06, 2021
The campground was great. The only thing I did not like but it was outside the campground was a massive traffic jam everyday coming back from a disney park.
Jan 06, 2021
Great staff!! Clean camp ground. I stayed here 2 years ago and nothing's changed...another great time!
Jan 04, 2021
Awesome stay. Great people!
Jan 04, 2021
We had an amazing time. The cabin was better than we expected, and extremely clean. The staff was all super friendly, and we are more than happy with our experience and can't wait to come back!
Jan 03, 2021
Your campground is beautiful lots of great ammenities location perfect off I-4. We only stayed one night but will return when in the area. We do have a couple of concerns we called asking for help with the cable NO ONE EVER SHOWED UP. Also you say you have internet again VERY DIFFICULT TO CONNECT AND STAY CONNECTED. Thank you.
Jan 03, 2021
Staff are friendly, but tent sites are noisy, even after 10, 11pm. Someone even went into our tent while we were out, luckily we did not leave valuable things there. As a result, our tent was partially taken down, so we had to fix it when we were back.
Jan 02, 2021
Very clean, quiet, and well managed park. Will be back.
Jan 02, 2021
We had a great stay and loved the pool. Showers were nice and clean. Wish the jump pad was open while we were there, but other than that everything was great! Kids loved the playground.
Jan 02, 2021
Nice place site was a little off level but used planks I had and it was fine staff was friendly and helpful
Jan 02, 2021
The park staff are excellent my only problem is that I couldn't level the rv easily. But overall is a good place.
Dec 31, 2020
Nice place, very clean, nice people but we were looking to do stuff on the east side of Orlando , a bit far for our needs but they had room for us
Dec 30, 2020
Usually when we go camping we want to be away from City noise. Unfortunate this KOA is located next to a main highway and it gets very noisy at night. Bicycles and cart rentals are in very bad shape. Heated pool but no signs anywhere so people are aware. One plus, is the main office is also a convenience store with few primary items. Staff very helpful.
Dec 29, 2020
We really love camping here. The office staff is friendly and informative. Kelly, in office even talks with our dogs. We also want to give a shout out to John and Keith. They really helped us out of a tough circumstance on Christmas Day.
Dec 29, 2020
A bit rocky in the beginning, but the staff took care of us. We were in a tent and the staff came around and checked on us to make sure we were warm enough. They even lent us some heaters. Can't wait to camp there again.
Dec 28, 2020
facility was nice. the sites were very roomy. The restrooms and showers were very clean and the people in the office were very polite and friendly.
Dec 27, 2020
This is a convenient, well kept KOA. Service was excellent and the price fair. I didn't give it a perfect score as the WiFi was very slow and the road noise at night is bad. But beyond that, it is a great place and we will be back.
Dec 26, 2020
A gap at the bottom of the entrance door allowed COLD air to blow in to cabin, which never allowed heater to heat room!!! We dropped off our luggage and listed family, only to return to a miserable � cold room! When we had our trailer wwe stayed and enjoyed the KOA (OUR EQUIPMENT WORKED)! It's disappointing to have only twenty dollars credit, should have been 75% or more returned. DISAPPOINTIN!
Dec 26, 2020
very nice folks there....clean facilities. thanks KOA!
Dec 15, 2020
Wonderful staff and camground!
Jan 19, 2021
This is a great KOA. I know people shy away from them in more touristy areas, but DO NOT SKIP THIS ONE. The facilities are clean and well taken care of and the staff are among the best. We have enjoyed our time here and will be back.
- Jennifer Davis on Google
Nov 23, 2020
This is a fantastic campground. We stayed on gravel with a concrete pad. The concrete pad had some cracks and broken pieces, but that does not take the fact this is a 5 stars. Pool and laundry room seem brand new, bathrooms were super clean. the staff is *amazing*. Will return and can't wait for it.
- Ricardo Calina on Google
Nov 03, 2020
We just finished 12 nights here. We had the best experience. The reviews honestly were lackluster, but we had the best experience. Very clean. The pool was so nice. The campground was quiet and not heavily populated. Easy access to highway and didn't notice the noise from traffic.
- Nicole Tiefel on Google