Directions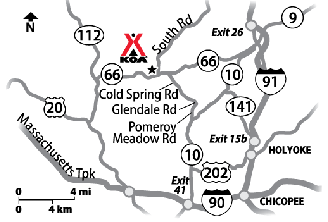 ALL ROUTES ARE CLEARLY MARKED WITH BLUE CAMPER SIGNS AT EVERY TURN
Best route for towing or big rig is exit 3 off MASS Pike(I-90) LEFT on Route 10 North then LEFT on Pomeroy Meadow Rd LEFT on Glendale LEFT on Cold Spring LEFT on Cold Spring AGAIN. LEFT on Route 66 (Main Rd) RIGHT on South Road Entrance on the LEFT
From the north take 91 south to exit 20. Straight onto Route 5 South. RIGHT on Route 9 West. LEFT on Route 66 west turn RIGHT on South Road KOA entrance is 300 feet on left.
From the south take 91 north to exit 17B follow Route 141 (watch for blue camper signs as Route 141 turns a couple times) at end of 141 turn left on Route 10 South. Turn right on Glendale. At fork stay left onto Loudville Rd. Turn left on Route 66 west turn right on south road KOA entrance is 300 feet on left.
GPS: N42.288075. W72.774852
Get Google Directions
Nov 04, 2020
We just stayed one night, but it was easy in and out and very friendly people.
Nov 03, 2020
Always a great getaway. Nice size sites . Very nice employees
Nov 03, 2020
Other than standing in the rain for ten minutes outside your store to buy some coke and waking up to 3" of snow it looks like a nice place. The first you can correct but the weather I really is out of your control.
Oct 28, 2020
We stayed for 8 nights . Pull thru site was good no issues. Had absolutely no contact with owners or staff during the stay. Arrived on a Sunday afternoon and an envelope was pinned to a board outside the office which was closed. It gave us our site number and other information. I have camped at other Koa's during the pandemic and always had some contact with the office. Luckily we had no issues
Oct 28, 2020
Very friendly and helpful staff. Beautiful firework display Saturday night! Late in the season, so pool, etc. were not open and we did not use any bathrooms due to Covid.
Oct 28, 2020
The plus, a beautiful site in the woods. Minor issues, office was always closed & no one picked up the phone after multiple tries. Cable was 5 snowy channels. Big issue was the noise - & the campground was near empty. Can't imagine it in season. Constant golf carts racing by. Leaf blowers/saws all day. The last straw was the neverending fireworks display on Sat. Our nerves were shot when we left.
Oct 28, 2020
Staff friendly and helpful Loved our campsite in the woods
Oct 28, 2020
not very well kept,poor lighting, full dumpsters,small dog area
Oct 27, 2020
We had a great stay here, the staff was very nice, especially Jerry, I couldn't believe he came over to help me park the camper, making sure we were all set.. and the fireworks Saturday night were amazing.. very clean, can't wait to go back next year
CAMPGROUND RESPONSE / COMMENTS:
We are glad you and your group enjoyed the last trip out for the season and got lucky to be on the weekend the neighbors do thier yearly firework show! We look forward to seeing you again in the future!
Oct 26, 2020
Campsite ok but not on par with other KOA's in my experience. Old facilities and $7 SMALL bundles of firewood put this campground on the not to return list.
CAMPGROUND RESPONSE / COMMENTS:
We are sorry you didn't enjoy your stay. We are constantly improving the property and amenities. The wood bundles are the same ones you get in your grocery store that sell for $6-7 per bundle. We understand some may not want to spend that and thus offer larger loose wood bundles that can be purchase
Oct 26, 2020
I stayed here last year and thought it was very nice. This year, it was really run down. The dog park had a broken gate and is very small and we had to "police" the area for poop as no one else seemed to. The bathrooms while new were dirty and only seemed to be cleaned once a day. The site was good, but we had asked to be placed side by side and you weren't full but still couldn't (or wouldn't)
CAMPGROUND RESPONSE / COMMENTS:
We do have a dog waste container and bags inside the park for owners to use; however, we do look around for messes left. We are changing the dog park layout in the spring. Restrooms are cleaned multiple times a day. Also your sites were right next to each other and were sold out for full hookup site
Oct 26, 2020
Nice campground to stay at with great views of the Westhampton fireworks!
CAMPGROUND RESPONSE / COMMENTS:
Glad you enjoyed your stay!
Oct 25, 2020
Great amenities & grounds layout. Plenty of spots with a more private woodsy feel.
CAMPGROUND RESPONSE / COMMENTS:
We are glad you enjoyed some nice quiet camping it's by far our favorite time of year to camp!
Oct 24, 2020
This KOA is clean and the staff is friendly. Thank you for a lovely stay
Oct 23, 2020
the office workers were great with our reservation when I called to add more days and quick to check us in when we arrived. our site had a gas grill which was extremely dirty but, when we told the crew they immediately cleaned it from top to bottom. beautiful area of Mass, we will go back.
Oct 22, 2020
Enjoyed my stay at site 12 with the pea-stone tent pad.
Oct 22, 2020
Run down park, facilities not maintained. Live chickens and roosters running around the property. Would not recommend this park.
Oct 21, 2020
A well run family friendly campground Great staff who are extremely helpful. They offer many well organized, and well attended events. Daily rides on a working fire truck. Movies under the stars with free homemade popcorn. Pool, playground, and wooded setting make a great camping experience. A diamond in the rough tucked away in the Berkshire Mountains.
Oct 20, 2020
Friendly... clean and well maintained sites ... had a wonderful time while keeping COVID safe.
Oct 19, 2020
What a pleasure it was to spend three nights there. Jerry was the best, he gives a escort to your site so there is no guessing where your site is the hangs around while you back in to make sure you are ok. Sites are typical campground, bathrooms were clean and up to date. Roads in the campground could use some work to address drainage and take care of the puddles. Check in was easy and fast.
Oct 19, 2020
Beautiful setting near a creek. Nice pull through site or a 43 foot motorhome.
Oct 17, 2020
Campsites are closely packed but the campground is nice and quiet and the setting is lovely. Staff is extremely kind, helpful, and patient, especially for those of us new to backing in!
Oct 17, 2020
Nice open airy site, not crowded, crush stone drive and grass.
Oct 16, 2020
Office person was the best and made our arrival and departure much easier
Oct 14, 2020
Real nice place to stay. Site was very nice - deluxe site with a kennel, Plenty of activities for the grandkids - hay ride, fire truck rides, Halloween activities.
Oct 13, 2020
Always a great time. My children and family love this place.
Oct 13, 2020
Site 75 was a perfect spot for my family. We loved the trees all around us, the seclusion of having no one on front of us and privacy of not having really anyone behind us. Though we didn't partake in the festivities bc of fear with Covid we loved all the decorations of the campground. The location was perfect to all we wanted to see in Amherst and North Hampton ! We def will be back !
Oct 13, 2020
Although the young staff were nice, this was unlike the other KOA's we've been to. Far too many seasonal sites; very loud drunk neighbors; and not the nicest upkeep.
Oct 13, 2020
Loved that we got lucky enough to come on Halloween wkend. It was definitely a treat! Only negative thing/suggestion is it would be nice to have trash pickup like some of the other campsites do or to have more dumpsters throughout. It was hard having no place to put your trash other than leaving it outside the time we're camping or physically carrying it to checkin dumpsters at other end of site
Oct 13, 2020
Owners friendly, but a tightly packed RV park. Quick overnight stay while passing thru. Kind of far off the highway. Wouldn't return. Didn't use showers or washrooms so can't rate those.
Oct 13, 2020
Great stay and staff is always accommodating
Oct 13, 2020
The only thing that was troubling, the cars and golf carts going way over the 5 MPH in the park. The kids at the play ground at 7:00 AM!!!! What happened to quiet time!
Oct 12, 2020
Anytime camping is great. We had a good time. Our site was clean and all staff were friendly except one old guy who yelled at us to clean up dogs poop.. But she was peeing an apology would have been nice but nothing..
Oct 11, 2020
We had a great time. This was our second stay here, and both times were great. Unfortunately the first time we got hit with heavy storms and both our truck and camper got hail damage. This time the park lost power due to a heavy storm. Fingers crossed for perfect weather next time. Overall we had a great time and love the park. Great staff!! Thank you!!
Oct 11, 2020
Friendly, we'll kept up, great service. I'll see you again!
Aug 17, 2019
It's a very nice place
- Joe Francisco on Google
Jul 22, 2018
Better known as Northampton/Springfield KOA. We love it there. Tons of things to do on the weekends!
- Pamela Anderson on Google
Aug 28, 2016
This is or second time camping here and it's AWESOME. The staff bend over backwards to help and make sure you have a good time. Kids are kept busy with all kinds of fun activities that even adults can join in. We will go back next year.
- Christine Mara on Google