Alert
The health and safety of our guests is important to Northampton/Springfield KOA. We are currently open for all types of camping. Our Bathrooms, Laundry, Pool, Playground, Kamp K9, & Mini Golf are open with restrictions. Our recreational buildings are closed and we are offering limited socially distanced activities and visitors are not allowed into the campground. The office is open to the public (4 people) with to site delivery or curbside pickup available. Any guests from a non Massachusetts deemed Low-Risk state is required to fill out the Mass Travel Form per Governor Baker at https://www.mass.gov/forms/massachusetts-travel-form prior to check in and must meet one of the requirements or quarantine on thier site in a self contained camper for 14 days or until they have left the state of mass. If you have any questions about our policies or if you are able to stay please call 413-527-9862!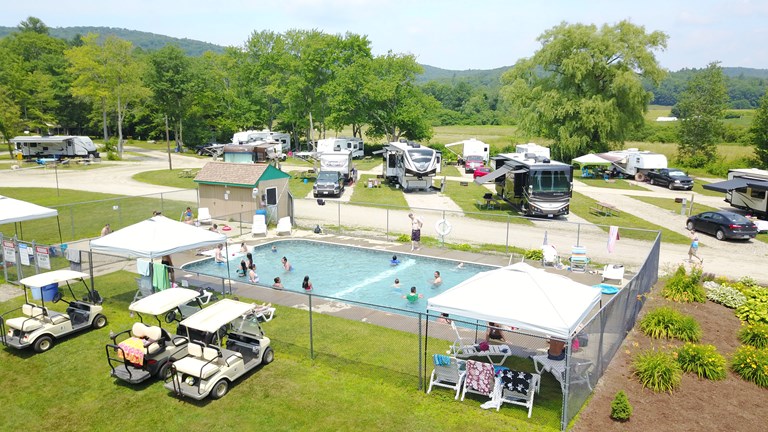 Northampton / Springfield KOA Reviews
Directions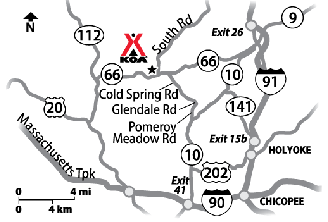 ALL ROUTES ARE CLEARLY MARKED WITH BLUE CAMPER SIGNS AT EVERY TURN
Best route for towing or big rig is exit 3 off MASS Pike(I-90) LEFT on Route 10 North then LEFT on Pomeroy Meadow Rd LEFT on Glendale LEFT on Cold Spring LEFT on Cold Spring AGAIN. LEFT on Route 66 (Main Rd) RIGHT on South Road Entrance on the LEFT
From the north take 91 south to exit 20. Straight onto Route 5 South. RIGHT on Route 9 West. LEFT on Route 66 west turn RIGHT on South Road KOA entrance is 300 feet on left.
From the south take 91 north to exit 17B follow Route 141 (watch for blue camper signs as Route 141 turns a couple times) at end of 141 turn left on Route 10 South. Turn right on Glendale. At fork stay left onto Loudville Rd. Turn left on Route 66 west turn right on south road KOA entrance is 300 feet on left.
GPS: N42.288075. W72.774852
Get Google Directions
Sep 21, 2020
We made arrangements with the event coordinator to have 6 sites nearby to host a Bluegrass Music jam weekend. The office staff and support staff were very accomodating and did everything they could to make our stay successful. Nearby neighbors came over each night to sit by the campfire to enjoy the music. We will definitely go back next year to do the same. It was a great weekend had by all!
Sep 21, 2020
Staff is very helpful, kind and always available. Property is beautiful, loved the Glamping tent that we stayed in. Very fun experience! Also have to note the restrooms were extremely clean!
Sep 21, 2020
Stayed there before. Very clean and friendly people. Close to my home would stay again. Thanks for a great weekend
Sep 21, 2020
great place to camp.staff is awsome and respectful.will def keep coming back.
Sep 21, 2020
Great Camoground... friendly staff..plenty of actuvities even during COVID (Firetruck Ride, Wagin Ride, Movies, Camp K-9).. Lots to do in the nearby area also (Small towns, Breweries, Farms for apple picking). My only disappointment was that the campground did NOT participate in the KOA VKR free night of camping weekend�
Sep 19, 2020
Loud, cramped and did not enforce restrictions. Positive side: kennel, level pad, cable, wifi, full hook-up, swinging bench and nice gas grill. Paid 3x the cost of any other location but disappointed. Lots of rv's that seemed in disrepair. A live in employee left dogs unattended and they barked all day. Could not step out of rv without listening to them yap.
Sep 19, 2020
Enjoyed my stay which included using a pea-stone tent pad for the first time. It's much better than pitching a tent directly on the ground. The new rest room was great.
Sep 17, 2020
We stayed 2 nights here mainly to visit relatives and on our way home. Not the cleanest/neatest campground but the site was a long pull thru, however very narrow. Staff was friendly and courteous. Not too much to see in the area but ok for passing through.
Sep 17, 2020
The park has level sites for our class A but the park was not orderly. The dog park was awful, sites with "permanent" people were junky. Chickens ran free through the campground. The ownership apparently had other campgrounds ( Niantic which I stayed in) and it was the same disorganization and clutter.
Sep 17, 2020
I would say you need to make your entrance more inviting. The dumpsters are not a good introduction to your otherwise nice place
Sep 16, 2020
The people who run and work at this camp are wonderful! They gave us a free cable lengthner for our TV and after we left they mailed us the knive that my husband dropped while we were packing up. While we were there the staff was friendly and helpful. It is a great place for children and pets. The playgrounds, pool, and K9 park allowed all to have fun and enjoy themselves. I give this five stars.
Sep 16, 2020
The most accommodating KOA I stayed in in a very long time. They certainly know how to take care of their customers and make them feel right at home
Sep 14, 2020
First time coming wont be the last - great place clean and the staff was great. Loved all of the activities for the kids
Sep 14, 2020
the staff is great, the place is clean and our site was large enough and pet friendly. we'll be coming back later this year we like it so much.
Sep 14, 2020
My grandson had a wonderful time on playground and in the pool. Very family friendly. We loved it. Second time camping there and will come back soon.
Sep 14, 2020
We love it here, we have a great relaxing time here. The new WiFi System is great and the new bathrooms are great,
Sep 12, 2020
Had everything we needed. Good wifi. And even though we were out in the middle of nowhere the Easthampton Diner delivers to the ste if you don't feel like cooking. A wee bit pricey,, but we had a nice overnight stay.
Sep 11, 2020
We stayed 3 nights. Close to other sites. Noisy kids next to us. Pull through had some sharp turns and road hazards. But nice KOA.
Sep 10, 2020
Wish I could choose the site that I wanted, but other than that it was a good weekend.
Sep 10, 2020
I love everything single minute of been there. Amazing staff great lot.
Sep 10, 2020
Very kind and helpful people on staff. Loved the fresh eggs. Thanks for a great stay!
Sep 09, 2020
The location was nice but the flies were unbearable. Peaceful and enjoyable but Kamp K9 is right next to the dumpsters and propane filling station.
CAMPGROUND RESPONSE / COMMENTS:
Thank you for this review. Sadly with the farm next door in the fall for about a week or two after spreading on fields we get a lot of flies and then they disappear! We are looking into changing the entrance to the dog park and making it larger for next year as well!
Sep 09, 2020
We loved our RV location up in the "orchard". It was such a great area and we enjoyed walking down to the pool and other activities as it gave us time to see how the extended stay guests decorated their space and gave us some ideas for doing some things even if it was on a temporary basis. All the staff and guests were really friendly (but who wouldn't be when you're on vacation)
CAMPGROUND RESPONSE / COMMENTS:
Glad you enjoyed your stay and the site, I would have to say the ones out back are my favorite now with the upgraded WiFi system and golf cart rental. We are very excited to get ready for Halloween weekends and everything decorated!
Sep 09, 2020
LOTS OF FUN. My kids had a great time doing the mining sluice, tie dye, mini-golf and swimming in the pool. The staff were incredibly attentive and kept the place REALLY clean. We will be back!
CAMPGROUND RESPONSE / COMMENTS:
Glad you enjoyed all the socially distanced activities. We look forward to your next stay with us!
Sep 09, 2020
Quick overnight. They were kind enough to upgrade us without asking but the site is pretty tight and rough. If you are looking for long stays or scenic locale, keep looking.
CAMPGROUND RESPONSE / COMMENTS:
Sorry to see you didn't enjoy the pull-thru site for your one night stay. Our pull-thurs are over 35' wide and 70' long, so wouldn't say tight and you were on brand new pull thrus with fire place, picnic table, high top table and 3 chairs. Our longer stay guest really enjoy the sites out back.
Sep 09, 2020
Highly congested, loud, insufficient restroom/showers for the number of campers, showers barely warm, dishwashing station dirty and unlit after dark. Far too expensive for this level of hosting!
CAMPGROUND RESPONSE / COMMENTS:
This has to be for the wrong park as we had every other site blocked off in our orchard where you were staying and ask all guest with bathrooms to use theirs and not the public to limit use for those that dont have them. We have on demand hot water heaters set at the legal limit to not be too hot.
Sep 08, 2020
Had a great stay
CAMPGROUND RESPONSE / COMMENTS:
We look forward to seeing you again soon.
Sep 08, 2020
Always a fantastic time!! They followed every Covid rule. The staff is awesome!! Going to sign up for a yearly spot
CAMPGROUND RESPONSE / COMMENTS:
Glad you enjoyed your stay.
Sep 08, 2020
What a wonderful campground! This was our first visit but will not be our last. My family & I had a glorious time. Labor Day weekend provided plenty of activities for our kiddos (LOVED the coin drop!) & everyone was super friendly. A big shout out to Merry too; it was great talking with you! We've been camping for years; this campground is highly recommended!
CAMPGROUND RESPONSE / COMMENTS:
Glad you enjoyed your stay. Look forward to seeing you again.
Sep 08, 2020
Stay was ok, just concerned about others not following cdc guideline regarding covid and wearing a mask. Glam tent was nice would be great if there was a couple rockers on the deck.
CAMPGROUND RESPONSE / COMMENTS:
We are glad you enjoyed the glamping tent, and we are actually looking to place rockers out on the porch as this has been a requested item! we encourage and enforce all covid mask wearing requirements to the best of our ability and feel we have almost all guests following them.
Sep 08, 2020
So many great events for our kids!
CAMPGROUND RESPONSE / COMMENTS:
Glad you enjoyed our socially distanced activities.
Sep 08, 2020
It was fun. It would have been more fun if the family camping next to us had kept their child and their dog on better behavior. But that wasn't your fault, and we know that noisy "neighbors" is one of the chances one takes at a family campground. We really appreciated the fast and friendly service provided by the KOA staff. We would definitely return in the future.
CAMPGROUND RESPONSE / COMMENTS:
We are glad you enjoyed your stay and sorry to hear about your neighbors. We do patrol and strictly enforce the quiet hours at night.
Sep 08, 2020
Sites were too close together, especially for big rigs. Lots to do for kids. Pool was nice. Everyone was very nice.
CAMPGROUND RESPONSE / COMMENTS:
Glad you enjoyed the pool and people. Our pull thrus are all 35' wide and over 70' long and have not had any issues with big rigs getting onto them!
Sep 08, 2020
Fabulous services from staff. We arrived at night and right way we had some one running to us and helped us finding our site. We had a wonderful time and love the place. Leaving the site was a lot assistance with trash and equipment we needed. Wonderful people great vibes all over the place.
CAMPGROUND RESPONSE / COMMENTS:
Glad you enjoyed your stay.
Sep 08, 2020
Large, beautifully maintained site that was previously a seasonal site. However, it was a very noisy site with seasonal neighbors partying late into the night and early morning. My 2 year old came home with an interesting souvenir- a new found 'f' word in his vocabulary that the neighbors would use frequently and loudly. Despite the neighbors, we still found the campground enjoyable with lots
CAMPGROUND RESPONSE / COMMENTS:
I am sorry to hear about your neighbor and will be following up with the seasonals, as this is completely unacceptable! Glad, minus that issue, you enjoyed your stay with us.
Sep 14, 2020
Clean. Plenty of things for the children. Very friendly. Thoroughly enjoyed our time there.
- Kevin Bailey on Google
Sep 07, 2020
Fantastic campground! We had a wonderful time. Highly recommend.
- Sarah Hollenbeck on Google
Aug 24, 2020
First time going here. Very nice bathroom are well kept. Will go again close to home.
- Clari Rodriguez on Google

Northampton / Springfield KOA
Open April 19 - October 31
139 South Road
Westhampton, MA 01027
Check-In/Check-Out Times
RV Sites, Tent Sites
Check-in: 1:00 pm, Check-out: 11:00 am
Accommodations, Deluxe Cabins
Check-in: 3:00 pm, Check-out: 11:00 am
Northampton / Springfield KOA
Get Google Directions

© 2020 Kampgrounds of America, Inc.