Alert
The health and safety of our guests is important to Northampton/Springfield KOA. We are currently open for all types of camping. Our Bathrooms, Laundry, Pool, Playground, Kamp K9, & Mini Golf are open with restrictions. Our recreational buildings & activities are closed/cancelled and visitors are not allowed into the campground. The office is open to the public (4 people) with to site delivery or curbside pickup available. We hope to resume planned activities starting in phase 3 but are awaiting guidance from the Governor. If you have any questions about our policies or if you are able to stay please call 413-527-9862!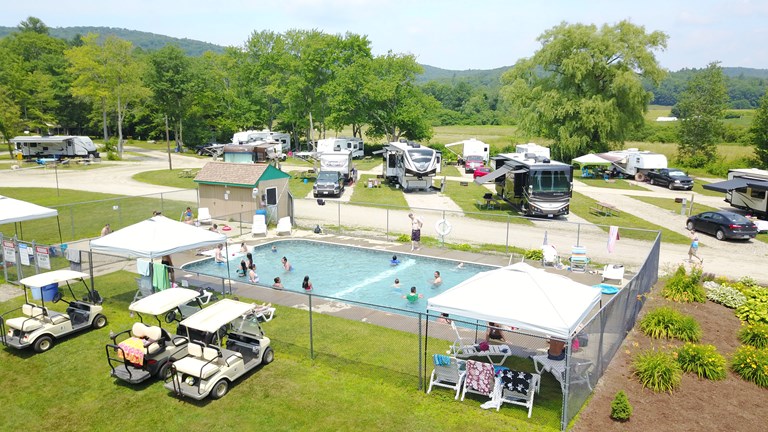 Northampton / Springfield KOA Reviews
Directions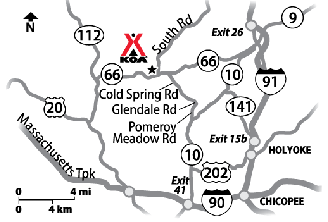 ALL ROUTES ARE CLEARLY MARKED WITH BLUE CAMPER SIGNS AT EVERY TURN
Best route for towing or big rig is exit 3 off MASS Pike(I-90) LEFT on Route 10 North then LEFT on Pomeroy Meadow Rd LEFT on Glendale LEFT on Cold Spring LEFT on Cold Spring AGAIN. LEFT on Route 66 (Main Rd) RIGHT on South Road Entrance on the LEFT
From the north take 91 south to exit 20. Straight onto Route 5 South. RIGHT on Route 9 West. LEFT on Route 66 west turn RIGHT on South Road KOA entrance is 300 feet on left.
From the south take 91 north to exit 17B follow Route 141 (watch for blue camper signs as Route 141 turns a couple times) at end of 141 turn left on Route 10 South. Turn right on Glendale. At fork stay left onto Loudville Rd. Turn left on Route 66 west turn right on south road KOA entrance is 300 feet on left.
GPS: N42.288075. W72.774852
Get Google Directions
Jul 09, 2020
No basketball , horseshoes, jump pad We had to call the office and complain about loud music. Their guys had just driven by the site without saying a thing..
Jul 09, 2020
small campground that didn't seem well kept. our site was near this stagnate pool of water that smelled like raw sewage the whole time we were there all we do was smell it. pool was dirty and slimy. also was told we were getting a gravel tent site and when we got to our site it was all roots and rocks, made it very difficult to set a tent up and stake it in
Jul 09, 2020
This was our 2nd time camping with a travel trailer. The staff helped us set up and checked to see if we were enjoying our stay several times over the weekend. Very enjoyable.
Jul 07, 2020
First time there. Site 5 could be more level. But overall a grest experience
Jul 07, 2020
Everything was perfect except the wifi was terrible.
Jul 07, 2020
We have never stayed at a KOA before and have always heard how nice they are. This KOA was a little rundown. We were a little disappointed in the condition of the campground. We are avid campers and have stayed at a lot of places. I don't know if we would stay at this particular KOA again. We also weren't told a lot of information in regards to signing up for the pool, etc.
Jul 07, 2020
Too close. Bathroom smelled like urine. Was a cabin next to us. Blocked out everything plus could peer down in our site ruining our privacy. The cabin & campsite next to it played on a boom box music so loud for 12-14 hrs day. Despite your personal going by every hour never said or one thing. We could not hear our music or even eat out side trailer. It was miserable not KOA standards. Never
Jul 06, 2020
Not a typical KOA! Broken picnic table, no WiFi in back spots and expensive for what they had to offer.
Jul 06, 2020
Stay went well, campground followed the CDC guidelines. Bathrooms were clean, staff was friendly. Just wish more pepple were wearing mask
Jul 06, 2020
I love it i had a good time can Wait to go again
Jul 06, 2020
Look, it's not a resort. Don't expect perfectly manicured sites, or the massive amount of amenities that some KOA's have. It's quiet, the dog pen sites were big (for a KOA), and the people were very nice. It was perfect for our annual two family camping trip. The kids had a blast, and the adults did too! They did an amazing job in this COVID world we currently live in.
Jul 06, 2020
Wonderful stay with friendly and amazing staff!
Jul 06, 2020
They need to clean and update bathrooms and showers. Bit gross. All staff if fabulous. Truly.
Jul 06, 2020
Just a quick weekend , but everything was perfect , we were very pleased with our site , employees were very nice and helpful also very clean and very diligent with all the new COVID-19 rules , they did a great job !! Thank you !
Jul 05, 2020
The overcrowding and constant noise of golf carts and close contact with other campers was unsettling. The laundry room was unkempt. Did not use the rest rooms. I don't see how this KOA passed the standards.
Jul 05, 2020
Nice place, sites were big and property was clean. We visited during COVID times in late June so there was no activities to comment on. Overall we had a pleasant stay.
Jul 04, 2020
Staff was lovely at this KOA. It's more of a RV kind of camping campground. Store was closed early and open late. Pool was pretty clean and bathrooms as well. Due to coronavirus there was no activities for the kids but we were still able to fish and getting the poolPlayground was open as well and social distancing was easy to do. I will keep exploring other KOA campgrounds.
Jul 02, 2020
We really enjoyed our stay. The deluxe site with the dog pen was perfect. Campground was very well maintained and the staff were friendly and helpful!! Despite some crazy weather, we had a great time!! We will definitely be back!!
Jul 01, 2020
We have enjoyed coming here for many years in a row. While we enjoyed our time once again I do have to say we were extremely disappointed in the changes to the KL campsite. Taking down the tree left us no shade. We hardly even had a patch of grass to set up on. A new location In the same area with some privacy, shade and a natural feeling would improve this. Dusty was a great host to us as usual.
Jul 01, 2020
Check-in at the window was pretty quick and easy. Employees were wearing masks and sanitizer was provided. A golf cart brought me to our camp site. The bathrooms were clean. Showers were warm. The kitchen sink area was clean. My only wishes for improvement would have been that there would be more grass on the camp site itself.
Jun 30, 2020
Always pleasant, friendly helpful staff. Always a joy to stay!!
Jun 30, 2020
Absolutely great stay and staff. I loved our site, perfect size and accurately described on booking site. Already planning a return trip. Well managed, clean facilities.
Jun 30, 2020
Rain spoiled it but the site was adequate.
Jun 30, 2020
We are thankful that you were able to put us next to our daughter and her family. The site, however, was not great. The table was filthy. I do hope you put a new one in its place. The bathrooms were adequate.
Jun 29, 2020
Camped in the rain, but made the best of it. The kids swam and rode bikes. Enjoyed resting and relaxing at our wooded campsite!
Jun 29, 2020
This was my second time coming to this camp site. My daughter really likes it because the people are very friendly and she loves the pool and the different activity. But the only thing that I didn't like was that the internet wasn't work correctly, other than that it was great. I would like to make another appointment for the last weekend in July.
Jun 29, 2020
Very happy with the campground...site we had was nice and quiet. Staff was nice and helpful. We were there the bike the nearby rail trails and his advice to where to start was perfect.
Jun 25, 2020
good location for me,great electric ,
Jun 25, 2020
We had a very pleasant stay. Campground was very clean. The staff was excellent. We will be stay here again in the fall.
Jun 23, 2020
Nice campground overall. The main bathhouse only had 1 stall and 1 shower. The staff, though friendly, rode around on their golf carts/UTV's all day with family and kids in them (none of these vehicles had any KOA ID), and on our last day, the owner could be heard arguing on his phone with someone while in another campers occupied site. Was very surprised that this is a KOA for 10 years.
Jun 22, 2020
Grounds, pool playground were clean..basketball court now a storage area.. bounce house not up, looked like it sat out all winter.. Did not ask for my dogs rabies papers although I had them in hand.. 2 pit bulls, 2 other dogs with restraint collars were on premises although rules state those breeds forbidden. .Check in not as pleasant as I get at other KOA's. Obvious this place is host absent..
Jun 22, 2020
Well do to COVID-19 limited events going on. But what a great time we had meeting new people .. however do wished they could make the WiFi reach the whole campground.. might need to research that.. .. but overall we love it there and will return .
CAMPGROUND RESPONSE / COMMENTS:
We are glad you enjoyed your stay! I am excited to announce we have purchased a new WiFi system this winter and are eagerly awaiting in installers, but they have been delayed due to the pandemic.
Jun 22, 2020
Upon set up we had a mechanical issue. The staff was extremely helpful in finding us a gentleman onsite who was able to assist us. Sites were spacious and clean and other campers were very friendly. Excellent stay in trying times.
CAMPGROUND RESPONSE / COMMENTS:
We are glad you enjoyed your stay, and we were able to help with that pesky valve!! We hope to see you again soon.
Jun 22, 2020
it was a very hot few days...but the site was great and we were camping with our son and family...the grounds are ok dirt roads not paved but they do try to keep the dust down...because of the virus its a little different with friendliness hard to socialize when you're not sure what to expect...for us using the amenities was not an option...would have been nice to have a guide to area attractions.
CAMPGROUND RESPONSE / COMMENTS:
Yes, this weekend was very warm. We do try our best to water the main roads and keep the dust down as much as possible, thank you for noticing! We do have a limited local guest guide on the back of the maps, but this is a great suggestion and will look into making a separate sheet of items in the ar
Jun 22, 2020
Great area and campground. We very much enjoyed our stay.
CAMPGROUND RESPONSE / COMMENTS:
We are glad you enjoyed the stay with us.
Jun 22, 2020
Its bare bones over here, Woody. I'm never expecting a Ritz Carlton any time I visit a KOA, however most of the ones in the south are equipped with, how would you say, HIGHER QUALITY LUMBER, so that the facilities appear to be what they're supposed to be, instead of looking like the first level of a concentration camp. Please update the aesthetic to be less """RUSTIC."""" Thank you.
CAMPGROUND RESPONSE / COMMENTS:
We are sorry we did not meet your expectations. I will be emailing you to find out what was not high-quality lumber, as we just spent over 200k this winter in infrastructure, amenities, and bathroom improvements. We are hoping that we will be able to have more amenities for our guests; however, ever
Jun 21, 2020
We were very happy there and plan to return and bring other campers with us.
Jun 20, 2020
The koa itself was a very nice and clean place, but I will never recommend my family or friends to stay, the Koa staff was the most rudest and judgmental staff I have ever encountered. New staff is needed!
CAMPGROUND RESPONSE / COMMENTS:
We are glad you enjoyed the cabin and our facilities. I am glad the staff was able to accommodate the extra adults and kids that were not placed on the reservation and exceeded the occupancy of our cabins. We can not allow 8 people to stay in a cabin that only sleeps 4 people. We also offered you a
Jun 18, 2020
Great short stay
Jul 06, 2020
Great campground to go to. Will be back!
- KJB on Google
Jul 06, 2020
We had reservations in Vermont but were not allowed to stay there due to COVID-19. A phone call got us a site for a week druing the 4th of July. Right around the 4th of July, the campground was very full and the employees were running all day and night to please the guests. We had a lovely visit here, especially considering we don't usually spend a whole week anywhere.
- M Widholm on Google
Jun 30, 2020
We stayed Friday through Sunday the end of May 2020 in site 75. We had 30 amp service and full hookups. This was the shake down trip for our latest camper (2018 Lance 2285). All the public areas of the campground were closed due to Covid-19 but self contained campers were allowed at this time. The staff here is very friendly and fun. Wow, does that make things nice right off the bat. The sites are level with 1/4" gravel so tenters, bring a comfortable mat. The deluxe sites had nice dog pens and fire pits with chairs. The deluxe sites are closer to the pool and playgrounds and may not be as quiet and secluded. If you have children, these spots are awesome. There is a cute doggy park with some agility course items. The pool and playgrounds were nice and clean. The bathrooms, store and pavilion were closed due to Covid-19 so I can't comment on those for this review. The sites have ample room and are not ontop of each other. There is an awesome paved bike trail not too far away that goes for miles. There is also some awesome hiking close by. We'll be back for sure!
- Joe Don Baker on Google

Northampton / Springfield KOA
Open April 19 - October 31
139 South Road
Westhampton, MA 01027
Check-In/Check-Out Times
RV Sites, Tent Sites
Check-in: 1:00 pm, Check-out: 11:00 am
Accommodations, Deluxe Cabins
Check-in: 3:00 pm, Check-out: 11:00 am
Northampton / Springfield KOA
Get Google Directions

© 2020 Kampgrounds of America, Inc.