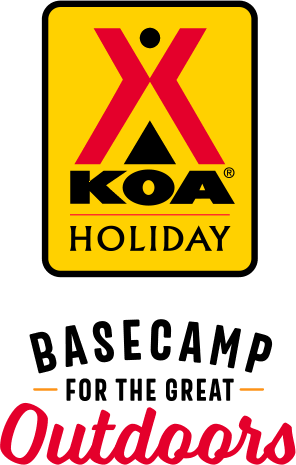 KOA Holiday Campgrounds
Whether you're exploring the local area or hanging out at the campground, KOA Holidays are an ideal place to relax and play. There's plenty to do, with amenities and services to make your stay memorable. Plus, you'll enjoy the outdoor experience with upgraded RV Sites with KOA Patio® and Deluxe Cabins with full baths for camping in comfort. Bring your family, bring your friends, or bring the whole group – there's plenty of ways to stay and explore.
KOA Holidays Feature:
RV Sites with a KOA Patio®
Deluxe Cabins with full baths
Premium Tent Sites
Group meeting facilities
Directions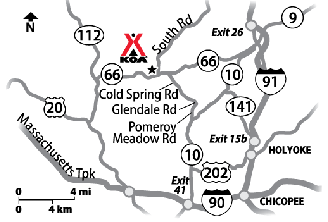 ALL ROUTES ARE CLEARLY MARKED WITH BLUE CAMPER SIGNS AT EVERY TURN
Best route for towing or big rig is exit 41 (Old Exit 3) off MASS Pike(I-90) LEFT on Route 10 North then LEFT on Pomeroy Meadow Rd LEFT on Glendale LEFT on Cold Spring LEFT on Cold Spring AGAIN. LEFT on Route 66 (Main Rd) RIGHT on South Road Entrance on the LEFT
From the north, take 91 south to exit 26 (Old Exit 20). Straight onto Route 5 South. RIGHT on Route 9 West. LEFT on Route 66 west turn RIGHT on South Road KOA entrance is 300 feet on left.
From the south, take 91 north to exit 15B (Old Exit 17B) follow Route 141 (watch for blue camper signs as Route 141 turns a couple times) at end of 141 turn left on Route 10 South. Turn right on Glendale. At fork stay left onto Loudville Rd. Turn left on Route 66 west turn right on south road KOA entrance is 300 feet on left.
GPS: N42.288075. W72.774852
Get Google Directions
Jul 23, 2021
The best time even with not the best weather my only complaint would be the front grassy part of the cabin was always swamped even on sunny days
Jul 23, 2021
Friendly staff. Campsite is beautifully maintained with ample space. Location is close to wonderful restaurants, parks and shopping.
Jul 23, 2021
Short overnight stay. All was fine. Roads are a little rough. Lots f big rocks especially in road near bathrooms.
Jul 22, 2021
Sites were right on top of each other paid for special site with kennel which was just a regular site with kennel put at the far end of the site This was called Deluxe site Called about the Cable and never got a call back Very disappointed
Jul 21, 2021
A lot of water related issues. Mud and flooded areas. Very pretty wooded area though. Tricky to get into but guidance helped.
Jul 21, 2021
Great staff amazing facilities you get the regular KOA sites and more state park sites also
Jul 20, 2021
We stayed 2 nights but were visiting friends in the area so not much time at campground. Looked like lots of fun things for kids. Bathrooms were immaculate. But combo toilet and shower so had to wait. Laundry facilities need to be upgraded. Very hot room. Would definitely stay there again...
Jul 20, 2021
We really enjoyed our stay. Peaceful and friendly. We stayed in a cabin and it was clean and had all the supplies we needed. Loved spending time on the front porch swing.
Jul 20, 2021
It was dirty, run down. Should mention that we had a camper toilet. After working at KOA's this one needs an up date. People were friendly though
Jul 19, 2021
nice, very friendly,
Jul 19, 2021
Rained but was a great place with great staff Will be going back again! Also the escort they do is amazing! Helps new time visitors !
Jul 19, 2021
The power was not working correctly and we were getting zapped off our camper. When the owner came up to repair with the electrician on staff the electrician could not find the issue and drove around in his golf cart making fun of the situation to other campers. We left early and do not plan to return. No refund has been secured as of yet.
Jul 19, 2021
Bathrooms were quite new and seemed to be cleaned quite often. However I feel that with a campground of this size there certainly should be more restrooms / showers. Otherwise staff were quite pleasant and helpful with inquiries. Grounds were clean and everything was to my expectations.
Jul 19, 2021
You won't find a friendlier, more helpful group of employees. I was disappointed that the campsites were so densely packed together--no privacy here. But the other campers were so welcoming that it was a better experience than I initially expected. The facilities were clean and it seems especially great for kids.
Jul 19, 2021
Wonderful staff
Jul 19, 2021
Everyone was very friendly and helpful. We got in after dark, got an escort to our site and experienced assistance backing into a dark wooded site. We only stayed one night, but every contact we had was good and the campground was nice.
Jul 18, 2021
Campsite was great!
Jul 17, 2021
Nice place but the chuck holes were ................ Great kid place
Jul 17, 2021
Way to far off the beaten track. Complicated place to find your way to and out. People were nice though and my spot was close to a bathroom which was nice. Lots of permanent campers, I think. Quiet and wooded.
Jul 16, 2021
We stayed in Deluxe cabin. Checked in online which made in person check in a breeze. Cabin had all we needed. Loved having the gas grill. Porch glider was nice for staying out of the rain. Friendly staff and campers.
Jul 15, 2021
One of our favorite KOAs. Great atmosphere: not a very large campground, activities for young and "not so old", great location in the beautiful country of Westhampton.
Jul 15, 2021
We had a great time for our mother/daughter/granddaughter trip. Mother Nature provided rain, but the KOA provided a large covered deck on the cabin.
Jul 15, 2021
Excellent activities for children. Very kind and accommodating management
Jul 15, 2021
Had problem with another KOA Electricity service. AC would not work. We are now at another KOA and AC works fine. Other than that nice park and close to everything.
Jul 13, 2021
Unable to use pool due to unsupervised kids using it for playground. As a 40+ years first responder, you need to prevent the inevitable tragedy by taking control the situation. We do plan a return stay next year.We really liked the campground itself. Hope for better weather next time.
Jul 13, 2021
Our family of five and our puppy spent the weekend at the Northhampton KOA and had such a great experience! The kids loved the pool and the dodge ball game! Our puppy loved the dog park lots of grass to roll around in and shade! The staff was friendly and very accommodating. The staff running the activities for the children were just awesome! We had so much fun and we can't wait to come back!
Jul 13, 2021
Everyone was friendly and helpful
Jul 13, 2021
We enjoyed your quiet campground.Absolutely Loved the chickens.
Jul 12, 2021
Nice people. Great campground
Jul 12, 2021
Nice stay…thanks
Jul 12, 2021
The staff were pretty amazing. We are a large family (8 of us) traveling with a large group, many of us on our first camping trip. The staff were accommodating, kind, personable, kid-friendly, and on point. We could not have asked to have been treated better. Our children even commented on how nice and caring everyone was. Thank you so much for all the hard work you put in!
Jul 12, 2021
Great time !! Great activities! Great staff very clean ! Such a great time !!
Jul 12, 2021
We had an absolutely AMAZING experience!! So many great activities for the kids, so many little events for everyone, and the staff is just INCREDIBLE!!!! We can't thank you all enough for such a great experience and we can't wait to come back soon!
Jul 12, 2021
Had a great time at the Annual Pig Roast with a fabulous band, Out if the Blue, for our entertainment into the evening !!!
Jul 12, 2021
Love the renovations and updates, but don't love the roosters that crow very early in the morning.
Jul 11, 2021
We tried to have a good time but rain every day. Did get to pool twice. Kids took firetruck rides and hayrides shen not raining. Tenting in pooring rain not good. Evefything came home soaked. Tent flooded. Bsby . Got sick from everything getting wet. Did get to bingo.
Jul 11, 2021
Pleasant people. Clean Quiet
Jul 08, 2021
we stayed in the Deluxe cabin. we loved that it was so close to mini golf, the pool and the playground. our kids played tons of mini golf and really enjoyed the playground. the pool was great for kids: 3 feet on one end for the smaller kids and 5 feet on the other end for the bigger kids to jump. We loved the fire truck rides as well. the staff were very friendly
Jul 23, 2021
Clean, quiet, roomy sites. Far enough from town and interstates to avoid heavy traffic noise. Lots of things to do for kids
- Peter Irwin on Google
Jul 13, 2021
Clean and nice campground! We enjoyed our stay here. Plenty of activities for everyone to enjoy. Nice laundry room. The firetruck rides looked like fun, but I kept missing them. Fun place!
- Roxy Beaudet on Google
Jul 12, 2021
Friendly staff, clean updated restrooms and lots of activities to participate in.
- Jessica Garuti on Google