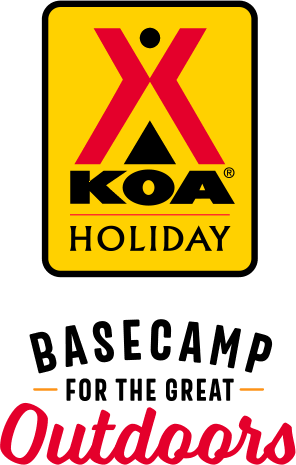 KOA Holiday Campgrounds
Whether you're exploring the local area or hanging out at the campground, KOA Holidays are an ideal place to relax and play. There's plenty to do, with amenities and services to make your stay memorable. Plus, you'll enjoy the outdoor experience with upgraded RV Sites with KOA Patio® and Deluxe Cabins with full baths for camping in comfort. Bring your family, bring your friends, or bring the whole group – there's plenty of ways to stay and explore.
KOA Holidays Feature:
RV Sites with a KOA Patio®
Deluxe Cabins with full baths
Premium Tent Sites
Group meeting facilities
Directions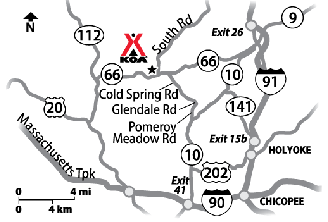 ALL ROUTES ARE CLEARLY MARKED WITH BLUE CAMPER SIGNS AT EVERY TURN
Best route for towing or big rig is exit 41 (Old Exit 3) off MASS Pike(I-90) LEFT on Route 10 North then LEFT on Pomeroy Meadow Rd LEFT on Glendale LEFT on Cold Spring LEFT on Cold Spring AGAIN. LEFT on Route 66 (Main Rd) RIGHT on South Road Entrance on the LEFT
From the north, take 91 south to exit 26 (Old Exit 20). Straight onto Route 5 South. RIGHT on Route 9 West. LEFT on Route 66 west turn RIGHT on South Road KOA entrance is 300 feet on left.
From the south, take 91 north to exit 15B (Old Exit 17B) follow Route 141 (watch for blue camper signs as Route 141 turns a couple times) at end of 141 turn left on Route 10 South. Turn right on Glendale. At fork stay left onto Loudville Rd. Turn left on Route 66 west turn right on south road KOA entrance is 300 feet on left.
GPS: N42.288075. W72.774852
Get Google Directions
Oct 19, 2021
I enjoyed my time with my family at this KOA. The people who ran it were super nice. I chose this KOA because they had alot of activities for my daughter. Some of the activites were great like hunting for coins for prizes and the hayride but the fire truck ride was aweful! The driver drove WAY too fast and I had to hold my daughter head so she wouldn't get hurt. The people doing it lacked smiles!
Oct 19, 2021
Unfortunately we did not get the site we booked. We were also told seasonals would be gone by then. The people in front of us were not and they spent the entire weekend blowing leaves, vacuuming their car, washing their vehicles etc. cable did not work because of being off season, bbq and bonfire that was listed for Saturday night on the public print out was for private group only (seasonals)
Oct 19, 2021
We loved staying with you. We enjoyed the chickens :) Your campsite was very clean & well maintained.
Oct 19, 2021
Great location and "wicked" friendly staff!
Oct 19, 2021
Nice park, great sites, staff was friendly and very helpful. Beautiful setting.
Oct 19, 2021
Excellent stay. Just difficult to get to you.
Oct 18, 2021
Great campground.
Oct 18, 2021
The pad, chairs and tables at my tent site were terrific! New shower/bathroom facilities are, too. And friendly, helpful staff!
Oct 18, 2021
The KOA is a clean campground with excellent sites. As well as friendly people running the KOA, the activities for both adults and children are quite diverse.
Oct 18, 2021
Very friendly campground. Off the beaten path but the scenery was amazing!
Oct 18, 2021
Very nice. And very accommodating. We had a wonderful time and enjoyed exploring the area.
Oct 18, 2021
Excessive amount of junk vehicles, campers, scrap strewn about makes for an unpleasant experience. The constant patrol of KOA personnel make you feel like you're under a microscope. Pool literally has green water, bathrooms however are spotless.
Oct 18, 2021
Enjoyed the visit. seems to be a work in progress. Maybe just a bit too much stuff around like plastic chairs. Overall good but not excellent.
Oct 17, 2021
We stayed in a tent on a W/E site. Check in was easy and staff was friendly. Bathrooms were clean. Halloween haunted house was GREAT!
Oct 17, 2021
It was great, everything clean but I was staying in a tent and it was very noisy. If you have an RV this place is amazing, would go again.
Oct 17, 2021
This was my second stay here (the first one 3 years ago was not a good experience due to a loud seasonal site next door). Shared that experience this time, was given a complimentary bundle of wood. Staff was very accommodating, looks like they put in mini golf recently. Enjoyed my stay, would stay again. Back half of the campground is heavily treed and has a lot of run down seasonal sites.
Oct 16, 2021
Very nice facility. If we are in the area again, we'll certainly make an effort to reserve another site with you. Thank you!
Oct 14, 2021
We stayed in a glamming tent. The tent was clean, furniture was very nice. I loved that there were chairs around the fire pit. We cooked on the gas grill instead of pulling our grill out. The bathroom was a little bit of a walk. But overall very nice.
Oct 14, 2021
Booked on a holiday (Columbus Day). Thought I had booked full service...apparently not. Nonetheless, the site was quiet and fairly level. A lot of full time/seasonal who didn't have any pride in their site. Still, for a 4 day stay, it was good.
Oct 13, 2021
Love this campground, everybody is so friendly. My son loves finding the coins. Would love to see you have some live music maybe in the future.
Oct 13, 2021
great place to camp! very friendly people, always willing to help with your needs.
Oct 13, 2021
I have to admit, for a KOA, this place was a bit run down and dated. Cable was spotty and when asked about it, they knew they had issues and plan on discontinuing it next year. Everyone though was extremely friendly and this place is VERY dog friendly - would not recommend staying here if you don't like dogs (lots of barking each time another dog walked by). Bathrooms were fabulous!
Oct 13, 2021
They had amazing activities for the kids the entire weekend. The bathrooms were clean and updated. The only thing that I would say was not so great is all of the abandoned trailers. They really bring down the esthetics of the entire campground. Otherwise, the sites were really nice, some with swings and nice chairs. Apple orchard/brewery/deli right around the corner was convenient.
Oct 13, 2021
Good -friendly people Not so good - water pressure in our Orchard site was so low we could not shower; camp site has many old dirty RVs which gives a depressing atmosphere
Oct 13, 2021
Our cable was not working and neither was the wifi. Campground itself was nice
Oct 12, 2021
Our stay was very relaxing and laid-back. All staff members were very pleasant and accommodating. We were quite pleased with everything, but a word of caution -- do not follow your GPS to get there - read the instructions provided by the campground to avoid a very long, windy roller-coaster ride before you arrive!
Oct 12, 2021
Great staff, friendly and welcoming. Inviting atmosphere. Stayed in the studio lodge nice shelter from the weather.
Oct 11, 2021
We are repeat guest. We live it here. And other KOAs
Oct 11, 2021
I really like this campground. The only complaint I have is the site I was given (118) was very muddy due to runoff from higher sites. There were plenty of dry sites that were not being used the entire weekend I was there. I would have requested a different site but I had already set up and didn't want to tear down to move. The facilities are awesome and the employees are terrific.
Oct 10, 2021
One over night, very convenient. The attendant was extremely helpful. Not our first time stay here!
Oct 10, 2021
The service was A++..Staff was A++, new bath house A++ grounds were clean and looking very nice. The owner can not do enough to make your stay as Perfect as Prefect can be. You really feel like family HERE...Lora McKenna
Oct 10, 2021
packed too many RV's into a big field next to each other, by the dumpsite. Noise of neighbors past midnight.
Oct 09, 2021
Staff was extremely friendly!
Oct 09, 2021
For starters, employees were friendly and helpful.Two workers tried for 1 1/2 days to fix the almost non existent cable to no avail.Campsite was good but with road noise.Restrooms/showers excellent.Dump station sewer hole higher than road/ ground,totally useless as waste does not flow uphill and tanks could not be emptied.We needed another shower before departure.Would not recommend.
Oct 09, 2021
Very nice campground other than the bathroom lights didn't work and they were getting some one too look at them but was too late for us.
Oct 06, 2021
Very nice, helpful people running the place. The area is pretty and family oriented. Clean bathrooms. Our RV is on the bigger side so we have to stay in the lanes in the front that are a bit tight but the back area is nice and wooded. They have a few cute cabins also. I could do without the rooster crowing in the morning but the chickens walking around are cute.
Oct 05, 2021
Very personable staff. Had requested a 30 amp back inside. Since they were not full, they put me in a 30 amp pool through site. Although I offered, they did not charge me for the upgrade. Classy! The only problem there was is that the cable wire to our site wasn't operable. Great site though: Flat with small gravel, so, even though it poured rain all night the site wasn't muddy when unhooki
Oct 04, 2021
great place. close to excellent hiking and a local farm/brewery. the folks who run the place are really nice and helpful and the campground is clean and well run. can't wait to go back next year.
Oct 04, 2021
Host are second to NONE! We will DEFINITELY return!
Oct 04, 2021
Here for the weekend with my wife and 2 grand kids. Had a great time, a lot of activity's for the kids to do. Clean and well maintained campground, friendly staff. This is our 3rd time here, this will be our local to go campground for the near future.
Oct 04, 2021
Very Polite at desk and elsewhere. Campground itself needs "Refreshing".
Oct 04, 2021
I love the chickens free to roam. I liked the 2 camping sites (a week apart). :)
Oct 04, 2021
Great place, clean facilities. Plenty of fun things to do for kids. Jts
Sep 22, 2021
Great place stayed several times already
- Dejan Andrejic on Google
Sep 09, 2021
Experience: It was my first experience at KOA. I don't have any regrets about. Hospitality was excellent. It was great experience. Team took care of everything. From check in to delivering woods and picking up garbage bags etc to/from your site. I would have given 5 starts but, my site was rock. It was hard to nail down my tent.
- Lokesh Jadwani on Google