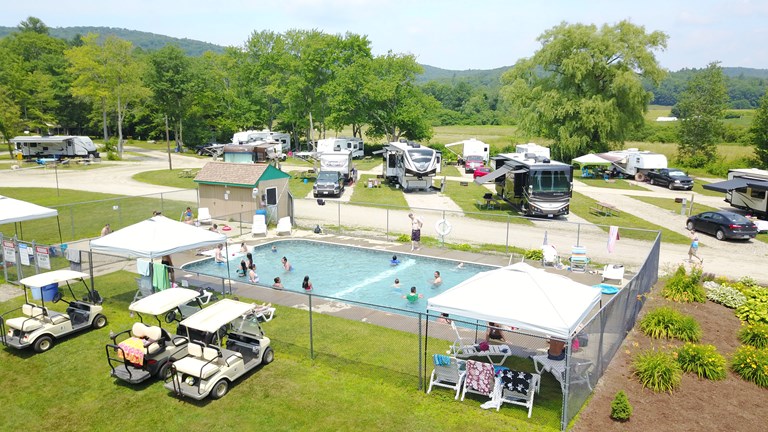 Northampton / Springfield KOA Attractions
Local Area Attractions Near Northampton / Springfield KOA
We are conveniently located less then 45 minutes from all the attractions listed below. Monster Mash Scream Park
Dan and his crew set about creating scenes and planning how to best use the acres of McCray farmland to their advantage. Every scene that first year was built from scratch in backyards or on sight. The masks and costumes were from Dan's personal Halloween collection. This homemade haunted hayride was named the Monster Mash Haunted Hayride and launched Friday, Saturday and Sunday nights in October vowing to scare every night, weather permitting, "until the last rider runs screaming."That first October, people came for their first visits out of curiosity. They came back for their second and third trips because they enjoyed the scares. By the third weekend, the farm ran out of room to park all the cars of customers who were coming in. The attraction has been growing ever since. The Monster Mash Haunted Hayride at McCray's became the place to be on weekends in October. Every year, we add more and more to the attraction, scenes get scarier and more interactive, and more and more customers flock to the little farm in South Hadley to be scared.Dan took the 2004 season off, due to personal reasons. Despite this, he worked hard to keep the tradition of the Haunted Hayride going. He lent equipment and talent to Doug McCray, Don's grandson, and a friend, who enthusiastically carried on the show in Dan's absence that year. Since that season and Don's passing, two new generations of McCray: Don's son, Steve, who now runs the farm and Doug, who builds and creates alongside Dan, have been partnered with Dan as they bring scary entertainment to new generations. We are now scaring young and old alike. Generations pass on word to others, just as the scare business passes into a new generation.From that first season of a shoestring budget, volunteer actors and a personal loan, the Monster Mash Haunted Hayride at McCray's Farm has grown into the largest and most talked about Haunted attraction in Western Massachusetts. As we prepare for our 24th Anniverscary season, we promise you that this season will be even better than last. We are constantly on the hunt for new and better props, costumes and scares.
55 Alvord St
South Hadley, MA 01075 Amazing Hauted House Attraction in Easthampton by dementedfx.com
Words can not describe this BRAND NEW attraction. A haunted house for teens & adults. Only 15 minutes from the campground. Please visit http://www.dementedfx.com/ for more info
123 Union St
Easthampton, MA 01027 Six Flags Amusement Park
For thrilling rides and world-class entertainment, visit Six Flags New England in Agawam, MA! Home to ten world class coasters and family fun like Wiggles World, Thomas Town, and Looney Tunes Movie Town. Brave the twisted new world of Bizarro, a surreal coaster, the peculiar creature from Htrae where inhabitants believe in doing the opposite of Earthly things. Experience fog and fiery flame effects timed perfectly with heart-pumping audio for an unforgettable ride DISCOUNT ADMISSION TICKETS ARE SOLD AT THE CAMPGROUND, FOR ONLY $40 EACH. Basketball Hall of Fame
If you're a basketball fan, then you must visit the Basketball Hall of Fame in Springfield. There are interactive kiosks loaded with Hall of Famer data and trivia, a basketball-themed restaurant, a Reebok Concept Store and a Hall of Fame gift shop. Then you can hit the full-size "Center Court" for some shooting, passing and other skill challenges or head to the second floor's high-tech, experiential attractions that allow you to measure your vertical leap, sit in the broadcaster's seat, coach a team to victory or even play a game of "Virtual Hoops." Eastern States Exposition
In September, don't miss The Eastern States Exposition New England fair. Including entertainment, exhibits, The Big E Super Circus, the Avenue of States, New England history and agriculture, animals, rides, shopping, crafts, a daily parade and a Mardi Gras parade and food from around the world. Downtown Northampton
Downtown Northampton features a unique blend of independent retail shops, eclectic restaurants and cafes, many art galleries, museums, clubs, and theaters. Also, a self-guided tour book offers six distinct walking tours of the City. New England Air Museum
The New England Air Museum offers guided tours that last about 2 hours. There is also an audio tour with 30 stops at the Museum's major exhibits and takes approximately one hour to complete. The Museum includes three large display hangars where you will find helicopters, modern jets and trophy-winning racers. See the exhibits that tell the story of the men and women who built, flew, and made history with these fabulous machines. Smith College
Visit Smith College , a private, independent women's liberal arts college in Northampton. Amherst College
Amherst College , the third oldest college in Massachusetts, is a highly selective, private liberal arts college. Mount Holyoke
Mount Holyoke is a highly selective liberal arts women's college in South Hadley and is "the oldest continuing institution of higher education for women. Yankee Candle
Find the largest selection of Yankee Candles in an endless array of fragrances and colors. Also find kitchen and home accessories, New England crafts, gifts and collectibles, a toy shop, Chandler's Restaurant, and even a "Bavarian Christmas Village" filled with decorated Christmas trees and a toy train that runs through to Santa's Workshop. Visitors can dip their own candles and visit a candle making museum. Littleville Lake
The U.S. Army Corps of Engineers welcomes you to Littleville Lake about 1 mile off Rt.112 in Huntington and Chester, Massachusetts. The 1,567 acre park offers visitors many opportunities to enjoy a variety of outdoor recreation activities. Situated in the scenic Berkshire Hills, hikers and sightseers can enjoy wandering along the old cart roads that run on both sides of the lake. During the fall foliage season, Littleville Lake and nearby areas provide leaf peepers with many scenic vistas. Every spring, water releases at Littleville Lake are coordinated with those from nearby Knightville Dam to provide challenging flows for the annual Westfield River Wildwater Canoe Races. http://www.nae.usace.army.mil/recreati/lvl/lvlrec.htm New England Air Museum
The U.S. Army Corps of Engineers welcomes you to Knightville Dam. The dam and reservoir area are located in the scenic Berkshire foothills along the East Branch of the Westfield River. Most of the 2,430 acres of the Knightville Dam area is undeveloped. You may enjoy hiking, mountain biking or horseback riding along several miles of trails and old country roads. http://www.nae.usace.army.mil/recreati/kvd/kvdhome.htm Look Memorial Park
Look Park is a place of both passive and active recreation including exciting seasonal attractions such as Bumper Boats, Miniature Golf, Pedal Boats and a Steamer Train Ride. www.lookpark.org Quinnetucket II Riverboat
The 60 seat Quinnetucket II Riverboat takes passengers on a one hour cruise through the stunning French King George on the Connecticut River. Narration includes history, natural history and geology. Berkshire East Canopy Tours
Come ride the chair lift to the top of Berkshire East Ski Resort, take in the beautiful views of the Deerfield River Valley and experience New Englands most exciting canopy tour. Mokawk Trail
Stretching from the Massachusetts-New York line to Millers Falls on the Connecticut River, is the actual 63 mile East-West highway. Reminiscent of early American life, the Mohawk Trail provides the traveler of today with well over 100 attractions; country inns, gift shops and public and private camping areas nestled amid the seasonal changing beauty of the Berkshire Hills and Connecticut Valley MGM Springfield
Set in an entertainment complex, this grand hotel and casino surrounded by restaurants is a 9-minute walk from the Naismith Memorial Basketball Hall of Fame and a 15-minute walk from Union train station. Amenities include a luxe steakhouse, an Italian restaurant and 4 bars, plus a Starbucks cafe and an informal food hall. As well as the casino and a simulated golf course, there's also an outdoor pool, a gym & a spa. Parking is available.
1 MGM Way
Springfield, MA 01103