Alert
Before you make a reservation for the 2020 season, please stay informed about Provincial Covid-19 regulations and restrictions regarding camping in Nova Scotia at www.tourismns.ca/coronavirus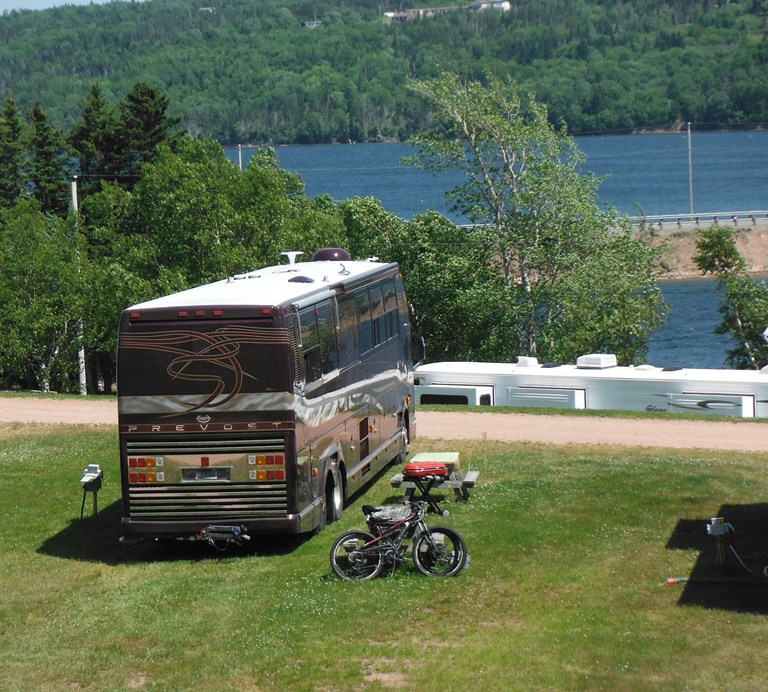 North Sydney / Cabot Trail KOA Reviews
Directions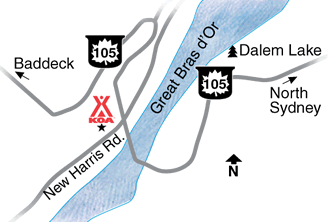 Located on south side of Trans-Canada Hwy 105: West side of Seal Island Bridge, at base of Kelly's Mountain. 35 km (22 miles) east of Baddeck, 29 km (18 miles) west of North Sydney. On Trans-Canada Hwy (turn is "between" Exits 12 & 13).
Get Google Directions
Jul 02, 2020
We had a wonderful stay at the KOA at North Sydney. Jay and Bonnie, the owners , were very helpful, pleasant and accommodating. We had a great site for our 5th wheel. We plan to return for another stay sometime this camping season.
Jan 02, 2020
Very friendly and accommodating staff.
Oct 20, 2019
Loved the location! The staff was amazing. We liked the spot we had and enjoyed the view. The camp wasn't as clean as we like, but overall it was great.
Oct 15, 2019
Absolutely loved it. The staff was fantastic!
Oct 15, 2019
Bonnie was exceptionally accommodating to my last minute travel plans and needs. She was a pleasure to talk to and went above and beyond to make me feel comfortable during my stay. Past family and friends have stayed there and were happy to hear I also had a great experience there as well!
Oct 14, 2019
Staff were very friendly and welcoming. This location is very convenient to the main highway and has a great view of the ocean. Very clean campground with great amenities �
Oct 13, 2019
Very friendly and helpful staff. My only concern, not really a complaint, was that their camp guidelines said quite time was start at 10 pm and 2 nights in a row the neighbors next door played loud music and lots of loud laughter until almost midnight. We assumed it would be address after the first night but it wasn't.
Oct 11, 2019
This is our 2nd time staying at this campground. It's convenient to the ferry that travels to & from Newfoundland. The campsites offer a wonderful view. Everything is clean & well maintained. The customer service is excellent. The next time we travel to Newfoundland, we'll definitely stay here again. And if we are going to be traveling in Nova Scotia, we will stay here for a longer period of time.
Oct 11, 2019
We enjoyed our stay at this campground. We had a large pull through site. The hosts were very accommodating. Bathroom facilities were very clean. This was our second visit and we will return next year.
Oct 11, 2019
Super would have liked to have transportation service to restaurant across bridge
Oct 10, 2019
RV sites are far away from other facilities
Oct 09, 2019
The hosts at the KOA were great! It was our first visit to that area of Canada, and Jason and Bonnie (KOA hosts) were great in providing directions. The KOA was located in a prime location for us. Thank you for assistance in all our needs.
Oct 07, 2019
Only spent one night. Facility was clean. Very friendly and informative reception.
Oct 06, 2019
Very nice people. Great views and convenient to many attractions. Loved it.
Oct 06, 2019
Very nice cabins. The campground is surrounded by a wooded area and has a lovely pond for canoeing. Feedback - Consider providing wash clothes in the cabins. We flew into town so we couldn't pack linens.
Oct 03, 2019
Very helpful administration. Excellent view. Access to wi-fi. Affordable laundry available. Exercise room. Very clean rest room and showers. Really enjoyed the stay.
Oct 03, 2019
We stayed here last year and came back. This campground is spacious, clean. Staff are accommodating , and very helpful.
Oct 02, 2019
Great campground! Lovely staff, free showers, great view.
Oct 01, 2019
This was our 4th time to the KOA North Sydney. We really enjoy the location. Convenient for doing the trail, Louisbourg and Baddeck. The staff are friendly and helpful and treat us like family. Will probably return again on our next trip back to Cape Breton or on our way to Newfoundland.
Sep 30, 2019
Enjoyable views and easy access to the park!
Sep 30, 2019
Stunningly beautiful campground with the views of the bridge and the rocks just taking your breath away! Well kept, clean and nice staff!
Sep 29, 2019
Very relaxing
Sep 27, 2019
Best view over-looking the water ! your camp-fire right by the edge, beautiful. Easy, easy access off main highway to Cabot Trail . Well-stocked store, great staff, thanks Bonnie, very helpful. Clean washrooms, and well-maintained grounds. Bill & Liz
Sep 27, 2019
This was our second time staying at this campground. It was very nice once again. We would stay there again when in the area.
Sep 26, 2019
The site was lovely. The owners were friendly and helpful.
Sep 24, 2019
The people running the camp grounds were very friendly, camp grounds were very clean and the view was really nice.
Sep 23, 2019
Great location for Cape Breton touring.
Sep 23, 2019
We were there for a couple nights while we drove the Cabot Trail. We didn't get to experience much of the campground, but what we did use was very clean and well maintained. We would definitely stay there again were we to come back to the area.
Sep 23, 2019
Owners very helpful. We had some difficulty with a washing machine which they quickly helped with the fix. Our site had a loose connection but we were ble to switch the outlets. The WiFi was excellent. Close to the Cabot Trail. We missed having a fire pit at our site. Seems there was a shortage of fire pits. Bathrooms were new and clean. We would recommend this campground.
Sep 22, 2019
Very helpful staff and owners with a beautifully situated location very clean and well kept and a great place to explore the northern part of Cape Breton and the Cabot Trail and the Wifi was good so we could plan our days. We ended up staying an extra day
Sep 21, 2019
We love how friendly and helpful James and Bonnie were. The view is one of a kind and the location was perfect for our itinerary, we also love the cozy cabins for this time of year as a fall back ( when available) for cooler or wet weather.
Sep 21, 2019
Beautiful view very clean campground
Sep 20, 2019
WiFi is an issue with almost all of the KOA's we have stayed at on our 12 week trip across Canada. In this day and age everyone depends on good wifi for banking, photo uploading, family contact, work, searching visiting sites etc etc etc! Also laundry services need to be improved by adding proper lighting, newer machines that actually wash. Sites need more gravel for drainage.
Sep 20, 2019
We had a wonderful time. There right after Hurricane Dorian. Everything picked up when we arrived. Fantastic location for the Cabot Trail.
Sep 19, 2019
Nous étions présent au KOA North Sydney pendant la tempête tropicale Dorian. Malgré les contraintes de la tempête notre sécurité et bien être était leur priorité tout au long de notre séjour. Merci beaucoup pour l'excellent travail que vous faites pour vos clients.
Sep 19, 2019
The staff was very helpful, friendly and the campground was quiet, clean and a situated perfectly for day trips. Our satellite reception was great also. Will definitely be back again, thank you.
Sep 18, 2019
Beautiful camp site, and great service!
Sep 16, 2019
A fantastic place to stay to see Cape Bretton Island. Bonnie and Jason, the owners, were fantastic. We stayed during hurricane Dorian. They had us move to a safer site. There were so very caring. Place is immaculate and just a great place to stay.
Sep 16, 2019
Fantastic location and scenery. Owners very friendly and helpful.
Sep 16, 2019
Hey hello guys, we thought we'd drop you a-line and let everyone know what a great time we had with yous and how thoughtful you were with the impending Dorin on it's way. Power no power, who cares, it was still a wonderful time. Hope to see yous in the near future, who knows maybe we will be neighbors! See you soon , Bob and Sue
Sep 16, 2019
Clean quiet place to put feet up and relax.
Sep 14, 2019
Friendly helpful hosts Adequate shower and toilet facility.
Sep 13, 2019
Great sites. Thank you for the dual sewer outlets. Very organized having all of us showing up from the ferry at the same time.

North Sydney / Cabot Trail KOA
Open May 15 - October 15
3779 New Harris Road
New Harris, NS B1X 1T1 Canada
North Sydney / Cabot Trail KOA
Get Google Directions

© 2020 Kampgrounds of America, Inc.