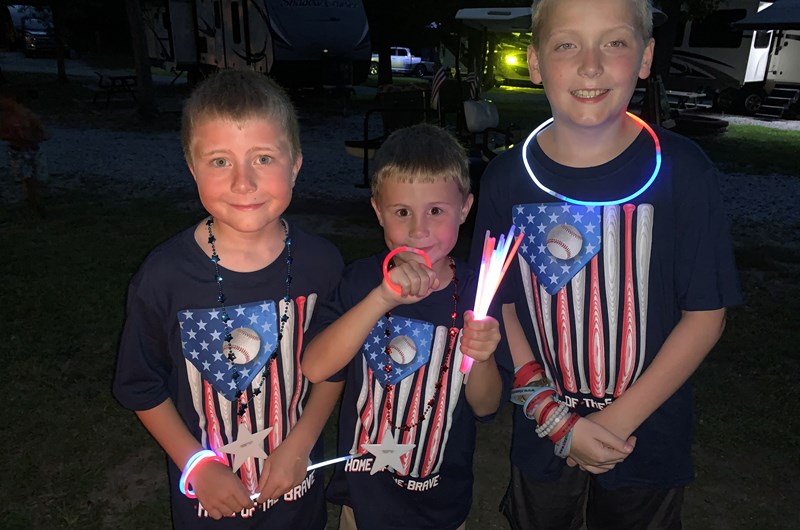 Happy Birthday, America!
Jul 3 - 4, 2021, 3pm - 10pm
July 4th is a special holiday for us. We love this country; we love our veterans - 50% of our owners are vets, and we hug them every day - because we can. We hope you'll help us support the men and women who serve and protect this country, and we're making it easy for you to do just that. Starting today, July 1st, we are kicking off our "Hug-A-Vet" campaign. Our goal is to raise $3,000 for the Gary Sinise Foundation, a non-profit organization that supports American Veterans. For the remainder of the year, Newberry, SC KOA will be hosting a series of events at the campground; live music, a wine-tasting, and cookouts are just a few of the shindigs we have in store for you. All we ask is that you consider donating to our campaign. Please note that a donation is not required to attend or to book a reservation. So, to "kick things off," we have some wonderful family activities planned for you, and we wanted to be sure that you were aware of them, prior to check in Saturday, July 3rd - Family Fun Day!

Ice Cream Social (Starts at 3 pm - $5/bowl - Benefits the Gary Sinise Foundation)

'Tween Ziplining (Sign up at the office)

Scavenger Hunts

Outdoor Games to Borrow- Cornhole, Croquet, Horseshoes, Checkers, Yard Yahtzee, Hillbilly Golf

Sunday, July 4th - Happy Birthday, America!
Campground Cookout - Enjoy Catfish, burgers, hot dogs, potato salad, baked beans, fresh corn on the cob, chips, watermelon, and a drink (Starts at 5:30 pm - $6/plate - Benefits the Gary Sinise Foundation)

Community Campfire

Fireworks! - (Starting around dusk).