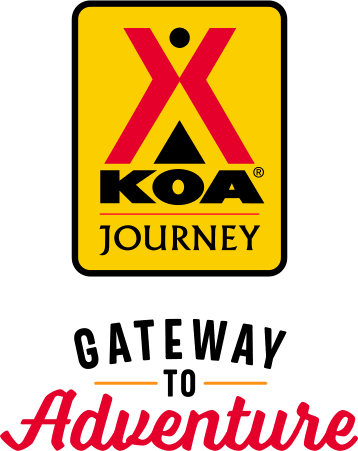 KOA Journey Campgrounds
KOA Journey campgrounds are the perfect oases after a day on the road. Whether it's along the way or a quick getaway, they've got you covered. Located near the highways and byways of North America with long Pull-thru RV Sites, they deliver convenience to the traveling camper. Pull in, ease back and take a load off.
KOA Journeys Feature:
Pull-through RV Sites with 50-amp service
Premium Tent Sites
Well lit after hours check-in service
Directions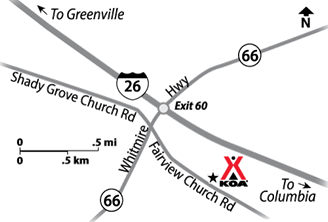 We're easy to find! Just take Exit 60 off Interstate 26 and follow the signs.
Get Google Directions
Jul 26, 2021
Excellent park
Jul 26, 2021
Very friendly staff. We enjoyed our stay very much.
Jul 26, 2021
Clean, very convenient to highway yet quiet surroundings. People were very friendly. Will definitely stay there again.
Jul 26, 2021
Very nice and clean. Just came in for overnight stay, but wished we had stayed a few more days.Look forward to staying there again.
Jul 26, 2021
My wife and I stayed for a week on a project for my work every one was pleasant and very helpful Thank you so much
Jul 25, 2021
I stayed 4 nights and enjoyed every minute. Staff was wonderful and friendly. They all worked hard together to keep all sites and facilities clean and in top shape.
Jul 25, 2021
The pool was perfect, they had an ice cream social and a scavenger hunt for kids. The grounds were in great shape and there were wonderful flowers and trees. Very clean and well kept - bathrooms were great too!
Jul 25, 2021
Very friendly and accommodating folks, well kept beautiful campground.
Jul 24, 2021
Great staff. Very helpful with first time RVers
Jul 24, 2021
The place is very clean. The sites were easy to get to and level.The people were very nice and helpful.
Jul 23, 2021
as always we felt like a family to the owners of this KOA , had great 4th of July weekend ,great weather , stayed at pool most of the stay. they put on a great dinner and fireworks show ! A Big Thanks goes out to them and their hard workers to make for a much needed and relaxing stay ! cant wait till Labor Day !
Jul 22, 2021
We had a very comfortable stay. The owners of this KOA have taken alot of pride in this KOA. The landscaping is beautiful throughout the campground. All of the campsites are cleaned thoroughly before new guests arrive. The pool is clean and kept up. Bonus with the pool is that it is a salt water pool, chlorine is not used, so no chlorine smell. Dog park is a good size too. Love it!
Jul 22, 2021
Campground was convient off I-26. Very well kept w constant maintenance. We saw cleaning and sanitizing of each site as campers left. Staff was very friendly. Delivered purchased wood to site. Amenities were very nice. Salt water pool!! Fiber wifi rocks! Sites were clean and level. Full hookups. Rubber chip tent pads with power!! Very large shelter with fire ring and a Blackstone griddle. �3day
Jul 22, 2021
people were very friendly. sites were well designed and maintained.. easy access to highway.
Jul 21, 2021
Great stay at a very well kept location. The grounds were well maintained and so was the cabin I rented. Everyone running the campground was friendly and welcoming. I would happily stay here again!
Jul 21, 2021
VERY NICE AND CLEAN. WONDERFUL STAFF WHO ARE FRIENDLY AND HELPFUL. HAD A GREAT TIME!
Jul 20, 2021
Excellent location ,easy access ,great crew
Jul 20, 2021
Just one night but it was great
Jul 20, 2021
Very clean, organized campground. I didn't meet anyone that didn't have a friendly smile on and something happy to say. I will certainly be back.
Jul 20, 2021
Able to get in and out easily. Clean and a fun environment.
Jul 20, 2021
We were just stopping on our way to the coast, but we were really impressed by the clean facilities, the beautiful landscaping, and just how friendly and helpful staff were. We're new to RVing and this was our first KOA, but our experience definitely left us looking forward to another KOA stay soon!
Jul 19, 2021
Great place, well maintained. The 2 ladies at the front desk couldn't do enough for us when we were checking in. They wanted to make sure that we were completely satisfied.
Jul 19, 2021
Great place to stop for the night, easy access from the interstate.
Jul 19, 2021
Staff is friendly and helpful. Restrooms clean.
Jul 19, 2021
Very clean and well kept campground. Owners and staff are super friendly and helpful. I will definitely be going back.
Jul 18, 2021
We stayed for 3 months as work campers. This was a wonderful KOA and we would definitely return if going through SC. We left there with only one complaint and that had nothing to do with the campground or management. Our one complaint was due to neighbors dogs barking for hours on end. If not for the dogs this campground would have fives all around, keep up the good work.���.
Jul 17, 2021
Very enjoyable stay. Pleasant and professional staff. Very clean sites and facilities.
Jul 17, 2021
awesome friendly place. well kept. clean and the laundry.. air conditioned.. loved loved.. will be back when in the area again.
Jul 17, 2021
Very nice sites and grounds, bathrooms clean but most of all the hosts, all of them were extremely nice and accommodating!
Jul 17, 2021
Love this place! Very clean and the staff/owners are amazing!
Jul 15, 2021
Nice in every way! Clean, Quiet, safe, friendly.
Jul 15, 2021
We love the Newberry KOA. We have been staying there on our trips between Florida and Indiana for quite a few years. It is small and quiet and the owners are very welcoming. The hummingbirds on the Mimosa tree are an added bonus.
Jul 15, 2021
Outstanding staff
Jul 14, 2021
I was only there for an overnight stay but I can honestly say everyone was super nice and helpful. The grounds were beautiful and well kept. There were really cute nomes around in the gardens. It looks like the people who run the campground take great pride in the cleanliness and esthetics. If I am in the area again I would love to stay longer because of how impressed with the campground.
Jul 13, 2021
This is a wonderful KOA!! Small, clean, friendly. The owners are all wonderful!! They are doing lots of great improvements!! I highly recommend this park for either a stop over long weekend or weeks stay!!!!
Jul 13, 2021
This is a jewel of a camp ground! Large enough for just about any RV, yet small enough to be friendly; Spaces are well kept along with the grounds. Amenities are plentiful. Close to the interstate yet very quiet; spacious sites with good distance between campers; friendly staff. If I ever wanted to own a camp ground...this would be it!
Jul 13, 2021
Our campsite was ok but was right up against what seemed to be a private residence. Not very camp like. Nice facility; we will reserve a better space for the next trip.
Jul 13, 2021
Everyone was very friendly, the ground were clean and well kept
Jul 13, 2021
The rv park was very clean and the staff are very helpful and friendly.
Jul 13, 2021
Great stop before the Tennessee. Clean campground and friendly staff!!
Jul 12, 2021
The camp hosts were extremely nice and helpful throughout our stay . The restrooms were clean. I would highly recommend staying here!
Jul 12, 2021
The owners are GREAT! The campground had all the amenities we needed. However, the 5 stars goes to the owners. We had problems wth our slide and they went above and beyond to help us. We appreciate it. They helped us with things needed to get the problem fixed and hit the road. Thanks so much!
Jul 20, 2021
Great little RV park lovingly restored by the new owners. Great amenities , clean, level pull thru/ back in sites. Fantastic fiber wifi. Full hook ups. Tent sites with chipped rubber pads and electric. Community kitchen for tents. Gnomes everywhere and night time led lights like a fairy forest. Owners are friendly and very attentive.
- Tim Pressley on Google
Jul 16, 2021
Great spot to stay for a long trip. Not much of anything around so plan accordingly if you want to eat out. The campground is very clean and well maintained. The pool is nice and the people and employees are amazing!!!
- PRod R on Google
Jul 16, 2021
I am so impressed with little hidden gem. The owners are so nice and very accommodating. We used this as an overnight stopping point on the way to and from a trip. They were so helpful on the way home as we had not planned a stop over. The campground is very clean and great WiFi. We plan to make this KOA our place when traveling this area.
- Alice White on Google