Directions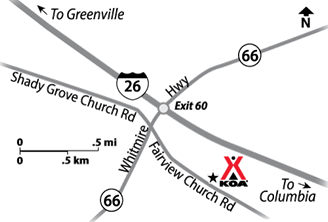 We're easy to find! Just take Exit 60 off Interstate 26 and follow the signs.
Get Google Directions
Feb 21, 2021
Always enjoy staying at this KOA. Staff are friendly and always working to keep it clean and constantly making improvements.
Feb 21, 2021
The owner and the the folks that work there couldn't have been more nice and helpful. Very clean. I will return to this camp ground. Thank you.
Feb 17, 2021
Wonderful, friendly, and helpful staff. To bad they can't do anything about the weather! Ha ha. I would definitely recommend staying there.
Feb 16, 2021
Right off interstate, clean facilities, easy in and out. Good stop if traveling, will definitely be stopping again instead off a marathon drive lol.
Feb 15, 2021
What a pleasant surprise how accommodating the check in girl was. A small KOA but our pull thru site was very long. Our 40' MH and tow car had plenty of leftover space. Convenient off the interstate and we were able to use our antenna tv to watch the super bowl no problem. When we are in the area will definitely stop here again.
Feb 15, 2021
Great campground, the staff is super friendly and accommodating. I only had on issue. First would be the fact that it was difficult for me to locate the path to the exit in the pitch black of the early morning.
Feb 14, 2021
Quiet and clean. Back in sites are sloped pretty bad.
Feb 13, 2021
It was just a 2 night stay. The owners were very friendly and very customer service oriented. I had not hooked my water line snuggly and was leaking out of the RV. The next morning while we were out they texted me and told me about finding water leaking out and had shut the water off at the faucet.
Feb 11, 2021
Very clean park and friendly staff
Feb 08, 2021
Went for a weekend getaway, very friendly staff, small campground with a cozy atmosphere, easy access in/out of sites which are level and decent size, close to I-26. All in all a nice place with friendly staff. Plan to try the pool in summer.
Feb 08, 2021
Very friendly staff ! Up and coming KOA!
Feb 07, 2021
Very friendly owner & staff. As this park was recently converted to a KOA, facility/store improvements are still being made. Once these are completed, the rating would be higher. Overall, it is very conveniently located.
Feb 04, 2021
Excellent, well maintained facilities, large, level pull-thru site, friendly and accommodating staff.
Feb 03, 2021
Wonderful friendly staff ! Great cabin !!
Feb 01, 2021
Friendly without a doubt. Wish more sites upgraded to premium with nice stone/concrete. Willing to pay more for cleanliness when raining. But will continue to patronize.
Jan 27, 2021
Muddy sites when raining. Our site was next to a county road and was very noisy.
Jan 27, 2021
Love the grounds, hook ups in great shape. The owners run the campgrounds and are lovely people. Stay here.
Jan 25, 2021
Best welcome I've ever received at any KOA! Such nice owners, very friendly and brought wood and charcoal to our site. Very clean and well kept, great play area for kids too! Will definitely stay here again.
Jan 24, 2021
We had a quick overnight stay on our way home. Great location, clean, very friendly staff & a very nice campground. You can tell the new owners have done alot of improvements. We will be back!
Jan 20, 2021
Nice, clean campground. Well maintained. EZ access from the interstate. Need to change the signage at the entrance. The No Trespassing sign has a large NO with trespassing written under it in smaller letters. At first glance I thought it was a No entry sign and went past the entrance before I realized there wasn't an entrance further down. I had to go down the road to find a spot to turn around.
Jan 19, 2021
Stayed 2 nights, very friendly staff �, clean bathrooms. We enjoyed a walk on the trail through the woods. Wish them all the best with this new venture in their lives!
Jan 19, 2021
Very nice place. People were very nice as well. Our site was relatively sloped, requiring a decent amount of lifting on one side. The sites were all gravel but very nice. Would've given them a 5-star if the sites were concrete slab but I plan to stay there again.
Jan 12, 2021
Love the hosts; I felt right at home. This campground is is centrally located to Sumter National Forest, Rose Hill Plantation, some Civil War battlegrounds, and lots of hiking. We've actually booked a second stay to finish seeing all the sites. One thing to note; the pads are like beach sand. Bring a tarp to stomp around on before enter your camper, or you'll be crunching around your camper.
Jan 12, 2021
very nice facility. stayed two nites on this trip. once going to Gatlinburg and once coming back.
Jan 11, 2021
Great location and the cabin was amazing! Would highly recommend!
Jan 11, 2021
Just overnight but very friendly
Jan 10, 2021
What a wonderful little gem!!! Cleanest bathrooms in the world! All sites are pull through �ϋ��ϋ��ϋ� and they have the best staff! We initially went to stay 3 days, and ended up staying 2 WEEKS. Awesome WiFi as well ���
Jan 10, 2021
Very professional/ Great staff
Jan 09, 2021
Had a great time, everyone was so friendly and helpful!
Jan 05, 2021
Nice convenient location for our overnight stay.
Jan 04, 2021
The owners are incredibly kind and real down to earth and filled with love. Will visit again and recommend to all of our friends.
Jan 04, 2021
We experienced a problem with our truck. The staff was so helpful in helping us resolve the issue and to accommodate our needs during our stay. Helpful, concerned, and courteous!
Jan 02, 2021
Great overnight stay, half a mile from the interstate but very quiet!
Dec 30, 2020
Well maintained campground, clean facilities, and friendly staff. Great place to stay!
Dec 30, 2020
We needed a one night safe stop. This campground is easy to get to from I26. We had a late check in that was very easy. The staff also called us before our arrival to make sure we knew where to go and how to check in and told us which site we would be in. Clean campground.
Dec 29, 2020
Very clean facilities. Friendly/ helpful staff.
Dec 28, 2020
friendly folks, the bathrooms were immaculate, so was the laundry room. We rented a cabin and the night temperature was severe causing our water pipe to freeze. They responded quickly and resolved the problem.
Dec 27, 2020
Friendly service. Very clean campground. Easy to get to. Excellent WiFi. Cleanest restrooms of any campground ever visited.
Dec 26, 2020
Friendly staff. Gave us a little Christmas gift when we checked in. Level sites. Not far from the expressway but no noise.
Dec 24, 2020
the campground sites and facilities are fine. site level, water pressure correct. The water feed units are heated to avoid freezing. power perfect.The road leading from i26 to the koa is too narrow. doable but not fit for two class a's to meet. mea is very friendly and interested to make everyones stay nice. will return for more visits.
Dec 22, 2020
Perfect for overnight layover.
Feb 15, 2021
Right off interstate, clean facilities, easy to deal with, great if needing a place to stop while traveling!
- Clay Erickson on Google
Jan 31, 2021
Great place for the night or the month
- Jesse Windham on Google
Nov 30, 2020
Great campground, quiet, friendly people.
- Cris Maier on Google