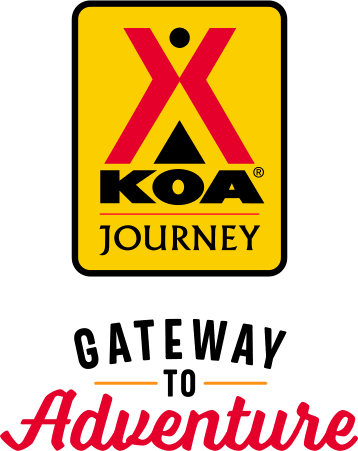 KOA Journey Campgrounds
KOA Journey campgrounds are the perfect oases after a day on the road. Whether it's along the way or a quick getaway, they've got you covered. Located near the highways and byways of North America with long Pull-thru RV Sites, they deliver convenience to the traveling camper. Pull in, ease back and take a load off.
KOA Journeys Feature:
Pull-through RV Sites with 50-amp service
Premium Tent Sites
Well lit after hours check-in service
Directions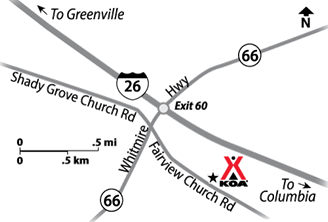 We're easy to find! Just take Exit 60 off Interstate 26 and follow the signs.
Get Google Directions
Oct 13, 2021
This place is wonderful. Super clean and the staff is fantastic! We will for sure be back!!!
Oct 13, 2021
Enjoyed the stay . Was met at office even though we were late . Will stay again !
Oct 13, 2021
We stayed for one night during our travel. The park was clean with good access to utilities. I would stay again if I'm in the area.
Oct 13, 2021
Wonderful KOA. The owners are great people.
Oct 13, 2021
Very clean and very pleasant and helpful staff
Oct 12, 2021
The campground was impressively landscaped and clean. The dog park was well maintained.
Oct 12, 2021
Very polite and helpful staff/attendees. I had one of the peaceful rest that I had in a very long time and I think it's due to the atmosphere. Thank you for that
Oct 11, 2021
Nice place big pull Throughs
Oct 11, 2021
The people running the KOA were very nice and the KOA was clean and beautiful. However, we arrived with all of our equipment in tow for one evening and by morning one of our tank valve pull handles was neatly stolen. Thus resulting in an annoying experience to replace it after a peaceful evening. It's a $10 piece and clearly someone needed it badly :-(
Oct 11, 2021
We enjoyed the friendly staff and all the activities for the kids! The campground was well maintained! We will be staying here again.
Oct 10, 2021
We were passing through and only stayed for one night. Extremely clean facilities, staff very friendly. Will definitely stay here again.
Oct 10, 2021
This was a stop-over on the way to the beach to meet some other family members. Office personnel were very nice, campground had surely I,proved since our last stay (as it is now a KOA and under new management). Stay was very pleasant. Thank you all.
Oct 10, 2021
I've never seen a cleaner restroom and laundry room at any campground!!! Saturday morning they had a complimentary breakfast at their pavilion. A nice touch! The sites were easy to maneuver our rig and not too close together. Nice place!
Oct 09, 2021
Helpful, clean, great amenities....the whole staff werr froendly, helpful and available. I will absolutely will return.
Oct 09, 2021
Very courteous staff. My wife enjoyed the scavenger hunt
Oct 08, 2021
Newberry KOA 5 gets stars because it had the cleanest campground bathhouse I've ever seen. As clean as brand new, but not new, Sites were very clean-I actually saw an employee as we were leaving sweeping off the picnic table of a just vacated site, as well as disinfecting the hook ups where people touch. She also raked the site. Wow! No cable, but good wifi.
Oct 08, 2021
Enjoyed the location!!!
Oct 06, 2021
Friendly, welcoming, clear place. Very convenient for our 1 night stay. Will stay again if in the area. Nice folks.
Oct 06, 2021
Enjoyed every thing except the ants and stink bugs that got in the camper. Fine staff and campground.
Oct 06, 2021
Nice well kept park with mostly level gravel sites, fire rings and picnic tables. Good power, water and wifi. No cable but 15+ OTA channel reception. Ventured out to nearby Newberry and had a good meal at The Palms and then on to the town of Little Mountain where there's an antique mall and other smaller shops in town. The other direction in Clinton we had a good dinner at Blue Ocean Seafood. Bb
Oct 06, 2021
owner very nice and helpful, friendly. The camp is growing and is very clean and well maintained. We will come again and recommend it.
Oct 05, 2021
Only stayed one nite. Very clean and friendly staff. Convenient to interstate.
Oct 05, 2021
Park was very neat and well kept. Staff was very nice and accommodating. Will recommend and stay again when in the area.
Oct 05, 2021
Great campground! Very convenient to I-26 with sites that are level and spacious. The bathhouse and laundry facilities were immaculate. The pool was a lovely bonus. We spoke with owners and employees and all were extremely friendly and helpful. We did a two night stop over while traveling and will definitely be back, if we are in the area.
Oct 05, 2021
Great location and great staff. Well maintained
Oct 04, 2021
We stayed 2 nights. The campground has made many improvements since our last stay. We were there with a camping club. Very nice staff.
Oct 04, 2021
Staff was great and the RV was outstanding.
Oct 04, 2021
We were in a new level gravel site, it was a little narrow. The campground is very clean and quiet. The staff are friendly and helpful.
Oct 04, 2021
Great location for a stop if you're coming from TN to the coast, or if you're a FL snowbird migrating North. We are neither and enjoyed our stay while visiting with friends to do see the Newberry Oktoberfest. Park is SUPER clean, staff is friendly and they have a free gnome hunt for the kids. Nice pool and showers too.
Oct 04, 2021
2 nights. The staff was awesome and helpful. Very friendly. The sties and facility was clean.
Oct 04, 2021
We love staying here. A very pretty camp that is well maintained.
Oct 03, 2021
Felt completely comfortable. Excellent service. Very personable people working there.
Oct 02, 2021
Amazing stay. Staff is helpful and always busy improving property. I would recommend this place to anyone.
Oct 02, 2021
This KOA is in the upgrading stages and it's going to be super nice— it's already very good and we'll be back. Maneuvering with our 45' coach was a little tricky but not bad- sites long, FHU, 50 amp, nice pool, wonderful staff all the way around. Ask about trees near your site when booking for satellite reception and maneuvering . Beautiful setting!
Oct 02, 2021
Beautiful campground. Staff very friendly and welcoming
Oct 01, 2021
4 night stay. Grounds are very well kept. Owners and staff are exceptional, very friendly and helpful.
Oct 01, 2021
This was our 1st time staying there but if we're passing through this was again we'll definitely stay here. Easy on & off Rt.26 good size level sites & friendly, helpful staff! Keep up the good work! Highly recommend!
Sep 30, 2021
A great place to stay friendly people nice amenities very clean and easy to find the staff will go out of their way to make your stay very pleasant. �
Sep 30, 2021
The staff was great. The tent sites are the best I've seen.
Sep 30, 2021
Awesome owners, if you are looking for concrete and no dirt, has gravel and grass. Very clean, no cable, good WiFi, will stay there again, when driving through.
Sep 29, 2021
One of the neatest and cleanest campgrounds we have ever stayed in and the staff is great!
Sep 29, 2021
Nicely laid out and well maintained. Spacious sites. Great service!
Oct 01, 2021
Where do I start? This place is the best. It's CLEAN,QUIET, SAFE, and a joy to spend an overnight or a longer stay. The staff is ALWAYS busy. Everyone chips in and from cleaning sites, landscaping, running a nice office, or planning/ running activities. They have had things like a local winery come in, breakfast on a Saturday, singing from a local guy, dinner one evening for a time to socialize and enjoy your camping experience. I will truly miss Linda, Gene, Mea, Stan, Joe, Director of Smiles and her hard working hubby. Thanks for the fantastic time and I hope to see you guys again.
- Victoria Provo on Google
Sep 27, 2021
This campground is AMAZING!! All of the staff are wonderfully kind, and helpful! They made us feel welcomed and comfortable the moment we arrived. It also happens to be one of the cleanest parks we have ever been to. If you are looking for a campground to stay at in the area, look no further.
- Living Simply by Danielle on Google
Sep 24, 2021
Lovely campground to unwind as you stroll the beautifully manicured grounds. Whimsical gnomes make for such fun on the scavenger hunt while you explore. A great place to stop, rest and stay awhile. Great folks who own and run it as well. An endearing stop all the way around.
- Jennifer Mason on Google