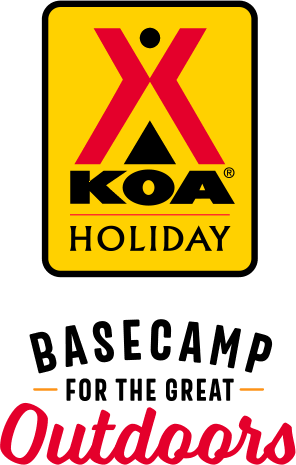 KOA Holiday Campgrounds
Whether you're exploring the local area or hanging out at the campground, KOA Holidays are an ideal place to relax and play. There's plenty to do, with amenities and services to make your stay memorable. Plus, you'll enjoy the outdoor experience with upgraded RV Sites with KOA Patio® and Deluxe Cabins with full baths for camping in comfort. Bring your family, bring your friends, or bring the whole group – there's plenty of ways to stay and explore.
KOA Holidays Feature:
RV Sites with a KOA Patio®
Deluxe Cabins with full baths
Premium Tent Sites
Group meeting facilities
Directions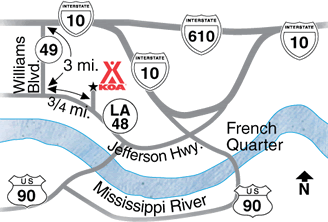 DO NOT USE GPS!  From I-10: Take Exit 223A Williams Blvd (LA 49). Go south on Williams Blvd to end (LA 48/Jefferson Highway), turn left 3/4 mile to KOA on left (Starrett Road). DO NOT USE GPS DO NOT USE GPS 
Get Google Directions
Jan 21, 2021
Just a 1 nighter but wish it could have been longer. Perfect neighborhood locatipn
Jan 21, 2021
Easy in and out. Follow directions from this KOA not your GPS. Train tracks are close and can be heard at all hours. We didn't mind. Close to French Quarter and Lake Pontchartrain.
Jan 20, 2021
Fantastic, very helpful staff. Bathrooms and campground spotless. Terrific location, easy to get to everything worth seeing. Definitely worth a return visit.
Jan 17, 2021
they made it very easy and very accommodating the staff was great. See you on the next trip
Jan 17, 2021
For a campground that must have nearly 100 spaces you would think that the facilities would be top notch, but while the restroom was clean, freezing cold showers ruined the whole experience. Why was there no hot water? There was no sign or indication of any kind as to what was up with the lack of hot water when I tried to shower before I left. Other than that the rest of the stay was okay.
Jan 16, 2021
Good place to stay when visiting New Orleans. Did not enjoy the trains nearby.
Jan 15, 2021
Very disappointed that there was no mention of not being able to have a fire at your location. If it is a city ordinance then that should be something that you tell people. Seems like a trick to get me to stay when the person tells us when we check in that he has had people not stay because of it. And then we see some sites having them. Very disappointed and it's not okay.
Jan 14, 2021
Super friendly and helpful staff. Very pleased about the clean showers and restrooms. A pleasant stop on our journey. Thank you!
Jan 11, 2021
Owners very friendly & helpful. Clean sites & laundry room. Only complaint is how close all the sites were.
Jan 11, 2021
The staff was very nice and the process was easy but the site was not what we've come to expect from KOA properties with our family. It was a very simple park with small plots and very limited amenities for anything beyond bathrooms and laundry. It would probably be great for adults looking to be close to the town but nothing more than having a place to sleep.
Jan 10, 2021
Clean and quiet. Sites are close to each other. Fires not allowed. Staff friendly and informative.
Jan 09, 2021
This campground is GREAT! We had both a campsite and the deluxe cabin. Our daughter in the cabin said she will always pay the upgrade for the deluxe cabin. The manager had great seafood recommendations and even replaced the tetherball for our kids. The showers were clean and everything was well maintained. We will be back!!
Jan 07, 2021
Doreen was very nice and helpful. It's a 25-30 min Uber right to the French quarter.
Jan 06, 2021
Good for access to New Orleans but a bit shabby
Jan 05, 2021
This is a city campground - which we loved. Close to all the best of New Orleans by car. Better yet was the miles of levee walk across the street from the campground to enjoy the river. Facilities were clean and comfortable to use and the staff was very helpful and friendly.
Jan 04, 2021
Great staff and well maintained campground. However the location is a bit hard to get to, including a set of railroad tracks with a VERY steep banking which caused our trailer to bottom out. One way in and out also leads to some interesting maneuvers especially with a larger rig (42 foot 5th wheel). Beware the location is in a neighborhood, and we were there for New Years, fireworks were bad!
Dec 31, 2020
Very friendly & great campground. Nice level wide concrete pads. Will definitely stay here again.
Dec 30, 2020
Excellent staff very helpful. The best stay we have had at a KOA. Recommend this location to stay at
Dec 29, 2020
Doreen was wonderful, she was very helpful and knowledgeable concerning my needs. The grounds are clean and quiet. Also, I was impressed with the 24 hour security guards. I highly recommend this KOA!
Dec 29, 2020
Well kept, clean bathrooms and bath house, friendly staff.
Dec 29, 2020
The staff was very helpful and polite.
Dec 29, 2020
Our first time in NOLA was made all that much better by the reasonable rates, friendly campers and very helpful park staff. They went above and beyond in service.
Dec 29, 2020
Great staff and service. Level concrete pads with plenty of space between sites. Dog park, laundry, propane and more are among the amenities.
Dec 28, 2020
Very cooperative. We had an electrical problem in our RV and they help us late, at night and offered a cabin to stay safe.
Dec 28, 2020
Great place for a stop over, or just to stay for a While
Dec 27, 2020
The campground was kept nice and the people are very friendly but the fireworks at 2am is a little too late
Dec 27, 2020
Nice place to camp. Had everything we needed
Dec 27, 2020
Large and easy to park spots, will remember location for future travels.
Dec 23, 2020
Easy check in was very easy and a wonderful facility! The dog park was friendly and a great treat for our dogs. Clean and roomy spaces along with very helpful staff. We enjoyed our stay!
Dec 22, 2020
Seems more like a park for fulltimers and passer throughs rather than pleasure camping but overall nice and clean. Staff was great and very accomodating
Dec 21, 2020
Very nice place and staff was wonderful
Dec 21, 2020
I love this site and access to the levee for a jog!
Dec 15, 2020
Great location and great Staff! Will be back for sure :-)
Dec 14, 2020
Nice campground but odd that there are private residences on the property.
Dec 11, 2020
The road on the back side could use some work. Everything else was very good!
Dec 08, 2020
First of all they should've told you that a train goes by every four hours and just blows its whistle over and over and over. The people that run this apparently do not like dogs, even if their service dogs because they give you attitude when there with you. And whatever you do don't carry your dog into the office because then you get Eye rolling.
Dec 07, 2020
Good location. Safe. Very clean and very organized. Services all worked very well (WiFi, cable bathrooms and showers were very clean). Nice job. Will stay again when in the area.
Dec 06, 2020
good, clean place stop stop for a few days. Pet Friendly, clean shower rooms
Dec 05, 2020
Campground is not visually appealing. It's like you are in a housing complex instead of a campground. Houses right across from the campsite.
Jan 11, 2021
Enjoyed staying here easy access to everything great place
- Mike Brooks on Google
Jan 07, 2021
Great KOA but aren't they all?
- Woody Feffer on Google
Dec 19, 2020
Clean, with friendly staff.
- Bill Crum on Google