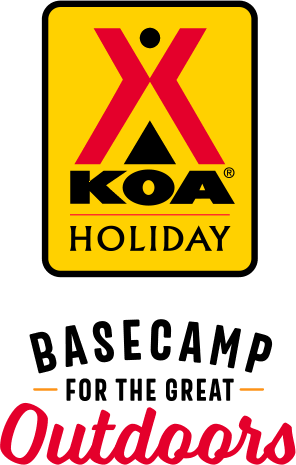 KOA Holiday Campgrounds
Whether you're exploring the local area or hanging out at the campground, KOA Holidays are an ideal place to relax and play. There's plenty to do, with amenities and services to make your stay memorable. Plus, you'll enjoy the outdoor experience with upgraded RV Sites with KOA Patio® and Deluxe Cabins with full baths for camping in comfort. Bring your family, bring your friends, or bring the whole group – there's plenty of ways to stay and explore.
KOA Holidays Feature:
RV Sites with a KOA Patio®
Deluxe Cabins with full baths
Premium Tent Sites
Group meeting facilities
Directions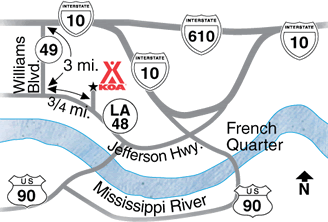 DO NOT USE GPS!  From I-10: Take Exit 223A Williams Blvd (LA 49). Go south on Williams Blvd to end (LA 48/Jefferson Highway), turn left 3/4 mile to KOA on left (Starrett Road). DO NOT USE GPS DO NOT USE GPS 
Get Google Directions
Sep 11, 2021
Initially we had reservations and they were cancelled because of Ida. We continued our journey south and decided to stop here to see if we could stay. Owner was very helpful as this was the beginning of return of power and water. We actually got to stay as we initially planned. Very friendly and clean. The workers spent time cleaning the debris from the hurricane to get it back into top shape
Sep 04, 2021
Mike and his wife are wonderful and kind people.
Aug 29, 2021
Cindy was so pleasant and helpful, on the phone and in person. We arrived Friday at 10pm, but Bill was ready to check us in. He even guided us backing into our slot. Stay safe Cindy and Bill…Ida is a monster Hurricane �����
Aug 28, 2021
Clean bathrooms and showers. Nice property.
Aug 26, 2021
Beautiful shady spot. Clean and great staff. Loved Doreen !!!
Aug 26, 2021
They couldn't have put me in a hotter site. All these empty sites and I'm in the direct sun 95 degrees and everyone else is under the trees. There were plenty of options . So much for being a member.
Aug 25, 2021
Quiet but 30 minutes from New Orleans. Roads need some work. Very nice laundry room. Beautiful lawns
Aug 25, 2021
Quite amd relaxing , easy to get to new Orleans
Aug 24, 2021
Great location near French Quarters. Great tent sites. Bathrooms can use an upgrade! They were not the cleanest!
Aug 23, 2021
Clean, wonderful sites, quiet, gift shop and office well stocked, fresh and clean. Everything well organized and staffed. The only negative is the parking "assistance" was not needed and in fact confused my well qualified husband by telling him which way to turn his wheel.
Aug 17, 2021
Surprisingly clean, safe and great staff! Cool area of town too. Highly recommend!
Aug 17, 2021
All staff was very friendly and the facilities were very clean. The campground was secluded and quiet at all hours of the day. Would definitely recommend the camp grounds.
Aug 15, 2021
Friendly staff, but seemed tired and not as welcoming. Small showers but great pressure and temp. Didn't use laundry or pool. Well stocked store, smaller koa, concrete pads. Hard to find. Told DO NOT USE GPS, so directions could have been a bit more precise. Wish shuttle to French Quarter was running.
Aug 14, 2021
Friendly staff, attendant helped me get into spot. Clean facilities. Stayed there 20 years ago and still nice place to stay.
Aug 12, 2021
Showers were moldy and rusty. Picnic tables are small and made with soft porous wood that remained perpetually wet in the New Orleans weather. Takes 30 minutes + to get into the French QuArter. Staff is friendly and helpful.
Aug 11, 2021
Very friendly and helpful staff. It is the first time staff was on duty for late arrivals. The site was ample and had a concrete slab for our rig. Easy to back into. Pool hours excellent.
Aug 11, 2021
Very friendly
Aug 10, 2021
When we arrived my partner was pulling our rig and I was in my car. I looped the block to come back to help direct him into our site as it was before the welcome center. Before I got there the nicest young man that worked there had already directed him into the site. I have to say that was the best direction he has ever recieved and the smoothest parking ever due to this young man's assistance.
Aug 10, 2021
Everything was great and staff super helpful in giving advice about local area
Aug 10, 2021
very helpful. Too much rain but enjoyed the camp.
Aug 10, 2021
We had truck problems while staying here. The staff went above and beyond to make sure we had a space for our RV until the truck was fixed.
Aug 09, 2021
Great place to stay! Owner and staf very nice.
Aug 09, 2021
Very helpful staff and very clean camp ground. All back in lot but helpful in guiding you back into our lot.
Aug 09, 2021
Everyone was friendly and very helpful! We enjoyed our stay.
Aug 05, 2021
Very helpful and friendly staff with clean and accommodating facilities.
Aug 04, 2021
Our stay was fantastic! Doreen was amazing, she came through on my requests. We booked again in 5 months. The security was also wonderful, not once did we ever feel unsafe. There is always someone on a golf cart making the rounds.
Aug 03, 2021
Helpful people work at this KOA
Jul 27, 2021
The stay at this RV park was great. The staff was helpful and friendly. The grounds were well kept and clean. The pool was cleaned every morning and the bathhouse was decent. It was just a little ways out from the French Quarters and that was a big drawback if you don't have transportation.
Jul 27, 2021
Awesome place to stay. Staff is very committed to maintaining the park. If I ever go back to the Big Easy, this is my first choice of stay!
Jul 25, 2021
loved the people and the campground was cozy and quiet. I would like to see the star open a little later than 500pm maybe 900 like most KOA
Jul 24, 2021
I love the security measures and the staff is very friendly/helpful. The pool is nice and well kept with a kids play area right next door. You're a 20-30 minute drive to downtown/French Quarter, etc. Uber and Lyft were our means of transportation while here and it did start to add up a bit being 10-15 miles from New Orleans, but I would stay here again and recommend to my friends/family.
Jul 24, 2021
We were only there 1 night. The staff was helpful and courteous.
Jul 23, 2021
It's a clean location. The laundry facilities were some of the best we found on our trip across the country. We were concerned with the location and the neighborhood, but in the end had no issues. It is further from NOLA than expected and that is really the only downside I can see to it.
Jul 23, 2021
Great campground super clean, staff really nice!!
Jul 23, 2021
The stay was very quiet. I have already recommended this KOA to other people. The only problem with this KOA is that there is not a lake, but that is our personal family preference.
Aug 01, 2021
Awesome campground, safe and friendly. Many conveniences nearby.
- Jack Gunter on Google
Jul 29, 2021
This is a family run place with a warm, welcoming atmosphere of the staff and owner. The kids loved the little playground and pool.
- Melissa Fisher Faler on Google
Jul 27, 2021
Great friendly staff & a clean pool! Great price & not over crowded.
- Laura Kurtz on Google