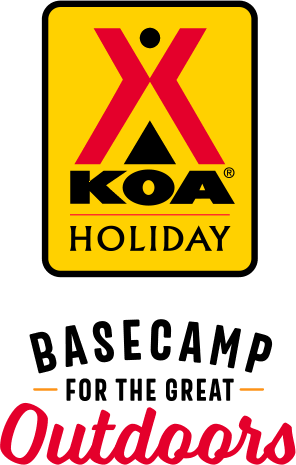 KOA Holiday Campgrounds
Whether you're exploring the local area or hanging out at the campground, KOA Holidays are an ideal place to relax and play. There's plenty to do, with amenities and services to make your stay memorable. Plus, you'll enjoy the outdoor experience with upgraded RV Sites with KOA Patio® and Deluxe Cabins with full baths for camping in comfort. Bring your family, bring your friends, or bring the whole group – there's plenty of ways to stay and explore.
KOA Holidays Feature:
RV Sites with a KOA Patio®
Deluxe Cabins with full baths
Premium Tent Sites
Group meeting facilities
Directions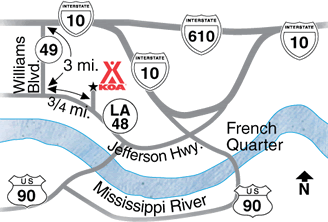 DO NOT USE GPS!  From I-10: Take Exit 223A Williams Blvd (LA 49). Go south on Williams Blvd to end (LA 48/Jefferson Highway), turn left 3/4 mile to KOA on left (Starrett Road). DO NOT USE GPS DO NOT USE GPS 
Get Google Directions
Apr 06, 2021
This should not be called a KOA. It is a trailer park with most spaces used for permanent residents and just a few open spots for travelers. Sorry to have say that but it's not what we expect from KOA. I will say though that the staff was very nice.
Apr 06, 2021
Very quiet and clean. Helpful staff and just far enough from the city. Perfect.
Apr 05, 2021
Tight spaces, not very level, very noisy
Apr 05, 2021
Our stay was fine, but not to the level I had expected. The K9 park was a dirt/mud pit without any grass and the entrance was a bit creepy hidden between 2 houses that were being used for a rec center and a storage/work shop. As this place was listed as a KOA Holiday, I expected more out of the amenities. The pool was dirty. I have stayed at KOA Journeys that offered more and were better kept.
Apr 05, 2021
Very nice place, staff was helpful, knowledgeable and friendly, The outbuildings, laundry and restrooms were clean and pleasant,
Apr 05, 2021
Very friendly staff, we arrived late and they came out to greet us along with guiding us to our site
Apr 04, 2021
Concrete Pad. Bathrooms clean, showers clean but smallish. Water pressure decent. Camp Host friendly. Busy Camp. Train horn pretty constant. Very close to the Levy for walking. Will go back if in area.
Apr 04, 2021
A terrific RV Site! Campground very clean and organized. All staff were exceptionally helpful, polite and kind! We enjoyed our stay Immensely. Would not hesitate to return. Thank you for a wonderful stay! -JIM & Gayle Boling-
Apr 04, 2021
Friendly staff. Great assistance in parking. Quiet and well enforced. Not a partying park during our 3 day stay. Follow their directions. Don't use your gps.
Apr 04, 2021
Had a nice time. Everything was clean and the staff was friendly and helpful.
Apr 03, 2021
Comfortable, adequate, rates ok, TRAINS UGH!!! SIRENS! well we live in the woods of Northern Michigan and those 2 things made it difficult but we were close to everything. Thankful for a place to stay. Without the trains and sirens would have been a nine
Apr 01, 2021
Nice campground, sites were very clean. Staff were so very friendly and helpful, answered many questions about traveling downtown and gave printed directions which were very helpful. Great laundry facilities. Recommend Highly!
Apr 01, 2021
Like the front lots ! Place look nicer when the mowing was done !!! It is a older KOA.
Apr 01, 2021
The staff was great when I checked in after-hours. They were friendly, and informative. This was my only interaction with staff. I did have a neighbor that appeared to be having an after-bar party at their campsite. I also had people walking around my specific. campsite presumably to take a shortcut to the bathroom but I cant be sure. Either way it made me feel uneasy.
Apr 01, 2021
Never could get the Wi-Fi to work for more than about 5-10 minutes at a time. Cable TV did work well. Only one way in and out. Spaces very close together.
Apr 01, 2021
The drive thru town to get to the campground was making us nervous about staying there but upon arrival we found the actual campground very nice.
Mar 31, 2021
Sketchy area. Private homes in park. Boats parked in roadway. Just seem to have a "get them in" attitude with no concern after that.
Mar 31, 2021
One of the best run camps in NOLA
Mar 30, 2021
Easy back in- grounds were in good shape, hookups easy to access, concrete pads, and close to the city; staff was very friendly. We'd stay here again.
Mar 29, 2021
Loved the tables and chairs. Staff was very helpful, and willing to go out of their way to help you. A very good stay. Would stay again.
Mar 28, 2021
They were very friendly and helpful.
Mar 28, 2021
Super people are great.family oriented SAFE
Mar 27, 2021
You can't beat this location for a trip to NOLA. Friendly staff, close to shopping and restaurants, clean laundry room and pool. We have stayed here several times and can't recommend it enough!
Mar 27, 2021
Rained, but fun
Mar 27, 2021
Showers clean, but a little small for a big man. Clerks were very friendly and helpful. It's in a good location. Would definitely stay again.
Mar 27, 2021
Liked the size of the sites! Liked that there was a nice space behind the site. We were there with the Airstream Rally and appreciated being parked together. Wished the club house could have been larger - but we had a great time anyway!!! Did not like the pot holes on the road. The workers were very nice, polite and helpful.
Mar 27, 2021
It was stormy the first few days on the road so it was a soggy place that night only stayed 1 night
Mar 26, 2021
I've stayed there several times in the past 10 years. We never had any problems. Staff are pleasant and very helpful
Mar 24, 2021
Friendly and helpful office staff provide valuable tips for visits to the French Quarter. Large concrete pads easily fit large class A along with ample parking for toad. Good location for accessing all of New Orleans attractions including plantations to the west of the city.
Mar 24, 2021
Nice accommodations and very well located for osghtseeing.
Mar 24, 2021
Helpful staff, the night greeter was informative and guided us to our reserved spot. He took additional time to guide me in the spot to be closet to the connections. Upon checkout, everyone in the store was kind and interacted as we purchased souvenirs. Had it not been for the storm we would have requested to extend out stay.
Mar 23, 2021
Would have been a 5 star but the train noise during the night was a bit too loud for me. But a great place to stay, relax and enjoy New Orleans and all it has to offer
Mar 22, 2021
Nice place to stay. Easy to get to the French Quarter area.
Mar 22, 2021
Love this place! Very clean, awesome staff - stay here whenever we are in LA.
Mar 20, 2021
Excellent staff very accommodating and friendly!!!!
Mar 19, 2021
Everyone was very helpful and nice. This was my first time to back into parking space and they had someone to guide me which was wonderful. Yes I will stay there again . They also had garbage pickup at your space which was nice.
Mar 19, 2021
Very clean, someone is patrolling the whole camp ground day and night.
Mar 19, 2021
Street recommended to take was a Webster. When school is in session it is a one way street so you need to pick a different one to suggest
Mar 19, 2021
All was great!
Mar 19, 2021
We enjoyed it!
Apr 15, 2021
Stayed for a night and the campsite was nice and clean. Has a nice size playground for the kids. Restrooms and showers were big and clean. Pretty close to downtown New Orleans which was cool.
- Gabyae86 on Google
Apr 12, 2021
It was a awesome stay. The cabin was absolutely beautiful and very clean. Mike theMike the manager was ab
- Sandy Kampf on Google
Apr 12, 2021
Beautiful place to go
- Okay Only on Google