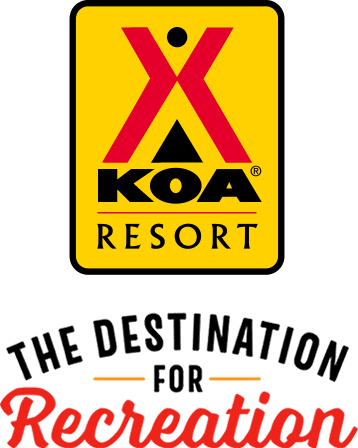 KOA Resort Campgrounds
KOA Resorts offer a carefree vacation in the great outdoors. Enjoy robust recreation and staff-led activities, kick back and relax by the resort-style pool, or grab a bite to eat, all while never leaving the campground. And with plenty of RV Sites with KOA Patios® and Deluxe Cabins with full baths to meet your needs, it's the ultimate camping getaway.
KOA Resorts Feature:
RV Sites with a KOA Patio®
Deluxe Cabins with full baths and linens
Premium Tent Sites
Resort-style pools
Indoor and outdoor group facilities
Directions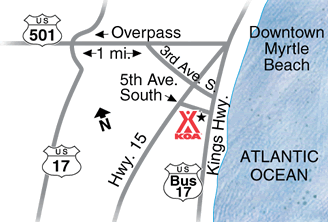 Highway 501 to 3rd Avenue South, turn right, go to Business Hwy 17. Turn right on Business Hwy 17. Go to 5th Avenue South, turn right. KOA is 1 1/2 blocks on the left.
Get Google Directions
Dec 01, 2020
The bathrooms were not clean the men room did not have any hand soap for several days. People do want wash their hands after using the bathroom. My wife and I left early because of how disgusting it was.
Dec 01, 2020
Except for a roach problem in the cabin, it was really nice. But what is camping without bugs.
Nov 30, 2020
Great time looking forward to coming back in December
Nov 24, 2020
Love this park. The one big issue I have is the camp sites are not move in ready as in the past. I understand COVID has cut the help, but I miss feeling like my home away from home is ready to welcome me back.
Nov 23, 2020
It was very pleasant
Nov 23, 2020
Great we love it will be coming back soon
Nov 23, 2020
Great stay....thank you for being kid friendly and going out of your way to always provide great service.
Nov 23, 2020
We had an excellent stay and everyone was friendly.
Nov 19, 2020
We were very disappointed in the condition of our cabin. The house keeping was less than satisfactory. Black mold on on the door way of the bathroom and under the air conditioner. The TV in the bedroom area was being held onto the bracket by only 1 screw. The breaker for the range tripped while cooking. Propane tank on grill empty. Not what we are use to from other KOA experiences elsewhere.
Nov 17, 2020
This place was amazing. Very clean, very quiet and the staff were very friendly and helpful. We did not want to leave.
Nov 16, 2020
It was a very relaxing weekend. Everyone we came in contact with was very friendly and helpful
Nov 16, 2020
Had a great time I love koa I stay here every time I go to Myrtle beach
Nov 09, 2020
We had the most exceptional weekend staying at MBKoa. The deluxe cabin was very clean and had everything we needed to just enjoy ourselves. The staff was super friendly and very informative.
Nov 05, 2020
The staff was very kind and friendly went out of their way for not just myself but other people that were staying there! I met some new friends in the whole experience overall was just amazing. The campground is clean and safe and very family oriented. They have lots to do for the children and adults and I highly recommend this campground for anyone that is looking for a safe fun experience!
Nov 03, 2020
Halloween Weekends are AWESOME at KOA. Cant wait til next year!!
Nov 03, 2020
Beautiful campground in walking distance from the beach. Camp host who greeted us had the most awesome energy for welcoming us. Loved his personality. Comfy cabins in back, which is nice and private. Very squeaky bed, though.
Nov 03, 2020
Its is always great at koa I have never had a bad visit
Nov 02, 2020
My family, friends and I had a great Halloween weekend! Thanks Johnny Stoffer
Nov 02, 2020
My grandchildren have the best time and experience when we are at the Myrtle Beach KOA!
Nov 02, 2020
We stayed for Halloween weekend, there were lots of fun activities for the Grandkids that kept them busy. The staff was very friendly and helpful, and the cabins were clean and well supplied.
Nov 02, 2020
Staff goes above and beyond to make their guests feel welcome and valued. We stay here every year. Family Friendly, Clean, safe. This year we brought friends and they loved it here as much as we do.
Nov 02, 2020
Great time. Activities were organized, family friendly and lots of fun. We loved our stay!
Nov 02, 2020
The staff at Myrtle Beach is always welcoming. They do a great job planning activities. Keep up the great work. Look forward to many more visits.
Oct 28, 2020
Campground was very nice. Quite. Very entertaining for the Halloween holiday. Everything looked amazing. Loved that we could rent a golf cart and go to the beach with it.
Oct 27, 2020
The cabin we stayed in had spiders and webs throughout when we arrived. We also found some disgusting items discarded in the tent site next to us that was unoccupied. The staff is friendly, but perhaps they were understaffed from covid.
Oct 27, 2020
Refrigerator Smelled so sour in Cabin that I could not use it. (Bring your cooler.) Quiet Hours were not enforced. (Use a box fan to drown it out) Staff was super friendly and helpful. Lots of activities for the kids. The grounds and buildings were very clean and well maintained. Bathhouse was excellent! AC Worked well. Overall, a good place to stay. i would definitely stay again.
Oct 27, 2020
Everyone was very friendly and helpful the best camp ground i have been to very clean. Highly recommended
Oct 26, 2020
we unfortunately had one of 2 air conditioners go out while stayed there, staff was very helpful and did get it replaced very late at nite. Also, the shower handle was very loose and finicky for trying to get to hot/warm position. would still stay again, but was a bit frustrating... Cabin 3.
Oct 26, 2020
We went for the Halloween fun weekend. It was amazing as usual. So many fun things for the kids and adults to have fun. Our cabin was immaculately clean. The staff treated us like family yet again. We cannot wait to head back to our little home away from home again soon!!!
Oct 26, 2020
We look forward to camping here every year. The festivities they have at their Spooktacular Hallo-Weekend are awesome.
Oct 26, 2020
Loved it - we will be back. Clean/well taken care of and lots for the kids to do.
Oct 26, 2020
Great like always love what u do
Oct 19, 2020
Was a great time....very friendly staff. Only downfall would be the toilet in our cabin rocked but overall I would recommend KOA Myrtle Beach
Oct 19, 2020
Friendly helpful staff. Clean cabin. Enjoyed stay will come again!
Oct 15, 2020
This vacation was so peaceful. The campground was beautiful. Our cabin was wonderful. Everything was so clean and the employees were so friendly.
Oct 12, 2020
We had a great weekend at KOA but the time we stayed was too short. Excellent place to stay. Cabin was very clean.
Nov 30, 2020
We loved staying here at this KOA.. Coming back for sure, the staff and management team is beyond nice and accomplishing. So much to do on the property and off the property... If you want to leave its right in the heart of everything thats going on. My husband and I had a blast while here and will be back every time get get a chance. Do wish they had a hot tub and fire pits near the patio across from the pillow jump. However, thats miner compared to how great they treat you here at this KOA. Thanks for a great stay! #Adventure Bandits
- Adventure Bandits on Google
Nov 29, 2020
This is a nice well run but a good sided place very nice and not overly crowded with lots of space. Great location near the beaches and easy in and out of Myrtle Beach. Not crowded and adequate space between pads. Good water, cable, and sewer. easy in and out. Plenty of space to walk dog. Nice cabins. This was a great KOA. Really well run and friendly. We had a great stay here.
- Will Stein on Google
Nov 15, 2020
Had a great experience at this KOA. The WiFi was strong, the bathrooms and showers were very clean with ample hot water. It is walking distance to the beach if you can walk 13 minutes. There are some good restaurant choices nearby. It is a great place to stop over for one night as well if you are going long distance.
- John Anderson on Google