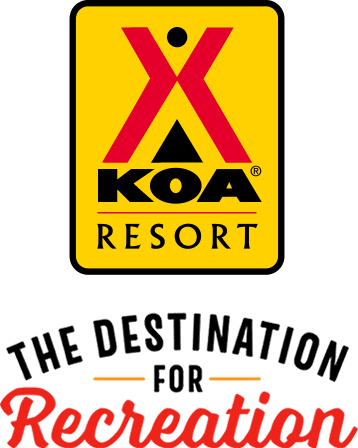 KOA Resort Campgrounds
KOA Resorts offer a carefree vacation in the great outdoors. Enjoy robust recreation and staff-led activities, kick back and relax by the resort-style pool, or grab a bite to eat, all while never leaving the campground. And with plenty of RV Sites with KOA Patios® and Deluxe Cabins with full baths to meet your needs, it's the ultimate camping getaway.
KOA Resorts Feature:
RV Sites with a KOA Patio®
Deluxe Cabins with full baths and linens
Premium Tent Sites
Resort-style pools
Indoor and outdoor group facilities
Directions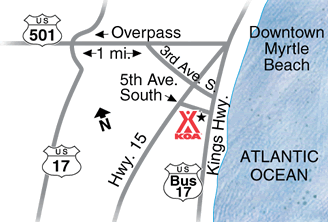 Highway 501 to 3rd Avenue South, turn right, go to Business Hwy 17. Turn right on Business Hwy 17. Go to 5th Avenue South, turn right. KOA is 1 1/2 blocks on the left.
Get Google Directions
Jun 17, 2021
Loved it there and the workers.Everyone was friendly and helpful
Jun 17, 2021
Very nice employees. We loved such a nice camp ground. Only request is a bath house down the hill to the left.
Jun 17, 2021
Your employees were top notch. Everyone was great. The problem is like many of the KOA's that I have stayed at over the years. Your roads were atrociously narrow! Trees way to close to the roads make it hazardous to maneuver larger rigs. Sharp turns and many places impossible for two rigs to traverse in opposite directions at the same time on the main thoroughfares. Small campsites too.
Jun 16, 2021
My family & I had two sites. We stayed there for the CCMF, & we all had a Great time. Great Campground with Fantastic people
Jun 16, 2021
Nice site, friendly, helpful staff. Wish we had time to get to the beach.
Jun 16, 2021
Clean plenty of staff on hand I wish you had a shuttle that would pick up after the music festival
Jun 16, 2021
We loved everything about this campground! The people are friendly, the park is beautiful, and the activities are great.
Jun 15, 2021
Excellent customer service.
Jun 15, 2021
If I would have brought my RV and not of stayed in a tent it would of been fine. Tent sites are over priced and the sites are not clearly marked for boundaries so our neighbor was very close. Enjoyed the stay overall and would recommend.
Jun 15, 2021
We loved our stay at Myrtle Beach KOA. Beautiful, clean facility and friendly staff! The only negative was that we paid for a Deluxe Patio site with additional seating and grill. I called several times to confirm the seating and no one answered; folks at KOA reservation line couldn't help me; I emailed MB KOA info and finally received confirmation. When we arrived, no grill or extra seating. :(
Jun 15, 2021
I found it odd that our camping cabin couldn't be checked into till 4pm. There's nothing that has to be done to that room...I get cabins that have bathrooms and such. It was extremely crowed folks had their cars in the road and it was hard to get from point A to point B. Still I would go back.
Jun 15, 2021
Very friendly staff!!! Enjoyed the niceness of the campground.
Jun 14, 2021
Sit was a corner patio, and clean and comfortable. Restrooms were old, but clean. 3.5 blocks from beach so very convenient to many restaurants and activities.
Jun 14, 2021
We always our stay at the Myrtle Beach KOA this time we rented a gold cart because I had injured my right leg a few days before our camping trip started and it made the stay a lot more fun
Jun 14, 2021
Great! Greeted by happy people ready to help in any way!
Jun 14, 2021
The stay was great and the staff was helpful and friendly. I will most definitely be looking at return trips here. The only thing I wish they would improve on is the lack on on-site entertainment or events. The KOA was completely booked but there were no nightly events on the stage (music, movies, etc) as we've enjoyed at other KOA's. Also missing was the complimentary weekend breakfast.
Jun 14, 2021
Well started with the first night grill not working. Next morning tell the office it was not working and they said will fix it. Asked about the kcups to purchase was told I had to go to Walmart to get them. Well later that night after grill was supposed to be fixed it went up in flames and burned my fiancé hair off his arms and the burner in the stove in cabin was not working. There is more
Jun 14, 2021
The cabin was very clean. The beds were very comfortable. All the staff was friendly and helpful! We had a great time!
Jun 14, 2021
The only issue is getting used to being normal again lol �.
Jun 14, 2021
I basically paid to play in a dirty camp site and listen to drunks screaming and zooming around on golf carts all night. I was woke up every 30mins to an hour all night long. Also, the bathroom Never will I to a KOA again.
Jun 14, 2021
I'm so impressed after this being our first time everyone was very kind and informative about what to do! Staff was amazing! Plan on staying again soon!
Jun 14, 2021
Everything was great other than our firewood was never delivered to the cabin. I paid for it when we arrived. KOA was maintained beautifully
Jun 14, 2021
Clean, easy, good lot size, very nice and efficient staff, and quick to deliver our firewood.
Jun 14, 2021
I had a great time at the park was very clean the cabin was very clean everything was in good condition I could definitely coming back thank you so much
Jun 12, 2021
Very nice facility! Everyone was very nice & helpful. Sites were great. We spent some time at the pool & never saw the cafe there by the pool was ever open. We were told they open depending on the number of people out there, so no set hours. Would've been nice while poolside to grab a beverage/snack if wanted. The continental breakfast consisted of nutrigrain bars or pop tarts.
Jun 11, 2021
Not your fault it rained and was overcast but we'll be back.�
Jun 11, 2021
Great staff. Friendly. Clean. Well maintained and run.
Jun 11, 2021
Staff was fantastic! Very helpful when we were locked out of camper. Grounds are just okay but Very Convient to the beach and shopping. Bring quarters if you need to wash clothes because the change machine doesn't seem to get refilled often and the front desk was out as well.
Jun 10, 2021
Stay was fantastic. Grounds were kept up. Definitely plan on more stays at KOA's in the future. Close proximity to everything you could need, beach being number 1. Only negative would be that the bath houses could use more regular cleanings.
Jun 10, 2021
Friendly staff, had a really nice shady spot. Close to the beach, will definitely be back again.
Jun 10, 2021
Really great campground. Clean and beautiful. Nice restrooms and great laundry facilities. Really enjoyed our stay
Jun 10, 2021
It was very relaxing all the staff were very friendly and professional. Will definitely be back!
Jun 09, 2021
It was a great week
Jun 09, 2021
Great Place to Stay, Nice, Clean & Staff Extremely Helpful
Jun 09, 2021
The rustic cabins need some work for sure. Bathrooms everyday were awful Same trash in the showers day after day which is a clear sign they were not being cleaned.
Jun 09, 2021
Beautiful campground, we had a spacious site with patio and grill. Friendly gate keeper, we arrived after hours and had a friendly welcoming committee in golf carts greet us!
Jun 09, 2021
The KOA staff and grounds were fantastic. There was a fellow camper that had a Confederate flag on display, which made me very uncomfortable. I was disappointed to see that.
Jun 09, 2021
Absolutely fantastic. Clean, friendly staff. We definitely visit again.
Jun 09, 2021
Wish the weather would've been nicer but whatever at least the KOA was really nice
Jun 09, 2021
The actual site was nice. We enjoyed the deck and water feature. However, the bathrooms were not maintained well at all and needed cleaned badly. The office/store closed earlier than other koas we've visited which was inconveniencing.
Jun 17, 2021
Love it! Clean , great staff ! Great family fun
- Kimberly Causby on Google
Jun 17, 2021
#238 CAMPERTIME! SO EXCITED FOR OUR FAMILY 5 DAY EXPERIENCE 😁
- Ashley Gareis on Google
Jun 17, 2021
Very friendly. Very nice place and felt safe. Great walking distance to lots of things. You can rent a golf cart and go where you please in day light.
- Brittaney Rawdon on Google