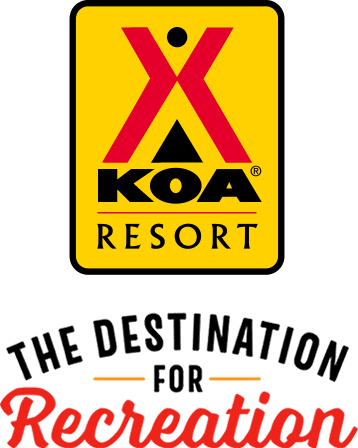 KOA Resort Campgrounds
KOA Resorts offer a carefree vacation in the great outdoors. Enjoy robust recreation and staff-led activities, kick back and relax by the resort-style pool, or grab a bite to eat, all while never leaving the campground. And with plenty of RV Sites with KOA Patios® and Deluxe Cabins with full baths to meet your needs, it's the ultimate camping getaway.
KOA Resorts Feature:
RV Sites with a KOA Patio®
Deluxe Cabins with full baths and linens
Premium Tent Sites
Resort-style pools
Indoor and outdoor group facilities
Directions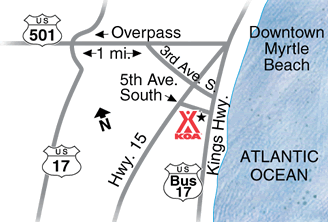 Highway 501 to 3rd Avenue South, turn right, go to Business Hwy 17. Turn right on Business Hwy 17. Go to 5th Avenue South, turn right. KOA is 1 1/2 blocks on the left.
Get Google Directions
Sep 14, 2021
We had a blast at your campground already rebooked for next year.,but our accommodations where absolutely disgusting. We were in a cabin,broken window ,dirty,broken screens,and roaches.Will be sending pictures with my complaint. But lived the campground,need to upkeep a lot better.
Sep 14, 2021
Nice campground. Clean, but noisy. Staff was friendly. The snack bar/ restaurant on site not open any of the 4 days we were there.
Sep 14, 2021
I enjoyed my stay. Gina, Dan and Bert were awesome and did a great job.
Sep 14, 2021
The cabin had mechanical and cleaning issues. First, the bunkroom heater was ON and couldn't be turned off-I had to shut off that circuit in the breaker box. AC was fighting against the heater. Second, a LOT of dust in the cabin caused my allergies to kick into high gear. After cleaning, turning off heat (and some benadryl), I could breathe. They need to clean the cabins bettter. Mold in bathroom.
Sep 14, 2021
Everyone was friendly and helpful. The area is like being in a park in the middle of Myrtle Beach! Quite lovely and serene. Cannot wait for our next visit
Sep 14, 2021
Was told several times before coming that there would be adult entertainment at the KOA for the weekend we stayed...NOPE. NOTHING!.We went to the office twice during their posted hours...Noone there, door locked, noone answered phone...have been here several times in the past and this is probably our last, I can find better for the price...sad they have let their campground slip so far downward!
Sep 14, 2021
Extremely friendly and welcoming staff.
Sep 14, 2021
There was no TV in our cabin you could clearly see someone took it and there was no bench or anything else to put our stuff on which my sister had the cabin right beside us the same exact one and she had a TV and a bench inside and outside. Then there was no water hook up and our air conditioner stopped working the second night
Sep 14, 2021
Good place, but site they put me in was not conducive for a 39ft fifth wheel. Could not get out because of tree on side I needed to get out on and bridge where I needed to go thru. Had to go thru another site across of street.
Sep 14, 2021
Everything was perfect except how dirty the cabin we stayed in was. Would still stay here again!
Sep 13, 2021
The campground is clean and well kept the staff is friendly very close to the boardwalk. Now I must say that there is a real problem with children driving golf carts and I mean kids under the age of 15 my wife and I were almost hit many times by kids driving against the traffic pattern and running across the campsites
Sep 13, 2021
Everything was great except for the Bouncing Blob having a nice patio right next to that was a huge disappointment ! 8:00 is way to early to be yelling and bouncing the deluxe site should of been put elsewhere or further down at the other end of the loop ! We now know to go to the other side and stay away from that area ! Other than that we had a great time !
Sep 13, 2021
Rocky start/smooth finish...Couldn't enjoy the campfire I think there is a bat roost in the roof pitch of DC10. Only one burner would work on the stove and electric griddle. The grill wouldn't work and we couldn't get anyone on the phone that night. The next day they made everything right and were very apologetic. Nevertheless, we loved our stay and plan to come back.
Sep 13, 2021
The office staff was very helpful. This KOA very peaceful and quiet; exactly what we were looking for.
Sep 13, 2021
This was our first time staying at the KOA IN Myrtle Beach and we really enjoyed staying there. Our site was very spacious and clean. The staff were very friendly and accommodating. The pool was water was very clean and pool area well maintained! We've already booked our same spot for next year.
Sep 13, 2021
Nice Deluxe spot. Noisy at night though
Sep 13, 2021
Always enjoy my stay. Its home away from home. The entire staff is A 1.
Sep 13, 2021
We got there a little late but the guy working was super friendly, patient, and helpful with us. I love the campground in general, it was very clean (as were the bathrooms) and just good energy all around. I also love that they had the pool, water sprinklers, and a bouncy jump. It was so close to the beach as well, which is always a plus. Im happy to say I chose a great place to stay! Thank you!
Sep 13, 2021
The staff went above and beyond to make our stay enjoyable. A special thank you to Patty for her help!
Sep 13, 2021
Very nice stay. Friendly staff and plenty for the grandson to do. Nice shady site, quiet. Only slight negative was the poor cable tv but we didn't come to watch tv so I didn't even report it. We will visit again.
Sep 13, 2021
Awesome ready to come back
Sep 13, 2021
Great stay as usual. Friendly staff with activities for the kids and clean bathhouses.
Sep 13, 2021
We loved the staff and the campground is very well kept up and clean. Love the shaded area that we had! We will definitely be back to camp!!
Sep 13, 2021
This is a great park, clean, close to the beach with a courtesy shuttle to get you to and from the beach. A special shout out to some incredible customer service by Bert, who went above and beyond the call of duty to assist us in our needs, Semper Fi!. You can see they are constantly upgrading things and keeping the place look nice. We will surely go back next time we are in the area.
Sep 13, 2021
Awesome place to stay! Lots of fun! My family had such a great weekend! Very affordable fun time!
Sep 13, 2021
Staff was very nice. The grass was tall and the pool water was very cloudy and dirty. The pool water cleared up on 9/7 but that's because there weren't many people at the campground.
Sep 13, 2021
This was our first time staying at the Myrtle Beach KOA and my husband and I thoroughly enjoyed it! We stayed in a small deluxe cabin. It was very nice. The campground is very nice, well kept, and we enjoyed meeting the workers and campers. Everyone was very nice and friendly. We will be back!
Sep 12, 2021
Wow! Thank you for the outpour of family-friendly love during our stay at Myrtle Beach KOA. After the birthday shout out on the billboard, the amazing poolside entertainment, and all the great activities for the kids, Myrtle Beach KOA is high on our list of places to visit again soon. Keep up the great work of making camp experiences memorable. Thank you:)
Sep 12, 2021
Loved the tie die shirt activity
Sep 12, 2021
The most amazing camping trip me and the wife has ever had. Very clean and very quite place to take a vacation. Friendly customer service as well.
Sep 11, 2021
Amazing site , friendly staff, and a wonderful location.
Sep 10, 2021
awesome staff!!!!
Sep 10, 2021
Quick weekend getaway. Been before, will def be back again. Love the golf cart rentals. Staff was so friendly and helpful. The kids love it, the husband loves it, I love it! Thank you for hosting us.
Sep 09, 2021
The RV Pull through site we had was just the right amount of space we needed. Customer service was amazing and all staff was very polite and professional! We are definitely going to be staying there again!
Sep 09, 2021
Very friendly and helpful we love it planning are next trip.
Sep 09, 2021
Friendly residence and courteous and profesional staff,
Sep 09, 2021
It was great! All front store employees were awesome! I think it was Melanie, Natasha, Sarah an Pat! They made us feel right at home from checking in to ! The grounds guys were very hospitable making sure we had everything we needed. Beautiful park with exceptional staff an amenities. We will be back for sure! The big trampoline was awesome! It was a big hit with our kids. Love it here.
Sep 09, 2021
Melody was so friendly and very helpful in the front office. This is our second visit and we love it. It is a great location and easy access to everything.
Sep 09, 2021
We enjoyed our stay. Staff is very friendly. Would give a higher rating but the hot water in the womens bath house was practically nonexistant and the shower curtains need cleaning/replacement.
Sep 09, 2021
We came for a long weekend, arrive Friday, staying till Tuesday morning. On the arrival tons of people were all arriving at the same time. You were so efficient at checkin, doing it all from the guard shack, I never had to even get out of my truck. Then you had a staff member in a golf cart take me to my spot, which was so helpful. Everyone was so nice, polite, and full of positive energy.
Sep 09, 2021
It was wonderful. It was so peaceful a everyone was so friendly. My kids had a blast at the pool and splash pad. We will definitely be going back.
Sep 09, 2021
well managed campground. staff very helpful
Sep 09, 2021
Great family atmosphere. Caring staff. Wonderful place for vacation!
Sep 12, 2021
Awesome place
- Ryan Lambert on Google
Sep 11, 2021
Had a wonderful time with the family.
- Robert Smith on Google
Sep 11, 2021
Friendly staff. Clean bathrooms. Very close to the beach.
- Miss Sassy on Google