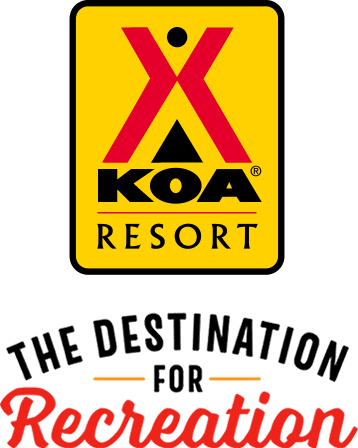 KOA Resort Campgrounds
KOA Resorts offer a carefree vacation in the great outdoors. Enjoy robust recreation and staff-led activities, kick back and relax by the resort-style pool, or grab a bite to eat, all while never leaving the campground. And with plenty of RV Sites with KOA Patios® and Deluxe Cabins with full baths to meet your needs, it's the ultimate camping getaway.
KOA Resorts Feature:
RV Sites with a KOA Patio®
Deluxe Cabins with full baths and linens
Premium Tent Sites
Resort-style pools
Indoor and outdoor group facilities
Directions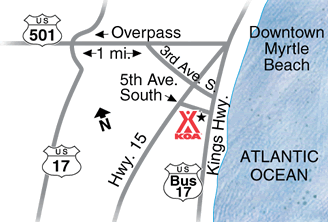 Highway 501 to 3rd Avenue South, turn right, go to Business Hwy 17. Turn right on Business Hwy 17. Go to 5th Avenue South, turn right. KOA is 1 1/2 blocks on the left.
Get Google Directions
Jan 16, 2021
Clean and quiet!
Jan 16, 2021
Off season and very relaxing.
Jan 11, 2021
It was a great stay as always. The only issue I had is the park wide wifi wasn't working made it difficult for a couple things I needed to do for work other than that it was great.
Jan 08, 2021
I stayed several days and the staff were wonderful and friendly.
Jan 08, 2021
Love KOA's. Myrtle Beach did not disappoint! It was a lovely place, look forward to staying there again!!
Jan 06, 2021
I was there over a month and staff were always available and helpful. The thanksgiving meal was delightful and the Christmas decorations were nice to view. I would return again if in the area.
Jan 05, 2021
Shower drain was clogged. Waited all day, still clogged and couldn't get anyone to come back. Coffee pot was also leaking. Besides thise issues, love staying at campground.
Jan 04, 2021
Even though it rained the entire time we stayed it was a great experience. Walking distance to the beach.. Clean bathrooms. Will be staying there again.
Jan 04, 2021
Friendly staff, nice site. Campground is convenient to great restaurants and activities. There is a beach shuttle that we did not use since we were there for New Year's Eve weekend, but would be great during summer months since the campground is not directly on the ocean.
Jan 04, 2021
Great place! Close to everything. Fireworks from the beach on New Years was beautiful and could see them from our site. Cable TV is awesome. Didn't use the WiFi. With all the trees you feel like your in the mountains. Will try one of the lots with the concrete patios next time. They looked great. Definitely coming back!!
Jan 04, 2021
Not as friendly as they use to be! Can't find the Manger for complaints and if you tell them it's like ��.
Jan 04, 2021
Great park. Staff is very friendly. Will be back
Jan 03, 2021
had a great time, the sites were great and the staff was very friendly, will be back for sure again!!
Jan 03, 2021
Very friendly and helpful
Jan 03, 2021
Fantastic location near beach and shops with friendly helpful staff. We already booked for next year!
Jan 03, 2021
Good service,beautiful place
Jan 02, 2021
Would love to talk to the owner of the koa
Jan 02, 2021
Our stay was good. Very friendly staff. Just a ways out from where we wanted to be. Very clean & well kept! Thank you
Jan 02, 2021
Cabin was so nice and clean and fit our group perfect! Love the big bathroom as well! Will be definitely staying again!
Dec 31, 2020
Many nice things about our stay, great location, amazing staff, nice layout, great amenities, Christmas lights were a +, bathhouses were nice, great dog area, daily trash pick up. Again lots of great things. But a few things that were not up to par. A few spots looked run down, more like a residence. Also we had a huge 10ft x 4ft pile of leaves taking up space for the dogs our entire 4 nites.
Dec 31, 2020
A Very nice campground. Great staff and very clean. We will recommend it and will stay there again!!! Well done!!!
Dec 30, 2020
Very good. People very friendly and helpful.
Dec 29, 2020
Loved decorations and friendly staff.
Dec 29, 2020
Greeted like we were rock stars...by Dan! He had my husband laughing backing in, that never happens! Gorgeous property a dog walkers dream- didn't even need to visit doggie area. XMAS decorations amazing! Some questionable "long stay" RV's in our section that would be better somewhere else. Store needed merchandise-it was bare. Wanted to stay another week but told we had to move-too much
Dec 29, 2020
My favorite KOA to this day :)
Dec 28, 2020
Nice place. It was clean and quiet. Super friendly staff.
Dec 28, 2020
Extremely nice cabin, very roomy, plenty of hot water for 5 of us to shower. Very comfortable beds, nice staff, property is very well managed and clean. Would recommend staying. We didn't want to leave.
Dec 27, 2020
Cabins do not have amenities as listed online ie tv, had to ask 3 times for my firewood that was paid for at 9:00 am to be delivered. Bathrooms closed at 6:00pm. Had to navigate in the dark to find the bathhouse and use those bathrooms. Only alternating bathrooms stalls were open even though they were individual rooms. All phone number listed GI directly to KOA reservations. No office phone.
Dec 21, 2020
I own a condo on 25th Avenue South, but it was rented for the winter. We had a KOA gift card and decided to come to Myrtle Beach for a few days.
Dec 17, 2020
This is a nice property & close to the beach; however, it could be improved with more attention to detail. For example, we had to call to report that our patio table was missing; we also had to call to obtain the code for the bath/shower facilities. In both cases, the staff was responsive but it would have been nicer if these details would have been taken care of proactively.
Dec 14, 2020
Dan was awesome helping us back in at our sight. Was nice and pleasant. Excited to be working! Such a great attitude. (Which is hard to find these days)
Dec 13, 2020
Always been a great camp ground.
Dec 12, 2020
Impressed with cleanliness of resort grounds and bathrooms. Staff always friendly and helpful. I had to mail and receive a few items.Office staff called when packages arrived. Very peaceful walking around the park roads. Plenty of spots to sit in sun.
Dec 08, 2020
Very nice campground, but very crowded for Thanksgiving weekend. Despite the almost full facilities, noise leve, was not too bad. Lots of trees, plenty of places to walk dogs. CG convenient to beach.
Dec 07, 2020
Great staff ... Friendly and helpful... truly relaxing!... Be back next fall! Go Chanticleers!!!!
Dec 07, 2020
Wee arrived on Wednesday prior to Thanksgiving. We were greeted and checked in immediately and invited to a community dinner at noon the next day on the patio. We enjoyed a relaxing 4 night stay.
Dec 07, 2020
We had such a good time. It was so clean. It was very nicely decorated for Christmas. Everyone was so friendly and nice. We definitely will come back again and recommend it to our friends.
Jan 19, 2021
Really nice people. Very quiet. Well maintained hookups for RV. UPDATE for my earlier post complaining about the wifi. I talked to Patty today at the front desk and she called the wireless company...really good download speed now. NO COMPLAINTS...GREAT PLACE TO STAY, QUIET, CLEAN and REALLY NICE PEOPLE RUNNING THE PLACE
- Chet Cliff on Google
Jan 15, 2021
Great staff. Very clean ground's and bathrooms. Has cable and trash pickup from camp site. Lots of things the kids can do and play on.
- joseph roy on Google
Jan 04, 2021
We love camping at KOA campgrounds, so much that we booked one of the deluxe cabins for our honeymoon. We traveled to myrtle beach from Ga after our wedding and called ahead to notify office we would be late checkin. They were very nice and let us know someone is always in guard shack and will check us in when we arrive. The man and lady in guard shack were very nice also and greeted us and welcomed us to the campground. We were given a map and campground info booklet with things to do and restaurants near by. Then he drove a golf cart ahead of so that we could find our cabin in the dark. He waited on us to make sure everything was what we expected. Very nice deluxe cabin with screened in porch, firepit and porch. Was in back of campground away from road which made it nice. KOA was off main highway that runs thru myrtlebeach which made it very convenient to shops and restaurants and You can see the ocean from the end of the road. Kinda cool time to be at the beach,but there was lots of things open. Pawnshops, fleamarkets, stores and the store at the end of the road gives discounts if you show them your parking pass from KOA. 2 state parks nearby and if u visit both on the same day, it's only a $8 a person entrance fee and u get into both. Myrtle beach state park and Huntington island state park very close by and lovely to visit. You can walk on pier, fish, ride horses and walk on the beach. Will definately visit KOA again. Recomend it to anyone visiting myrtle beach.
- Glenda G on Trip Advisor