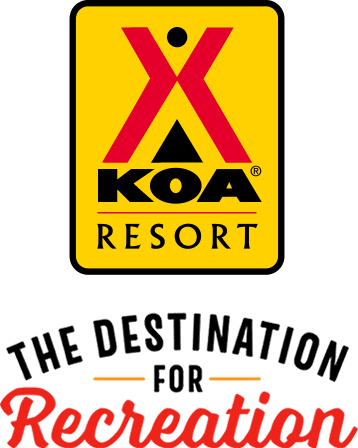 KOA Resort Campgrounds
KOA Resorts offer a carefree vacation in the great outdoors. Enjoy robust recreation and staff-led activities, kick back and relax by the resort-style pool, or grab a bite to eat, all while never leaving the campground. And with plenty of RV Sites with KOA Patios® and Deluxe Cabins with full baths to meet your needs, it's the ultimate camping getaway.
KOA Resorts Feature:
RV Sites with a KOA Patio®
Deluxe Cabins with full baths and linens
Premium Tent Sites
Resort-style pools
Indoor and outdoor group facilities
Directions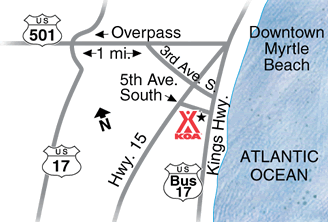 Highway 501 to 3rd Avenue South, turn right, go to Business Hwy 17. Turn right on Business Hwy 17. Go to 5th Avenue South, turn right. KOA is 1 1/2 blocks on the left.
Get Google Directions
Apr 06, 2021
Great campground conveniently located to many attractions. Clean bathhouse nice pool friendly staff
Apr 05, 2021
Great campground site was far better than we expected, had a pull thru delux patio site. Campground was kept clean and staff was great, also liked that the site was spacious
Apr 05, 2021
Fun activities for the kids and close to the beach!
Apr 05, 2021
Check in was easy. The lady at the front desk was friendly and our cabin was as advertised. Kids loved the trampoline, and my family had one of the deluxe cabins also. It was very nice!
Apr 04, 2021
We absolutely love the campground
Apr 04, 2021
Everyone at the Myrtle Beach KOA was friendly and helpful. It's nice to enjoy nearby beaches, the vast selection of good restaurants, and fun family activities. Then return to the quiet, relaxed Myrtle Beach KOA set amongst the tall pine trees. We truly enjoyed our stay in a deluxe cabin. Thanks much for the great experience!
Apr 04, 2021
We loved the park! Everyone had a fabulous time! The service was excellent and we would definitely stay again!
Apr 04, 2021
Staff was so friendly & helpful. We had a great time . Can't wait till next year to go back !!
Apr 04, 2021
Staff was rude.
Apr 04, 2021
People are super nice and accommodating! The only thing I noticed was it didn't appear the floor in the bathroom closest to our site didn't get cleaned while we were there.
Apr 04, 2021
The kids had a blast, and we were impressed with the accommodations. The location was great, too, and the staff were friendly. For people who want to be in the middle of the action, this is a perfect place to stay.
Apr 04, 2021
Very helpful with check end. Very quiet. Needs better leaf clean up and some road repairs.
Apr 04, 2021
The staff were all so nice and helpful. So many great campers. My son met so many new friends here. So close to all that MB has to offer!
Apr 04, 2021
Very clean site. Helpful workers that were kind.
Apr 03, 2021
I loved the campground atmosphere, cabin, river, the campers, etc. I did not like that my only interaction with staff was purely business. I also was annoyed that I personally turned my key in at 10am at the front desk, yet I was called at 2:30pm and TOLD to get out. This is poor customer service. I also waited a solid 30 minutes to check in upon arrival. The camp-store was empty.
Apr 03, 2021
We loved the trees! It was like living in the woods. People were very respectful of each other. Management was friendly and helpful.
Apr 02, 2021
We LOVE MB KOA.... Always friendly, Always Clean... GREAT SPOT....
Apr 02, 2021
Pool was supposed to be heated. It definitely was NOT. Site was supposed to be a premium site, but it was awkwardly shaped, overgrown with weeds, the deck was in rough shape, and there was no room for the fire ring, which was missing anyway. Almost all the advertised amenities are only available in "peak" season, but they don't tell you that until you get there. And no one was wearing ma
Apr 02, 2021
The golf carts were annoying. There were several where teenagers were just continually just driving around the park. Also, they were not following road rules and a couple were playing loud music as they drove around.
Apr 02, 2021
Very nice campground and loved the cabin and all of its amenities.
Apr 02, 2021
Myrtle Beach KOA is a better than great place to stay. Love it there and plan on returning soon. The staff there is helpful, friendly and very proud of their facilities. No tonly walking distance to the beach, but close to shopping, many many restaurants, attractions and all that the Grand Strand has to offer. Come and give it a try. So glad it is close to home as it is my escape on a whim!!
Apr 02, 2021
the staff was extremely pleasant and helpful. Always a smiling face. The campground was spotless..so very clean. the RV site we had was great. Usually we have such a tiny spot ton try and maneuver a 36ft rv. Not Here!! Cant wait to come back!
Apr 01, 2021
Security needs to be improved. Had items stolen from my site. I understand the KOA is in a tough part of Myrtle Beach, but as a guest a certain level of security is expected. While I don't hold the KOA personally responsible for the stolen items, I do expect they make improvements to security (better fences, lighting, etc) to ensure future incidents do not occur. Thanks for listening!
Apr 01, 2021
This is one of the most fun campgrounds we have camped at to date. There were lots to do at the campground for our whole family. Our lot was perfect and all staff was extremely helpful and friendly. The golf cart rental was very helpful. We will definitely camp here again and are planning a future trip to bring our extended family. Top notch KOA!!!
Apr 01, 2021
Nice campground. Very tight and winding roads throughout. Very close to the ocean and shopping.
Apr 01, 2021
We have stayed here many times. All ways a good place to be this was not our best stay here and was still a great time away.
Apr 01, 2021
Super friendly staff were very helpful and make for an enjoyable stay. We've never had a bad time at this KOA. We will be back again.
Mar 31, 2021
I was sad that not all activities were available (worm train live music ect) but I do understand that we came during the off season. We stayed in a deluxe cabin and it was very clean and nicely done. The only issue is that the TV and wifi did not work. Staff was great
Mar 31, 2021
WE ENJOYED OUR STAY AND WISHED WE COULD HAVE STAYED LONGER.
Mar 31, 2021
This was our second trip with our Class A home. The campground was efficient and clean. We were lead to our site and supported by the camp personnel. Everyone including us had at least one dog, but the grounds were able to support our furry friends. The space was well sized and all services functioned perfectly. This was also our first KOA site, but we have two other sites booked, great time!
Mar 31, 2021
Great workers. But they NEVER answer the phone and there was a thief that stole our neighbors grill and another's bikes. Also. Never was refunded money for my golf cart rental.
Mar 31, 2021
This was our first trip to the KOA Campground in Myrtle Beach. Everyone on the staff was very friendly and accommodating. The campsite was clean and the amenities were awesome. We are already planning our return trip as we loved it and our dogs had a blast too! Thank you KOA for a memorable vacation!
Mar 31, 2021
Outstanding location and campsite. Great experience for our maiden voyage.
Mar 31, 2021
Great getaway...staff was friendly and provided great customer service! Facility was and amenities were excellent. Great location for beach, eating and shopping access. We'll definitely return!
Mar 31, 2021
Way to many barking dogs. Friendly staff, clean park. Didn't feel very secure, didn't feel safe leaving bicycles outside at night.
Mar 31, 2021
I should of stopped at a truck stop
Mar 30, 2021
Absolutly the most comfortable cleanest KOA I have ever stayed in.
Mar 30, 2021
Stay here two times....nice people... clean...lot to do
Mar 29, 2021
We had a nice stay and enjoy the area.
Apr 11, 2021
This was our first time staying at an KOA and we were very satisfied. The lady that checked us in was very friendly and didn't rush through everything even though there were cars behind us. Lots of amenities, bathrooms were very clean, the little cantina place had delicious breakfast sandwiches. The whole place was very clean, our neighbors were friendly, great experience. We will be back!
- Brittany Mejia on Google
Apr 10, 2021
Loved this place, will come back asap!!!.. their customer service was the best... Congrats to whoever runs this one👍👍👍
- marleen quinones on Google
Apr 10, 2021
Wonderful staff! Clean facilities!! Very enjoyable experience!! Kids kept busy and were happy! We will be back
- Michelle Duay on Google