Local Area Attractions Near Yellowstone Park / Mountainside KOA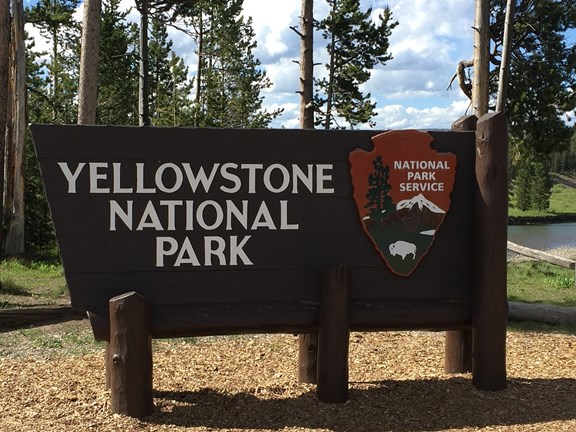 Yellowstone National Park
The world's first - and America's largest - National Park must be seen to be believed! Within its 2.2 million acres lie the greatest collection of geysers on this earth, the largest alpine lake in our nation, the colorful Grand Canyon of the Yellowstone River, thundering waterfalls higher than Niagara, petrified forests, trout-laden streams, and an endless array of native wildlife ranging from ground squirrels to grizzly bears. Yellowstone has more natural beauty than you can absorb in a lifetime. Call the West Yellowstone Chamber of Commerce for more information.

HORSEBACK RIDING (NEXT DOOR)
It is an easy walking distance to the Diamond P Ranch from Yellowstone Park KOA. They offer trail rides for all levels of experience with some of the best guides in the industry. You can experience 1/2 day and full day trips along the Continental Divide in the beautiful Gallatin National Forest.
2865 Targhee Pass Hwy.
West Yellowstone, MT 59758
406-646-0606

Bus Tours of Yellowstone
Reservations for full day bus tours into Yellowstone National Park pick up at our front door. We will assist you with reservations when you arrive at Yellowstone Park KOA.There are two in the area; See Yellowstone and Yellowstone Vacations.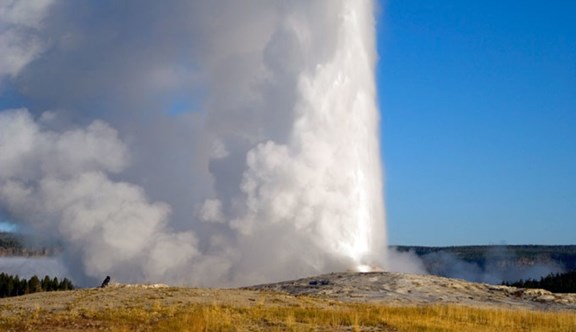 OLD FAITHFUL - 30 MILES FROM YELLOWSTONE KOA
The largest concentration of geysers in the world is in the Upper Geyser Basin, including World Famous Old Faithful. Several of the more prominent geysers and hot springs are located here. You could easily spend an entire day exploring this unique complex of geothermal features.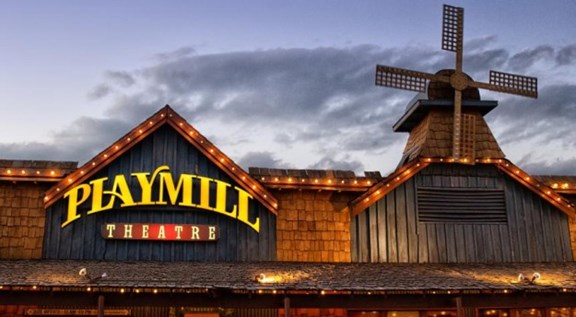 PLAYMILL THEATRE - IN WEST YELLOWSTONE
The Playmill Theatre continues the traditions of quality family entertainment offering well-loved musical classics like Oklahoma, The Music Man, and Seven Brides for Seven Brothers. Advanced reservations recommended.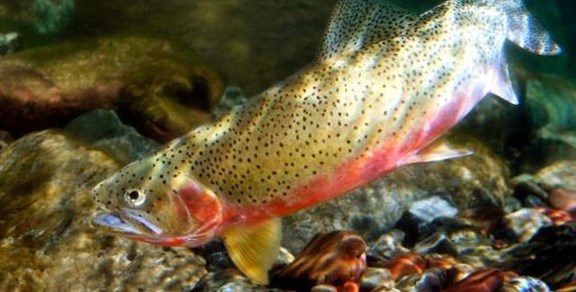 BLUE RIBBON TROUT FISHING - LESS THAN 1 MILE FROM YELLOWSTONE KOA
Try your hands at catching Brook, Rainbow, Grayling, Cutthroat, Lake and Brown Trout. Some of the best fly fishing anywhere in the West located just outside of Yellowstone National Park.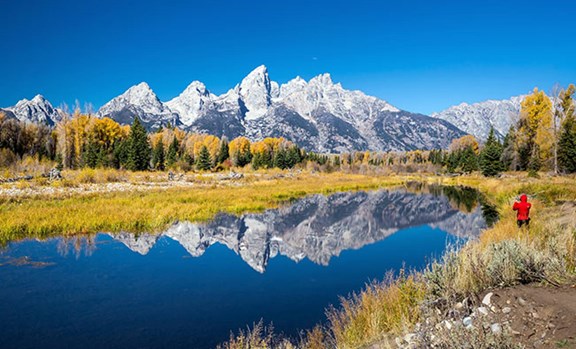 GRAND TETON - 78 MILES FROM YELLOWSTONE KOA
Located in northwestern Wyoming, Grand Teton National Park protects stunning mountain scenery and a diverse array of wildlife. The range includes eight peaks over 12,000 feet, including the Grand Teton at 13,770 feet.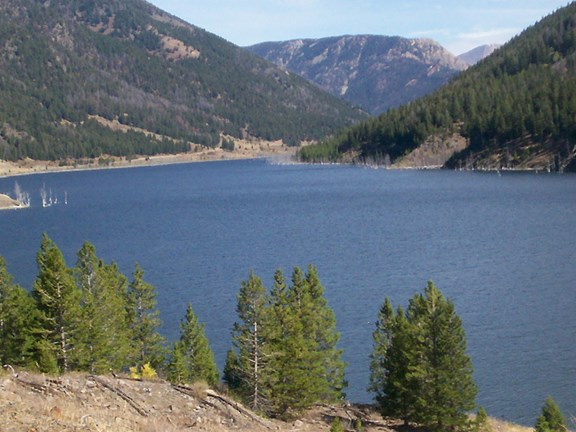 QUAKE LAKE - 30 MILES FROM YELLOWSTONE KOA
On August 17th, 1959, an earthquake near the Madison River triggered a massive landslide. The slide moved at 100 m.p.h. and, in less than 1 minute, over 80 million tons of rock crashed into the narrow canyon, blocking the Madison River and forming Earthquake Lake. Visit Quake Lake online for more information.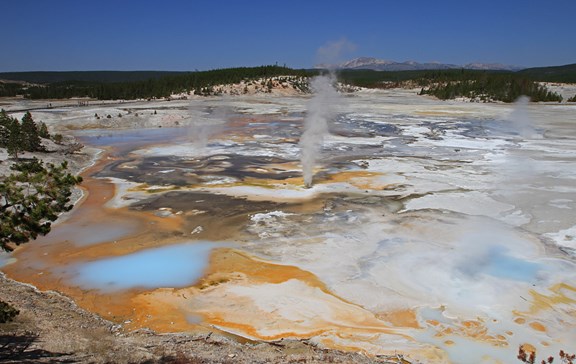 NORRIS GEYSER BASIN - 28 MILES FROM YELLOWSTONE KOA
Norris Geyser Basin is the hottest and most changeable thermal area in Yellowstone. It is the home of Steamboat Geyser, the world's tallest active geyser, which can erupt to more than 300 feet.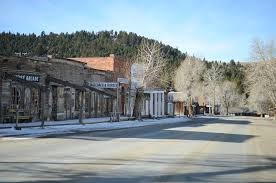 GOLD RUSH GHOST TOWNS - 84 MILES FOR YELLOWSTONE KOA
The very much alive ghost town, Virginia City, Montana , is frozen in time. It is a remarkably well preserved old west Victorian gold mining town just 20 miles west of Yellowstone National Park (90 miles by road).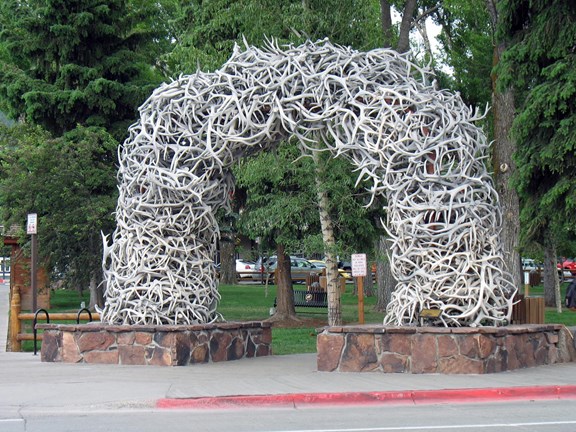 JACKSON HOLE - 133 MILES FROM YELLOWSTONE KOA
Jackson Hole is a popular tourism destination because of its proximity to Yellowstone & Grand Teton National Parks, its unmatched scenic beauty, the world-class skiing, and its western character.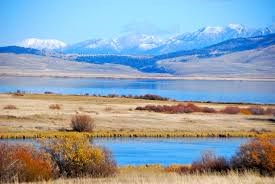 RED ROCK LAKE REFUGE - 29 MILES FROM YELLOWSTONE KOA
Red Rock Lakes National Wildlife Refuge has often been called the most beautiful national wildlife refuge in the United States. The rugged Centennial Mountains, rising more than 9,000 feet above the Centennial Valley wetlands, provide a dramatic backdrop for this extremely remote Refuge. The inherent solitude and suitable habitat has made this the perfect place for reviving declining populations of the majestic trumpeter swan. Visit Red Rocks Lake online for more information.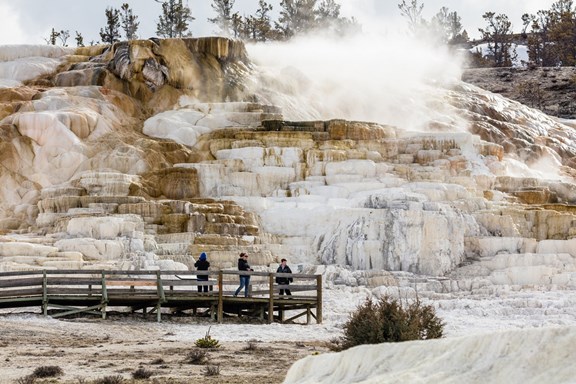 MAMMOTH HOT SPRINGS - 49 MILES FROM YELLOWSTONE KOA
Walk among the unique mineral terraces and perhaps share your trail with a grazing elk at Mammoth Hot Springs. Near the original archway entrance to Yellowstone dedicated by President Theodore Roosevelt in 1903.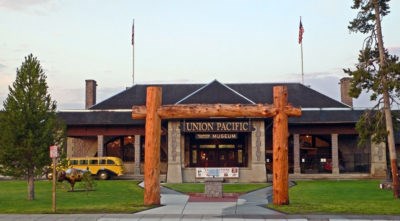 YELLOWSTONE HISTORIC CENTER - IN WEST YELLOWSTONE
A collection of grand buildings, built by the Union Pacific Railroad, is located in West Yellowstone, Montana. Now owned by the Town of West Yellowstone, these buildings have been stabilized and are in need of restoration and preservation. All of these buildings are listed on the National Register of Historic Places, known as The Oregon Short Line Terminus Historic District. Having played host to millions of tourists, dignitaries and presidents, Yellowstone Historic Center has historical significance which cannot be overstated.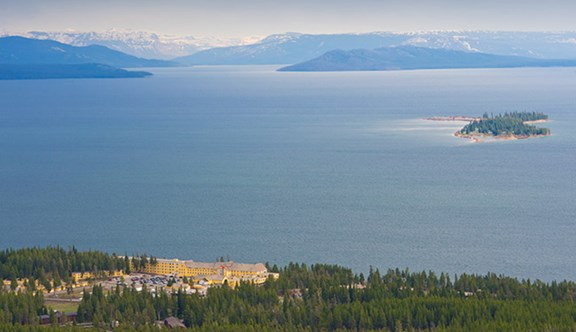 YELLOWSTONE LAKE - 47 MILES FROM YELLOWSTONE KOA
Yellowstone Lake is the largest natural freshwater lake in the United States that is above 7,000 feet and is one of the largest such lakes in the world. Yellowstone Lake covers 136 square miles and is 20 miles long by 14 miles wide. It has 110 miles of shoreline. The lake is at least 320 feet deep in the West Thumb area and has an average depth of 140 feet. Situated at an elevation of 7,733 feet, the lake remains cold year-round, with an average temperature of 41 F.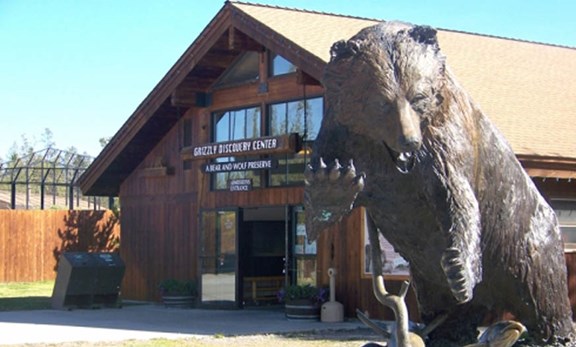 GRIZZLY AND WOLF DISCOVERY CENTER
You'll see wildlife as you've never seen it, with an up close view of live grizzly bears and a pack of gray wolves. The Grizzly & Wolf Discovery Center's primary mission is to provide visitors to the Yellowstone area an opportunity to learn about, view and ultimately appreciate the grizzly bear and gray wolf. Fun for the whole family!