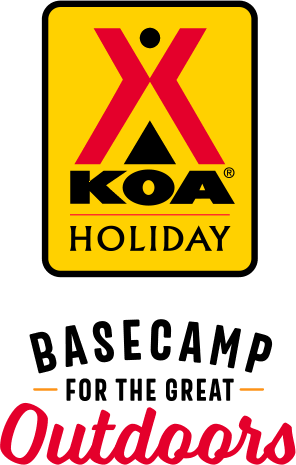 KOA Holiday Campgrounds
Whether you're exploring the local area or hanging out at the campground, KOA Holidays are an ideal place to relax and play. There's plenty to do, with amenities and services to make your stay memorable. Plus, you'll enjoy the outdoor experience with upgraded RV Sites with KOA Patio® and Deluxe Cabins with full baths for camping in comfort. Bring your family, bring your friends, or bring the whole group – there's plenty of ways to stay and explore.
KOA Holidays Feature:
RV Sites with a KOA Patio®
Deluxe Cabins with full baths
Premium Tent Sites
Group meeting facilities
Directions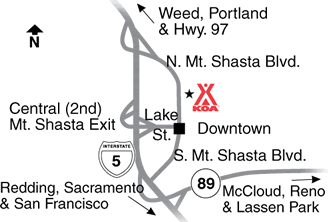 Mt Shasta City KOA is located at 900 N. Mt. Shasta Boulevard, in downtown Mt. Shasta City, and within walking distance of fine dining, unique downtown shopping, and only 20 minutes from the Mt. Shasta Board and Ski Park. Our Campground sits at the base of Beautiful, sacred Mt. Shasta, and offers amazing scenery. We have short hiking trails on-site as well. Our friendly staff treat all of our guests like family and will do whatever it takes to ensure that It's always a beautiful day at the KOA.
Directions From the South: Traveling North on Interstate 5, take the Central Mount Shasta Exit #738 turning right at the Stop Sign onto W. Lake Street. Continue on W. Lake St. about .3 miles to the second Stop Light and turn left onto N. Mount Shasta Blvd. Continue on N. Mt. Shasta Blvd. approximately 1/2 mile to Hinckley, turn right. The entrance to the campground will be immediately on your left.
Directions From the North: Traveling South on Interstate 5, take the first Mount Shasta Exit #740 following the ramp onto N. Mt. Shasta Blvd. Continue approximately 1 mile on N. Mt. Shasta Blvd. until you see the KOA illuminated sign, 900 N. Mt Shasta Blvd. Turn left onto Hinckley, the entrance into the campground will be immediately on your left.
GPS: N41.322264, W122.317500
Get Google Directions
Apr 06, 2021
Just an overnite, but easy, clean and quiet.
Apr 04, 2021
Cabin was super clean and comfortable with exception of the beds. Bunk bed mattress in our cabin was lumpy and hard on the back and full size bed was bowed in middle and squeaked loudly with every move. Staff was great, campground was very well maintained and offered fun things to do on site. Definitely recommend over all.
Apr 04, 2021
Beautiful camp grounds just too close to the highway and railroad.
Apr 03, 2021
Advertised cable tv, had none. Owner claimed he'd asked home office to remove cable from ads but they hadn't yet. Hmmmm. The WiFi was extremely weak (only at 1/2 capacity) and almost unusable too. Orderly grounds, clean bathrooms. Had asked for fire pit, owner blew off until day 2 of 2. View of Mt Shasta was good but the premium of $52/night not justified with these shortcomings.
Apr 01, 2021
The campground was nice and clean but spot # 1 SUCKS when you have 3 dogs and they put us right next to the only bathrooms there and were not will to relocate us and the site didn't have the extras that were advertised like grill fire pit or chairs and again the lady there was not will to help only adding that if I need a bbq they sell them . Paid for a premium site but feeling ripped off.
Mar 31, 2021
Just there one night but it was clean and quiet
Mar 31, 2021
The GM was very friendly. Facility was clean and sites were level, which is a huge plus.
Mar 31, 2021
Campground was clean, employees friendly and greeted us in the morning by name++. Showers had plenty of hot water, bathrooms were clean. Close to freeway so a bit noisy at times. Had to make reservations online because nobody picked up the phone when we called multiple times. Office closes a bit early and for several hours during middle of the day. Overall good place!
Mar 31, 2021
Wonderful experience! Stayed one night in a camping cabin and it was so much fun! Exceeded our expectations. There was electricity and a heater and we were super close to the bathrooms! Definitely staying here again! Thanks!
Mar 30, 2021
there was no one to check us in and we arrived early afternoon. we were given site 35 but we were redirected to premiun site 1 that was not really cleared of snow we were a bit nervous to back our 40 foot motorhome into the spot but we got parked. left a day early we were not forwarned that there was a couple feet of snow and weren't expecting that.
Mar 29, 2021
New office manager seems good.
Mar 29, 2021
A nice area and convenient to town. But don't expect amenities that are listed on the website to be available. Sign says winter hours 8-4 but it was end of March and spring break was happening? Wi-Fi code didn't work, laundry room padlocked, game room not accessible, no coffee, year round pool was full of yucky water and leaves, basketball hoop was hanging cockeyed and balls were flat. Sad.
Mar 29, 2021
The KOA team at this facility was very accommodating and helpful. We had a wonderful stay!
Mar 27, 2021
We had a blast in our stay with Mt Shasta KOA. The staff was attentive, friendly, and helpful. Facility is clean. Close to nature. Small cozy town nearby. Big shout out to Patrick. He is awesome! Thanks for taking care of us.
Mar 27, 2021
Nice place to stay
Mar 26, 2021
Everything was great.
Mar 25, 2021
Just a quick overnight stay. Nice location with some cool views of Mt Shasta.
Mar 23, 2021
The owner we spoke to was very nice. I was disappointed that she said we couldn't use any of our KOA credits since we already booked the resv especially since the KOA rules say the reward will be applied AFTER you arrive. Stay was ok but campground is in bad shape - not attractive or at all inviting. We were just stopping over on the way home and stayed inside our camper.
Mar 22, 2021
Good location, not well maintained.
Mar 18, 2021
Showers were clean and loved the private rooms.
Mar 17, 2021
Love this place. The folks who manage and work here really make it easy to want to come back and stay again!
Mar 17, 2021
It was an emergency stay and the staff was very accommodating and the facilities were very clean.
Mar 15, 2021
Candice was great. Very helpful. Our first time there. We will be back!
Mar 14, 2021
Over the prior month, we stayed at 6 KOA resorts. Our stay at Mt Shasta was complicated by an unexplained cancellation of our reservation. I had the original email confirmation, but was sent a cancellation notice and refund advice, with the wrong date of stay on it. When I called the office, they did not see my original reservation and had no record of us coming, when we were within 2 hours.
Mar 10, 2021
Very friendly staff. Very nice and quiet campground. Allways happy with my stay here.
Mar 08, 2021
Stay was pretty good. IT was very cold, snowy, and peaceful - all things only God controls. The park itself was nice. A bit smaller than what we anticipated, and some of the amenities were in need of repairs (baseball hoop for example), but other than that, it was great. The fresh coffee was good, and the friendliness was fantastic. Overall, its a nice park that I would generally recommend.
Mar 07, 2021
Very nice place. Patrick take the time to check up on us the next day. The ladies on the office so nice too, they even called us to tell how to get on our site. My husband having difficulty finding it. Will definitely come back. Bathroom so clean and heater is on.
Mar 03, 2021
We only stayed here one night. We arrived late and had to figure out the late night check in which was a little confusing but it all worked out. The campsite itself was awesome. Even with being super close to the office and bathrooms, it felt as if we were nowhere near anyone. And we had a great view of the snow covered mountain. We would definitely stay here again.
Mar 02, 2021
We just love this place. This staff is absolutely amazing.
Mar 02, 2021
We were only there for one night and it was a late arrival but when we got there and picked up our reservation it was for site 32 which had piles of gravel in it so we obviously couldn't pull in so we just took site 33 instead. There were several trains making noise through the night which didn't make for the best sleep. It was a nice enough setting.
Mar 01, 2021
Our reservation had no site number associated with it. We arrived at 10:00pm after a long trip, grabbed the "packet" which also had no site number on it. I called the after hours host, and I felt as if he thought it was my fault.
Mar 01, 2021
We stayed in February 2021. Our site was clean and open. The hook ups were fully functioning. The onsite bathrooms/showers were clean and hot. The employees were helpful when I called the after hours number. I loved that my daughter could play on the playground and it was safe for her. We hope to return again!
Mar 01, 2021
Had no water the morning of departure. Means no shower no any. We were in the deluxe cabin. For $180 per night that is unacceptable. I should be offered a credit or free night.
Feb 28, 2021
Woodsy, rustic campgrounds with beautiful tall evergreens. The patio pull throughs are huge with great concrete slabs for sitting around a fire. We enjoyed the train whistle and will definitely come back. Oh, the bathrooms/showers were as clean as can be. Impressive. Proximity to Mt Shasta Ski Park is great!
Feb 23, 2021
We had gone last month and loved it we came back. Staff is friendly. Other people there are friendly. Loved the kabins. Very nice and clean.
Mar 19, 2021
My husband and I stayed here for a weekend with the homies and we were all very impressed with the cabin and the accommodations. The bathrooms, showers, and the cabins were HELLA warm and cozy. The staffing even provided blankets and pillows. Candance was amazing, she was super cool and helped us with all of our questions, and helped us get a forgotten item. Patrick was hella chill and real, he helped get a fire started, and even checked on us to make sure we didnt need anything before the office would close. Good people working here! 💖 Definitely will be coming back!
- Melissa Brown on Google
Feb 09, 2021
Friendly atmosphere and relaxing stay.
- Christina Fluty on Google
Jan 30, 2021
Best HOT SHOWER 🛀 🚿 $10.00
- Patrizia Reyes on Google