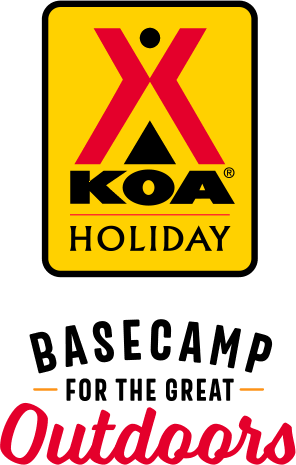 KOA Holiday Campgrounds
Whether you're exploring the local area or hanging out at the campground, KOA Holidays are an ideal place to relax and play. There's plenty to do, with amenities and services to make your stay memorable. Plus, you'll enjoy the outdoor experience with upgraded RV Sites with KOA Patio® and Deluxe Cabins with full baths for camping in comfort. Bring your family, bring your friends, or bring the whole group – there's plenty of ways to stay and explore.
KOA Holidays Feature:
RV Sites with a KOA Patio®
Deluxe Cabins with full baths
Premium Tent Sites
Group meeting facilities
Directions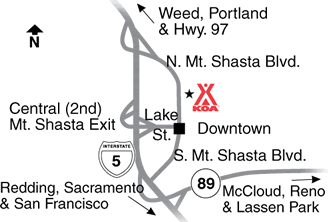 Mt Shasta City KOA is located at 900 N. Mt. Shasta Boulevard, in downtown Mt. Shasta City, and within walking distance of fine dining, unique downtown shopping, and only 20 minutes from the Mt. Shasta Board and Ski Park. Our Campground sits at the base of Beautiful, sacred Mt. Shasta, and offers amazing scenery. We have short hiking trails on-site as well. Our friendly staff treat all of our guests like family and will do whatever it takes to ensure that It's always a beautiful day at the KOA.
Directions From the South: Traveling North on Interstate 5, take the Central Mount Shasta Exit #738 turning right at the Stop Sign onto W. Lake Street. Continue on W. Lake St. about .3 miles to the second Stop Light and turn left onto N. Mount Shasta Blvd. Continue on N. Mt. Shasta Blvd. approximately 1/2 mile to Hinckley, turn right. The entrance to the campground will be immediately on your left.
Directions From the North: Traveling South on Interstate 5, take the first Mount Shasta Exit #740 following the ramp onto N. Mt. Shasta Blvd. Continue approximately 1 mile on N. Mt. Shasta Blvd. until you see the KOA illuminated sign, 900 N. Mt Shasta Blvd. Turn left onto Hinckley, the entrance into the campground will be immediately on your left.
GPS: N41.322264, W122.317500
Get Google Directions
Sep 18, 2021
Too many trains running through the night - with blaring horns. Nobody told us before we made reservations.
Sep 17, 2021
We enjoyed playing ping pong! The Mt. Shasta KOA is very adequate. Perhaps not where I would pick for a long term stay, although the nearby town is very cute. However, it if fine for a short stay passing through. Note there are a few preferred sites in the trees that are VERY nice.
Sep 17, 2021
We were there for two nights. We got what we wanted.
Sep 14, 2021
good location. site 21 unlevel ! close to pool, shady,good space for dogs. close to neighbors. sites 1-4 are way better. we like the campground and would go back.
Sep 14, 2021
Enjoyed the stay, Trains were little noisy when going through the town. Staff was very friendly.
Sep 14, 2021
Love this place…this was our 3rd time staying and it gets nicer every time we're here..
Sep 14, 2021
A long weekend with friends. I esoe5like that the spaces are fairly good size and the roads wide enough that we can turn one of the rigs in the opposite direction (pull thru) so we can all be in one area, between rigs, for meals, games and conversation.
Sep 13, 2021
VERY OVER PRICED!!! Our RV site was gravel and NOT level. The roads were mostly gravel. NO TV service was a biggy for us. Fairly quite park. Has a small playground & pool. The grounds & bathrooms were clean. The office staff was nice. Main thing is we like to do some activities at KOA parks but this one was not like the ones we have stayed at. Need TV service & more activities to get us back.
Sep 13, 2021
This was the first time we tent camped at a KOA site. Mt Shasta KOA was great. The tent sites are perfect plenty of trees for the right amount of shading. The staff are friendly and helpful. Would definitely recommend Mt Shasta KOA to everyone and can't wait to return.
Sep 13, 2021
Stay was great for the most part the area was quiet and restful. There is a small amount of train noise but that was not a problem for us.
Sep 13, 2021
This is my Third-time up at this KOA. I like it every time I go up to this place. I camp amongst the trees and it is very shady and pleasant. The staff are very friendly and welcoming!!! You can choose between the RV side and side amongst the trees for tents, where I stay. Someday, when I have an RV, I will stay on the RV-side. Right now, I stay on the tent side as I just have an SUV.
Sep 13, 2021
Very friendly check in. Easy pull through site. I did have to use a large wrench to carefully remove the sewer hookup so I cleaned the threads and hand tightened it when we left. We also had dog poop in our campsite from a previous guest or loose pet.
Sep 12, 2021
Friendly staff who care about the customer.
Sep 12, 2021
Comfortable and felt safe for my first camping experience
Sep 11, 2021
Lovely setting! Good accomodations. Freight train too close.
Sep 11, 2021
Park needs TLC. No cable, wi-fi worthless, water went off in middle of the day, pool was ice cold. Price too high for amenities offered, which were none.
Sep 11, 2021
What a lovely KOA! I am a devoted KOA member and have camped at KOAs all over the country. Lake Shasta is exceptional. Fantastic location, beautifully maintained small camp that lends an intimate feeling to being here. Normally I travel in my little R-pod, but this time I stayed in one of the basic cabins. It was clean and delightful and our host Bill was super gracious. Definitely recommend!
Sep 11, 2021
We love this KOA. Nice staff, clean facilities.
Sep 11, 2021
Perfect for us.
Sep 10, 2021
The campsites are a dusty gravel parking lot. The pool was filthy and really small. A forest fire started while we were there and the staff said we would be safe and wouldn't have to evacuate. The showers were dirty and covered in mold. The driveway into the campground was so narrow we could hardly fit. The grounds are nothing like the pictures. I will stay in a Walmart parking next time.
Sep 10, 2021
We arrived late, found our reservation information and were able to pull in and park, easily, with minimal disturbance to our neighbors. As we were passing through, unable to comment on amenities or area activities. Thank you. Hope yo visit again.
Sep 10, 2021
Nice groomed sites. Friendly staff
Sep 09, 2021
Beautiful location.
Sep 09, 2021
Great as usual. Our go to place in the area
Sep 09, 2021
The pizza!was delicious and huge. The site was convenient and the bathrooms clean and nice.
Sep 09, 2021
Our spot #11 had great WiFi! Nice trees throughout park. A little dusty from lack of gravel.
Sep 07, 2021
We stayed in one of the vacation rentals and it was great. We loved the patio with chairs, frill and fire pit and spent most of our evenings aroudn it smoring, eating and chatting! A great place convenient to many nearby spots.
Sep 07, 2021
Although we love the location close to town and hiking/biking trails we were disappointed at the state of the bathrooms. Both men's and women's were disgusting. The cleaning lady clearly didn't care as both my husband and I noticed the same clumps of hair, other unmentionables and discarded toilet paper on the floor even after she cleaned. Very sorry to see this in such a beautiful location.
Sep 07, 2021
Is nice, quiet and relaxed place. Thanks.
Sep 07, 2021
Perfecto lugar �
Sep 07, 2021
Place was clean and convenient. Train runs nearby all night which is loud
Sep 06, 2021
Cabin was great! Staff are always so helpful and pleasant. Love staying here!
Sep 06, 2021
The people in the office and staff were very nice I've been coming here for 21 years and every year it gets to be a little worse you need to level your campsites put some gravel in so it's not so dusty and dirty repair your cable TV I think about maybe paving the roads going through the campground the place is getting to be really ran down an old needs a remodel that being said I did enjoy my
Sep 05, 2021
The people were great, the area was amazing, Smokey but bearable but the cleanliness in the bathrooms and outside areas was dreadful.
Sep 04, 2021
We reserved site #2 for one night. We wanted a premium site as this was our final night on an 8 week trip. First, the electrical and water is located at the far rear of the site, so to connect utilities to our 32 ft 5th wheel, we were no where near the patio. The other sites were the same way. The patio and chairs were dirty from bird poop and falling debris. internet didn't work and no cable.
Sep 04, 2021
Check in was fine. A majority of the campsite consist of a powder dirt, no gravel. The amp roads are mostly dirt with very little gravel. We were left to deal with dust, our row of camp sites had all the utilities at the rear of the drive thru. This location is not acceptable for medium to small RVs. When the issue was brought up to staff the logarithm was blamed. This campground is not a holiday.
Sep 04, 2021
Stopped on our way to Oregon…..we've stayed here before……many years ago…..perfect stop between The Bay Area and Bend. Everyone there is very helpful and very friendly!
Sep 04, 2021
I've stayed here before and it's a nice KOA. The night was quiet and the campground uncrowded and clean. I didn't really do much beyond plug into power, eat and sleep as I was in a hurry to get to my destination. The California price of the night seemed high but it's California.
Aug 20, 2021
Great value. Lots of extras.
- Dave Mock on Google
Aug 10, 2021
The office staff were very friendly. There where shuffleboard and horse shoe equipment behind the office. Our spot was clean and restful for the two nights we stayed. I will come back.
- Bigg-Joe on Google