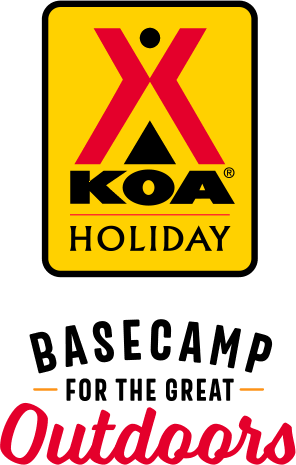 KOA Holiday Campgrounds
Whether you're exploring the local area or hanging out at the campground, KOA Holidays are an ideal place to relax and play. There's plenty to do, with amenities and services to make your stay memorable. Plus, you'll enjoy the outdoor experience with upgraded RV Sites with KOA Patio® and Deluxe Cabins with full baths for camping in comfort. Bring your family, bring your friends, or bring the whole group – there's plenty of ways to stay and explore.
KOA Holidays Feature:
RV Sites with a KOA Patio®
Deluxe Cabins with full baths
Premium Tent Sites
Group meeting facilities
Directions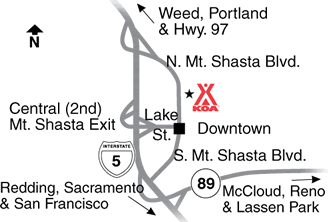 Mt Shasta City KOA is located at 900 N. Mt. Shasta Boulevard, in downtown Mt. Shasta City, and within walking distance of fine dining, unique downtown shopping, and only 20 minutes from the Mt. Shasta Board and Ski Park. Our Campground sits at the base of Beautiful, sacred Mt. Shasta, and offers amazing scenery. We have short hiking trails on-site as well. Our friendly staff treat all of our guests like family and will do whatever it takes to ensure that It's always a beautiful day at the KOA.
Directions From the South: Traveling North on Interstate 5, take the Central Mount Shasta Exit #738 turning right at the Stop Sign onto W. Lake Street. Continue on W. Lake St. about .3 miles to the second Stop Light and turn left onto N. Mount Shasta Blvd. Continue on N. Mt. Shasta Blvd. approximately 1/2 mile to Hinckley, turn right. The entrance to the campground will be immediately on your left.
Directions From the North: Traveling South on Interstate 5, take the first Mount Shasta Exit #740 following the ramp onto N. Mt. Shasta Blvd. Continue approximately 1 mile on N. Mt. Shasta Blvd. until you see the KOA illuminated sign, 900 N. Mt Shasta Blvd. Turn left onto Hinckley, the entrance into the campground will be immediately on your left.
GPS: N41.322264, W122.317500
Get Google Directions
Jun 16, 2021
Staff was a little rude. Cabin wasn't cleaned very well, grill had no propane, and couldn't get more towels when we asked at the front. Stayed 5 days in deluxe cabin with family. Been coming here since I was a kid, but I think I'll try somewhere else next time.
Jun 16, 2021
We did not realize,we had booked a boondocking site. Site A is beautiful if you can boondock. With pine and fir trees, the unpaved site was beautiful, sufaced with pine needles. Our dogs appreciated the dog park. And it was a quiet, peaceful night. We highly recommend this park.
Jun 16, 2021
We were only there for one night but it was AWESOME!! Perfect little cabin, with a really nice heater and comfy beds! Our registration and key were ready at the front office when we arrived. The bathrooms were clean, the fire pit and table were the perfect size. Can't wait to return!!!
Jun 15, 2021
We had a nice time, although, retroactively, $120 per night for a basic cabin is not a bargain price.also, the pool and game room weren't open like it was advertised and my kids were disappointed to find out that it is already closed. The bathrooms were clean and the crew was helpful.
Jun 15, 2021
I always have an amazing time here! We camp 4-5 times a year at these grounds. All the staff is amazing and helpful. The log separators have really helped this year to distinguish how big the campsite really is. I was slightly disappointed in on their merchandise as we always buy a lot of clothes at that store, there was no toddler boy shirts for my son. �� but still had a great and quiet stay.
Jun 15, 2021
Very boring, basic campground.
Jun 15, 2021
Sites weren't cleaned up, dogs pooping on our lawn & no signs of any employees. Stayed 2 nights. We campground host & are out where campers see us working or saying hi to campers.
Jun 14, 2021
Exactly what we needed for our overnight stay�.
Jun 14, 2021
Clean, quiet and super convenient. Heard the train once every night but it was comforting.
Jun 14, 2021
Enjoyed our stay. Have never stayed at a KOA before. Or stayed in a small mini house. Clean but not safe. The 1st night we arrived I sliced the back of my leg on the bed frame. With further investigation I noted two metal hooks sticking out from the side of the bed. They were guides for the box spring mattress. Unfortunately the box spring mattress was not placed properly when the bed was made.
Jun 14, 2021
Easy in and out. No hassles. Friendly staff.
Jun 14, 2021
Grounds were well kept as usual but deluxe cabin we rented was hot, small and matresses were covered in plastic, making it impossible to sleep. The bunk beds are suitable for kids only, not adults. So with two adults needing separate beds, it wasn't ideal. Some deluxe cabins have a sofa bed, this one did not. Phone and checkout staff were helpful (Grace), but whomever checked us in was not.
Jun 14, 2021
Great camp ground, thank you.
Jun 13, 2021
Nce park and close to downtown. Lots of good restaurants intown. Staff was excellent and promptly took care of any issue.
Jun 13, 2021
We were there for 5 nights. Showers are clean and have plenty of water. Grounds are kept clean but there are not enough trash bins. Our site was opposite the playground and one night it was extremely noisy. Employees were all very nice and helpful.
Jun 13, 2021
Traveling and just stayed overnight. A little tight getting in and out of with our motorhome but everything worked as it should. We would stay there again if we were in the neighborhood.
Jun 13, 2021
We loved our site under the trees, It was clean and quite ! Our grandkids enjoyed themselves! Could use some cable TV! Excellent WiFi �
Jun 13, 2021
We stay at KOA's all the time, because we travel with our grand daughter. This was by far the worst one we've stayed at. The woman in the office was extremely rude and was rude to my grandkids when they went in the gift shop. We also met up with friends who had stayed there for a week and they said, they will never go back there either. This place was not kid friendly, or people friendly.
Jun 13, 2021
Great location. Easy pool Throughs. Beautiful natural environment.
Jun 12, 2021
The location and amenities are great. However, the customer service is terrible. I arrived around 4:30pm on Monday the office was closed and the one employee I found was rude and short when I asked her anything. I chalked it up to a bad day, however she was rude the next day. I believe she is the manager. The place was almost empty but she kept indicating how busy she was.
Jun 12, 2021
Nice,relaxing
Jun 12, 2021
The management was so accommodating when we had to change our reservation due to an emergency surgery on our pet even though they are pretty much booked all summer. They gave us a great little spot for our travel trailer which worked out great. Very clean and well run. Will definitely use again.
Jun 12, 2021
The staff and owners are delightful and dedicated to keeping the campgrounds in good condition. However, there was a theft that concerned us. Two locked bikes were stolen right off my neighbors rig in the middle of the night. Cameras are/or night security is necessary I think.
Jun 11, 2021
Friendly staff and mountainous setting. A great basecamp for activities to do in the Shasta area. Restrooms were spotless.
Jun 11, 2021
Great Stay With Our Cucling Club Would only have been better if warmer temps Not under KOA control
Jun 11, 2021
Nothing special about this place.
Jun 11, 2021
Pads not level, up grades needed for electrical and plumbing, get some good WIFI coverage.
Jun 11, 2021
Great location and well maintained. Quiet too. Candice, Grace and Laura were friendly and helpful. We will be back!
Jun 10, 2021
Overall condition of the campground and facilities are mediocre. The trash pickup, or lack thereof, needs to be addressed. The dumpster along with the pickup parked nearby for "overflow trash" were both packed. We were there for 3 days. It was overflowing at the start of our stay and was only worse as we left. The sites are not all graded or level. The access roads are all dirt and dusty.
Jun 10, 2021
Wonderful everything was beautiful
Jun 09, 2021
We really enjoyed the stay. Friendly service and the restrooms were very well kept. Lots of stuff for the kids to do and enjoy.
Jun 09, 2021
On our seasonal N/S migrations, we always stay here when going in both directions. the people are great and the park is clean.
Jun 08, 2021
Campground was really dusty, no surprise considering drought conditions. Sites are really tight together. The entrance is a very tight squeeze for larger rigs. The person working the office was friendly and helpful. The close location to town make this a great spot for visiting Mt. Shasta.
Jun 08, 2021
admin & front desk w/good service, cabins clean; premises too crowded - hard for staff to maintain clean public facilities; staff authorized large RV with towed auto to overnight at roadway end outside of any campsite/ rv site; rules not being enforced; neighbors socialized/celebrated until 2:30 a.m. at campfire; maybe post covid you need to recover lost $$ but keep facilities guest-friendl
Jun 08, 2021
Crowded spacing. Dusty. Bathrooms are less than ideal - small showers and could be cleaner. Laundy room was a nightmare & clothes didn't spin or dry well.
Jun 08, 2021
Beautiful area
Jun 08, 2021
Shasta staff went above and beyond to help us locate some missing gear and to make sure our group had a great stay.
Jun 07, 2021
Needs Work on the Sites. Trash Cans Over Flowing.
Jun 07, 2021
Great location. Store closes at 3pm which seems awfully early. Good WiFi. 30 amp electric has brown outs when park is full. It was 90 degrees and we could only safely run our small bedroom air conditioner, no other electricals including refrigerator.
Jun 07, 2021
This campground is beautiful. Lots of trees and a view of Mt. Shasta. Very clean. Candace the manager is exceptional: So kind, helpful and friendly. Candace answered all of our questions and definitely went the extra mile to make sure we had a great vacation.
CAMPGROUND RESPONSE / COMMENTS:
We ae pleased to know you had a great time and all of our staff are exceptional. Come visit us again.
Jun 07, 2021
Decent. friendly staff. Clean. Need more toilet and shower. Please move cleaning schedule when not on peak use. Train noise really close by. Did not bother me but it might be too much for others.
Jun 13, 2021
We enjoyed our site under the trees, the facilities were clean, staff was helpful and kind! We enjoyed the sound of the trains! Grandkids had fun, need to improve the game room though, Cable T V would help for kids at night ! Store needs to be better stocked for RV's!
- Steve Palmer on Google
Jun 12, 2021
Great place! My family and I had a great stay! We will definitely be back!
- Kimberly Mascardo on Google
May 31, 2021
Nice park and staff.
- Karl Borchardt on Google