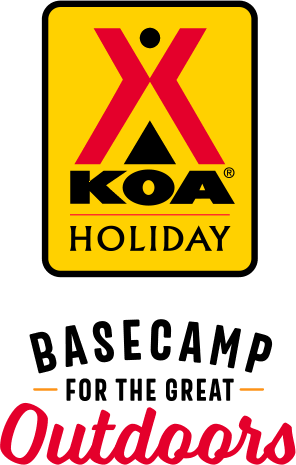 KOA Holiday Campgrounds
Whether you're exploring the local area or hanging out at the campground, KOA Holidays are an ideal place to relax and play. There's plenty to do, with amenities and services to make your stay memorable. Plus, you'll enjoy the outdoor experience with upgraded RV Sites with KOA Patio® and Deluxe Cabins with full baths for camping in comfort. Bring your family, bring your friends, or bring the whole group – there's plenty of ways to stay and explore.
KOA Holidays Feature:
RV Sites with a KOA Patio®
Deluxe Cabins with full baths
Premium Tent Sites
Group meeting facilities
Directions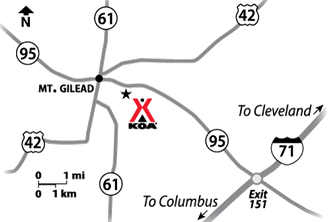 From I-71: Take Exit 151. Go west 6 miles; KOA will be on your left.
Get Google Directions
Sep 13, 2021
We loved our stay! The campground was very clean. Our site was spacious and perfect for our 4 year grandson to ride his scooter on the patio. The playground and jump pillow were a hit as well! The staff was very friendly and helpful! We will definitely be back!
Sep 13, 2021
It's ok. Nothing special. Was hoping for a big difference from last year to this year, but it wasn't there. The driveway pulling in rough and needs repair. Staff are nice and helpful. Trees need to be planted.
Sep 13, 2021
Nice campground. Will be back next year for sure. Looks like they are constantly improving the grounds and hopefully using the existing golf course grounds to their advantage. Can't wait to see the changes next year.
Sep 13, 2021
It was a clean campground. Pool area is nice. Kids loved the playground. Still lacking a few more activities since it is a newer campground. I hope that they will add a basketball court and horseshoes. Friendly staff.
Sep 13, 2021
Was a great campground. Definitely would stay here again.
Sep 13, 2021
The staff is very friendly and clean. Thanks for such a nice stay at the KOA.
Sep 13, 2021
Our first stay, last summer, was terrific-6 & 9 year old had a blast, in spite of 90 degree temps and pool still under construction. This last stay was just as pleasant. The staff is very helpful as well as delightful; grounds well kept, peaceful and spacious; restaurant with limited menu, still good. The kids, again, had a terrific time from sun up to sun down and beyond. Highly recommend
Sep 13, 2021
We very much appreciated that they left the pool open after Labor Day weekend given the warmer temps.
Sep 11, 2021
Very clean….helpful friendly staff!! Our 3rd visit & will be back!!
Sep 11, 2021
Just an overnight stay. Staff was friendly and helpful. Quiet level site.
Sep 10, 2021
Friendly staff, beautiful pool area, and a nice relaxing stay overall. We'll definitely be back!
Sep 09, 2021
I stayed there last year at this time, and the facility is much better than last year. I will be staying again on 9/19.
Sep 09, 2021
The campground is very well kept. We enjoyed our stay. However we were charged a $10 fee for early check in. We arrived 55 minutes early. Also there was a fee of $8 per day to use your own golf cart. We have been members of KOA for many years and we think these fees are ridiculous for KOA members. Suggestion: Waive your extra fees for KOA members.
Sep 07, 2021
Had a great stay. Very nice campground.
Sep 07, 2021
Very nice campground and clean restrooms! Staff was friendly also!
Sep 07, 2021
We absolutely loved the spot we were in this weekend (J5). It was like being out by ourselves. We enjoyed some of our neighbors that were close too. This was our third visit and coming back up this Friday 9/10. Thank you
Sep 07, 2021
My campsite was a muddy mess. I couldn't exit my RV without sinking in mud and/or stepping into muddy water. I had to duct tape the end of my sewer hose to the PVC sewer pipe because it lacked any threads. Laundry was not available due to renovation. Lots of traffic noise from lack of any sound barrier between the 2-lane highway and campsites. Not much to do at the campground.
Sep 07, 2021
This is probably our favorite campground for many reasons. The staff is so nice and very helpful. The grounds are beautiful and sites are quite spacious. There are plenty of fun activities for the kids, as well as adults. We will definitely be back!
Sep 07, 2021
Loved everything about this campground! Wifi, spacious sites, everyone extremely pleasant!
Sep 03, 2021
Only 1 of our 4 beds were made when we got to cabin. Woke up the first morning and it hit me: did they get lazy on the other 3, or did we just sleep on dirty sheets? All of the other sheets and bath towels were in plastic bags, so pretty sure we slept on dirty sheets. There were dirty underwear rolled up under one of the cushion bed things (advertised as mattress) in loft so clearly not wiped down
Aug 31, 2021
great. weather was great.storm hit the first night everything good. no damage to my mh. keep up the good work.
Aug 30, 2021
It was great
Aug 25, 2021
Good things: The staff is nice and the pool is nice. The bad: Office hours 11am-7pm (if they feel like it) Pool hours 10am-8pm and they don't open it at 10am! We went to the office to get icecream at 6:50pm to cool down on a 90+ degree day and the office was closed so what's the point of having hours if you can't stand by them! We won't be back for a long time IF we come back!
Aug 23, 2021
Very enjoyable. Extremely quiet. Nice to have the pool up and running. Need a KOA sign at the inner state to advise exit. Very nice amenities. Will come back.
Aug 23, 2021
Great resturant and swimming pool was nice,
Aug 23, 2021
Staff was friendly and campground was clean. Pull through sites were larger in size so we had plenty of room!
Aug 23, 2021
Pleasant experience. Wide ope space so you don't feel cramped with space. My wife and I took our two grand daughters. With that we had some logistic challenges. We needed to set up a little earl, 12 noon, then drive back to Pickerington to pick them up. I called and was told that there would be a $20 charge for setting up early even though no one was in our site. A little disappointed.
Aug 23, 2021
Campground itself was pretty nice. The cabin we stayed in was fantastic. However, starting out a relaxing weekend getting nicked and died to death was a real turn-off. A $343 cabin for two nights ended up closer to $500. If a cabin sleeps 6, you should be allowed to have 6 people and 2 cars. If dogs are welcome, why must I pay more per night per dog. We'd love to come back but not at that price.
Aug 23, 2021
It was our first ever trip and the whole KOA staff was beyond helpful and amazing. Will definitely come back.
Aug 23, 2021
BEAUTIFUL PROPERTY, WELL MAINTAINED AND NEW
Aug 22, 2021
I arrived expecting a cabin but was totally surprised with a tiny home! The tiny home was awesome and perfect! The weather was good so we got to use the patio and fire pit. I loved the tiny home and didn't want to leave.
Aug 22, 2021
The grounds are fine and the pool is good. The sites are bad, everyone of them are not level. Every RV and Camper can't be leveled. The RV tires are off the ground. There isn't one unit that can be leveled without using blocks under their tires. The gravel roads ways are all bad, nothing was graded, same as the camping locations. It's like off roading.
Aug 21, 2021
The staff was friendly, the facility was beautiful,clean & spacious. Our biggest complaint is the pool was supposed to close at 8 pm, we were hoping to go swimming at 7:30 and have a half an hour, when we went to the pool it was already closed early. Also that is a bit early for summer camping as other KOA's we have stayed in it doesn't close until 10. It was disappointing.
Aug 19, 2021
It was wonderful as always. Just wish there was some more to do. A few more activities is all this place needs to be a knock out facility. Parking lot when pulling in needs some love.
Aug 19, 2021
I want to express my sincere gratitude for this KOA. They were able to get me in at a very last min notice due to my Mom sudden decline and passing away during my staff. They were friendly and helpful to me and my family. This KOA is very clean, spacious, and helpful.
Aug 19, 2021
The entrance needs some attention soon. We have stayed at this KOA before and they need to let the grass grow and reseed at some of the sites. Extend the office and restaurant hours.
Aug 18, 2021
Very well kept, friendly staff. Kept up with trash, enjoyed your cafe and the choices. Hopefully parking lot when you arrive can be black topped this winter. Very enjoyable stay!!!
Aug 18, 2021
I enjoyed my time here. It was quite and the restrooms/showers were nice. Not a lot of trees for shade but knew that going it as it used to be a golf course. Only complaint would be that past campers didn't clean up after their dogs. Not really a campground problem other than they could look site over after someone checks out.
Aug 17, 2021
Great stay! Everyone was very friendly. It was so peaceful and quiet.
Aug 17, 2021
The yard space and the space between the campers are amazing. The adult staff members are awesome but a couple of the younger males seemed annoyed when we ordered wood. Site G07 needs some work. It was a muddy mess due to the lack of grass along the party side of the site. Fill in gravel low spots that hold water at G07. Campgrounds has a good start, keep up the improvements. We will be back soon.
Aug 17, 2021
We stayed at a full hookup site with our newest little camper Knox (3 months old) and enjoyed the stay. The pool was very nice and we also spent some time at the pond and caught a handful of crappie. It looks like they are putting the finishing touches on a couple more shower houses which will be very nice. We didn't get to visit but there is also a state park just across the road (RT 95).