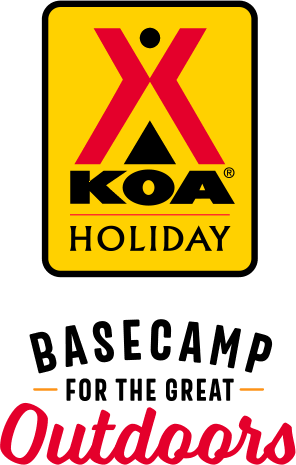 KOA Holiday Campgrounds
Whether you're exploring the local area or hanging out at the campground, KOA Holidays are an ideal place to relax and play. There's plenty to do, with amenities and services to make your stay memorable. Plus, you'll enjoy the outdoor experience with upgraded RV Sites with KOA Patio® and Deluxe Cabins with full baths for camping in comfort. Bring your family, bring your friends, or bring the whole group – there's plenty of ways to stay and explore.
KOA Holidays Feature:
RV Sites with a KOA Patio®
Deluxe Cabins with full baths
Premium Tent Sites
Group meeting facilities
Directions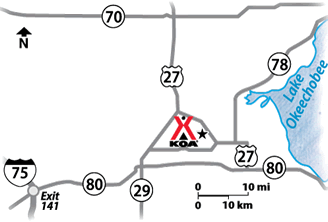 Exit 193 (Yeehaw Junction): Merge onto FL-60 W, Turn left onto US-441 S, Turn right onto FL-78 W, Turn right onto US-27 N, Turn left onto Big Bird Blvd, Turn right onto Cardinal Cir, Drive to Cardinal Circle to Moore Haven KOA - 17192 US-27, Moore Haven, FL 33471
To Avoid Interstate and travel from north or south Florida's US-27 to destination
Get Google Directions
Sep 13, 2021
It is a very clean and welcoming campground. Very well maintain, quite and organize. But to be in the middle of nowhere, we were expecting to have at list WIFI in the site. There is not much to do, which is great when you want to just relax and rest for a weekend, but the lack of WIFI connection is an inconvenience for those who needs to work from theirs RVs. WiFI only at the clubhouse.
Sep 13, 2021
It was a fun time! Bill was very helpful!
Sep 13, 2021
Very relaxing, bathrooms very clean, also great pool...
Sep 13, 2021
Very nice place to stay at a great price.
Sep 04, 2021
Brenda & Marika are seriously the customer service queens! We had a wonderful experience.
Aug 23, 2021
Wonderful campground. We really enjoyed it and the staff was lovely. We had to cut our trip short, but we plan to go back soon.
CAMPGROUND RESPONSE / COMMENTS:
THANK YOU FOR YOUR REVIEW AND WE ARE HAPPY YOU HAD A GOOD TIME.
Aug 08, 2021
Clean,friendly
Aug 04, 2021
The park was well maintained and the staff were pleasant.
Jul 27, 2021
This is a nice campground. All new utilities, nice level sites and many with concrete pads. Many more upgrades are under way. Enjoyed very much.
Jul 27, 2021
Our cabin was neat and clean, the staff was super friendly and helpful. Very nice pool area and clubhouse. They are also making improvements to the check in area and store. We would stay there again.
Jul 27, 2021
Without a doubt the best KOA I have ever stayed at we showed up after hours without a reservation for a cabin they were very accommodating the part and amenities are outstanding the staff the entire staff unbelievably friendly courteous professional and caring our two-day stay turned into a 5-day stay we hated to leave
Jul 25, 2021
Very friendly and clean
Jul 19, 2021
The place was very nice it was our 1st time camping alot of fun with family and friends. The staff were exceptionally friendly & very helpful.
Jul 19, 2021
Very nice campground, clean bathrooms, WIFI in clubhouse, and great overall stay! Keep up the good work....
Jul 17, 2021
I would give this KOA zero stars if it were an option. I was supposed to stay there for a week and we left 2 days later. There was an infestation of roaches and palmetto bugs. When I asked the hosts about the vast amount of roaches they said "it was Florida". I lived in Florida for over 10 years and I have never had an issue with that many roaches or palmetto bugs. My RV and car are infested.
CAMPGROUND RESPONSE / COMMENTS:
Unfortunately from the moment you got here you wanted your money back, you didn't know where the campground is, the mosquitos, the bugs, no beach, no town, no gators, too far out, you where told there is a one hour money back quarantine for a full refund, you stayed! You said you enjoyed yourself!
Jul 13, 2021
Had a great time during our stay.
Jul 13, 2021
I absolutely love the staff I honestly feel like family �ϋ� It's so peaceful and very clean so if you go here expect to be impressed
CAMPGROUND RESPONSE / COMMENTS:
THANK YOU FOR STAYING WITH US AND WE ARE SO GLAD YOU HAD SUCH A GREAT EXPERIENCE.
Jul 12, 2021
The staff was very friendly and helpful with any questions that we had. Overall, it is a great place, and one that we are already planning on going back to camp there again.
Jul 09, 2021
Beautiful park and people were excellent. Wpuld have stayed a week but had to leave after 3 days because of hurricane coming.
Jul 09, 2021
I wish this wouldn't limit me to 400 characters! The Moore Haven KOA was delightful. Larry and Brenda are some of the friendliest people you could meet. They make sure every detail is perfect. Check-in was a breeze and Larry was helpful backing me in! The site offered ample space and awesome outdoor furniture. Thank you very much for a pleasant stay!
CAMPGROUND RESPONSE / COMMENTS:
THANK YOU FOR STAYING WITH US AND WE ARE SO HAPPY YOU HAD A GREAT TIME.
Jul 05, 2021
Clean RV park with a great pool and lots of room to bike, walk, relax, and unwind. Staff is awesome and extremely pleasant folks.
Jul 05, 2021
The only thing this place needs more of to be perfect is trees. The staff is superb here!!!! The bathrooms are tip top, the pool and the decor is super inviting. When renting a spot here for tent camping the spots with trees should be rented automatically. We had a great time since it was windy until the last day and we had 2 huge canopies so all was well !!!!
CAMPGROUND RESPONSE / COMMENTS:
THANK YOU FOR YOUR REVIEW AND WE ARE PLANNING TO GET A LOT MORE TREES IN THE NEAR FUTURE.
Jul 03, 2021
Campground is very nice very quiet it was awful quiet do too probably less than 20 campers in all. I stayed in one of the cabins the only downfall is you don't get any more than a five minute hot water shower and hot water if you called that and an odd smell to the water other than that good.
Jun 30, 2021
Very nice staff and campground, road noise was a little loud.
Jun 24, 2021
I had a tent site for one night. The owners were wonderful! Pool was perfect Restroom/showers were clean. I can't wait to go back.
Jun 21, 2021
People were great and the site has a lot to offer. We were very pleased having such nice patio furniture supplied for us. The pool was beautiful and relaxing. The pool tables in the club house were really nice and gave us something to do when it rained. Another great feature was ordering pizza and wings on the premises. How convenient! Only reason we didn't rate it a 5 was lack of internet.
CAMPGROUND RESPONSE / COMMENTS:
THANK YOU FOR STAYING WITH US AND WE ARE WORKING ON IMPROVING THE INTERNET IN THE NEAR FUTURE.
Jun 07, 2021
The park is beautiful. The staff at this resort are the best, bar none, very friendly, always willing to help. Me being new to rvs I didn't know the first thing about setting one up but they went out of their own way to inform me (which saved me a lot of trial and error and money ) this place is much like a family will definitely recommend to any travelers.
Jun 03, 2021
Really enjoyed the stay at Moorehaven campground very clean pool was very nice the camp host in the office people staff was very friendly. Only issue we had we drove 2 1/2 hours to get away from the Cubans in Miami play in their loud music. And I'd be if they working on the pool deck plane as long as they can play it that's only problem we had other than that can't wait to come back love it
Jun 02, 2021
Everything was great wonderful office staff(Brenda) was awesome park is everything we expected and more
Jun 01, 2021
The staff was amazing, the bathrooms were spotless great place to stay and unwind. Cant wait to come back.
Jun 01, 2021
Great service!! I would do it again great pool !
Jun 01, 2021
They had a warm welcome when we arrived when we came in after hours and even cooks us dinner
Jun 01, 2021
New addition to the KOA family is working hard to get the campground up to par....Service and cleanliness are excellent....No wifi was a bummer....and pool is awesome. Thank you KOA Moore Haven
May 31, 2021
Management and staff went above and beyond to make our stay enjoyable.
May 27, 2021
It was a very relaxing and enjoyable mini vacation! The staff are very friendly and helpful. I will recommend the campground to family and friends.
May 21, 2021
Every thing from signing in to leaving was above excellent .
May 19, 2021
The entire park is really clean. RV sites are nice, spacious, and affordable. All the staff are super accommodating and very friendly. We are definitely going to continue coming back frequently!!
May 18, 2021
We where headed to the keys pulling a stacker trailer. They where very helpful in getting a site to accommodate motorhome and stacker. I will stay there again on next trip.
May 17, 2021
This KOA was in a great location for me as my visit was work related. It was peaceful. The units were spaced out for privacy. The cabin had new appliances and was stocked with almost all the amenities you could imagine. The cabin was clean. Although I did not meet a lot of people because of work hours, you could tell it was a loving community. an upgrade for tv is on the way. I will be back again!
May 16, 2021
Had a wonderful time. You have a fabulous staff and campground