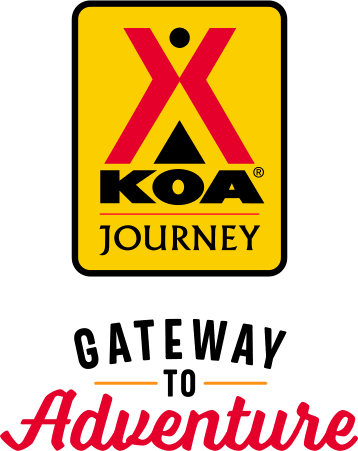 KOA Journey Campgrounds
KOA Journey campgrounds are the perfect oases after a day on the road. Whether it's along the way or a quick getaway, they've got you covered. Located near the highways and byways of North America with long Pull-thru RV Sites, they deliver convenience to the traveling camper. Pull in, ease back and take a load off.
KOA Journeys Feature:
Pull-through RV Sites with 50-amp service
Premium Tent Sites
Well lit after hours check-in service
Directions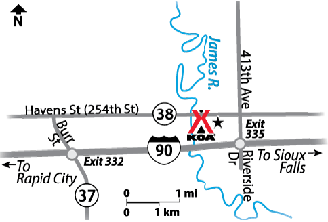 3 miles east of Mitchell via I-90. Take Riverside Rd Exit 335 1/2 mile north, then 1/4 mile west on paved SD 38.  GPS: N43.701646, W97.956645
Get Google Directions
Nov 01, 2020
Jim and Jerry are both great guys and willing to help when they can. Clean new bathrooms.
Oct 31, 2020
Love this place. Thanks for opening early in the spring and late this fall, thanks Jim and Jerry, see you in the spring.
Oct 30, 2020
Water was turned off, not mentioned in online listing or at time of booking. Grounds very dirty , dog poop everywhere , dogs running loose. Would avoid this one
Oct 27, 2020
Gracious and helpful staff. Clean facility. Good accommodations and location.
Oct 27, 2020
The KOA is always clean and well-managed. The managers are always responsive and efficient. We love staying there.
Oct 26, 2020
Late in the year so the water was off. It would be nice to have a dump station and fresh water available.
Oct 25, 2020
Our site was ready even for our late arrival. Restrooms were very clean
Oct 23, 2020
We stayed nine nights at the Mitchell KOA and it was great! The campground and all facilities were very neat, clean and well kept. The KOA hosts were friendly and extremely helpful during our stay. We will definitely stay at this campground again when we are back in the area.
Oct 23, 2020
Very unfriendly person at check in. He acted like it bothered him to check me in. Later I had a bundle of trash and tried to find a dumpster. He was around a campfire and a lady ahead of me asked for a dumpster. He told her to go look for the flagpole and the dumpster would be there. We both agreed that since we didn't know where the flagpole was we could have used some direction. Not a good place
Oct 23, 2020
Nice place. Convenient to Mitchell. Would stay again.
Oct 23, 2020
Loved our stay with you! Your campground, bathrooms/showers were awesome �
Oct 22, 2020
Beautiful campground! You can tell the owners take pride in it. Great site, friendly staff, clean and well maintained. Definitely would stay again.
Oct 21, 2020
It was a quick overnight. Nice wooded/open area. Kids had fun at the mini golf & playground even if there was snow in October!
Oct 21, 2020
Nice setting with trees and grass. Management was friendly and helpful. Cows mooing is ok. There is a little freeway noise
Oct 20, 2020
Short stay. Showers and bathrooms were good. Everything was as expected
Oct 20, 2020
This was our first KOA stop in many years and we were very pleased. I really enjoyed the hot showers and beautiful sinks in the CLEAN restroom! Thank you!
Oct 20, 2020
I have stayed there numerous times over the last 5 years. It is nice and quiet and just out of town which I like. Nice spot.
Oct 19, 2020
Great place, easy access to the highway and exceptionally clean bathrooms/showers.
Oct 19, 2020
Very nice campground, easy access, friendly staff.
Oct 18, 2020
Peaceful and wonderful Owners. I was recommended by my boss to stay here and so happy I did. Cattle on one side was a nice touch, really giving you a feeling of being away from it all. I will stay here again for sure!
Oct 17, 2020
Easy in and easy out, and everything was great. My daughter loved seeing the cows in the field next door!
Oct 17, 2020
Very convenient location at half-way between our home in Minnesota and the Black Hills. We stay here whenever we go out to the Black Hills or other destinations out West. Love the country side surroundings and the campground etc. is always well kept.
Oct 15, 2020
This is one of the best KOAs we have stayed at!
Oct 15, 2020
Nice place, got in after dark, so was not able to see a lot at 1st. Took a walk the next day, it was OK. Granted it was the end of the season, so that should be taken into account too. Spoke to an owner on the way in, very nice and helpful. Spaces are a bit tight.
Oct 14, 2020
Like the layout of the campground and the way the K9 fenced area has been divided up into multiple fenced areas. Well maintained and quiet. Friendly, helpful owners on site 24/7. We enjoyed spending time with the owners, Jim and Jerry, during their morning slow period the second day we were there.
Oct 14, 2020
Super helpful very friendly staff . good internet nice camping area beautiful trees They had very nice storm shelters arranged throughout camp ground just in case
Oct 12, 2020
Great location, great system for late check-in, well organized, clean.
Oct 12, 2020
Nice and clean facilities and very friendly.
Oct 12, 2020
Very friendly and accommodating.
Oct 12, 2020
Very nice owners! We pulled in after dark & after they closed, but they still came out & helped us park. The next morning they allowed us to leave our RV a little longer so we could tour the Corn Palace. Great people & clean campground!
Oct 12, 2020
What a beautiful KOA.. you see so much care and love in the Campground. Thank you for making our one night enjoyable and look forward to staying again!
Oct 11, 2020
Quiet, clean, helpful. Just what we needed for a nights rest after a long drive.
Oct 11, 2020
Great campsite, friendly people, clean and welcoming.
Oct 08, 2020
The nicest bathroom/showers I have seen at a campground. A hidden gem
Oct 07, 2020
Clean and quiet. Friendly helpful staff.
Oct 06, 2020
Real nice campground with really nice hosts. We really enjoyed our time there. Wish we could have stayed longer!
Oct 25, 2020
This was a very nice & very clean KOA. The owner was wonderful & accommodating. Helped make becoming a SD resident easier. We decided to stay an extra day at the last minute.
- Keira Fritzen on Google
Oct 18, 2020
Nice spot. It was fall and cold! They let us stay past the checkout time and we appreciated that so we could see the Corn Palace!
- karen town on Google
Oct 12, 2020
A well cared for campground, clean bathroom, friendly and helpful staff. Thanks for all you do!
- Lisa Simondsen on Google