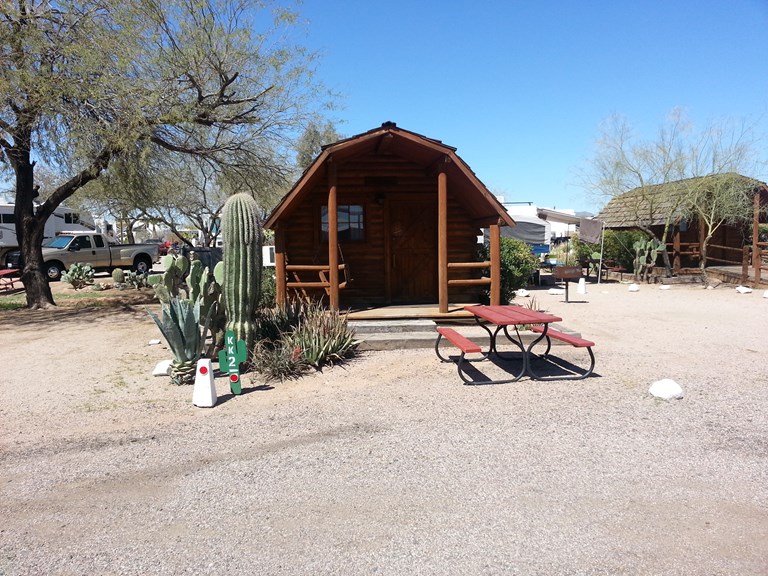 General Campground Information
Store Hours
The registration Desk and store hours are from 8:00 am - 5:00 pm daily. Quiet hours are from 10:00 pm-7:00 am. We have a well lite registration area next to the front door of the store that makes it easy to check in late. For late arrivals with a reservation, there will be an envelope in the Night Registration box with your name on it and a site map with your site inside. For late night walk-ins, available sites will be left in the Night Registration box. Just fill out the envelope with the site you need and slip it through the office door.
Open Fire Policy
Pinal County has a fire ban in effect each year from May 1 through September 31. This policy bans all open flame fires except propane fueled. This ban includes wood fueled camp fires.  During the remaining part of the year, all open fires must be contained with a guest provided fire pit/grill. There are no campfires allowed on the ground within a hand made fire pit/ring.
Extended Stays
Extended stays are on a month to month basis.
Cancellation Policy
We adhere to the KOA Corporate Cancellation Policy.
RV & Tent Sites:
  48 hours cancelation notice is required.  Notify your selected KOA by 4 pm two days before your scheduled arrival.
Camping Cabins:
7 days cancelation notice required.  Please notify your selected KOA by 4 pm  7 days before your scheduled arrival.
Deluxe Cabins & Unique Accommodations: 
These units may have special deposit and cancelation requirements.  Please check with your selected KOA location when making reservations
There is a $10.00 cancellation fee for canceling your reservation for any reason.
Reservations made after these deadlines require nonrefundable deposits.
Cancelations made after deadlines will result in forfeiture of all deposits.
All special accommodations and monthly reservations have a 30 day cancelation period.  If you cancel within the 30 days of your arrival you will forfeit the entire deposit.
There are NO refunds for early checkouts.
Pet Policy
Good behavior is a must:
Owners of dogs and cats of any breed that are hostile or aggressive will be asked to remove their pet from the campground.
Pool Hours
Our swimming pool and spa are open 9:00 a.m. to 9:00 p.m. 7 days a week.
Check In and Check Out Time
You may check in after 1:00 PM daily. Check out time is 11:00 a.m.
Laundry Room Hours
Our newly renovated Laundry Room is available 8:00 a.m. to 9:00 p.m. daily.
Recreation Hall/Clubhouse
Our newly renovated Clubhouse is open from 8:00 a.m. to 9:00 p.m. daily.
Enjoy TV, Corn Hole, Ladder golf, Ping-Pong, a game of pool or relax and read your favorite book.
Requesting Specific Sites
When making your reservation you may request a specific site for a non-refundable fee of $30.00. We reserve the right to move reservations as needed up until your arrival time unless you requested a specific site. The type of site you reserve is guaranteed, however. For example, if you reserve a full hook-up pull-through, that is what you will get and we will not move you into a full hook-up back in.
Meet Your Hosts
Welcome to the Mesa/Apache Junction KOA!
We are the Schnabels, Alan and Nancy (no relation to Parker). We feel incredibly
lucky to be managing this wonderful KOA. Every morning the golden beams of the sun
appear from behind the Superstition Mountains of Arizona to shine down on the Mesa/Apache Junction
KOA.
We are excited for a great season of fun and of seeing old and new friends. Our guests
are our #1 priority. We want to make your KOA experience a happy lasting memory.
We have many fond memories of our camping adventures and hope your time with
us is also a lasting "MEMORY MAKER".