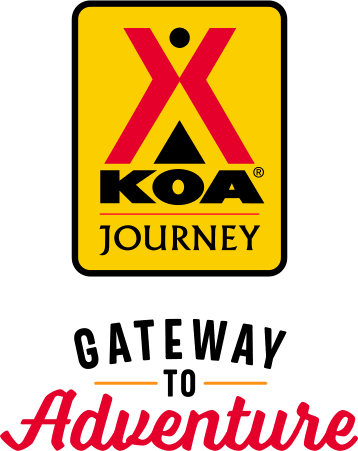 KOA Journey Campgrounds
KOA Journey campgrounds are the perfect oases after a day on the road. Whether it's along the way or a quick getaway, they've got you covered. Located near the highways and byways of North America with long Pull-thru RV Sites, they deliver convenience to the traveling camper. Pull in, ease back and take a load off.
KOA Journeys Feature:
Pull-through RV Sites with 50-amp service
Premium Tent Sites
Well lit after hours check-in service
Directions
Northbound I-75 use Exit 337: Then left to KOA sign, turn right on TrailsEnd Rd. KOA will be on your right in 1/2 mile. Southbound Exit 338: then right at first light onto M-108 to KOA sign, turn right onTrailsEnd Rd., KOA will be on right 1/2 mile. GPS: N45.767477, W84.73995. Google Maps, search Mackinaw City KOA
Get Google Directions
Nov 01, 2020
Clean, well maintained place. Lots of nice mature trees. The staff is exceptional
Oct 27, 2020
Everything was superb. From communication before we arrived to the ease and help we received once we arrived. Went above and beyond to help us park and even let us borrow a water hose. Very friendly and accommodating!
Oct 26, 2020
Easy parking (level) for our big rigs. The owners Kathryn and Doug were very kind. Nice location. Close to town, decent restaurant, gift shops, Mackinaw Island ferry.
Oct 26, 2020
Doug and Kathleen were so amazing! They helped make our first camping trip a success, even though it rained all weekend. We will be staying with them again next year!
Oct 26, 2020
The owners were absolutely sweet. I requested for 2 spots to be reserved together and they 100% accommodated to my needs. They were very helpful and the location is beautiful and well maintained. I would highly recommend anyone to go there.
Oct 26, 2020
First time in 20 years camping at a KOA. The cabin was perfect!! Very clean, staff was lovely (and socially distant). Have already and will continue to recommend KOA cabins to all my family and friends! The dog play area was also perfect! Lovely stay. Can't say anything bad!
Oct 21, 2020
As usual the staff was very helpful and caring. They were always around to help.
Oct 20, 2020
They made the check-in very easy and convenient. The park was clean and well cared for.
Oct 19, 2020
Convenient, nicely wooded location with full service RV sites and fire pits. Pet friendly with an enclosed dog park for playtime. Also, family friendly with a playground and a pool for summer activities. Laundry, showers, propane station... Pretty much all a camper needs.
Oct 19, 2020
Wonderful property, hosts were incredibly nice. Looking forward to next year.
Oct 19, 2020
I loved the text message check-in! The staff was friendly and the campgrounds were clean. I loved the little dog park! Thank you!
Oct 19, 2020
Excellent stay. Very good and friendly service. They got us ferry tickets and a shuttle to the ferry. Overall a great experience. I will be back
Oct 19, 2020
Made last minute reservation and extended it for another week. Even though it is an RV campground they have lots of trees so you feel like you are camping. Hooks up to the northern Michigan rails to trails so you could run or bike forever. 1.5 miles from the Dark Sky Park. Convenient to downtown and the Island. Great owners. Very clean. I will be back next year!
Oct 19, 2020
The constant rain put a damper on our stay and through no fault of your own your wi fi was down but you offered us a bunch of DVD's and were gracious enough to refund our second night when you didn't have to. We'll try again next year.
Oct 19, 2020
Excellent service and follow up. Well organized and clean. Very on top of Covid situation
Oct 18, 2020
Our dog loved the dog park. We enjoyed being in nature but still having the comforts of full hook up. Very close to town. Owners were very friendly and brought wood or ice directly to our site if needed.
Oct 18, 2020
This was my second time staying here. Very clean and beautiful facility. All the staff is very welcoming. I was tent camping and weather was not cooperating for that and was offered to move to cabin but unfortunately had to be home. Will definitely be staying here when I make more trips up north and already recommended to family and friends if they head that direction
Oct 18, 2020
We had a good time,despite the rain and snow, our dog Maya loved the stay and really enjoyed the trail.
Oct 18, 2020
Great place and very friendly staff. Laundry room is clean and Sufficient!
Oct 17, 2020
Clean and beautiful! The crews were so nice!
Oct 17, 2020
Kathleen was very helpful and informative. We felt so welcomed by her
Oct 16, 2020
Very friendly and helpful staff. Nice sites and clean facilities. Nice walking path leaving the campground connecting to a path to town (1.1 miles). They also offer free shuttle rides to the ferry close to restaurants. Definitely recommend and will be back. Hint: Schedule carriage rides online. Arrived early afternoon on day Sunday and they were sold out. Sadie's ice cream at the Grand Hote
Oct 16, 2020
Very busy weekend, but the campground was still very quiet and relaxing. Our host was very pleasant and helpful.
Oct 16, 2020
Very friendly hosts and exceptional service, as well as a a lovely campground. I really enjoy it in the months that the pool is open. We try to stay at least 3 times a year.
Oct 15, 2020
Staff were awesome. Delivered wood to the site! Amazing customer service. They are fantastic.
Oct 15, 2020
Had a wedding on mackinac island. Ferry tickets were delivered to our site and shuttle available. Made it very convenient. Staff at the park were wonderful! Great experience, thanks.
Oct 15, 2020
Extremely nice campground, I would highly recommend this place to friends.
Oct 14, 2020
Campsite was very nice. Staff were polite and attentive to our needs. We will be back.
Oct 14, 2020
The owners were so kind. Loved the park!
Oct 14, 2020
The staff and owners could not have been friendlier or more solicitous. Can't wait to get back.
Oct 14, 2020
We enjoyed our stay. It was very clean cabin and nice place to stay with family
Oct 13, 2020
very nice wooded setting. quiet. staff friendly and efficient. restrooms and showers clean.
Oct 13, 2020
Excellent campground! Hosts were very accommodating, delivering firewood to our site as well as ferry tickets. All transactions handled with the credit card I entered online. Clean bathrooms and grounds. Walking trail to the city was beautiful!
Oct 13, 2020
We were so happy with the customer care we received during our stay. We loved the electronic features and the personal deliveries. Doug and Kathleen were very personable even in the text communications. We plan to come back next year.
Oct 13, 2020
Very nice camp setting, owners very customer focused. Loved our stay. Appreciated the shuttle to island ferry
Oct 13, 2020
Great campground owners were so friendly and so very helpful couldn't ask for anything more. Keep up the good work
Oct 13, 2020
It is a beautiful setting, with a great trail. The park seemed to be very clean. The wi-fi was out, but maybe that was a blessing in disguise!
Oct 13, 2020
Convenient location. Quiet and peaceful. Very helpful and responsive staff. Well maintained grounds and amenities.
Oct 12, 2020
We stayed for 3 days. The owners were fabulous. Very sanitary restrooms and very clean and the grounds were kept up grounds
Oct 12, 2020
Great place. We are runners and the trail behind the campground was perfect. Used the laundry and it was very clean. Would stay there again!!
Oct 12, 2020
By far our favorite KOA stay to date! This campground is well cared for, absolutely gorgeous and clean!
Oct 12, 2020
Nice quiet campground Just outside of the city where you can relax after a long day of shopping and Sightseeing!
Oct 12, 2020
Very clean, well managed, great trails, close to everything.