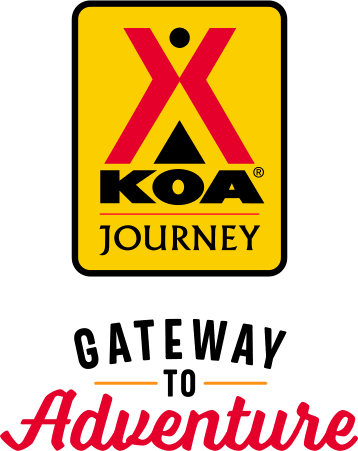 KOA Journey Campgrounds
KOA Journey campgrounds are the perfect oases after a day on the road. Whether it's along the way or a quick getaway, they've got you covered. Located near the highways and byways of North America with long Pull-thru RV Sites, they deliver convenience to the traveling camper. Pull in, ease back and take a load off.
KOA Journeys Feature:
Pull-through RV Sites with 50-amp service
Premium Tent Sites
Well lit after hours check-in service
Directions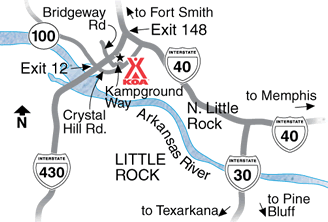 From I-40: Exit 148 (Crystal Hill Rd), SW 1 mile then right on Kampground Way to KOA.
From I-30: Take I-430 to Exit 12, then right on E Hwy 100. Left at second street (Kampground Way).
Get Google Directions
May 26, 2021
Loved the sauna. Dog park needed yard work done. Loved the free popcorn. Sad about no fires but not campground fault. Had someone beside us that had a dog barking at 6:30AM. Seemed aggressive toward dogs and shouldn't have been there. Workers seen and heard it and did nothing.
May 26, 2021
It was so beautiful! Were from the desert we wish we would of spent more time to look around. Everything was so green and wonderful we were showed to our site. Trash was on the way out. Thank you so much for our stay
May 25, 2021
I had a 50amp reservation that I made 3 months before my stay. When I arrived I was put in a 30amp site. The manager refused to move me to an empty 50amp site because she said someone else had it reserved for that evening. I showed her my 50amp reservation and she told me KOA corporate office had told her to move me to a 30amp site or to cancel my reservation. Worst KOA ever.
May 25, 2021
Nice campground if everything was working. Cable and internet were down. Pool was closed and it was 85 degrees. Was advised by other campers not to use dog park because it was infested with mosquitos. Staff very nice!
May 25, 2021
$62 was way too much for a slab. Pool closed. No cable showers took way too long to get hot so gave up and had a cold shower and a warm rinse. People we very friendly but was a bit un organized. Tried to take us to a spot that already had an occupant. So put us in quite a tight spot with a broken table.
May 24, 2021
Very clean and he staff are great. Will be back soon.
May 24, 2021
This review has been removed by KOA due to profanity.
May 24, 2021
We were only there one night. The big trees should not be at the front the pull out spots. Tight for Class A RVs to get out when having to turn out between them. Some of the dead branches hanging down over the RVs could use some trimming. It was a nice campground otherwise.
May 23, 2021
Unfortunately this was probably the worst KOA I've ever stayed at it's obvious that there has been no maintenance to the campground other than the two rows in front of the office. KOA corporate really needs to step in and get this place up to standards or take their name off of it.
May 23, 2021
Roar of traffic from interstate is terrible. Even the air conditioner did not drown it out. Seriously needs a buffer wall here. Washers and dryers worked but old. I cut my finger (minor) on rough broken dryer drum, even though it had tape over it. Roads are very narrow. But it is in a great location to visit downtown Little Rock, with it pretty river walk and attractions.
May 23, 2021
Nice campground for a stop over as you travel. The owners and staff are very kind and thoughtful. The noise from the highway can be disruptive to a good night's sleep.
May 23, 2021
Great facility.
May 22, 2021
Extremely noisy. Runned down. Crowded small sites. Would not recommend or ever stay there again.
May 22, 2021
we had a little excitement the night we stayed. A Class A motorhome was turning into the drive way to check in. Some how the main electrical line for our end of part was snagged by something near the rear of the motorhome and the line was pulled down along with the electric pole. The management allowed us to run our generators as needed. We will be back in a couple of weeks.
May 22, 2021
It was fine. Been there before. Interstate noise was loud, but ot didnt affect my nights sleep. Didnt like the jesus music in the bathroom.
May 21, 2021
Those 2 big trees on my L said I could not exit our 38' TT that way. Not enough room to line up..so I backed out. Park host needed to be present during the 18 hr power outage when the Class A pulked down the lines when they were emyering the park.
May 21, 2021
Park was nasty and full of people who lived there all around us. No cable was available for for the price of $60.00 per night. Sites are too close together for big rigs such as we had. Leaving was a challenge because sites are so close together. We paid extra for a nice site that could have been better. Other nice and larger sites were available. Will not visit again.
May 21, 2021
Only stayed to sleep
May 20, 2021
Just about everything was good except the roads in the park are a little narrow. The sites are also close together. They didn't have cable but they said there was an issue on the website. Seems that more of the KOA campgrounds seem to be losing their cable.
May 20, 2021
This is a RV park with permanent residents. The 2 dog areas grass isn't cut 3ft height and didn't feel safe walking in park. Then the park lost power all night due to a broken electric pole after a motor home hit it.
May 20, 2021
Clean bathrooms. Christian praise music was playing loudly in the bathroom 24 hours a day. That may be a personal preference of the owner, but should not assume everyone enjoys listening to it, especially at that volume.
May 20, 2021
Friendly staff. Very clean facilities.
May 19, 2021
The people at this KOA were great but the location which is where two interstates come together make this KOA EXTREMELY loud. The setting is beautiful!!! We would return for the setting and the people but because of the noise, we would likely not stop here again unless we were unable to make it to the next KOA.
May 19, 2021
Facilities were fine. Looked like a lot of permanent residents. Dog run was terrible.
May 18, 2021
The staff was very friendly and helpful but I was very disappointed with the campground. It had a lot of areas that could be improved and it wasnt in the best area. I wouldn't stay here again. Burns Park is a much better option for camping in this area.
May 18, 2021
Only stay here if no other option is available. Restroom stalls are so small, you have to open the door to stand up. And no handicap stall anywhere. How do they get away with not having a handicap restroom ? Traffic is so loud you have to wear ear plugs, and that only slightly muffled the roar from the interstate 100 yards away. KOA Corp needs to pay them a visit.
May 18, 2021
The lawn, sites, and the bathrooms are well kept. Everyone was very nice and friendly and Papa John's delivers to the site. Great stay. Will be coming back.
May 17, 2021
Everyone was so nice and friendly
May 17, 2021
We had a very nice stay, although short (One night). The surroundings were very nice and the site was large and roomy.
May 17, 2021
This was our first trip with our camper. We arrived late Friday night and were gone all day Saturday. However, when we were there it was peace and quiet. And while I was hooking up to go home Sunday morning my wife entered the office and returned smiling. The customer service she received was good enough for her to say we are definitely staying here next time!
May 17, 2021
Very dependent internet connection. Place undergoing updates. Friendly staff. Philip
May 16, 2021
Great park, great people, staff was so helpful and nice. Thank you!
May 16, 2021
Lots of traffic noice, at night. Be sure to have ear plugs for a quiet restful night. We had a few problems with wifi dropping the connection.
May 16, 2021
Front of campground is nice, however buildings need repair and back of campground needs to be cleaned up. The live in spaces are very unsitely as well as the cabins area.
May 15, 2021
This was the second time we had stayed over night. It is a very nice campground and the lady who checked us in was very friendly. Bathrooms were very clean. When next pass this way we will certainly stay here again.
May 15, 2021
Needed a swimming pool...�� Needs to stock more hotdog/hamburger buns and popcorn !!! ��
May 15, 2021
The campgrounds and bathrooms were very clean and well lit. The staff was amazing. We arrived at the campgrounds with our propane tanks on empty. The staff came to our site, picked up our tanks, filled them and brought them back. What service!! They have two fenced dog areas, which was great because we have four dogs.
May 15, 2021
Close to freeway noise but very nice and shady
May 15, 2021
Very nice. We were tired and pizza could be ordered and delivered!
May 14, 2021
Overgrown, unkept, Kamp K9 creepy and uninviting, pet waste collectors overflowing, multiple long-term residents made it like a mobile home park (abandoned vehicles), cable TV non-functional, cabins not available in a derelict area ( called "construction" by mgmt) - and all that for $50+ per night. NEVER AGAIN!
Sep 09, 2021
Enjoyed our short time there.
- margie asher on Google
Sep 08, 2021
Very friendly staff, easy access to rv park from highway. Showers were very clean and nice. 2 dog parks and nice level pull through spots. Would recommend and go again if we were passing through
- kcswany 19 on Google
Sep 07, 2021
Extremely friendly staff! Very easy to check in. Very animal friendly, has 2 fenced dog park like areas. Restrooms are very clean and centrally located. Laundry is also clean and open 24/7. Perfect place to stop after a long day on the road.
- Michelle Brown on Google