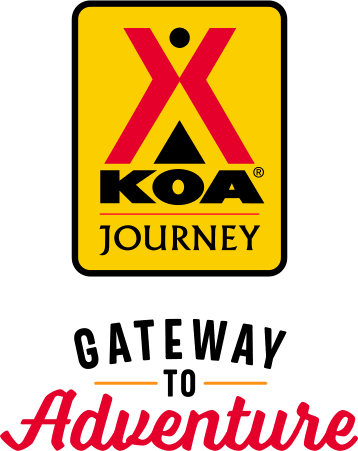 KOA Journey Campgrounds
KOA Journey campgrounds are the perfect oases after a day on the road. Whether it's along the way or a quick getaway, they've got you covered. Located near the highways and byways of North America with long Pull-thru RV Sites, they deliver convenience to the traveling camper. Pull in, ease back and take a load off.
KOA Journeys Feature:
Pull-through RV Sites with 50-amp service
Premium Tent Sites
Well lit after hours check-in service
Directions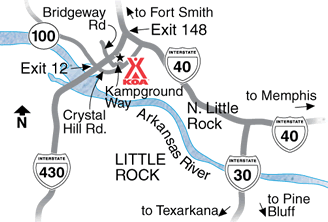 From I-40: Exit 148 (Crystal Hill Rd), SW 1 mile then right on Kampground Way to KOA.
From I-30: Take I-430 to Exit 12, then right on E Hwy 100. Left at second street (Kampground Way).
Get Google Directions
Dec 02, 2020
Staff was friendly and helpful. We just needed a one night stay without unhooking or backing in. We got just what was needed. Cost was good as well.
Nov 30, 2020
Very nice with easy access on/off the freeway. Attractive, well maintained, clean facilities, and the owners were friendly and helpful. The only drawback (and nothing can be done about it) was the proximity to the freeway. That said... we live in the country so the traffic noise may have bothered us more than it would bother folks who live in the city. Otherwise, a really great KOA!!!
Nov 30, 2020
Very comfortable stay with well maintained slips. Staff friendly & helpful. We'll stay here again when we pass through Ark. on our way to Tenn. or as a destination when we visit Little Rock again.
Nov 30, 2020
Interstate Road noise is terrible. The pictures on the site arent anything like my site. Very run down. Apparently several people live there and a few junkie. I was scolded for driving through a empty pull through site in order to line my truck up in front of my camper. and given strict instructions how to park but the next morning i see many people doing what I was told not to do that live there
Nov 30, 2020
I appreciated the friendly greeting and fresh popped popcorn.
Nov 30, 2020
It was very easy to stay here. I appreciated the late check-in process.
Nov 30, 2020
Only downfall is the road noise
Nov 30, 2020
They advertise cable but they have none
Nov 30, 2020
We had a brief on the way home stay. Friendly and very helpful associates.
Nov 29, 2020
Front staff was ride and haggle me about my truck sticking out in the road a few feet at 8am
Nov 29, 2020
Overnight stop going to Texas and back. Great service and friendly staff.
Nov 28, 2020
Everything was good
Nov 27, 2020
Unfortunately we only were staying one night. Staff very friendly & accommodating. Our site was a great pull thorough generous enough to stay hitched up, which helped for early departure.
Nov 25, 2020
Place is run down. Employees are very rude. They prefer to call you instead talking to you in person. Who does that? Tether ball was broken, no horse shoes available. On website they mentioned wi fi is down. We arrived and cable TV was down as well. Very disappointed. Basketball court is a joke and fenced in one side. Fence is low so kids can actually fall into it. Very dangerous!
Nov 25, 2020
Great hosts, but cable was down and internet was below par....fix these issues and this place will get 10's and 5 stars
Nov 24, 2020
We have been staying at KOA's for 25 years and I have never had a negative experience like this one. The people are extremely rude. I read this in the reviews but thought it couldn't be true since it was a KOA. Arriving after dark is very risky since the park has very poor lighting. The staff (owners?) made everything far more difficult then was necessary.
Nov 23, 2020
Nice park.....it is a little tight with the big rigs, but it is a nice place!!!!
Nov 23, 2020
The host was very friendly and informative. The sites were well maintained and quiet.
Nov 22, 2020
The WiFi was not working the whole week we were there.
Nov 21, 2020
The staff was extremely helpful. Called me back when they had a cancellation. We will definitely stay again and recommend to everyone. Thank you!
Nov 19, 2020
Manager was extremely helpful and friendly!
Nov 18, 2020
Very quiet. Very clean. Reasonable laundry prices!
Nov 17, 2020
WiFi and cable were down
Nov 17, 2020
Very nice peaceful place to stay for the night. Easy to get into site and out. Staff very helpful and friendly!
Nov 16, 2020
It is a little tight for motor coaches over 40 feet other than that it was nice. They are working on the cable service but i thought they would have it fixed after a week.
Nov 16, 2020
Camp hosts and staff very friendly and helpful. Some beautifully wooded campsites. Exceptionally clean restrooms.
Nov 15, 2020
Staff was friendly and escorted us to our sight. A bit pricey for an overnight stay, as compared to other campgrounds. Our sight was a clean, fairly level pull through with well maintained utilities. Showers and RRs were well maintained. We would stay again but only after doing some price shopping. We travel in a 40' motorcoach pulling a toad and we did not have to disconnect.
Nov 15, 2020
They say they have Fox News but they don't. They don't want you to hear the truth. Other than that, it was nice and quiet like most KOA's.
Nov 14, 2020
Short but really enjoy this campground
Nov 14, 2020
very well kept, and quiet park was welcoming after driving 12 hours
Nov 13, 2020
Best camping trip ever! The host are friendly! Bathroom and showers are super clean!! Will be staying here again!
Nov 13, 2020
So many things... 1) They told me I couldn't rent a 30amp space since my Motorhome was 50amp. I told them I had the converter. I ended up in a 30 amp space. 2) They tried to squeeze me into a very small space with another's awning sticking on one side and a tree on the other. 3) Knowingly put me in a spot where the sewer was all backed up, so I had to move spots to dump.. Inconvenient & St
Nov 13, 2020
I would normally give a better rating that this but, due to your extremely RUDE manager, we may not ever be back although we have stayed there several times in the past.
Nov 12, 2020
Very comfortable & peaceful
Nov 11, 2020
The 110v & 30 amp service did not work. Reservation receipt confirmed it was a 30 amp site; we were without electric! Worse, I brought this to management attention - they blamed ME; stating corporate computer assignment was messed up and I should not reserve on-line but should call the KOA directly. NOT HAPPY - I deserve a full refund which was not offered. Contact me with refund!
Nov 11, 2020
Dirty and rude
Nov 10, 2020
Was run down. The chairs at my site had no backing. Trees were over grown. The items in the store had been there so long they were dusty. Roads in the park need repair. Site was level and concrete.
Nov 10, 2020
Nice campsite!
Nov 10, 2020
Easy to get in. Staff very helpful. Clean campground.
Nov 10, 2020
The area around the office and pool were kept up, but the areas around the cabins were over grown and some areas had long term rvs with junk and non running vehicles around them. Grounds need mowed and sites cleaned. Was very disappointed in this KOA for $50/nite. Did not use the facilities.