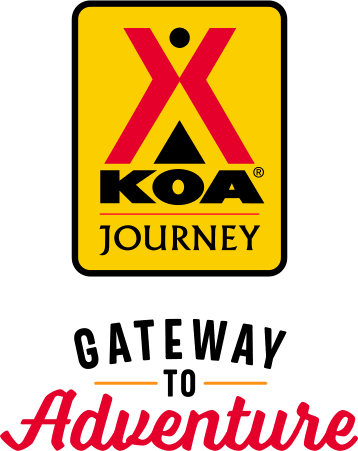 KOA Journey Campgrounds
KOA Journey campgrounds are the perfect oases after a day on the road. Whether it's along the way or a quick getaway, they've got you covered. Located near the highways and byways of North America with long Pull-thru RV Sites, they deliver convenience to the traveling camper. Pull in, ease back and take a load off.
KOA Journeys Feature:
Pull-through RV Sites with 50-amp service
Premium Tent Sites
Well lit after hours check-in service
Directions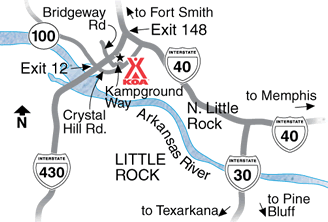 From I-40: Exit 148 (Crystal Hill Rd), SW 1 mile then right on Kampground Way to KOA.
From I-30: Take I-430 to Exit 12, then right on E Hwy 100. Left at second street (Kampground Way).
Get Google Directions
May 08, 2021
Staff is fantastic! Bathhouse has individual shower/commode rooms which are extremely clean. We love this KOA!
May 08, 2021
Very nice KOA. Only suggestion would be to update the playground for the kids.
May 08, 2021
Friendly, and very helpful .
May 07, 2021
We only stayed one evening while passing through the area. The camp site was shaded, very neat and clean. We slept great and were road ready the following day.
May 07, 2021
Great place Friendly Clean
May 07, 2021
We stayed 2 nights. We did laundry in clean well maintained area. Campground was well maintained and showers and restrooms very nice. Only inconvenience was could never get WiFi. Staff friendly and ice cream delicious! I would highly recommend!
May 06, 2021
Great host took us to the site showed us where the hook ups were at. Apologized because the cable was out no worries we got out the Dish Play Maker and had 250 channels. This was the 3rd overnight stay at this KOA. The stays have always been great.There is a little noise from the Interstate but not that bad.
May 06, 2021
The bathroom was clean and had good water pressure. The cabins will be nice when the parking area in front of them is cleaned up and operational.
May 06, 2021
tent camping area had lots of poison oak/ ivy, dog areas also had poison ivy. christian radio k-love playing continually in the ladies room was intrusive, considering i did not choose a Christian environment. employees were so sweet, bathrooms were clean. nice place. k-luv almost ruined it, though.
May 06, 2021
They have no WiFi or Cable.. and it was expensive even with the KOA rewards.. But the staff was very friendly.. so that's why I give it 3 stars
May 05, 2021
Spot could have been leveler dropped off in the rear, hard to unload MC off lift, but good stay. Thanks
May 05, 2021
Were able to extend our stay , very happy with our experience at this location
May 05, 2021
ovef\rnight stay, nice KOA, would stay again.
May 04, 2021
Friendly staff, laundry clean and efficient,. Sites are s little close
May 04, 2021
The spot was level, no problem with hookups. Everyone we interacted with was friendly. The park is close to the Interstate, with the noise being constant, but not disturbing.
May 03, 2021
I've been to guys KOA 3 times. Each time I reserved a top tier site. However, each time we were assigned a site that was far inferior than the suites across from the office. WE PAID THE SAME PRICE as those premium sites. The fireplace was full of wet sodden ashes, had not been cleaned out. The table had obviously been feasted on by millions of termites. What a rip off, never again!
May 02, 2021
Nice people, good basic facilities, well stocked store, great internet. However I would not return if I knew I would have to stay at the same site. Horribly uneven and between a tree and vehicles parked nearby, I thought I might have to back out of a pull through spot.
May 01, 2021
Overall great place to stay
May 01, 2021
Friendly staff. Nice spot for one night stay.
May 01, 2021
Management was friendly but the sites were not well kept and the noise from the highway was completely start.
May 01, 2021
This is a great little campground with very friendly helpful staff, we stayed two nights but could of stayed longer. The only negative thing I could say is check yourself and pets for ticks, found two on me and I stayed in the campground.
May 01, 2021
Broken down vehicles from long term residents trashing their spots. Dirty bathrooms and showers. Aging campground with not enough gravel to prevent mud holes. Lousy dirty dog park
Apr 30, 2021
always a great stay
Apr 29, 2021
Convenient, well kept though a bit noisy from highway traffic but no fault of theirs.
Apr 28, 2021
Great service. Personnel have excellent attitude.
Apr 28, 2021
Staff is unreasonable. Wouldn't stay again. This is our 4th KOA on our trip and not a single issue at any other. They have all been great. Until Little Rock.
Apr 28, 2021
Our stay was a one night stay. We were traveling West on I 40 in our travel trailer. This is a well kept, clean KOA with a friendly, helpful staff. As are most KOA, close to the interstate.
Apr 27, 2021
Very clean bathrooms.
Apr 27, 2021
Overnite stay. Sites close together
Apr 27, 2021
Perfect for a one nighter.
Apr 27, 2021
Enjoyed the campground. Nicely kept and friendly staff
Apr 26, 2021
Everything was great!
Apr 25, 2021
No water pressure no cable tv people were rude in office the place was dirty if I had my way I would get my money back
Apr 25, 2021
Don't expect anything other than a hot shower which will take time to come out so be patient ha ha
Apr 23, 2021
Over night stay while traveling, park was nice, we did not use any of the facilities
Apr 23, 2021
We stayed one night while on way home to Tennessee. Recently upgraded WIFI works quick and connects fast. A bit noisy as it is close to interstate like many KOAs, but not unbearable. We had a nice pull through.
Apr 22, 2021
Great KOA. Friendly helpful staff. We would definitely stay here again
Apr 21, 2021
Very well kept and very nice people. We will definitely stay here again.
Apr 21, 2021
Dirty, noisy, way to close to the interstate. Needs more gravel, much less dirt. To expensive for the quality of the campground
Apr 20, 2021
I got a tent spot...apparently their ONLY tent spot which was at the back of the property down in a 'hole' it felt like, next to where they 'store' their excess picnic tables & junk and even the 'lovely bones' of a trashed easy-up style canopy. It was creepy down there and so I ended up sleeping in my car to feel safe. If you don't want to accommodate tents, then say so.
Apr 20, 2021
Strictly an overnight stay. Friendly hosts.
Apr 19, 2021
It was a waypoint for going somewhere else. Sites are very tight, but well maintained. Someone, previous to our 1-night stay, left their used black sewer gloves laying on the ground in the sites utility area. My guess it was just an oversight by the park that the gloves weren't picked up before our arrival.