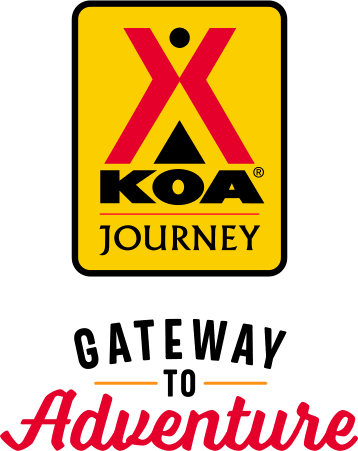 KOA Journey Campgrounds
KOA Journey campgrounds are the perfect oases after a day on the road. Whether it's along the way or a quick getaway, they've got you covered. Located near the highways and byways of North America with long Pull-thru RV Sites, they deliver convenience to the traveling camper. Pull in, ease back and take a load off.
KOA Journeys Feature:
Pull-through RV Sites with 50-amp service
Premium Tent Sites
Well lit after hours check-in service
Directions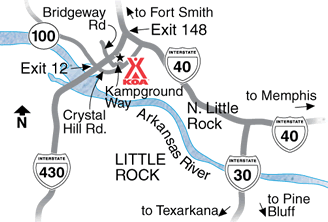 From I-40: Exit 148 (Crystal Hill Rd), SW 1 mile then right on Kampground Way to KOA.
From I-30: Take I-430 to Exit 12, then right on E Hwy 100. Left at second street (Kampground Way).
Get Google Directions
Feb 15, 2021
We enjoyed our stay. Owners are very nice and accommodating.
Feb 12, 2021
The staff and campground facilities were great, thank you.
Feb 11, 2021
I appreciated the accommodations, but it was muddy around the site, internet was unreliable and NO PROPANE. The main reason I choose this campground was I needed propane. But once I called I was informed they had NO PROPANE. Don't believe I will stay again.
Feb 10, 2021
Nice new pull through but kind of muddy still. Fenced in dog area was very small compared to all the open space they have available.
Feb 09, 2021
koa workers were great, friendly, location was easy to get to, we will stay there any time we need to be in little rock.
Feb 08, 2021
Nice folks, clean facilities and easy access
Feb 08, 2021
Friendly host, easy access, great level pull through site, very clean and well maintained facility!
Feb 07, 2021
You advertise "hot tub" on your site under "ammentities " but there is no hot tub! Also says you have propane onsite but then there was no staff on site that could get us propane. Campground is also not maintained like most kaos.
Feb 07, 2021
It was easy to make a reservation online and checking in went smoothly. The host was nice. It's beautiful property.
Feb 04, 2021
Older camp gentlemen.who checked ud.inwas great, lady who tookrrzervationnot so much. Doubt .I would stay there again
Feb 01, 2021
We stayed a couple nights while passing thru and everything was great. Water, electric, sewage, cleanliness, all was great. Hospitality was great! Been here a couple times and will stop thru again anytime we are out that way.
Jan 31, 2021
After reading many negative reviews, we were reluctant to stay here but decided to try it anyway. I will say- we travel not with the intention to hang out at the campground too much, we like to sightsee. The campground was tighter than most we have been to but manageable. It wasn't bad at all. We enjoyed our stay, liked the trees. Would stay again for sure. It's not the fanciest KO but was fin
Jan 30, 2021
Uneventful - everything we needed was provided.
Jan 30, 2021
The gal working the evening shift was amazing and very helpful. We were sorry we only had 1 night there but will be back
Jan 23, 2021
Sites are nice with concrete, fire pit, grill and table with chairs. Nice location.
Jan 20, 2021
They had no propane for 6 days, maybe more. The rates have gone up and are now too much for a mediocre place at best. I was the only guest in the front tier for several days. The main lady at the desk was reasonably efficient but needs a personality transplant. They do not wear masks most of the time.
Jan 19, 2021
Easy to find, nice level spot
Jan 18, 2021
Easy access...great site...clean & meet...reasonably priced
Jan 18, 2021
The road noise made it very hard to sleep. Other than that it was nice. Clean restrooms.
Jan 12, 2021
Very nice place
Jan 10, 2021
Had reserved pull through site for 45 MH woth toad. Site had pull through exit access through two trees with a sharp left turn. Elevated ground during turn caught bottom of two basement doors causing several hundred dollars of damage. I should have declined the site they reserved for me. Staff was nice and helpful otherwise.
Jan 09, 2021
Quick in and out...no hassle :)
Jan 07, 2021
Nice facility with friendly staff. Site not even close to level, no working WIFI, cable TV not working and loud traffic noise / sirens throughout the night. It's a shame, but the sprawl from Little Rock has engulfed this otherwise very nice campground.
Jan 07, 2021
We just stayed overnight, but it was a nice place.
Jan 03, 2021
I rented the following site and was charged extra for the concrete pad. " Your Campsite: Back In, 50/30/20 Amps, Full Hookups" When I checked in the girl behind the counter told me there were no backin sites and proceeded to put me on site B-4 which was a gravel pull through. I wouldn't recommend this bait and switch place to anyone.
Jan 03, 2021
Directions were good. Site was near the front and easy to find. Campground was pretty full. Cable and Internet worked well. Lots of road noise and when we stayed there were a lot of sirens during the night. Overall we'd stay there again.
Jan 02, 2021
The people operating this campgrounds were very helpful with check-in, getting to the spot and helping us with a possible extended stay - we were very grateful for the help on a cold rainy New Year's Eve
Dec 29, 2020
Great stay. Overnighting cross country and couldn't be more thankful for an easy right-by-the highway location!
Dec 29, 2020
The campground was fine; however, we were placed in a campsite with 30 amp service, whereas our reservation was for a 50 amp site. This would not normally be an issue in the winter, but we did not have a 50 amp to 30 amp adapter. I called the after hours number to see if we could change sites, but my call went straight to voice mail.
Dec 29, 2020
This was our first stay at a KOA. We found it easy to make reservations over the phone. Very nice conversation and willing to accommodate our needs. We arrived late in the evening and filled out the form made credit card payment. At that point we found our designated parking spot we ease. Nice place. All went well.
Dec 28, 2020
Although we only stayed one night traveling further to a different KOA Little Rock was easy to find, check in seamless and site easy to get in.
Dec 28, 2020
Very nice campground, clean, quiet (even though near the interstate). Stayed twice, just overnight so didn't utilize the amenities except for the dog parks (clean), was able to pick up several channels on the television (cable was out). Owners were very nice! Will definitely stay again!
Dec 28, 2020
Friendly staff escorted us to site.
Dec 24, 2020
the showers and all facilities were open thank you for using your head and realizing showers and bathrooms don't spread corroni!
Dec 24, 2020
Very nice campsite!
Dec 22, 2020
Nice people. Very quiet stay.