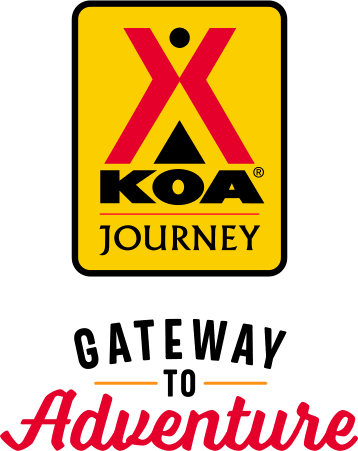 KOA Journey Campgrounds
KOA Journey campgrounds are the perfect oases after a day on the road. Whether it's along the way or a quick getaway, they've got you covered. Located near the highways and byways of North America with long Pull-thru RV Sites, they deliver convenience to the traveling camper. Pull in, ease back and take a load off.
KOA Journeys Feature:
Pull-through RV Sites with 50-amp service
Premium Tent Sites
Well lit after hours check-in service
Directions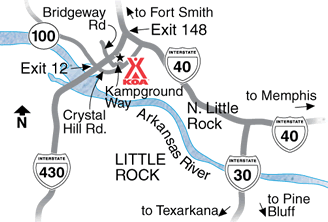 From I-40: Exit 148 (Crystal Hill Rd), SW 1 mile then right on Kampground Way to KOA.
From I-30: Take I-430 to Exit 12, then right on E Hwy 100. Left at second street (Kampground Way).
Get Google Directions
Sep 25, 2021
The couple who run it are sweet, but the place is badly in need of sprucing up. Most of the equipment in the Laundry doesn't work, the pool and pool deck are covered in pine needles, the dog park is covered in leaves. And the place is so close to I -40, the noise is terrible. An ok overnight, but certainly not a destination!
Sep 25, 2021
Nice RV Park. Very well maintained.
Sep 25, 2021
Excellent service…..efficient & helpful. Thank you.
Sep 24, 2021
It was a "pass-thru" stop, but we intend to return for a longer stay.
Sep 24, 2021
Very Quiet and Very Pretty surroundings
Sep 23, 2021
Loud freeway noise from the 65. All day and all night. Its just behind the park a very short distance. Great people work here, and a good park other than that.
Sep 23, 2021
Nice campground for Journey, clean restrooms, very nice staff.
Sep 23, 2021
It was nice, quite and clean. Very easy çhe very nice people at the desk. Easy to talk to ck-in and out.
Sep 22, 2021
The big trees are great. For a long rig things are a bit tight to make some turns.
Sep 22, 2021
3rd stay here, great location for easy on and off...great staff
Sep 21, 2021
One nighter passing through the area but a clean and safe place to stay
Sep 21, 2021
Stayed here lots, nice staff. Sites are a little snug, but hookups are easy.
Sep 21, 2021
Was easy to get to late at night. quick overnight here on the way to the West Coast. Nice and quiet. thanks for the stay
Sep 21, 2021
At about 8pm, I first heard 3 three shotgun blast then pistols being fired. The sound can from the back side of the park. It frightened me so much that I dialed 911 and reported to local PD. Then fireworks went off. I didn't get much rest and was very irritated that the KOA had no prior knowledge of fireworks that night. I will not stay again and will tell all my RV friends.
Sep 20, 2021
Staff was great - very clean - very close to the interstate and we will be back! We have a 40 ft Tiffin towing and it fit in their KOA Patio site!
Sep 19, 2021
It was only one night since we were passing through but we're pleased with your park and accommodations.
Sep 19, 2021
Friendly, helpful staff. Campsites really close together, I stepped out my door to the neighbors sewer hose. Overall nice experience.
Sep 18, 2021
There was no stay. The reservation for yesterday was made in November of 2020. We are 450 miles away, and received no reminder of the reservation, giving us no time to make travel plans. We only received a notice that they had charged our credit card for the 3 nights. We called their campground telephone number, and got the answering machine. Requested a call back, but they have not responded.
Sep 18, 2021
Spent the night traveling thru to Texas. This is a very nice park, easy to get to and from interstate 430. Will definitely stay here again
Sep 17, 2021
Spots were not very level and also not what I would call - Big rig friendly.
Sep 17, 2021
place is tight when you have a long rig. staff are awesome. is close to interstate and traffic all night,. very clean. ice cream bar is yummy. nice view from the hill top near by. poor signage to get get to park.
Sep 17, 2021
Clean and peaceful we enjoyed our stay and swim in the pool. There is some highway news as we were tent camping. Thanks Ken
Sep 17, 2021
Lots of long term. Not maintained! Not what you expect in a KOA
Sep 16, 2021
Not long enough
Sep 15, 2021
Typical as usual for KOA false advertising the WiFi never works
Sep 15, 2021
Right from the start when I was second in line to check in the phone rang which pushed me to the back of the line after she made 2 different reservations. Also which isn't your fault, but something was taken from the back of my truck.
Sep 15, 2021
People were super nice, camp ground not really big rig friendly. Very tight roads and corners makes it real difficult for big rigs to get in and out of
Sep 15, 2021
Great park, friendly staff, would stay again !
Sep 15, 2021
Just overnight.
Sep 14, 2021
Very efficient customer service. Campground was very neat and clean. Our site was a "premium " site that needed some TLC. Staff was friendly, courteous and knowledgeable about KOA and their particular areas. Some road noise but not disconcerting.
Sep 14, 2021
It was nice for an overnight stay on our way to Memphis. The check-in process was seamless and the staff were pleasant and helpful. Although, after walking around the campground I would not want to spend more than a quick night at the site. While the website states that you can stay no longer than 2 weeks at a time, there is evidence that a number of sites seem to be occupied permanently.
Sep 12, 2021
Needs a lot of maintenance, pine needles and leaves need to be cleaned up. Looked like they hadn't been picked up in long time.
Sep 12, 2021
Excellent park! It had an attractive pool and play area. We were just passing through for a night so we didn't swim, but it looked fun. What I especially appreciated was our spot right across from the dog park. My extremely old and arthritic dogs didn't have to walk so far and they absolutely loved it. The WiFi was great. Highly recommend, will stay again!
Sep 11, 2021
It was just an overnight, but we enjoyed it very much.
Sep 11, 2021
Very nice and quiet place to relax! Thank you!
Sep 11, 2021
Host was extremely helpful and friendly great place
Sep 10, 2021
Quiet and shaded sites.
Sep 10, 2021
Nice place to while traveling I40. Nice guy at check in. Tent site seemed to be in there back lot of old equipment. But to get off the road for a night works well.
Sep 19, 2021
I loved this campground...quant and Christian music playing the bathrooms. We only stayed 1 night but will definitely go back.
- Jenny Reeder on Google
Sep 09, 2021
Enjoyed our short time there.
- margie asher on Google
Sep 08, 2021
Very friendly staff, easy access to rv park from highway. Showers were very clean and nice. 2 dog parks and nice level pull through spots. Would recommend and go again if we were passing through
- kcswany 19 on Google