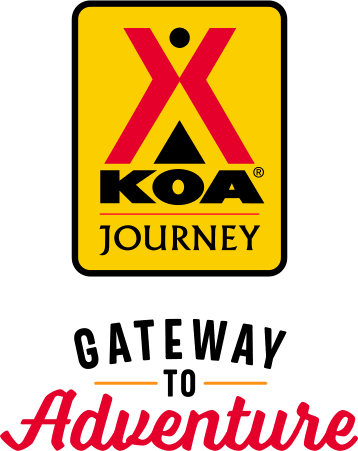 KOA Journey Campgrounds
KOA Journey campgrounds are the perfect oases after a day on the road. Whether it's along the way or a quick getaway, they've got you covered. Located near the highways and byways of North America with long Pull-thru RV Sites, they deliver convenience to the traveling camper. Pull in, ease back and take a load off.
KOA Journeys Feature:
Pull-through RV Sites with 50-amp service
Premium Tent Sites
Well lit after hours check-in service
Directions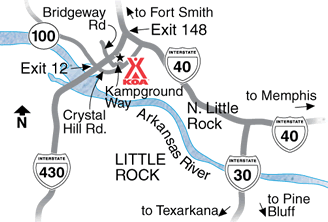 From I-40: Exit 148 (Crystal Hill Rd), SW 1 mile then right on Kampground Way to KOA.
From I-30: Take I-430 to Exit 12, then right on E Hwy 100. Left at second street (Kampground Way).
Get Google Directions
Sep 10, 2021
Nice place to while traveling I40. Nice guy at check in. Tent site seemed to be in there back lot of old equipment. But to get off the road for a night works well.
May 28, 2021
It was horrible! We ended up getting a hotel because the place was a wreck. We were going to be camping in a tent, but the site for the tent had trash, old broken down picnic tables, and scraps of metal laying around. The entire campsite was all gravel as well! No grass, just gravel. The little bit of grass in the area was overgrown. We gave pictures to prove how terrible it was!
May 24, 2021
Although the RV area was attractive and well maintained, my tent site was surrounded by camp debris: the leaf dump, rotting picnic tables, and other discarded items. The restrooms were clean.
May 22, 2021
Our tent site was under water and the electricity did not work. The walk to the only bathroom was quite a haul from the isolated tent area. If you're staying in a tent, Skip this KOA.
May 06, 2021
tent camping area had lots of poison oak/ ivy, dog areas also had poison ivy. christian radio k-love playing continually in the ladies room was intrusive, considering i did not choose a Christian environment. employees were so sweet, bathrooms were clean. nice place. k-luv almost ruined it, though.
Apr 20, 2021
I got a tent spot...apparently their ONLY tent spot which was at the back of the property down in a 'hole' it felt like, next to where they 'store' their excess picnic tables & junk and even the 'lovely bones' of a trashed easy-up style canopy. It was creepy down there and so I ended up sleeping in my car to feel safe. If you don't want to accommodate tents, then say so.
Apr 18, 2021
Sadly, this kampground looked run down and needed some TLC. There was exposed rebar protruding from the picnic table slab creating not only a tripping hazard but could cause serious injury itself. By the bathrooms there was metal edging creating similar hazard. Our tent site was near their dumping grounds for old broken tables, logs etc. Plus highway noise!
Apr 06, 2021
It was the perfect location for the parks we wanted to visit. Also, our boys really enjoyed the bikes and playing pool while we were at the campgrounds. My husband and oldest son made use of their weights, which was a surprising bonus for them. Thanks for the great stay!
Mar 16, 2021
The staff was nice the facilities were clean and available. Cheryl was a pleasure to deal with and was able to answer all my questions. She is a truly nice person.
Jan 18, 2021
The road noise made it very hard to sleep. Other than that it was nice. Clean restrooms.
Dec 14, 2020
I as placed at Tent Site 4, it should not be a tent site. The plug and light hookup didn't work and was ha going over. The site is right next to the dog park, and there was trash and old campground parts everywhere. I love KOA and I have plans of franchising, this site was a bit disappointing. Additionally, KOA should look into setting up s cute parking spots for folks who just need a few hours.
Nov 07, 2020
The FRIENDLIEST staff! So helpful and gracious. The only reason I didn't give 5 stars is because the tent site is right on the highway, which made for a noisy evening. Otherwise, it was lovely and I would come back again.
Sep 21, 2020
We camped in a tent. Nice wooded site. Bathrooms clean. Only downsides-- tent campsite had not been cleaned in awhile (tables, trash on ground) and road noise from interstate was loud. Overall a good stay, however.
Sep 05, 2020
The lady that took my reservation was very nice, but that's were the pleasantries ended. Tent site was expensive, run down, and as far away from the bathrooms as possible. Men's bathrooms stalls felt like a coffin; your knees literally hit the stall door while sitting. Bring some earplugs unless you actually the sound of big rigs speeding past at 70 mph. I will never stay at this KOA again!
Aug 03, 2020
Masks required in the office yet nobody bothered to wear one. Not the staff or the guests.
Jul 30, 2020
Loved the people running the place. My only problem was that there were no grass tent areas they were all rock. It was noisy from the highway noise but this was expected as we were in a tent. If you were in a camper I dont think you would have noticed. The bathroom and shower area were very clean and stayed that waY through the stay.
Sep 09, 2021
Enjoyed our short time there.
- margie asher on Google
Sep 08, 2021
Very friendly staff, easy access to rv park from highway. Showers were very clean and nice. 2 dog parks and nice level pull through spots. Would recommend and go again if we were passing through
- kcswany 19 on Google
Sep 07, 2021
Extremely friendly staff! Very easy to check in. Very animal friendly, has 2 fenced dog park like areas. Restrooms are very clean and centrally located. Laundry is also clean and open 24/7. Perfect place to stop after a long day on the road.
- Michelle Brown on Google