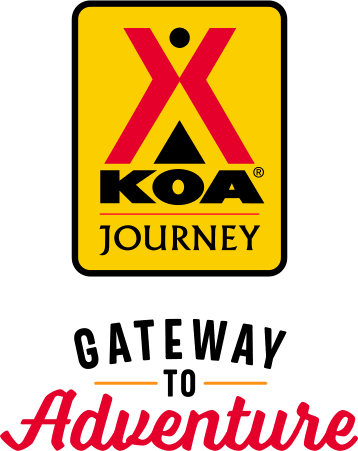 KOA Journey Campgrounds
KOA Journey campgrounds are the perfect oases after a day on the road. Whether it's along the way or a quick getaway, they've got you covered. Located near the highways and byways of North America with long Pull-thru RV Sites, they deliver convenience to the traveling camper. Pull in, ease back and take a load off.
KOA Journeys Feature:
Pull-through RV Sites with 50-amp service
Premium Tent Sites
Well lit after hours check-in service
Directions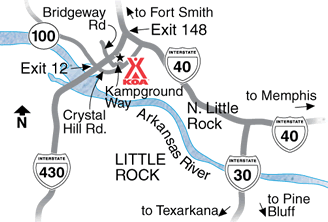 From I-40: Exit 148 (Crystal Hill Rd), SW 1 mile then right on Kampground Way to KOA.
From I-30: Take I-430 to Exit 12, then right on E Hwy 100. Left at second street (Kampground Way).
Get Google Directions
Oct 18, 2021
We had a deluxe site that was fabulous and in a great location. The site had a sitting swing. It was very close to the office and pool. The pool was fabulous, great for the kids to get some energy out after a long drive.
Oct 18, 2021
The place is small and. Quaint but very clean. The staff were super nice, made everyone feel so welcome. Thanks so much
Oct 18, 2021
Just what I wanted.
Oct 18, 2021
I made reservations for the 72 channels cable TV advertised on the KOA website. Was disappointed there was no cable TV when we checked in. Would not have stayed there if I had known there was no cable. Also, the WiFi was very was very poor.
Oct 17, 2021
Grounds were well maintained. Staff were helpful and friendly. If we are in the area we will surely stay again.
Oct 17, 2021
Staff was very friendly and helpful. They showed us to our site. Over all not a bad place to stay but is in need of repairs
Oct 17, 2021
Nice place , disappointed in the WiFi/internet though. We were just there one night and got in late, not your fault. We just thought it was pricey for not being able to stay connected to the WiFi/ internet. Thanks
Oct 16, 2021
Staff seem friendly. Small campground with tight spaces. Okay for a one-night stay while passing to the area.
Oct 16, 2021
Lots of highway noise. Lots of junk piled down by tent campgrounds and dog run. Staff not very friendly.
Oct 16, 2021
It was great! We are new to KOA but after our stay I purchased the KOA rewards and we will be life timers. They were so nice! The park was clean. I saved their park map to staple in my road atlas for the next trip.
Oct 15, 2021
Nice and quiet one night stay. Very courteous and friendly staff. Would highly recommend!
Oct 15, 2021
Stay was good but disappointed that we did not get the rewards membership discount.
Oct 14, 2021
Fine for overnight stop. Friendly Staff. The pool was not working correctly (if at all) and had pine needles floating in it most of the time as well as debris on the bottom. The sites are long but very narrow for big rigs like ours, not much yard, can't park on grass. Stayed 4 nights, no privacy with narrow sites, yet new campers put on either side of us every day when other sites were open.
Oct 14, 2021
Nice place. Friendly and clean but a bit cramped.
Oct 14, 2021
Very nice KOA. Loved the quiet woodsy atmosphere. The camp host was terrific in the help he gave, a short visit with him later. Highly recommend. It is a much better RV Park than the Downtown River RV park in all ways. Keep up the good work.
Oct 13, 2021
The managers are delightful and our stay was pleasant. We've been back four times.
Oct 13, 2021
One night stay - no problems!
Oct 13, 2021
Only stayed one night and very easy in and out. Clean park and clean bathrooms.
Oct 13, 2021
Great spaces for smaller motorhome. Best internet speed ever!!!!
Oct 12, 2021
Nice spot for our overnight stay. Very clean, pretty wooded area, no cable but easy to get over air stations.
Oct 11, 2021
Clean, very helpful staff.
Oct 11, 2021
Very friendly and helpful staff.
Oct 10, 2021
Very friendly and welcoming!
Oct 10, 2021
Feels like were sitting on I-40, so loud, trucks and all very loud.
Oct 10, 2021
Have been staying here for years. It's just a very handy spot after a day's journey from central Texas.
Oct 09, 2021
Very nice campground and the staff is fantastic, If I were to try and impove anything it would be (1) segregate full timers(long term) renters from the overnighters and /or (2) insist the lomg term renters keep their spaces clean and their rigs clean. Some were pretty shabby.
Oct 09, 2021
Bathrooms were dirty, Sites and outdoor furniture not cared for. Person greeting and checking us in was not friendly.
Oct 08, 2021
Very polite and helpful staff.
Oct 07, 2021
Nice campground. Very friendly hosts.
Oct 07, 2021
The campground was easy to get in and out. We did not hear any road noise, but yet close enough for anything we needed. Easy and courteous checkin, easy access to our site. The reason for a 4 rating is, there was a broken board in the patio area that needed attention. I had to keep reminding my husband so he wouldn't trip. Would definitely stay if in the area again.
Oct 07, 2021
Nice campground close to the highway
Oct 06, 2021
Will, Sandy , Cheryl, and Jon great customer service really enjoyed there hospitality great service and Very friendly
Oct 06, 2021
Nice campground but lots of freeway noise
Oct 06, 2021
Very friendly and clean park. Great ice cream nightly. Would definitely stay again
Oct 06, 2021
Shady sites, good ice cream!
Oct 04, 2021
We have been stopping there for 10+ years to visit family. They really need to do some tree removal- especially the persimmons. They are so nasty this time of year- impossible to keep from stepping on them. Trees are nice but need to be maintained or removed PLEASE PLEASE
Oct 04, 2021
Our neighbors sewer hose was so close to our door that it was very distracting. A little more distance would have been appreciated. The hosts were very nice.
Oct 03, 2021
easy access to park and big spaces. Traffic noise outside, but could not hear it inside RV.
Oct 03, 2021
Area had what looks likes permanent residence and have trash everywhere around them.