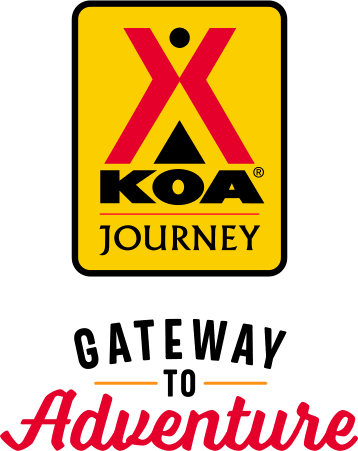 KOA Journey Campgrounds
KOA Journey campgrounds are the perfect oases after a day on the road. Whether it's along the way or a quick getaway, they've got you covered. Located near the highways and byways of North America with long Pull-thru RV Sites, they deliver convenience to the traveling camper. Pull in, ease back and take a load off.
KOA Journeys Feature:
Pull-through RV Sites with 50-amp service
Premium Tent Sites
Well lit after hours check-in service
Directions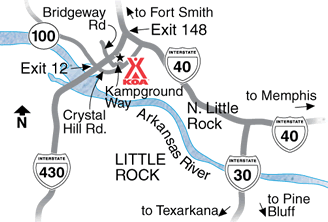 From I-40: Exit 148 (Crystal Hill Rd), SW 1 mile then right on Kampground Way to KOA.
From I-30: Take I-430 to Exit 12, then right on E Hwy 100. Left at second street (Kampground Way).
Get Google Directions
Jul 27, 2021
One night and it worked great
Jul 27, 2021
Nice place to stay. Stayed in my camper the whole time. 100 % humidity and 90 + degrees. Wish I could have use the swimming pool, no trunks. Friendly staff. On site ice cream parlor. Wanted a milkshake but they had no milk. I would stay there again.
Jul 26, 2021
Friendly people. Very clean. Clean pool. Shaded sites in the light woods. Ice cream!!!!
Jul 26, 2021
We really liked staying in Little Rock it was our second time there.A little loud from the interstate noise but not bad the site we were given both times did not have a shade tree but since we got there late in the day it was ok plant more �� at the sites without one overall a great place to stay
Jul 24, 2021
Quiet with easy access from interstate 40. The dog park could however use some sprucing up.
Jul 24, 2021
For what a super site costs you would think they would have cable tv.
Jul 24, 2021
Kind of tight quarters but otherwise good.
Jul 24, 2021
Small misunderstanding about our toad, other wise pleasent stay
Jul 23, 2021
The RV park was very clean and organized. Everyone working at the KOA was extremely nice.
Jul 23, 2021
The site was fine but the grounds could have been neater. Some of the areas were overgrown & peoples' sites had junk laying around. Also the office clerk wasn't particularly nice
Jul 23, 2021
The water pressure was the pits and the pick neck tables were unusable. A lot of the extenstinded stay people have trashed out their spots and nothing seems to be done about it. The next time I'm in North Little Rock to visit family hopefully Ill be able to find another park with a spot.
Jul 23, 2021
The laundry machines could use some work. Staff very friendly and efficient!
Jul 22, 2021
The facility needs work. Not well maintained. Everything overgrown and slabs cracked. Store smelled like dog. Many people are Allergic to dogs and cats like me. We only stayed 1 night but had we stayed longer it would not have been good.
Jul 22, 2021
Staff could have been friendlier. Pull through sites were way too tight. Picnic table was almost touching next door RV. Campground had a bunch of old broken down equipment throughout. It was not what we are accustomed to while visiting a KOA. It did have a few pros, like the pool, and kids playground. But overall it didn't feel like a normal KOA.
Jul 22, 2021
We did not have a reservation, but they were able to accommodate us. Thank you!
Jul 21, 2021
Great place, great staff, this is one of the nicest KOAs we have been to this summer and seems to be only getting better.
Jul 20, 2021
I liked the campground, except everything was really tight from the roads to the campsites. Had to ask my neighbor to move his truck so that I could pull out, without hitting it as everyone packed in tight. When I parked my slides were almost into next campsite. Staff was very friendly, but I would not recommend for anyone with a long trailer.
Jul 20, 2021
The campground was very dirty and a lot of broken items. They advertise WiFi and cable TV, neither of which worked.
Jul 19, 2021
Stayed 3 nights. Good dog areas, shower/restrooms very clean and bright! Good pad sites easy to get around. Very pleased.
Jul 19, 2021
Needs some updating to the sites and there are to many people living there full time.
Jul 18, 2021
Wasn't long enough
Jul 17, 2021
I would rate this park a 5 except for trying to pull out of spaces—-very tight.
Jul 17, 2021
Stopped overnight and was easy access and quiet stay. Host friendly and helpful guiding to campsite. Was my 2nd trip and will stop again when needed.
Jul 14, 2021
We loved absolutely loved it and my sis & I especially loved your pool because it has a deep end & you just don't get to see that very often anymore! This is a nice clean place. We also loved the ice cream parlor!
Jul 14, 2021
The bathrooms were extremely clean. The grounds were beautiful and well kept. We will definitely stay again!
Jul 13, 2021
This is a beautiful campground. Staff were so nice. The pool and playground were nice. We only stayed one night on our road trip but would definitely stay here a whole weekend or longer if we could have. This spot will be on our list of return visits.
Jul 13, 2021
Facilities were adequate. They should keep the ice cream shop open an hour or two more during peak summer months. The campground is some distance away from any restaurants as far as we could tell.
Jul 12, 2021
Staff was friendly. Facilities were good.
Jul 12, 2021
Nice KOA. Clean with friendly, helpful staff.
Jul 12, 2021
Beautiful trees. Concrete pad. Lots of options for swimming and restaurants. Friendly helpful staff that assisted in finding and parking my unit. I will definitely come back if I'm ever this way again
Jul 12, 2021
compared to previous visits noticed a significant decrease in maintenance at the park ie: border wall falling apart, bushes not trimmed, large crack in window in ice cream parlor. Our biggest concern was steps to the swimming pool were slick and saw two adults fall on the steps. However, staff was friendly and bathhouse was clean and tidy. Cabin area was in need of repair.
Jul 12, 2021
awsum will stay again
Jul 12, 2021
Just an overnight stay. Very convenient location off of I40. But, not all sites are paved and they are very close together.
Jul 11, 2021
It was a quick pass through/remain overnight and we arrived late…almost midnight. Check in was super easy and directions to the spot were perfect. We got set up easily and had good rest before pulling out the next morning. Thank you!!
Jul 11, 2021
Just overnighted here clean park & friendly staff. Older KOA with several full timers staying in RV's. Bathrooms updated and clean.
Jul 10, 2021
We only have satellite TV, and they refused to move as one or two spots over to get away from the tree right beside us that block any signal. Three days with TV, will never stay there again!
Jul 10, 2021
Great hosts, perfect site, great pool. Not our first stay and won't be the last.