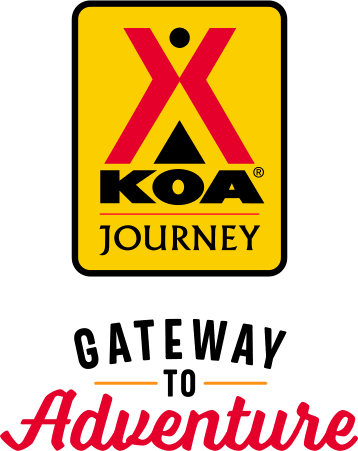 KOA Journey Campgrounds
KOA Journey campgrounds are the perfect oases after a day on the road. Whether it's along the way or a quick getaway, they've got you covered. Located near the highways and byways of North America with long Pull-thru RV Sites, they deliver convenience to the traveling camper. Pull in, ease back and take a load off.
KOA Journeys Feature:
Pull-through RV Sites with 50-amp service
Premium Tent Sites
Well lit after hours check-in service
Directions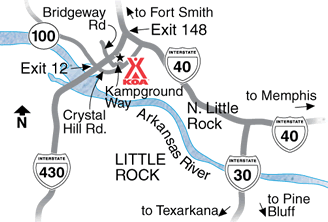 From I-40: Exit 148 (Crystal Hill Rd), SW 1 mile then right on Kampground Way to KOA.
From I-30: Take I-430 to Exit 12, then right on E Hwy 100. Left at second street (Kampground Way).
Get Google Directions
Aug 11, 2021
Very quiet and met all my needs
Aug 10, 2021
This was wonderful break in a very long trip starting in Palm Springs CA. We were all treated, and the camp and pool were very nice
Aug 10, 2021
The staff were so helpful with specific instructions when I was arriving late. The pool was clean and well lit. The spot to camp was just what I needed. I felt welcomed and really enjoyed my visit. I loved the KLOVE Christian music station on in the bathroom. It was a great way to start my day on a positive note. Thank you, Little Rock North KOA. I will be back!
Aug 09, 2021
Good place to stay for a one night stop. Restrooms were clean. Aside from the little ole lady rudely asking me what I was doing when I pulled the camper over to the side to go wash my hands before we left it's a good place to stay.
Aug 09, 2021
Very nice Oldie but goodie!! Zdg
Aug 09, 2021
A beautiful park and so easy to get in and out of. We will come again!!
Aug 09, 2021
Good and clean
Aug 08, 2021
We o ly stopped overnight but found it quiet and clean.
Aug 08, 2021
Nice facility but the noise from the interstate was rather loud all night long
Aug 07, 2021
WiFi nonexistent
Aug 07, 2021
Very noisy from road traffic. Needs some updating and TLC.
Aug 07, 2021
Over grown and dirty slabs too many full time rv in park. Has ran down since we were there in May 202q
Aug 07, 2021
The lady that worked the office had a know it all and bad attitude, site was okay but a lot of the full timers have trashed up their sites. The workampers have trash laying around, their staff campsites are mot well maintained and they have trash laying around also. A lot of eye sore sites and bad workers make this campground one we will not back to.
Aug 07, 2021
nice and level and friendly staff.. was here over ni\ght..
Aug 07, 2021
A little dated. Needs some TLC but was a pleasant stay. A lot of long term residents with some pretty lived in campsites. Staff was attentive and friendly. Some road noise from Interstate as well. A double edge sword. Camp close to I 40 but maybe too close.
Aug 07, 2021
The space was level which I give a 10, but the office was somewhat run down and it appeared there were some long time guest camping in the park. It was tight to get out of when we left due some longer rigs.
Aug 07, 2021
Very helpful when we called to inquire about late check-in procedures.
Aug 06, 2021
Convenient off of I-40. Lots of trees, so no satellite service. Tight turns for big rigs. The camp store was nice.
Aug 06, 2021
People were vert nice.
Aug 05, 2021
Clean small park near to I-40. Great for a quick stop. It's close to a Walmart, restaurants, and grocery stores. There is quite a bit of road noise from the interstate.
Aug 05, 2021
One of the best campgrounds we have stayed in.
Aug 05, 2021
All went well nice crew.
Aug 05, 2021
Overnight stay while traveling, restrooms very clean!
Aug 04, 2021
Just a short overnight stay while traveling but late check in was very easy & the restrooms/shower house was SO VERY CLEAN. I would recommend
Aug 03, 2021
Nice quiet little campground. Needs a facelift though. If just staying for the night, no big deal.
Aug 03, 2021
Just an over night stay, out early in the morning. Everything was fine with our stay.
Aug 03, 2021
Over night but like always KOA make easy for us.
Aug 03, 2021
Easy check in and friendly staff
Aug 03, 2021
No water at our site.
Aug 03, 2021
Quiet and clean facilities. Easy to find and plenty of room!
Aug 01, 2021
Overnight only. Internet flaky, no cable TV, staff not very friendly, facilities are in need of drastic maintenance.
Aug 01, 2021
Very clean, nice drive through sites for 31 foot 5th wheel and attendant was so nice and very helpful. Would definitely stay again.
Aug 01, 2021
The campground was run down. Don't know if it is do to staffing shortage. The staff there was very friendly.
Aug 01, 2021
Nice staff member But needs some maintenance and care. Place is a bit of a wreck Front spots are nice but the rest of the place is a mess. Mow the lawn for goodness sake
Aug 01, 2021
Clean campground friendly staff
Aug 01, 2021
Very nice and clean. Staff very friendly and helpful.
Aug 01, 2021
Staff were very nice. We booked online but they gave us a Military Veterans discount when we arrived. We were escorted to our campsite. And hooked up to power/water/sewer quickly. Best of all they have a fenced in Dog Play Area that is completely shaded. Our 2 dogs loved getting off leash and running around for a little while.
Jul 31, 2021
It was fine for overnight stay. The grounds need some care. Water left in the fire pits attracting mosquitoes. The full timers or workers areas are messy and some trashy. Wouldnt recommend for more than an overnight stay.
Jul 31, 2021
Clean, great staff, and easy to get around. If I had one complaint it would be that the pool was a little dirty. Aside from that, no complaints! We will definitely be booking here again when going to Destin every year!
Jul 31, 2021
Very accommodating staff.
Jul 30, 2021
Park is showing its age. Not as well kept as I would expect for a KOA. Sites are small and access is tight which is also a sign of age. Was built for smaller RV's of the past. Staff was accommodating.
Jul 30, 2021
Park is not "Journey" quality. Grounds are poorly maintained. Grass by our site was almost 12" high. A 80% dead shrub encroached onto our driveway. Many permanent residents with junk piled around. Trees down and cabins not used in ? years. Worst KOA we have stayed in from Maine to Alaska.
Sep 09, 2021
Enjoyed our short time there.
- margie asher on Google
Sep 08, 2021
Very friendly staff, easy access to rv park from highway. Showers were very clean and nice. 2 dog parks and nice level pull through spots. Would recommend and go again if we were passing through
- kcswany 19 on Google
Sep 07, 2021
Extremely friendly staff! Very easy to check in. Very animal friendly, has 2 fenced dog park like areas. Restrooms are very clean and centrally located. Laundry is also clean and open 24/7. Perfect place to stop after a long day on the road.
- Michelle Brown on Google