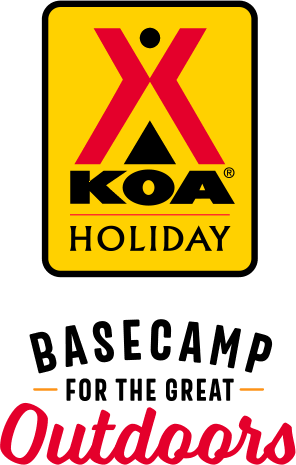 KOA Holiday Campgrounds
Whether you're exploring the local area or hanging out at the campground, KOA Holidays are an ideal place to relax and play. There's plenty to do, with amenities and services to make your stay memorable. Plus, you'll enjoy the outdoor experience with upgraded RV Sites with KOA Patio® and Deluxe Cabins with full baths for camping in comfort. Bring your family, bring your friends, or bring the whole group – there's plenty of ways to stay and explore.
KOA Holidays Feature:
RV Sites with a KOA Patio®
Deluxe Cabins with full baths
Premium Tent Sites
Group meeting facilities
Directions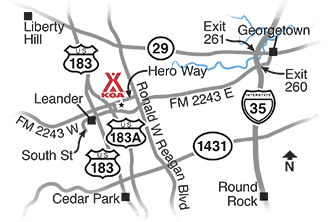 FROM AUSTIN:
Take I-35 North to Exit 260 (FM 2243, also Leander Rd)
Go 8+- miles West on FM 2243 toward Leander, Texas
Take a right on Ronald Reagan Pkwy -1/4 Mile North
Left on Hero Way (Previously County Rd 269)
KOA is 1 mile on the left (N 30 degrees 35.245' W. 097 degrees 50.013' lat:30.58855 long:97.83395)
FROM DALLAS/WACO:
Take I-35 South to Exit 261 W (Hwy 29).
Turn right on Hwy 29 W Go 8+- miles on Hwy 29
Turn left on Ronald Reagan Pkwy S
Go 3+- miles and turn Right on Hero Way ( Previously County Rd. 269)
KOA is located 1 mile on the left
FROM HWY 29 @ HWY 183 :
Heading South on Hwy.183 for 4 miles
Stay on the access frontage Rd of Alt 183-A toll road (do not get on Alt toll Rd)
Take a left on Hero Way (before FM 2243)
Go under Alt 183-A toll road
KOA is located on the right past CR 269
FROM: HWY 183 @ HERO WAY (HEB PLUS GROCERY STORE ON LEFT AT LIGHT)
Go east on Hero Way for @ 1 mile
Go under the Alt 183-A toll Rd- Park is on the right past CR 269!
GPS: N30.58855, W97.83395
Get Google Directions
Jan 14, 2021
great welcome! great people
Jan 12, 2021
Great facilities, but WiFi service is currently not on par with the majority of sites that we use.
Jan 12, 2021
Host was friendly and helpful. Campgrounds were clean and very comfortable.
Jan 10, 2021
Herb was amazing. Facility is super clean and bright
Jan 09, 2021
One of the cleaned parks we have stayed at
Jan 07, 2021
The staff, especially Herb, was outstanding. Clean campground great sites. Loved it
Jan 06, 2021
I like staying here because they have very clean sites. And they are big pull thru. Level sites. Laundry room and big dog park. It may cost a little more but they also have a pool.
Jan 04, 2021
It rained for the first two days but it was okay under the conditions. This is one of our favorite places to stay. We have family in town so we can stay at the cabin and still enjoy their company without being a bother to them.
Jan 04, 2021
Very clean and nice facilities.
Jan 01, 2021
We chose Leander/NW Austin because of its proximity to our son's home. It is clean and well-kept. The staff is friendly.
Dec 31, 2020
This is a beautifully kept campground with facilities for the whole family.
Dec 28, 2020
Our stay at the KOA was great! Very clean, huge dog park and the employees were great! Will definitely go back!
Dec 22, 2020
This is a clean campground but the location to US183 and hero's way rd it is loud and has many construction companies close by. Also no fire pits at the premium sites.
Dec 21, 2020
We stayed three nights from 12/17 thru 12/20. Not a lot to do in Leander in December but it was nice and cool which is always good in Texas!
Dec 21, 2020
Was a good place to spend a couple of days.
Dec 20, 2020
Great place to stay
Dec 14, 2020

Rate is to much for a Cabin specially when I can get a hotel for $40. $59 is way to much for this place.
CAMPGROUND RESPONSE / COMMENTS:
Sorry you felt prices were too high, but if you had choices, maybe you should have went to the $40 motel. Not sure where you can get a motel in our area or Austin for $40, but please let us know. Happy travels! KOA Holiday
Dec 14, 2020
We had a great time at this campground! Since we stayed in December the pool was not open but looked very nice. It was very clean and the staff were friendly and helpful. Our children enjoyed the playground area. If we visit our friends who live in the area again we live definitely be back!
CAMPGROUND RESPONSE / COMMENTS:
Glad you had a wonderful time, Come again when the pool opens. Thanks for a great review! KOA
Dec 09, 2020
KOA always quick to accommodate my request for rez and even willing to extend when I request. I appreciate their willingness to work with me. I like the propane on site and how clean the park is. Wish the music coming from the shop/pool area was not so loud.
CAMPGROUND RESPONSE / COMMENTS:
thanks for your input. It has been handled. Come again soon. Thanks, KOA
Dec 08, 2020
Great dog park!! Very friendly and helpful staff. Nice and clean. Great stay all around!!
Dec 01, 2020
Very clean sites, bit exposed and close to 183A
Nov 30, 2020
Staff was very helpful, but not annoying.
Nov 30, 2020
We love staying here. Everyone is so friendly and the campground is always clean.
Nov 30, 2020
I always like staying at this KOA due to the large paved pull throughs. Water pressure is wonderful. Just an expensive KOA.
Nov 30, 2020
Our site was fine except the chest high mostly dead scratchy shrubs lining one side. Needs replacing Single back in sites were jammed with vehicles. On positive side: very long drive thru site, wide roads, Great staff and egress ingress were very good
CAMPGROUND RESPONSE / COMMENTS:
Thanks for the input, the red tips were trying to come back, but we regretfully will be removing the shrubs soon. thanks again, KOA
Nov 30, 2020
Everything was wonderful. Such a beautiful campground with tons of amenities. We brought our motor home and also rented a cabin for the thanksgiving week. We will definitely be back
CAMPGROUND RESPONSE / COMMENTS:
Thank you for a great Review! Come anytime. KOA
Nov 28, 2020
Such a great experience! Very helpful friendly staff! Very pleasant campgrounds with many outside areas to gather, very cool dog run! So accommodating for dogs and kids and just a relaxed atmosphere. Very close to shopping if you wanted too, and easy highway access to the big cities but we felt far away enough from any noise and hustle. Loved it! Oh, and not the Covid hype, just common sense.
Nov 28, 2020
To begin with "Merry, Merry is quite contrary...billing errors with deposits and then with electric bills. Second, her sites are way overpriced. We had to pay $850.oo plus $100.00 electric deposit for a back-in site at the extremely busy roadway. We are retired so we endured up to 15 hours a day of fast traffic, sirens, and road crews until we almost lost our minds. We are Full-Time RV'ers.
CAMPGROUND RESPONSE / COMMENTS:
We are sorry that you were not a "Happy Camper". My apologies for our NEW workamper in training that checked you in and errors that were corrected. Guests should let the office staff know of any complaints prior to giving us a "0" on reviews. We wish you SAFE TRAVELS. KOA
Nov 25, 2020

Staff was very friendly and helpful. Would recommend to anyone looking for a clean, reasonably priced, relaxed and comfortable campground. Thank you for making our stay a great one!
Nov 23, 2020
Everything was good and all the staff were very helpful.
Nov 22, 2020
It was great! They put us in a wonderful and quiet location so that my wife could sleep well. The staff and management were always helpful and friendly. The facility is well kept and is very clean. We felt very safe and comfortable.
Nov 21, 2020
Stayed at Leander KOA for 3 days and loved it. Will definitely put it on our "go back" list. Very clean and well managed. Staff very friendly and willing to help in any way needed if possible. NICE PLACE !!!!!
Nov 18, 2020
Very good clean park and nice spot to put r RV. Neat clean and very well maintained. We will come again
Nov 17, 2020
Nice long site, a little close but enjoyable!
Nov 17, 2020
I use KOA when I am travelling quickly. So one night stays. I prefer pull through long enough so I can stay hooked up. When I arrived the site I was assigned was too short to stay hooked up. Mary found a site for me that was long enough. Joe sited me and it was perfect for my nights stay.
Nov 17, 2020

We have stayed there several times. My sister lives in town but we stay for the privacy. We really enjoyed ourselves as usual.
Nov 16, 2020
Very clean, very quiet. We enjoyed our stay and will come back again!
Nov 16, 2020
Great KOA, well maintained and great staff. I would definitely stay again.
Nov 16, 2020
Host were excellent and friendly
Nov 14, 2020
Stayed 4 nights, and the Leander/NW Austin TX KOA is one of the best we've ever stayed at. Everyone was very helpful and friendly. The campground and amenities (pool, hot tub, shower rooms) were immaculate. Convenient to Austin and the various mountain biking trails we came for. Nearby Cedar Park has Brushy Creek Lake Park, a wonderful place to hike, bike, run, and kayak. Highly recommended!
Nov 11, 2020
Cleanest RV park we have ever been to. Good location and would love to go back for an extended stay!