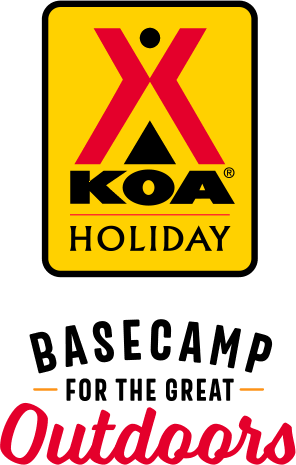 KOA Holiday Campgrounds
Whether you're exploring the local area or hanging out at the campground, KOA Holidays are an ideal place to relax and play. There's plenty to do, with amenities and services to make your stay memorable. Plus, you'll enjoy the outdoor experience with upgraded RV Sites with KOA Patio® and Deluxe Cabins with full baths for camping in comfort. Bring your family, bring your friends, or bring the whole group – there's plenty of ways to stay and explore.
KOA Holidays Feature:
RV Sites with a KOA Patio®
Deluxe Cabins with full baths
Premium Tent Sites
Group meeting facilities
Directions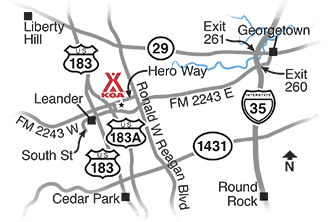 FROM AUSTIN:
Take I-35 North to Exit 260 (FM 2243, also Leander Rd)
Go 8+- miles West on FM 2243 toward Leander, Texas
Take a right on Ronald Reagan Pkwy -1/4 Mile North
Left on Hero Way (Previously County Rd 269)
KOA is 1 mile on the left (N 30 degrees 35.245' W. 097 degrees 50.013' lat:30.58855 long:97.83395)
FROM DALLAS/WACO:
Take I-35 South to Exit 261 W (Hwy 29).
Turn right on Hwy 29 W Go 8+- miles on Hwy 29
Turn left on Ronald Reagan Pkwy S
Go 3+- miles and turn Right on Hero Way ( Previously County Rd. 269)
KOA is located 1 mile on the left
FROM HWY 29 @ HWY 183 :
Heading South on Hwy.183 for 4 miles
Stay on the access frontage Rd of Alt 183-A toll road (do not get on Alt toll Rd)
Take a left on Hero Way (before FM 2243)
Go under Alt 183-A toll road
KOA is located on the right past CR 269
FROM: HWY 183 @ HERO WAY (HEB PLUS GROCERY STORE ON LEFT AT LIGHT)
Go east on Hero Way for @ 1 mile
Go under the Alt 183-A toll Rd- Park is on the right past CR 269!
GPS: N30.58855, W97.83395
Get Google Directions
Apr 05, 2021
The staff put on some fun activities for the kids to celebrate Easter.
Apr 05, 2021
A very tidy and well-kept KOA! We are traveling with our boys (5 and 7) and stopped for a two night stay just before Easter. The playground was in very nice shape. It was a nice surprise after so many campgrounds with broken or worn out equipment. They also had some wonderful activities for the kids (Egg Hunt, Decorating and a Piñata!). Just a very special experience and the staff was very warm!
Apr 03, 2021
Friendly staff. Very clean park. One awesome dog park. Would stay there again.
Apr 03, 2021
We spend a great amount of time at this resort. The staff from ownership to maintenance crew are all amazing. Herb treated every guest with a smile. Was a welcome part of every day! The facility all around is clean, one of the best KOA parks I have staid at. Great showers, laundry, play ground and pool space!! Lots of extras, dog park is huge. We will be back soon! Stop looking and book now!
Apr 03, 2021
Just an overnight. The check and setup was easy. Good people work there.
Apr 02, 2021
Everyone was very accommodating and friendly. The cabin was very nice as well as the pool and other recreational areas at the campground!
Apr 01, 2021
Deluxe Cabin was very clean, and was well equipped.
Mar 31, 2021
The staff are very accommodating and Christian people. Campground is well kept. Thank you Mr. Herb & Kathy
Mar 31, 2021
The office staff were exceptional. Welcomed us warmly, helped us to our spot and provided us with assistance in setting up ( new 5th wheelers). Nice facility and close to stores and parks
Mar 30, 2021
Great facilities.
Mar 25, 2021
Great stay, best dog park ever! Only suggestion would be to fill every other site first and then try to have overnight folks stay closer together away from longer stay folks. We were there a month. Staff was awesome.
Mar 25, 2021
The campgrounds are clean but extremely over priced. We have relation in the area but will find a different campgrounds to stay at .
Mar 25, 2021
Came in late and left early so didn't meet any workers but facilities was exceptionly nice and clean grounds were taken care of and it was quiet.
Mar 24, 2021
This is a beautiful KOA, and that staff were very friendly and helpful. We would definitely stay here again!!
Mar 23, 2021
Friendly staff, great camp sites, nice clean bathrooms, lovely pool, hot tub, nice place to eat outside under a shelter at the common shared area along with a great outdoors barbecue area for anyone camping
Mar 22, 2021
Herb and team... FANTASTIC. Thank you for your help. Wonderful place, clean and can't wait to come back!
Mar 19, 2021
Very friendly welcome to begin our stay and staff remained friendly and helpful throughout. Facility is very very clean. Love it here.
Mar 18, 2021
Delightful, VERY CLEAN, Tidy & Well-Kepted KOA. Love the Kind, friendly, helpful & personable welcome & treatment received from Herb in the office. Herb & his wife &the owner are great! Love the blacktopped nicely spaced pull thru pads, the family feel to the covered courtyard area, the noticeably nice colorful touches of the chairs in the women's bathroom, beautiful pool & the nice laundry room.
Mar 16, 2021
CLEAN QUIET AND GREAT STAFF
Mar 16, 2021
Very clean and well groomed park. We liked having the pull throughs all face the same direction. No sharing patios
Mar 16, 2021
Beautiful, clean park. Nice, friendly people. Excellent customer service. Would definitely stay there again.
Mar 16, 2021
Wonderful property and staff.
Mar 14, 2021
I stayed here because my landlord was trying to fix the leaks in the house due to the winter storm we had recently and I needed a place to take a shower
Mar 13, 2021
Everything was fine...no issues. The only issue I have is the nightly cost, not just at this campground but most KOAs, is too expensive to stay every night on an extended trip in a basic camper van.
Mar 13, 2021
Great place. Friendly and helpful staff. We saw staff maintaining the campground daily. They were on top of things.
Mar 12, 2021
Large green grass dog run area. Extremely helpful staff.
Mar 10, 2021
Bathrooms were very clean! As were the grounds. Liked the fact that they picked up your garbage at your campsite.
Mar 10, 2021
Friendly and helpful staff. Nice campground and facilities.
Mar 08, 2021
Very neat and well maintained grounds. Cleaning up the next door neighbor's lot really enhanced the appearance of the park.
Mar 01, 2021
Thanks KOA crew for taking such good care of us. We really enjoyed the weekend escape from all the weather related chaos back home. Using the "chimenea" to provide a welcomed camp fire in the patio at night was the highlight of our stay. Wishing you all continued great success!
Feb 25, 2021
The staff was very helpful and accommodating during the recent extreme cold weather in Texas. They were very diligent about checking on the guest and keeping the campground facilities open.
Feb 24, 2021
We stayed during the ice storm and snow storm we then extended our stay Herb and his wife were amazing they cared if we were warm if we needed anything to help us threw the storm. We are coming back again in May and have told our family about our stay again we had a very good stay even with the winter storm thank you Herb Dave an Kim From Minnesota
Feb 23, 2021
We were there during the Leander, Texas snow and freeze. Staff member Herb was very friendly and accommodating. He made sure we had access to fresh water from the main office. he talked to us daily. We were told about boiling drinking water and inquired if we were doing OK. Our 4 day stay grew to 10 days due to the weather. I asked about getting a weekly rate was told no. DISAPPOINTED
Feb 22, 2021
Very good. Helpful staff. Clean bathrooms. Handled the massive winter storm in 2021 nicely.
Feb 13, 2021
We had a wonderful experience from the time we called to schedule reservation until we left 13 days later. Kathy & Herb are wonderful camp Hosts. They escorted us to our pull through site which was so easy to access. They made sure all of our needs were met. The Dog park is larger & nicer than Any I have ever seen. It is huge and the dogs love it. The camp is immaculate and quiet.
Feb 11, 2021
The campsite is very well maintained, the staff is always so friendly and helpful. This was our 4th stay, :) Herb was great and even dug through the dumpster for us when we realized we threw away a bag of dirty laundry!
Feb 09, 2021
Check in was fast and office staff very friendly. Park is very neat and clean. Would definitely stay here again.