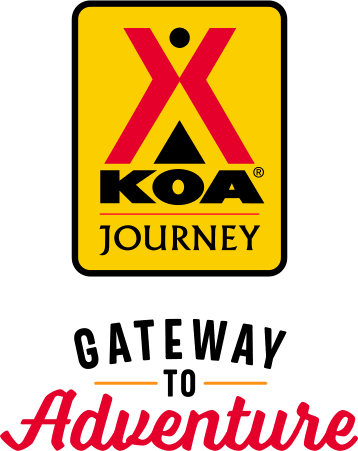 KOA Journey Campgrounds
KOA Journey campgrounds are the perfect oases after a day on the road. Whether it's along the way or a quick getaway, they've got you covered. Located near the highways and byways of North America with long Pull-thru RV Sites, they deliver convenience to the traveling camper. Pull in, ease back and take a load off.
KOA Journeys Feature:
Pull-through RV Sites with 50-amp service
Premium Tent Sites
Well lit after hours check-in service
Directions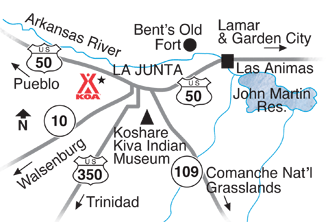 We are located on the western edge of La Junta on U.S. Highway 50, on the south side of the road, behind Viaero Wireless and next to Walmart.  GPS GENERALLY DOES NOT WORK WELL IN OUR AREA!
 
Eastbound on U.S. Highway 50 (coming from Pueblo):  We are exactly 2.4 miles east of the Conoco in the town of Swink.  Go one block east past the signalized intersection at Conley Road/Country Road 26.5 (Village Inn/Walmart/Wendy's) and turn right/south on Rogers Road at Viaero Wireless.
Northeast-bound on U.S. Highway 350 (coming from Trinidad) or Colorado Highway 10 (coming from Walsenburg):  We are exactly 1.9 miles west of the intersection of US 350 & US 50 and exactly 1.5 miles west of the intersection of CO 10 & US 50.  Turn left/west on to US 50 and go .3 miles past the Big R Farm & Ranch Supply Store on the left/south.  Turn left/south on Rogers Road just before Viaero Wireless.
Westbound on U.S. Highway 50 (coming from Lamar):  Continue west through La Junta.  We are exactly 1.1 miles west of McDonald's and .3 miles past the Big R Farm & Ranch Supply Store on the left/south.  Turn left/south on Rogers Road just before Viaero Wireless.
Get Google Directions
Jul 21, 2021
We had a great time here! Our site had a large shade tree that covered us most of the day. There is lots to do right in the campground and we tried the swimming pool, rec center, and mini golf. This best part was a 1-minute walk to the best barbeque restaurant in La Junta right next door! About 15 minutes from Historic Bent's Old Fort, a must-see!
Jul 20, 2021
Had a good stay. Nice clean friendly park.
Jul 20, 2021
Good stay. Only stayed one night.
Jul 20, 2021
The entrance to the campground is very tight. There is no place to park your rig to sign in without blocking the way for other rigs. Was also disappointed that the pool was closed for a private party over the weekend.
Jul 20, 2021
Great place to stay!
Jul 20, 2021
We were not happy with the stay. The pool was never available when we wanted to swim, the manager always had it rented out for a party! The little store didn't have much of anything in it and everything was very dusty. All of the trees in the RV park needed trimmed, our motor home was rubbing the limbs when we parked it!
Jul 19, 2021
Very nice camping site.
Jul 19, 2021
Friendly staff as always with KOA but the grounds were depressing. Broken down RVs in the back of the lot, too small of areas for your RV, store was basically empty and looked like it was about to go out of business. I would only stay for the night and that would be it.
Jul 19, 2021
Very nice park. Hailey was very helpful getting us to our spot. We had dinner delivered to our RV. That was nice to have after a long day of traveling.
Jul 19, 2021
No issues at all. We just stayed a night so we didn't get a chance to use many of the amenities but the campground was clean and well maintained.
Jul 18, 2021
Campground was clean but too many bugs, so take your bug spray during the summer. Didn't care for the campers too close to each other, not enough space between us. Our slide almost touched our neighbor.
Jul 18, 2021
The campground has a great playground, and a beautiful pool. Staff was very friendly with tips about local "must see" places. I felt very safe and will return again!
Jul 17, 2021
Very short one night.They was very friendly
Jul 16, 2021
Super easy to check in. The staff had our papers all ready for us and they were friendly! Park and site was clean and loved that there were dog poo station around the park.
Jul 16, 2021
All we could smell was manure.flies will carry you away.campground was in disrepair.dissapointed
Jul 16, 2021
Has everything you need, including cats, if you need to rent one. Pretty flowers in pots all around. Bathrooms needed better cleaning. Sweet to give out water and dog treats at check in.
Jul 13, 2021
Nice place. Only stayed one night but would return. Had a really nice soft at rest of park. Also walking distance to food and shopping.
Jul 13, 2021
Good for 1 night stay.
Jul 13, 2021
They need to do a much better job of trimming their trees. Our pull-through site was right past the entrance and a tree damaged the roof of our 5th wheel. I accept some responsibility but really don't think a person should have to even worry about this. It is ridiculous .This camp can be very tight for larger rvs.
Jul 12, 2021
They have never let us down. We have been staying at this KOA for years.
Jul 12, 2021
Facilities appeared they were there strictly to make money. Bathrooms were unkept. The sites were awning to awning. The store was a dusty dump. The manager/owner was not compassionate to an RV driver that had a minor accident pulling into a site because the sites are so close.
Jul 11, 2021
Overall a nice enough place to stay. You need to be aware of a few things if staying here. Site spaces are very tight. Also, either they need bigger or more dumpsters, even when park not full, trash was overflowing and not on a holiday weekend.
Jul 11, 2021
We were only there for one night and it was 106 degrees! Staff were very friendly and helpful, campground well maintained. Great WiFi. No complaints!
Jul 09, 2021
Nice pool, very pleasant staff!
Jul 08, 2021
The entry to the camp is inadequate to accommodate the line of rigs off Co. highway 50 at the entrance for checkin. It's the geographic layout. Maybe people are instructed to use the service road before they arrive. Brad is a good guy, it's not his fault.
Jul 08, 2021
Convenient location off Highway 50. Staff was courteous. Facilities were clean. Our site was not fully graveled so electric cord, water house and sewer connection was covered in dirt and mud. I think the price of $50+ was high, but there's few options in the area.
Jul 07, 2021
Friendly hosts, Good location, Clean campground. Level sites, Small cozy campground. Did notice grass could have been cut.
Jul 07, 2021
Clean campground, friendly staff, convenient hook ups, well-kept pool. Surprisingly quiet for proximity the highway highly recommend. Extremely affordable.
Jul 06, 2021
Good visit. Friendly staff and clean bathrooms
Jul 06, 2021
Site small and tight, dump at site unreachable, center dump being used by opposing camper
Jul 05, 2021
The campground was very clean & in a handy location. Brad and his staff couldn't have nicer or more helpful. We ended up needing some extra help, & they were great.
Jul 18, 2021
Comfortable and clean. Friendly staff.
- Julie Kostka on Google
Jul 17, 2021
We usually don't stay at KOA's while traveling in our travel trailer due to the cost and how they pack you in like sardines. However, this KOA was awesome! The spaces between you and your neighbor were decent. There is also have a nice place to walk your dog right outside of the KOA boundary. We didn't even use the dog park that they have. Only problem we had was check in. They assigned us a spot and I drove to it. Someone was already in the spot. After driving almost 300 miles, I was tired and had to walk back to the office and advise them of the their mistake. They quickly remedied it and everything worked out. Definitely would stay here again if we were passing through.
- X2307CGgaryp on Trip Advisor
Jul 17, 2021
Loved our stay there very nice.
- Brenda Barber on Google