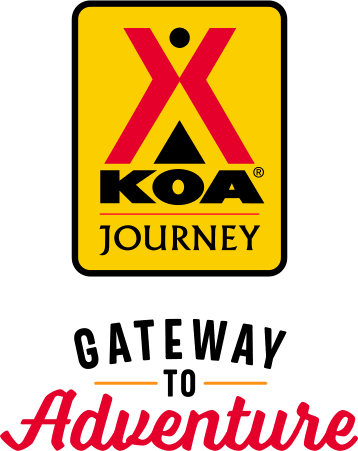 KOA Journey Campgrounds
KOA Journey campgrounds are the perfect oases after a day on the road. Whether it's along the way or a quick getaway, they've got you covered. Located near the highways and byways of North America with long Pull-thru RV Sites, they deliver convenience to the traveling camper. Pull in, ease back and take a load off.
KOA Journeys Feature:
Pull-through RV Sites with 50-amp service
Premium Tent Sites
Well lit after hours check-in service
Directions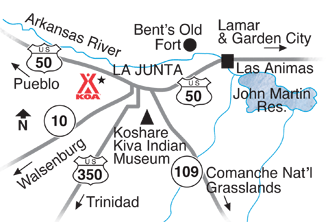 We are located on the western edge of La Junta on U.S. Highway 50, on the south side of the road, behind Viaero Wireless and next to Walmart.
 
Eastbound on U.S. Highway 50 (coming from Pueblo):  We are exactly 2.4 miles east of the Conoco in the town of Swink.  Go one block east past the signalized intersection at Conley Road/Country Road 26.5 (Village Inn/Walmart/Wendy's) and turn right/south on Rogers Road at Viaero Wireless.
Northeast-bound on U.S. Highway 350 (coming from Trinidad) or Colorado Highway 10 (coming from Walsenburg):  We are exactly 1.9 miles west of the intersection of US 350 & US 50 and exactly 1.5 miles west of the intersection of CO 10 & US 50.  Turn left/west on to US 50 and go .3 miles past the Big R Farm & Ranch Supply Store on the left/south.  Turn left/south on Rogers Road just before Viaero Wireless.
Westbound on U.S. Highway 50 (coming from Lamar):  Continue west through La Junta.  We are exactly 1.1 miles west of McDonald's and .3 miles past the Big R Farm & Ranch Supply Store on the left/south.  Turn left/south on Rogers Road just before Viaero Wireless.
Get Google Directions
May 10, 2021
It's obvious you are really moving forward to make many improvements, repairs, and upgrade. Good for you for taking a through look at the details. Wee always like staying at La Junta KOA.
May 09, 2021
Campground is located very close to Walmart, which is very helpful for restocking. Park is well maintained. Workers were out the entire day raking and cleaning around the sites. Sites were very level and mostly gravel.
May 08, 2021
Pleasant, well maintained site, and friendly folks. The only downside (and I assume this is temporary) was the construction taking place at the time of our stay.
May 07, 2021
The staff are very informative and friendly. Sites are level and clean
May 06, 2021
Renovation continue; recent rains left the campground a sea of mud!
May 06, 2021
Entrance road under construction. Directions to CG from staff were wrong. Most of front sites were under construction and not available. Too expensive for what you get. Garbage truck at 5:30am. Train horn at 6am.
May 03, 2021
We stayed one night, and it was a good experience.  Office staff was competent and friendly.  The restrooms and showers were exceptionally clean, very well done. Play ground and Mini golf for the kids. They were doing some construction and upgrading all the sites while we were there. We got an upgraded site and it was all great.
Apr 28, 2021
An older KOA but clean quiet and nice employees.
Apr 27, 2021
Staff were great! Kind and helpful. Sites a bit close together. Amenities were fine. Vibe was very friendly and family oriented.
Apr 24, 2021
Great stay, staff friendly and helpful. Shopping close by. I pull a 42ft fifth wheel. The lot was plenty long for my unit and truck.
Apr 24, 2021
Sites were too tight and there were more appropriate sites that were available.
Apr 21, 2021
I loved it. Clean, great location , friendly staff. Well stocked convenience store. Restrooms very clean
Apr 16, 2021
Convenient to stock supplies if you're looking for a place to stay that is walking distance to Walmart. Not very scenic All gravel. No cable. Showers need updating. We arrived mid afternoon to a locked office with note on door saying they were out at campsites. Waited 15 minutes and when no one returned, we drove to Walmart parking lot for 45 minutes. Still locked but this time employee saw us
Apr 14, 2021
Just passing through, convenient and great place for our dogs. Management was awesome! Thank you for being there!!!
Apr 13, 2021
Site is very convenient to local attractions and is an excellent stop over spot if traveling highway 50 in Colorado. Enjoyed our stay.
Apr 12, 2021
Very hospitable staff. Nice dog park. Park was a little rough looking, but we realize it's early in the year.
Apr 12, 2021
The staff was wonderful! Aside from that, it was ABSOLUTELY DISGUSTING to have the sewer hookup for the site next to us about 6 INCHES FROM OUR PICNIC TABLE/CEMENT SLAB. We did not like having to hear/see our neighbors waste on top of us. The elec & water were also right in the middle of our so-called walking area outside our rig. Been going to KOA for decades & never experienced this before.
Apr 11, 2021
We reserved 7 nights and when we needed to stay one more night we were easily accommodated and were pleased to be able to get our propane tanks filled also. We were busy helping a family member in town with a dire situation at her house and it was so nice to come back to the campground for good rest, quiet, and be rested for the next day of work.
Apr 10, 2021
Lovely park in a great location fora trip between kansas and the western slope. We'll be back!
Apr 07, 2021
Laundry was not working properly and people had left clothes in machines for long time. Dogs running loose. Bathroom very dated and dirty. Lady at checking not very helpful was told to go to car wash for change for laundry. Sites not very level.
Apr 05, 2021
had some issues with the wifi but were fairly minor. nice park. would stay again
Apr 04, 2021
Excellent team members and great campground! Their WiFi is better than any campground we've visited - absolutely outstanding!!
Mar 27, 2021
The guy that runs this KOA is a creep. Wouldn't stop looking at my 4 year old daughter and trying to talk to her. He kept our card on file when we asked him not to. He then make an unauthorized transaction for 250$ for something that wasn't in the contract/rules. When confronted about the unauthorized transaction he kicked us out and still would not refund our money! Do not stay at this KOA!
Mar 26, 2021
Stayed in deluxe cabin for 2nd time this year. Also have reservation for September. Cabin has basically everything we need , waiting for summertime so can cook on outside grill
Mar 24, 2021
Just an overnight stay. Have made some improvements. Nice and clean.
Mar 22, 2021
very accommodating. had a flat tire on my pull behind when getting ready to leave- they noticed it and brought out a compressor without asking and helped me out. ill stay here anytime. clean tidy and well kept!!
Mar 21, 2021
My stay was very pleasant and the campgrounds were clean and well taken care of. Am looking forward to my next stay in the summer and hope to use the pool and miniature golf areas. The dog park is nice but does have quite a few places where small dogs can escape.
Mar 21, 2021
We went to La Junta as we worked our way south and stayed the night at the local KOA. Very clean and the staff was very helpful. Would highly recomend!
Mar 15, 2021
Awful �� property owner was spying on me and my boyfriend.
Mar 12, 2021
Couple of things, I had to go inside to give a copy of my driver's license on a late check in, which I have never had to do before. I was terrified that my car would be broken into after seeing all the rules, and talking to the front desk attendant. (even dreamt there was a break in to my car...) You could see hair in the sinks of the women's restroom drains. It was gross. Bathroom needs some TL
Mar 09, 2021
We stayed in the patio site. It was very spacious, and our dog loved the small yard area. We enjoyed the grill and the fire pit. We will definitely be back.
Mar 07, 2021
The host was very warm, welcoming, and professional. Our campsite was great. We especially enjoyed the paved patio with nice furniture, fire pit, and grill.
Feb 13, 2021
Stayed in deluxe cabin, had all the amenties we wanted .
Feb 03, 2021
I would give it 4 stars for a KOA. They need new gravel all over. Lanes and camp pads. 4" MINIMUM. Nice people, 4th time we've stayed. Don't skimp, get gravel!!
Jan 28, 2021
We paid for a month thinking we were going to be stuck there for a while. Turns out we were able to leave after a week and 4 days. We understood the return policy but they were still completely unwilling to work with us at all. It would have been easy for them to convert the payment to a week and 4 days or even waive the electricity to help a customer, but they refused to help a customer out.
Dec 28, 2020
We stayed in the deluxe cabin and loved the quaintness of it. It stayed very warm and had all the amenities we need.
Dec 27, 2020

Everything was great! I appreciate the hospitality of the crew at KOA! Thank goodness for the HUGE STOVE! Best Christmas yet! �