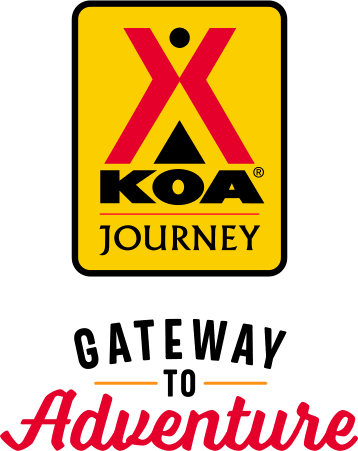 KOA Journey Campgrounds
KOA Journey campgrounds are the perfect oases after a day on the road. Whether it's along the way or a quick getaway, they've got you covered. Located near the highways and byways of North America with long Pull-thru RV Sites, they deliver convenience to the traveling camper. Pull in, ease back and take a load off.
KOA Journeys Feature:
Pull-through RV Sites with 50-amp service
Premium Tent Sites
Well lit after hours check-in service
Directions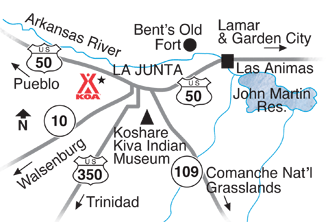 We are located on the western edge of La Junta on U.S. Highway 50, on the south side of the road, behind Viaero Wireless and next to Walmart.  GPS GENERALLY DOES NOT WORK WELL IN OUR AREA!
 
Eastbound on U.S. Highway 50 (coming from Pueblo):  We are exactly 2.4 miles east of the Conoco in the town of Swink.  Go one block east past the signalized intersection at Conley Road/Country Road 26.5 (Village Inn/Walmart/Wendy's) and turn right/south on Rogers Road at Viaero Wireless.
Northeast-bound on U.S. Highway 350 (coming from Trinidad) or Colorado Highway 10 (coming from Walsenburg):  We are exactly 1.9 miles west of the intersection of US 350 & US 50 and exactly 1.5 miles west of the intersection of CO 10 & US 50.  Turn left/west on to US 50 and go .3 miles past the Big R Farm & Ranch Supply Store on the left/south.  Turn left/south on Rogers Road just before Viaero Wireless.
Westbound on U.S. Highway 50 (coming from Lamar):  Continue west through La Junta.  We are exactly 1.1 miles west of McDonald's and .3 miles past the Big R Farm & Ranch Supply Store on the left/south.  Turn left/south on Rogers Road just before Viaero Wireless.
Get Google Directions
Sep 25, 2021
Great location. Close to Walmart. Very friendly, helpful owners. We had a large enough spot for our 44 ft 5th wheel and our 2 vehicles and could open all awnings without touching the neighbors. Nice pool, a bit cool. The park is older, lot of permanent residents. Our spot was over run by stickers/weeds, unfortunately. Some spots very close to each other. Yes I would come back.
Sep 24, 2021
An over night stay. Easy in easy out. Site a bit short but adequate. Pool snd playground looked great though we did not use it. A short walk to WM. Would stay again.
Sep 23, 2021
Good little overnight right on Highway 50.
Sep 22, 2021
The La Junta KOA campground was the first KOA we have ever stayed at. We were very impressed with the nice pull through site and amenities. We will be staying at more KOAs in our future RV travel.
Sep 22, 2021
Site #40 has a sewer connection with no threads to firmly connect to our black hose for emptying our grey and black tanks. Otherwise, our stay was just fine.
Sep 22, 2021
A wonderful oasis along US 50. Brad and his crew have done a remarkable job in setting up and maintains the property. There is nothing they won't do to make your stay better. (It's a long story but we visited 3 times in 3 months - and we're based in MD!!). Thanks fo being such a great host.
Sep 21, 2021
Our RV site was a mud hole! This could have been maintained (filled-in).
Sep 21, 2021
Great place great staff.
Sep 21, 2021
fairly nice place...but the grounds have a lot of stickers and such. Trash needs to be cleaned up better.
Sep 20, 2021
Great customer service. Nice facility.
Sep 20, 2021
Friendly helpful staff and well stocked store. The only negative was unable to get TV on antenna.
Sep 19, 2021
Too tight parking in the 15 area, and looks nothing like your add!!!!
Sep 18, 2021
The park is way too tight. I'm extremely upset that I didn't receive a partial refund when I was paid up for the entire month and had to leave after 10 days. I have a baby on the way and had to head back to Arizona for another job, this is absolutely unacceptable.
Sep 17, 2021
We stayed in La Junta KOA two nights. We were greeted warmly by the owner. The new swimming pool was a great place to relax. The campground is located near Wal-Mart which made it easy to resupply. Get nice place.
Sep 15, 2021
Gave us a shade spot but someone else was in it because someone else was in his spot. Ended up giving us a different shade spot, so ended well. Girl that helped was super friendly and on it.
Sep 15, 2021
everything OK, get delivery from the BBQ place
Sep 14, 2021
Brad was very accommodating, friendly and super nice! Enjoyed the bottles of water as well!
Sep 14, 2021
Very friendly
Sep 13, 2021
This was my second stay at your cabins during my trip in Sept. The A/C worked better in the Blue cabin than the Orange cabin. The shower drain in the Blue cabin seemed to drain slowly and a shower mat to walk on after taking a shower would be helpful to not get water all over the floor. The $15 cleaning fee for dogs is not listed on the KOA website...the $100 refundable cleaning deposit was.
Sep 13, 2021
Staff was extremely friendly, bathroom and facility were very clean and well kept.
Sep 13, 2021
Was short overnight. Campground is well maintained and sites not too close. Great internet reception. Dinosaur theme and very kid friendly
Sep 11, 2021
This camp ground is clean, the pool was great, the staff friendly and considerate. Work definitely stay again!
Sep 11, 2021
Perfect location. Easy. Clean. Quiet. And a neat BBQ joint to walk to.
Sep 11, 2021
Staff very polite and helpful. Site clean, convenient and attractive. We stay twice a year when traveling to see family. Highly recommend this park.
Sep 10, 2021
Nice pool, friendly staff.
Sep 10, 2021
We always enjoy our stay with you guys. Thank you
Sep 09, 2021
We were their for 3 months during that time we had no issues. Bathrooms, laundry room always clean. Staff always friendly and willing to help you. Will be back. Pool was also clean.
Sep 08, 2021
Good Location. Friendly people. Grounds need some updating and its a little tight for a larger TT.
Sep 07, 2021
Had a great time, the kids loved the pool and the tent sites were awesome!
Sep 07, 2021
Super friendly and helpful staff. Tent camp site was well kept and comfortable. Bathrooms were super clean! Overall stay was great, just not a lot to do in La Junta, but great for a quick camp getaway.
Sep 07, 2021
Wonderful experience, great staff, clean cozy cabin with full bath, and great BBQ next door!
Sep 06, 2021
Was charged 10 fee for arriving at 1:00 instead of 2:00 even though no one was in cabin night before. Air condition went out first day but was repaired very quickly by staff. Trash pickup was terrible stacked on dumpster and falling out. Everythig else was fine, have stayed 3 times in the last year, and will be back.
Sep 06, 2021
We had a great stay here and will be back when we visit from Oregon.. staff was great also and very friendly.. Thank you Rich and Lisa Miller
Sep 06, 2021
It was ok until it rained and very thing turned to mud.The sewer connection was underwater in a very large puddle, There was very little gavel at the site so getting thing disconnected and put away was a mess. I went to the dump station and it was in poor condition. The water line was connected to a spring loaded pipe about ten feet in the air and spayed the site continuously. Bad Location
Sep 04, 2021
We called at the last minute and Brad was so accommodating! He made sure we were in a site that fit our needs. We have stayed at this KOA several times and it continues to improve each time. The park is clean and feels safe. The pool is clean and refreshing. This year, there were lovely flowers everywhere! Brad is a really nice guy and part of the reason we continue to come here. :-)
Sep 02, 2021
It was great
Aug 31, 2021
Staff very helpful, was able to refund me my member discount that did not automatically apply when reserving online. Bottled waters and dog biscuits are a nice touch on arrival. pads and drives could use more gravel, some what dusty.
Aug 30, 2021
Great park we have stayed here twice for a lay over. nice pool, play ground etc
Aug 30, 2021
Always courteous and helpful. Continuously improving facilities.
Aug 29, 2021
Like the growing trees and layout. Some areas closed due to renovations. Dog park gate needs maintenance. Would have like to been able to stay another night to enjoy the amenities. Laundary room was locked even though the sign said it was open 24 hours. Loved the signs in the rest rooms.
Sep 27, 2021
This place was great. We needed somewhere to stay on our drive back to Dfw from Breckenridge and we didn't have high hopes for this place but we're blown away when we got here. It was clean, quiet & had great amenities.
- Laine Murray on Google
Sep 17, 2021
Amazing campground, easy to navigate. Don't like how they rent out the pool. Nice place for a quick vacation.
- Tyreese Riedmuller on Google
Sep 13, 2021
The most friendly and helpful employees! Also love the on-site laundromat!
- Steven Martinez on Google