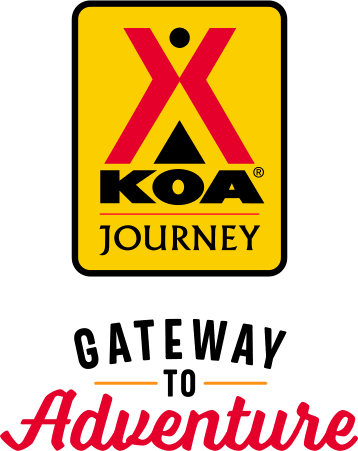 KOA Journey Campgrounds
KOA Journey campgrounds are the perfect oases after a day on the road. Whether it's along the way or a quick getaway, they've got you covered. Located near the highways and byways of North America with long Pull-thru RV Sites, they deliver convenience to the traveling camper. Pull in, ease back and take a load off.
KOA Journeys Feature:
Pull-through RV Sites with 50-amp service
Premium Tent Sites
Well lit after hours check-in service
Directions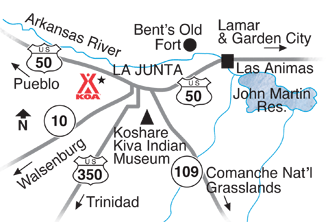 We are located on the western edge of La Junta on U.S. Highway 50, on the south side of the road, behind Viaero Wireless and next to Walmart.
 
Eastbound on U.S. Highway 50 (coming from Pueblo):  We are exactly 2.4 miles east of the Conoco in the town of Swink.  Go one block east past the signalized intersection at Conley Road/Country Road 26.5 (Village Inn/Walmart/Wendy's) and turn right/south on Rogers Road at Viaero Wireless.
Northeast-bound on U.S. Highway 350 (coming from Trinidad) or Colorado Highway 10 (coming from Walsenburg):  We are exactly 1.9 miles west of the intersection of US 350 & US 50 and exactly 1.5 miles west of the intersection of CO 10 & US 50.  Turn left/west on to US 50 and go .3 miles past the Big R Farm & Ranch Supply Store on the left/south.  Turn left/south on Rogers Road just before Viaero Wireless.
Westbound on U.S. Highway 50 (coming from Lamar):  Continue west through La Junta.  We are exactly 1.1 miles west of McDonald's and .3 miles past the Big R Farm & Ranch Supply Store on the left/south.  Turn left/south on Rogers Road just before Viaero Wireless.
Get Google Directions
Feb 13, 2021
Stayed in deluxe cabin, had all the amenties we wanted .
Feb 03, 2021
I would give it 4 stars for a KOA. They need new gravel all over. Lanes and camp pads. 4" MINIMUM. Nice people, 4th time we've stayed. Don't skimp, get gravel!!
Jan 28, 2021
We paid for a month thinking we were going to be stuck there for a while. Turns out we were able to leave after a week and 4 days. We understood the return policy but they were still completely unwilling to work with us at all. It would have been easy for them to convert the payment to a week and 4 days or even waive the electricity to help a customer, but they refused to help a customer out.
Dec 28, 2020
We stayed in the deluxe cabin and loved the quaintness of it. It stayed very warm and had all the amenities we need.
Dec 27, 2020

Everything was great! I appreciate the hospitality of the crew at KOA! Thank goodness for the HUGE STOVE! Best Christmas yet! �
Dec 23, 2020
Everything about our stay was wonderful. Clean facilities, friendly, helpful staff. Brad is phenomenal! The only thing that keeps this review at 4 instead of 5 is that it takes several days to get the cleaning/damage deposit back. Our payments to them we're processed immediately, but will told it would take a couple of days to get the refund. I personally think $100 deposit is uncalled for anyway.
Dec 05, 2020
Super nice guy and excellent campground. You even get doggie treats when you check in!
Nov 30, 2020
Great KOA, clean bathrooms, easy pull throughs.
Nov 30, 2020
Slept great. Check in was a breeze. Bathrooms were clean. So glad someone answered the phone.Thanks for being open in the winter!
Nov 29, 2020
Stayed for five nights . Had one issue with there water freezing . They got right on it.
Nov 28, 2020
The owner was delightful and I loved our little deluxe cabin. The location is quite near retail if you have resupply needs, and there are many amenities onsite including a very nice playground and a fenced dog area. Already considering this location for our next adventures in the area.
Nov 26, 2020
We stopped in La Junta on our way to the 4 corners area. We needed time to let Escapees catch up with our mail. Kathy taught me about our antenna. Brad was patient with our changes. The campground was clean and peaceful. Because of Covid we did not utilize any of the facilities. We would stay here again.
Nov 25, 2020
Communication prior to the trip was superb and they allowed us to have contactless check in, which felt much safer than going inside. We stayed in a deluxe cabin (duplex) which was very nice and comfortable with kitchen essentials available. We rarely watch TV when on trips, but it had a Roku TV, so we were easily able to watch some of our streaming shows. I would recommend and will return.
Nov 08, 2020
Lovely room & comfy bed... A great place to visit!
Nov 08, 2020
We were delighted to find a campground with an open bath house, that was sparkling clean. The campground was clean and the staff was happy to accommodate our request for a different site. We will stay again!
Nov 06, 2020
Very loud trains and highway noise. Large boulders between each site that make the angled entry more difficult.
Nov 03, 2020
The staff is very friendly and the grounds were well kept. There was a nice pool area, however closed for the season. The dog area is clean and very nice. The bathrooms were warm and well kept during the cold season which is appreciated. My biggest complaint was the noise, it was terrible. The campground borders a strip mall, train track and major highway. It was difficult to get sleep honestly.
Nov 02, 2020
We had a great time with no issues. The washer and dryers in the laundry room were nearly antiques :-) but they worked well and were cheap and the room was clean. The staff was friendly. The mini put put golf course tucked behind the play ground in the trees was a fun little gem. Walmart is next door and within a 5 minute walk. We have stayed here before and would do so again.
Nov 01, 2020
Nice park with a lot of amenities especially for children. WiFi was slow and weak at times. Reception wasn't constant.
Oct 31, 2020
Staff were very helpful and practicing safe Covid measures. As previously mentioned, there large rocks at each end of the sites made maneuvering a bit tricky, but doable. We did not use any of the facilities but they appeared to be in reasonable shape. We stayed in the back which helped a little with the highway noise.
Oct 30, 2020
Great staff who are very helpful.
Oct 24, 2020
It was a good and convenient place to stay. The space was too close to the folks next door as they were noisy, especially with only about foot & half between the 2 slides.
Oct 23, 2020
Nice clean ,
Oct 21, 2020
We were only there for a quick overnight& arrived after hours. Our info was waiting at the office; it was very easy to find our spot with the directions on the map. Thank you.
Oct 20, 2020
Only stayed 1 night. Park is clean, well taken care of. Quiet and pet friendly! We would stay again
Oct 19, 2020
We arrived pretty late in the evening - the lady at the office was super friendly and very nice. Big smile on her face put a big smile on ours after a long day of travel. The campsite was very clean. Very well maintained and although we stayed only the one short night - I would stay there again anytime and highly recommend it to other travelers.
Oct 19, 2020
friendly staff, liked the small cabin, clean restrooms, smooth check in and check out
Oct 19, 2020
Great Hosts, Very Helpful and willing to do so.
Oct 17, 2020
Over night journey, easy access.
Oct 14, 2020
Clean and efficient operation.
Oct 13, 2020
We totally enjoyed our stay. The accommodations in the side by side "trailer" with bathrooms and kitchen amenities were comfortable, clean and efficient. The employees were friendly and helpful. We truly loved the things to do in and around La Junta. Hiking in Vogel and Picketwire Canyons, and being at Bents Fort and the Koshare Museum were most enjoyable and interesting.
Oct 13, 2020
nice park-sites are clean and roomy. staff is very accomodating and you can't beat the pizza delivery to your door
Oct 13, 2020
Excellent, very friendly host went out if her way to welcome us although we arrived after hours! Amenities were good, water electric and sewer all had no issues. Definitely would stay again.
Oct 12, 2020
Are stay at the La Junta KOA was fine. The one thing I did not like about this RV park was the huge rocks on all corners of each site. These rocks make parking very difficult and present more danger to the camper's equipment than they offer protection to the parks sites and utilities.
Oct 12, 2020
Average RV park located right off highway 50. The office staff did not wear a mask when greeting us and handing us our paperwork. Masks are required by the state of CO when you enter indoor spaces. The restrooms and laundry do not have a security code so anyone could use the facilities.
Oct 10, 2020
Convenient to highway. Staff very nice and helpful.
Oct 09, 2020
People were helpful and pleasant to work with
Oct 07, 2020
The campground was clean. The staff was very pleasant and generous with local information. We had a delux tent site with a sink which was wonderful for use during a pandemic! The only negative for this campground is the railroad tracks across the street. I know the hosts can't do anything about it but trains rattle by throughout the night making it difficult to sleep. Bring ear plugs!
Oct 06, 2020
Very nice accommodations. Staff was great