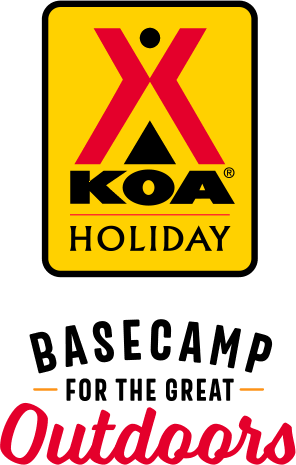 KOA Holiday Campgrounds
Whether you're exploring the local area or hanging out at the campground, KOA Holidays are an ideal place to relax and play. There's plenty to do, with amenities and services to make your stay memorable. Plus, you'll enjoy the outdoor experience with upgraded RV Sites with KOA Patio® and Deluxe Cabins with full baths for camping in comfort. Bring your family, bring your friends, or bring the whole group – there's plenty of ways to stay and explore.
KOA Holidays Feature:
RV Sites with a KOA Patio®
Deluxe Cabins with full baths
Premium Tent Sites
Group meeting facilities
Directions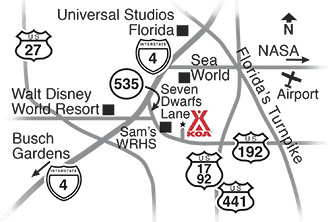 Follow I-4: Take State Route 535 S (Exit 68) for about 3.5 miles, turn left on US 192 E for 1 mile, turn left onto Seven Dwarfs Lane and then turn right into the KOA (next to Sam's Club between mile marker 12 and 13).
GPS: N28.324562, W81.469029
Get Google Directions
Nov 16, 2020
Excellent campground - spacious sites, clean, great landscaping and the staff is constantly going around taking care of things.
Oct 29, 2020
We always love staying at this campground when we visit Orlando. It is clean, the people are great and our requestes are satisfied. We have always rented a cabin until we bought a rooftop tent this year. We had one request that our car would fit into a spot for our tent and it did! Thanks for a great stay!
Mar 26, 2020
Rated a 3 due to office closes at 5:00pm. Most campers are out during the day enjoying local attractions and don't even get back till later & may need supplies. Our tent site was literally next to the bathrooms and showers, and we had other campers walking through our site often. Very convenient location to local attractions and surprisingly a quiet campground with little traffic noise.
Mar 01, 2020
It was great! We tent camped awesome it was right by the bathrooms and showers staff was very helpful and kind. Had a overall amazing time would recommend to stay here.
Feb 25, 2020
Staff were amazing!!
Feb 23, 2020
Definitely the nicest KOA I've stayed so far.
Feb 12, 2020
Great time there friendly both staff and guests would definitely stay again if i visit Orlando
Jan 19, 2020
3 nights on a tent site. Other campers were polite and friendly. Quite a few pets which isn't a problem except for the little/small yippie barking dogs.
Jan 18, 2020
Cozy, friendly staff... we enjoyed our stay.
Jan 09, 2020
Loved it! This is my favorite KOA!
Jan 05, 2020
This was our 5th stay tent camping at this campground. The amenities are great, bathrooms clean, and the staff is amazing! We are always greeted like family. This is our favorite place to camp. Thank you for always being so welcoming!
Dec 03, 2019
Amazing! I will never stay in a hotel again. KOA is the only way! Grounds impeccable. Staff was like a member of the family. The housekeeping folks they do not get enough credit. The kindest, most loving people ever! They even came to fill up my tire with air. An event every night. Bathrooms were super clean! Water, electricity, faucet to wash dishes, bbq pit, table, 2 ppl rocking chair.
Dec 02, 2019
We had a wonderful time staying over the Thanksgiving break. The staff was wonderful especially for a busy campground. The tent site we stayed at was very convenient with water and electricity station and next to pool, store, and restrooms. My 7 year old daughter loved Karaoke night and cant wait to go back as the whole family does too
Dec 01, 2019
Tent camping area is conveniently located in front of shower house/bathroom, KOA office/store and across street from pool/hot tub (open 24/7). However with that comes a lot of activity and noise at all hours. Although I appreciated being near all of the facilities and amenities, having experienced all of the activity and noise, I would rather be able to tent camp further away from all of that.
Nov 25, 2019
The only complaint I have is that on site detailing should not be allowed on the pad. There should be a designated spot within the park to perform the hour long noisy power washer generator. It was early afternoon and not quiet time, but I felt it was rude to make such noise while I was trying to nap. Maybe I belong more in a state or federal camping environment.
Nov 03, 2019
Super sweet service at reception desk...wonderful and courteous staff on golf carts, fantastic people in RVs & tents. Will definitely return. Very clean KOA.
Oct 15, 2019
Stayed at a deluxe tent site (Water,firepit,and electric.) It was great staff was super accommodating.The pool and spa were well maintained. Only down side if any is the tent pad was made with pea gravel instead of something little more forgiving.
Oct 07, 2019
Very nice, safe, and quiet camping experience. We tent camped and everything we needed was right there. Each site had a picnic table, fire pit, bench and camp chairs as well as a lamp you could turn on and off with running water and electricity. Right next to the bathrooms and pool. Overall a fantastic experience and will definitely be staying again soon!
Nov 25, 2020
By far one of the best RV parks visited and will never look for a different one if I'm coming to Orlando
- christian cartagena on Google
Nov 17, 2020
Excellent facilities and friendly staff. Highly recommended.
- Ronell Rivera on Google
Nov 02, 2020
Nice location very close to the parks with good near-by restaurants. Clean and spacious sites. Staff was super friendly. Good small store. I did not use the pool so I can't really comment about it. Quiet campground. I will definitely come back.
- Cszepak on Trip Advisor