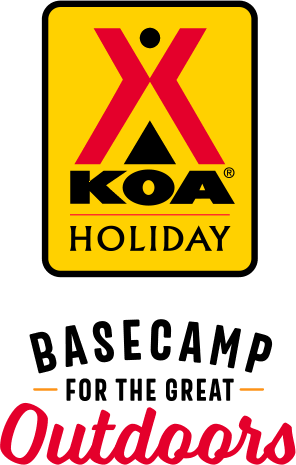 KOA Holiday Campgrounds
Whether you're exploring the local area or hanging out at the campground, KOA Holidays are an ideal place to relax and play. There's plenty to do, with amenities and services to make your stay memorable. Plus, you'll enjoy the outdoor experience with upgraded RV Sites with KOA Patio® and Deluxe Cabins with full baths for camping in comfort. Bring your family, bring your friends, or bring the whole group – there's plenty of ways to stay and explore.
KOA Holidays Feature:
RV Sites with a KOA Patio®
Deluxe Cabins with full baths
Premium Tent Sites
Group meeting facilities
Directions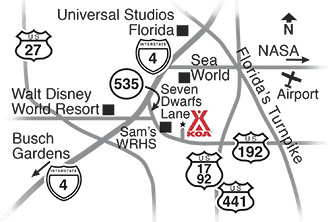 Follow I-4: Take State Route 535 S (Exit 68) for about 3.5 miles, turn left on US 192 E for 1 mile, turn left onto Seven Dwarfs Lane and then turn right into the KOA (next to Sam's Club between mile marker 12 and 13).
GPS: N28.324562, W81.469029
Get Google Directions
Dec 01, 2020
Everyone was so nice, and the cabin was clean!
Nov 30, 2020
I reeally enjoyed my stay and I am planning to return
Nov 30, 2020
The staff is extremely friendly...ALL OF THEM...from various calls before arrival, to arrival and during the stay we were always looked after and taken care of. Will certainly go back....BUT PLEASEEEEEEE FIX THE WIFI, that's the only thing that's terrible!
Nov 30, 2020
The only spot available for my week long stay was a standard spot. Grass, gravel, concrete slab with a picnic table on it. Our travel trailer is 37' long from hitch to rear bumper, would not fit on the gravel part of the site. It had been raining before we arrived, grass part was soft and muddy. Spot was hard to back into. Staff was great, premium pull through spots excellent, very clean, mainta
Nov 30, 2020
Very nice clean facility.
Nov 30, 2020
El campground estaba bien pero no había ninguna seguridad y personas de afuera estaban entrando en la noche haciendo sentir inseguro para la familia y nuestras propiedades
Nov 30, 2020
Uno de los mejores parques aquí Kia en Kissimmee Florida..volveremos pronto..
Nov 30, 2020
It was a nice stay, but needs to have security guard at night or to be a gated community. Because at night it wasn't safe for kids or to leave anything out like bikes there were people walking in that were not staying in the resort. A lot of loud noise and a lot of homeless people just walking in.
Nov 29, 2020
Stayed in a pull thru patio site for 3 wks. Great facility. Helpful & Friendly Staff. Clean sites & common areas. Convenient location to everything Disney, shopping & eating. Only negatives was the traffic noise esp. Fri. nights from the 'street outlaws' running thru their gears & the WI-FI, which you have to sign into every day & it does NOT support streaming & is somewhat slow at times.
Nov 29, 2020
Great location close to the parks - only down side was people kept letting their dogs poop on our spot and not cleaning it up - so we ended up getting it on our shoes multiple times ��
Nov 29, 2020
We arrived a bit late but our info was ready for us! The camp ground is beautiful, bathrooms extremely confortable and clean!
Nov 28, 2020
Nice and helpful staff, beautiful place. Highly recommended! Thanks!
Nov 28, 2020
Loved our stay and can't wait to visit again. Very clean, well kept. Staff super friendly. Didn't use the rest rooms so can't speak for them. Overall, a great place to stay....
Nov 26, 2020
I give it 4 stars , The site was great, the people were great, it is a very nice park. The one and only draw back was the noise at night, when you are trying to sleep. Due to the parks proximity to US 192, were there is traffic most of the night. The noise from the traffic will wake you up a couple of times during the night
Nov 25, 2020
This is the 2nd time I stay and will definitely Only stay at this park from now on. The place is clean and staff are extremely nice and accommodating
Nov 25, 2020
Water pipe leaked and the concrete wasn't flat. Leaned to the left
Nov 25, 2020
It was our first day staff was very friendly restrooms were very clean we will definitely stay there again
Nov 24, 2020
Great service great place
Nov 23, 2020
Beautiful KOA, friendly and professional staff and grounds and buildings spotless.
Nov 23, 2020
Conveniently located. Decent sites. Campground was clean. Office staff was friendly and accommodating. WIFI was not reliable. Cable was unwatchable even with notifying the office twice. We would still return.
Nov 23, 2020
It was a great place! Super friendly people. Sites, RVs and cabins are pretty close but overall great place. You will hear the helicopters all day though because of local tours. lol
Nov 23, 2020
Very nice stay
Nov 23, 2020
Great location; well-maintained, clean, and spacious sites. Extremely helpful and kind staff members. We will be back.
Nov 22, 2020
Close to everything you might need, employees are very nice. Super clean property!
Nov 22, 2020
Very nice and friendly
Nov 22, 2020
Very clean and well spaced out. The staff was very helpful and welcoming. Because it was a mixed trip leaning towards business, I wish the WiFi strength and consistency was better! Will most certainly return!
Nov 22, 2020
I like the place...but they need to pressure wash the patios. It was wet from the light rain and you would continuously track black silt in your rig unless you removed your shoes. We had a concrete pull through lot.
Nov 21, 2020
Warm and quite. Loved our stay. Will return in near future.
Nov 19, 2020
Enjoyed our stay. Friendly staff and good experience
Nov 19, 2020
Great place. No issues. Nice, helpful folks. Will stay again.
Nov 19, 2020
Love the campground and the staff is the best, friendly, polite, go out of there way to help you
Nov 18, 2020
The best campground in Orlando
Nov 17, 2020
Very accommodating. Convenient location. Friendly staff, very nice sites
Nov 17, 2020
Excellent facilities. Very friendly staff. Highly recommended.
Nov 17, 2020
Best Cabin this stay Never want to stay anywhere else for future reservations
Nov 16, 2020
Clean cabin. All good!
Nov 16, 2020
We love staying at the Orlando/Kissimmee KOA. The cabins are well kept, clean and cozy. The campground is close to all the parks and to all the activities we love to do when we are in Orlando.
Nov 16, 2020
Great campground, great facilities, friendly staff
Nov 16, 2020
Excellent campground - spacious sites, clean, great landscaping and the staff is constantly going around taking care of things.
Nov 16, 2020
This was one of the best Camp Grounds we have stayed at. Due to the storm Eta we found ourselves having to modify our plans. At the last minute we booked at the KOA in Kissimmee and what a gem we found. Super nice folks who run this camp ground. The place was clean, great camping spots. The place just had a great vibe about it. I recommend it highly and next time in Kissimmee we will stay there
Nov 16, 2020
Very nice RV park. Great to park on concrete. Great stay
Nov 16, 2020
Great staff very clean
Nov 15, 2020
great location, great staff and convenient for us.
Nov 14, 2020
Enjoyed the bigger (wider) site (118) and amenities. The concrete pad and paved roads were a plus. Very clean! Second visit to this KOA and will stay here again. Easy drive to all of the entertainment parks!
Nov 13, 2020
I loved it there, the best campground that I have ever stayed at! The workers were fantastic and the park is so clean!'I will be back next year since we loved it so very very much!
Nov 13, 2020
Campground was clean and everyone was friendly . This was our second time there.
Nov 12, 2020
Great location! Our site was spacious and we loved the grill and fire pit!
Nov 25, 2020
By far one of the best RV parks visited and will never look for a different one if I'm coming to Orlando
- christian cartagena on Google
Nov 17, 2020
Excellent facilities and friendly staff. Highly recommended.
- Ronell Rivera on Google
Nov 02, 2020
Nice location very close to the parks with good near-by restaurants. Clean and spacious sites. Staff was super friendly. Good small store. I did not use the pool so I can't really comment about it. Quiet campground. I will definitely come back.
- Cszepak on Trip Advisor