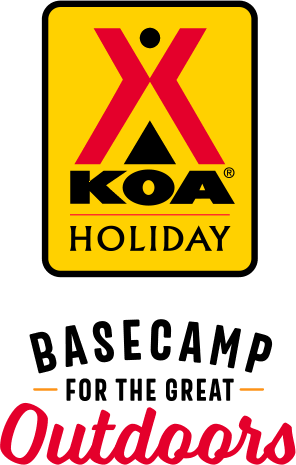 KOA Holiday Campgrounds
Whether you're exploring the local area or hanging out at the campground, KOA Holidays are an ideal place to relax and play. There's plenty to do, with amenities and services to make your stay memorable. Plus, you'll enjoy the outdoor experience with upgraded RV Sites with KOA Patio® and Deluxe Cabins with full baths for camping in comfort. Bring your family, bring your friends, or bring the whole group – there's plenty of ways to stay and explore.
KOA Holidays Feature:
RV Sites with a KOA Patio®
Deluxe Cabins with full baths
Premium Tent Sites
Group meeting facilities
Directions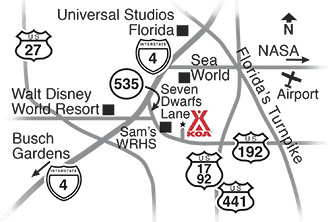 Follow I-4: Take State Route 535 S (Exit 68) for about 3.5 miles, turn left on US 192 E for 1 mile, turn left onto Seven Dwarfs Lane and then turn right into the KOA (next to Sam's Club between mile marker 12 and 13).
GPS: N28.324562, W81.469029
Get Google Directions
Feb 21, 2021
Enjoyed our stay at this KOA so much! Everything is so clean a d well kept. Everyone is so friendly! Only negative is poor internet service.
Feb 21, 2021
Lovely campground. Clean. Well maintained. Only complaint is the wi-fi. Terrible and we even have a booster. Would stay again.
Feb 20, 2021
Very clean and great location to all Disney parks.
Feb 20, 2021
Great little place, very clean a friendly! Would definitely stay here again when in the area.
Feb 20, 2021
Had a pull through site, very nice
Feb 19, 2021
Enjoyed my stay. Staff extremely friendly and helpful.
Feb 18, 2021
Loved the campground, very clean , friendly staff, facility updated except for the WIFI which was horrible. Connection very bad unless by the store. Had to use up data on phone to create hotspot to actually connect when the campground was at least half full. Really thats my only complaint.
Feb 18, 2021
Friendly helpful staff!!!
Feb 17, 2021
The sites were small and tightly packed which made it very difficult to back into. The WiFi was non existent for the four days we were there. We were told when we inquired that it was down. To make it even worSe, there was no cell phone coverage in the area.
Feb 17, 2021
We had a great stay at the Orlando KOA. We were very close to the pool, office and laundry which was very nice. The people were friendly, staff were so helpful whenever i had a question or needed something. We will definately be back and i would recommend to anyone i know.
Feb 16, 2021
The staff was fabulous and the campground was one of the best KOAs we've stayed in!
Feb 16, 2021
Very lovely park
Feb 16, 2021
We love the campground; however the internet service is terrible. Cell coverage (through Sprint) and campground WIFII were not usable
Feb 16, 2021
Very clean, very helpful. Wasn't fond of first assigned place , however, they were most helpful letting me move. Lots of places to walk to if you don't have a car.
Feb 15, 2021
We enjoyed our stay. Everything was clean. The outside area of our cabin was bigger than expected. Friendly staff. We will be staying again in the future.
Feb 15, 2021
Although a very short and quick visit, we were treated so well and the service was great.. Clean and welcoming facility with helpful and friendly staff.
Feb 15, 2021
The staff is super friendly and helpful. Great people. The site is very clean and we loved the deluxe cabins (we rented two).
Feb 14, 2021
Everything was great except the internet connection. I understand the amount of people and the bandwidth required to accommodate everyone but we had so many issues doing the kids schoolwork (virtual learning). Other than that, this was by far the best KOA we have stayed at.
Feb 14, 2021
Internet connectivity is unreliable and mostly unusable. I will not be able to make reservation here in the future.
Feb 14, 2021
The deluxe cabin was perfect for our family of 6. We actually preferred it over staying at a hotel. It was spotlessly clean and had everything we needed for our week in Kissimmee. We enjoyed time at the pool and had fun riding bikes around the park. We would definitely stay there again The staff was awesome too.
Feb 14, 2021
While we generally prefer rural campground settings with sites spread out generously for privacy, this RV park like setting was clean, well maintained, and very convenient to the Orlando area.
Feb 14, 2021
Friendly and helpful hosts. We stayed one night and did not walk the site. Hook up went well but pad was not level. Our lower rating was based on the excess price and location.
Feb 14, 2021
It was great to be so close and yet so far!!
Feb 13, 2021
Staff was very friendly and helpful. One even chased us down to give us a flashlight we had forgotten. Campground was clean and well maintained. Surprised how quiet it actually is being so close to main road. I would like to ask all KOA's to please put more slats on the beds in cabins. The mattress is thin so we could feel the spaces between slats, not good on back. Great Stay Great KOA!!!
Feb 13, 2021
So clean and well organized
Feb 12, 2021
Staff was amazingly pleasant and helpful.... Campground is small but very clean and great amenities you need while traveling! We will stay again!
Feb 12, 2021
We always enjoy staying at the Orlando KOA. This trip we noticed the bounce pad in the playground was half flat, but the kids still had fun with it, and our spot was very muddy due to rain, but everything else was great. Will definitely be back soon.
Feb 11, 2021
relaxing clean and enjoyable! Very close to Disney! we will be back !
Feb 09, 2021
Friendly, helpful staff and nice one room cabin. Clean campground.
Feb 09, 2021
Would give you 5 stars but got bad advice backing into my site by one of the KOA employees. Busted out the backwindow and put a dent in cab of my pickup.
Feb 09, 2021
We celebrated our grandson's 8th birthday this weekend at the Kissimmee KOA!! Excellent staff, clean bathhouse, heated pool, and a fun playground to name just a few reasons our weekend was exceptionally fun!!
Feb 09, 2021
Was only a one night stay this time, but facility was excellent as always including a well heated pool which is important to me.
Feb 08, 2021
Great staff- very clean- nice place
Feb 08, 2021
Like always it was great!!!
Feb 08, 2021
Absolutely the best!!! Staff friendly and helpful-- area is spotless-- restrooms spotless-- Love this KOA
Feb 08, 2021
We just love this place. We drive over from St Petersburg just to camp there. Facility is so clean and staff is amazing and friendly.
Feb 08, 2021
I loved staying here. The people are so nice. They even escort you to your site and direct you into the site. The campground is kept clean. The pool and hot tub were clean and our granddaughters loved that it was a heated pool. We had cool days while there so the pool being heated was great.i hope we get to go there next year.
Feb 07, 2021
Awesome campground all around!! Will return!!!
Feb 07, 2021
One of the best KOA's we've stayed at. Close to everything in Orlando. Staff was very friendly and helpful. Very nice playground and jump house. The dog park was small but just what the dogs needed! The pool was wonderful and they had a large laundry room. We will be back for sure!!
Feb 06, 2021
Friendly staff, very clean park and well maintained. Large lots with easy in and easy out. Enjoyed our stay.
Feb 06, 2021
All is good except the WIFI is horrible.
Feb 28, 2021
We stayed in a deluxe cabin. Don't remember the number but it was super cute!! You have a propane grill and fire pit. And they provide the propane for the grill! You can buy wood for the pit there, they will deliver to your campsite! There is almost everything you need already in the cabin. BYOB!! Lol Everybody was super nice and we met some really nice people. It's a short drive to Disney. Would definitely stay there again!
- Carrie Poulter on Google
Feb 28, 2021
Nice place to stay at
- Christina Morales on Google
Feb 25, 2021
we stayed 9 nights and it was awesome when i graduate high school i will defiantly be moving to Orlando Florida
- Bobbie Phillips on Google