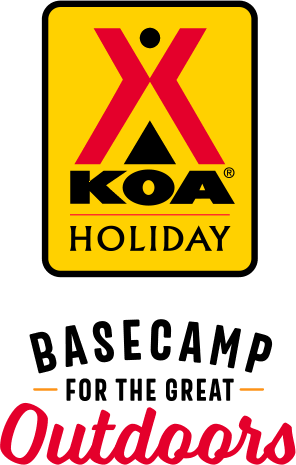 KOA Holiday Campgrounds
Whether you're exploring the local area or hanging out at the campground, KOA Holidays are an ideal place to relax and play. There's plenty to do, with amenities and services to make your stay memorable. Plus, you'll enjoy the outdoor experience with upgraded RV Sites with KOA Patio® and Deluxe Cabins with full baths for camping in comfort. Bring your family, bring your friends, or bring the whole group – there's plenty of ways to stay and explore.
KOA Holidays Feature:
RV Sites with a KOA Patio®
Deluxe Cabins with full baths
Premium Tent Sites
Group meeting facilities
Directions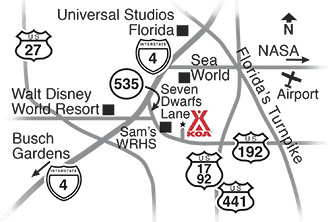 Follow I-4: Take State Route 535 S (Exit 68) for about 3.5 miles, turn left on US 192 E for 1 mile, turn left onto Seven Dwarfs Lane and then turn right into the KOA (next to Sam's Club between mile marker 12 and 13).
GPS: N28.324562, W81.469029
Get Google Directions
Jul 22, 2021
Place is well maintained, and very clean. Noise is minimal quiet hours of 10pm-7am are enforced. Staff is very nice and supportive. Many conveniences are near by. Sam's Club is directly across the street. We had a nice stay would stay here again if we came back to the Orlando/Kissimmee area.
Jul 22, 2021
It was so pleasant. Everything was I expected, clean, tidy, and nice. The pool water stung your eyes after a little bit. But, overall it was great! We had a nice time there. The lady in the office was so nice and helpful.
Jul 21, 2021
Had a good time, very accomadating, close to all the theme parks.
Jul 21, 2021
This place is located perfectly to visit the major parks out side of Disney. Only took 15 mins and we was at Universal or Sea World. The only issue I had was the showers do not have A/C in them. It makes it a little hard to dry off in the summertime.
Jul 21, 2021
nice campgrounf except for the wifi, probably the worst in any campground that I've experienced, and we were very close to the source.
Jul 21, 2021
We enjoyed four nights of staying in a very nice cabin. It was clean and met our needs (2 adults and 3 kids) very well. We especially appreciated getting help with the coffee maker that wasn't working! Gotta have coffee! The location is great! There's easy access to the major interstates etc. You have a lovely quiet campground and we enjoyed our stay very much. Thanks!
Jul 21, 2021
Grass was uncut and unkept except for premium sites. Unfortunately, the only worker we encountered was the garbage guy. It seemed like the staff was never there and especially if 5pm hit they were out the door. I have had other KOAs find me at midnight when I was backing in. I have never seen so many after hour campers paperwork at a campsite before. Sad because the place has potential.
Jul 20, 2021
Not sure what you can do about it but the cellular single in the campground was terrible. Nothing would load. That was really the only negative but we probably won't return for that reason. Across the street in sams club was fine so not sure the reason.
Jul 20, 2021
Cabin 42 was not clean. Toothpaste on the faucet and mirror. The AC was not keeping up with the heat outside. We were told what do you expect from a tin roof and no insulation. This is Florida either insulate or get a bigger unit. It took until 4 am to cool down below 80 degrees even with large tree outsid We love this campground but are concerned maintenance. I will never stay in 42 again.
Jul 20, 2021
The grounds are extremely clean & the staff is phenomenal!!! Paulette & Shirley are so wonderful & I can't say enough about the grounds crew & housekeeping. Ilene & Tim are 2 of the MOST wonderful people you can meet. They are the reason we keep coming back.
Jul 19, 2021
Great tent site as close to the pool and bathrooms as possible. Friendly and attentive staff take pride in a clean and we'll maintained campground. Each site had a sink, table with chairs, rocking chair and tent pad. Tenters were treated as first class campers.
Jul 19, 2021
Always a great campground to visit while we are in Orlando.
Jul 19, 2021
Place is always clean, staff is very nice. We always enjoy our stay!
Jul 19, 2021
Wifi was terrible and we depended on it since Verizon didn't work in the park. Employees were super nice but for Orlando, I expected a nicer setup. Some of the sites were in bad shape and the entire park had zero security in a sketchy neighborhood.
Jul 19, 2021
We had a great night camping! Everything was clean, the staff was nice and very helpful. Next time we'll rent one of the cute cabins!
Jul 19, 2021
Very clean and organized, Thanks!!!
Jul 19, 2021
Bathrooms could have been a bit cleaner. Not too bad, though.
Jul 18, 2021
We thought the host was very rude and quick to answer questions .She was a heavy blond In her 50's. She couldn't find our account on the computer to get our discount .so we had to pay full price.
Jul 18, 2021
The stay was clean and enjoyable ashamed that the stay was short. You really can't rate a site with just a few days stay.
Jul 17, 2021
Everything was nice except the WiFi did not work which was a bummer
Jul 17, 2021
We were very satisfied with our stay. The campground is very clean and nice shade (in some areas). The kids really enjoyed the pool in the evening. Great place.
Jul 16, 2021
This was the third time stay we stay here and we forward to staying every time we in Florida.
Jul 16, 2021
First time we took all 3 of our kids camping. it was awesome!! Very clean!! Everyone super friendly and nice. Showers where awesome . Cant wait to book again.
Jul 16, 2021
Our stay was quite and relaxing. We stayed in a deluxe cabin. The property was clean and well kept.
Jul 15, 2021
KOA met my special request perfectly and our site was great. Easy access to lots of shopping and restaurants.
Jul 14, 2021
We had a very enjoyable stay, and really liked the second bedroom, and half bath. The living area is small, but the two bedrooms are a real bonus. Full size refrigerator is also a bonus. We will be back for sure.
Jul 13, 2021
Had exactly what we were looking for
Jul 13, 2021
The campsite was a perfect place to stay. Would highly recommend camping there to anyone. Can't wait to come back!
Jul 13, 2021
Very friendly, super clean. Very nice place to Sam Tay. Staff is very friendly and helpful.
Jul 13, 2021
Friendly staff and great location! We will definitely be back.
Jul 13, 2021
The internet was horrible, it didn't work even at the office. Otherwise okay.
Jul 12, 2021
I was super happy with the site
Jul 12, 2021
Very nice place to stay. Very clean and safe.
Jul 11, 2021
spacious and clean. friendly staff. very easy to pull in and set up relatively quickly. the theme parks were close by. the pool and children's play areas were nice and clean as well. i will be coming back again for the summer of 2022. thank you.
Jul 11, 2021
We have stayed at many campgrounds around the country and pick this campground because of the KOA affiliation. We were in a black out zone as far a Verizon and no internet. We were right behind the office. We came to Orlando for work. I could have accepted the muddy space if we had internet. No acceptable in today's environment.
Jul 11, 2021
Everything was awesome clean staff friendly great place
Jul 18, 2021
Amazing!!!
- Jessica Orsini on Google
Jul 13, 2021
Beautiful campground! Close to Orlando while still out of the hustle and bustle of the city. There is plenty of space. Bathrooms and showers are air-conditioned and very well maintained. Grounds are well kept! Area for dogs to play. Campsites and cabins (small and large) and swimming pool. Staff is very friendly and accommodating.
- Tysha Torre on Google
Jul 13, 2021
Great place to stay if you have a family. Cheaper and nicer than most hotels.
- mike shiflett on Google