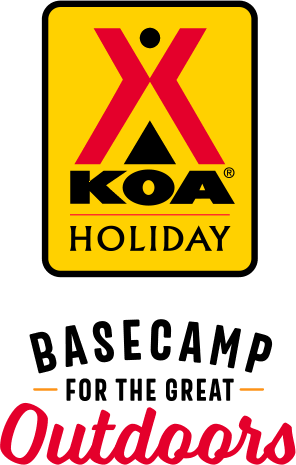 KOA Holiday Campgrounds
Whether you're exploring the local area or hanging out at the campground, KOA Holidays are an ideal place to relax and play. There's plenty to do, with amenities and services to make your stay memorable. Plus, you'll enjoy the outdoor experience with upgraded RV Sites with KOA Patio® and Deluxe Cabins with full baths for camping in comfort. Bring your family, bring your friends, or bring the whole group – there's plenty of ways to stay and explore.
KOA Holidays Feature:
RV Sites with a KOA Patio®
Deluxe Cabins with full baths
Premium Tent Sites
Group meeting facilities
Directions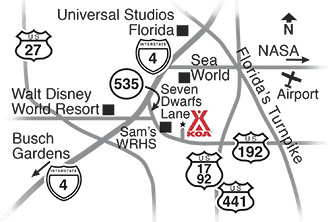 Follow I-4: Take State Route 535 S (Exit 68) for about 3.5 miles, turn left on US 192 E for 1 mile, turn left onto Seven Dwarfs Lane and then turn right into the KOA (next to Sam's Club between mile marker 12 and 13).
GPS: N28.324562, W81.469029
Get Google Directions
Sep 17, 2021
Campsite very clean, would be more convenient if the store was open longer then 5pm also some activities for the kids. The jump pillow has a whole in it.
Sep 17, 2021
Everyone working at the Kissimmee KOA was very nice and accommodating. The place was was clean and had very good amenities. We took a trip to Disney and I was also meeting my half brother for the first time.. They were able to book a cabin right across our RV site.. It was wonderful. grandaughter had great time at the pool and the bounce mat on the playground. We wish we could have stayed longer.
Sep 16, 2021
Always clean with friendly help.
Sep 16, 2021
The most restrictive wifi service of any campground we have ever stayed at. Even the basic basic connection offered couldn't support newspaper download and email efficiently. Draconian terms and conditions for wifi usage.
Sep 16, 2021
Great site, loved the K9 kamp
Sep 15, 2021
Always friendly and willing to help with any questions we have. Enjoyed our stay, and will return in the near future.
Sep 15, 2021
Great little cabins. Very clean and the grounds keepers do an amazing job keeping the grounds tidy.
Sep 14, 2021
Enjoyed the stay
Sep 14, 2021
Nice clean place enjoyed our stay
Sep 14, 2021
We often camp at KOA, Orlando/Kissimmee, and each time we really enjoy our stay! It's close to many restaurants, shops, and fun activities. It's clean, pet friendly, and the staff is amazing!! Kudos to Paulette and Marc Stevens for their friendly hospitality. The pool and hot tub are amazing, and our pets loved the doggy area! We look forward to our future visits.
Sep 14, 2021
Great location, nice staff and Love the campsite. I'll be back!
Sep 14, 2021
Great staff. Very nice, clean, comfortable park.
Sep 14, 2021
Nice but our site 120 was under water on the side where your water and electricity is. Which is kind of scarey with electric. We were soaked from feet to ankles
Sep 14, 2021
We had a great weekend, thank you
Sep 13, 2021
This is THE BEST KOA around. We love the staff, everything is neat and clean, everyone is so friendly and helpful. I know everyone loves their pets but I felt like we were at a dog kennel this weekend. There were so many dogs and some barkers. But- we just turned our headset up and listened to our music. This is the first time we ever saw so many dogs. But it was fine. We love KOA Kissimmee
Sep 13, 2021
Nice place to stay. Only weather did not cooperate. We will come back when the weather is better. Thank you.
Sep 13, 2021
Very clean and well run campground thanks!
Sep 13, 2021
Nice quiet facility. Staff was great and very helpful. Place was very clean and like how the trash is collected at any time between 9 and 5. Recommend better signs on 192 as it was difficult locating at night. We will definitely stay here again in the future
Sep 13, 2021
Very clean! Amenities good. Bathrooms clean, layout was dated, awkward. (Shower, sink, toilets in different areas.) Transaction were contactless so cannot rate the staff. The emails & online reminders were helpful. I appreciate the great, online customer service. Would definitely be back and would recommend others who want a 'city' experience and not a park in the woods.
Sep 13, 2021
Just to enjoy a weekend getaway to be close to Disney.
Sep 13, 2021
Camp K-9 was a lifesaver for my very active GSP!
Sep 11, 2021
Love Place. very clean ..friendly staff.. exelent location...
Sep 11, 2021
Very friendly and easy check in.
Sep 10, 2021
Love the amenities and cabins!
Sep 10, 2021
Clean, friendly, very helpful. Enjoyed stay. Did not like the closeness of sites, it was city camping, not use to that, but it was like being in a city neighborhood. That is hwy depending on how our family and friends like to camp if they like the city type campground, we will give this campground excellent rating, but if they like more country type we will let them know how great it is but it
Sep 10, 2021
KOA Orlando/Kissimmee offers many amenities and was very well kept! The staff was super friendly and the location wasn't in the middle of the tourists chaos… but still nearby all the attractions. The Mickey Mouse lamp posts were definitely a cute feature too! We will definitely be back :)
Sep 09, 2021
Rated low due to the cabin experience. It was not what we expected AT ALL, I wanted a deluxe cabin with bunk beds because my son and daughter do not sleep together and I was given a deluxe cabin with a room and sofa bed. Had to buy a twin air mattress $70 at target, the top protective layer of the mattress was dirty with stains. Took to the office all they did was put in a bag no apologies given.
Sep 09, 2021
Clean facility, spacious sites and friendly staff
Sep 08, 2021
The staff is wonderful, very friendly and accommodating. We were disappointed, nothing really to do at the campground. We previously have been to KOA's with our children and really over it. All kinds of activities and things to do, never left the campground. We thought it would be the sMe for our grandchildren. No activities, playground and a pool but the playground tall grass under the equip.
Sep 08, 2021
Wonderful place to stay, people are mazing that work there. Need to seriously upgrade the WIFI and cell availability. WAs wonderful
Sep 08, 2021
KOA was great. Plenty of room and friendly staff. Never felt more welcome anywhere else.
Sep 08, 2021
Great location, only there for one night, My only issue that prevents us from going back is no Wi-Fi service. Its not like your in the middle of nowhere, so not having Wi-Fi in 2021 is unacceptable. Outside of that the site was clean, plenty of space for the pull through site we had. Would prefer to have a security gate as anyone can walk or drive right in but all in all it was fine
Sep 07, 2021
What a awesome group of employees. They are so kind. All the employees are very helpful. I really am impressed with the cleanliness of the bathrooms. Each and every employee to ensure you had a great stay. We definitely will be back.
Sep 07, 2021
Stayed three nights in a 40 ft. motorhome towing. Long pull through spot was great. Didn't have to unhook. Entire park was spotless and very well manicured. Pool was great. Convenient to all Kissimmee attractions.
Sep 07, 2021
Love the park and location but the worst wifi and cell signal we have experienced at any park. For those of us who have to work on the road, does not make staying here feasible. If they fix this issue, I would return and recommend.
Sep 07, 2021
Our second visit within a month was the same great experience as the first. Very friendly, clean, great pool and dog park. Close to so many stores and restaurants.
Sep 07, 2021
Great place to stay, and we have already booked another stay here. My only issue was that the internet hardly ever worked. If you have to work while there, you need to find another solution.
Sep 07, 2021
Awsome time we will be back. Thank you for your hospitality
Sep 06, 2021
We loved it!!! Only thing would be an improvement would be more shade trees that asphalt was extremely hot and our Rv air conditioning was working hard to keep us cool. I know that takes time and the roots in ground can cause issues.
Sep 06, 2021
Very easy to book a cabin at this KOA. Cabin was very clean, and amenities were great for the kids. Even though this KOA is close to 192, it is quiet and people (both employees and other campers) are very considerate of others. As an added bonus, because it is close to 192, there are plenty of nearby, last minute shopping or eateries.
Sep 06, 2021
Very clean. The pool and hot tub are awesome. The playground is fenced in.
Sep 07, 2021
Beautiful KOA very well kept. Employees are hard working and extremely kind. Our tent site was great spacious. Location is great close to everything.
- Paula Vining on Google
Sep 05, 2021
Cabins are beautiful! Very quiet and peaceful!
- Jay Love on Google
Aug 25, 2021
Wonderful. Very relaxing.
- Angela P on Google