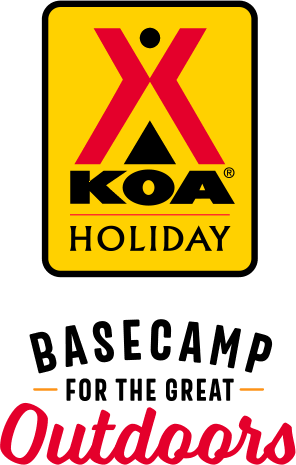 KOA Holiday Campgrounds
Whether you're exploring the local area or hanging out at the campground, KOA Holidays are an ideal place to relax and play. There's plenty to do, with amenities and services to make your stay memorable. Plus, you'll enjoy the outdoor experience with upgraded RV Sites with KOA Patio® and Deluxe Cabins with full baths for camping in comfort. Bring your family, bring your friends, or bring the whole group – there's plenty of ways to stay and explore.
KOA Holidays Feature:
RV Sites with a KOA Patio®
Deluxe Cabins with full baths
Premium Tent Sites
Group meeting facilities
Directions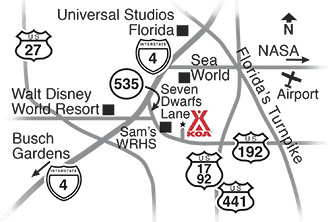 Follow I-4: Take State Route 535 S (Exit 68) for about 3.5 miles, turn left on US 192 E for 1 mile, turn left onto Seven Dwarfs Lane and then turn right into the KOA (next to Sam's Club between mile marker 12 and 13).
GPS: N28.324562, W81.469029
Get Google Directions
May 08, 2021
The campsites are really close together.
May 08, 2021
Very impressed with how clean it was and the friedliness of the people who operated it.
May 08, 2021
One of our favorite KOAs.
May 08, 2021
Been here several times. Always a very nice stay. Plan on coming several times a year.
May 07, 2021
Our stay was wonderful & can't wait to stay again in October. We have reservations the campground is very nice and clean. Most importantly our truck would not start. When we got there the gentleman towed us to our campsite. Went the extra mile and was really kind and helpful. Don't know what his name was. But the gentleman went above & beyond to make our stay wonderful. Thank you so much again
May 07, 2021
Every time we come to your area we always stay at you rv park. Everyone there is so friendly and Im sure , like me, we all have bad days but you guys are always able to give everyone a grin. Very clean and on top of everything that needs to be done.
May 06, 2021
We stayed 10 days ... The grounds and folks there were great
May 06, 2021
Everyone was very nice.clean place.
May 05, 2021
We had a great time! Staff was wonderful. Sites are a little tight but to be expected in that area. Everything was clean and well cared for. We will definitely return.
May 05, 2021
Great place to stay very friendly and quiet and staff is awesome
May 05, 2021
I have not visited many KOA parks but was very impressed with this facility. It was well kept, clean showers, and plenty of room between each space. Management was friendly and accommodating and applied a military discount for my husband who is a veteran. I have already recommended the property to a friend who is retiring and will begin RVg!
May 04, 2021
Lovely site, clean and neat. Helpful and professional staff.
May 04, 2021
Well kept older KOA but nice. Was there for a convention so I left by 9 AM and didn't return until 10 at night. Quiet with shade trees. Better than a place I stayed at a year and a half ago.
May 04, 2021
We truly enjoyed our stay here. Cleanest campground and friendliest staff. Walking distance to restaurants and shopping. Minutes from Disney Parks. I will definitely return and highly recommend this campground.
May 04, 2021
I was assigned site 25 which had trees that would not allow me to extend my slides (My RV is 34' long with two slides), but was allowed to move into site 24 that worked perfect. The site, shower and restrooms were very clean. I like that the fact that trash was picked up thru out the day.
May 04, 2021
Beautiful campground and close to everything Disney. Had to leave early due to RV problem and hosts were so accommodating, friendly and helpful. Will definitely return!
May 04, 2021
Clean bathrooms. Friendly staff. Quiet. It was great!
May 04, 2021
Very clean. All the staff were excellent!!
May 04, 2021
We had such an amazing time! Everything was top notch! We will be back.
May 04, 2021
Although we live in Orlando, we feel like we are on a getaway weekend when we stay at this KOA. The park is kept immaculately clean and the staff are very nice.
May 04, 2021
Nice park, very clean, Friendly staff, very well run.
May 03, 2021
Y'all were SO accommodating! We came in late, check in was easy. You gave us a great spot 117. Spaces were large and clean. Will DEF stay again. Awesome location! Thank you!!
May 03, 2021
Staff was very friendly! Park was clean and beautiful!
May 03, 2021
Very clean grounds, restrooms, and helpful staff!
May 03, 2021
Everything was good except the cabin door was very hard to lock and unlock.
May 02, 2021
Clean and well spaced camp sites. We'll be back.
May 02, 2021
Great place, well maintain.
May 01, 2021
Park is clean and well maintained. Situated close to many Orlando attractions, restaurants and shopping.
May 01, 2021
Very clean campground. Highly effective and efficient staff. Great location.
Apr 30, 2021
Beautiful & super clean. We stayed in an rv site & friends stayed in a deluxe cabin both were perfect.
Apr 30, 2021
Large parking area with plenty of room to sit outside and relax. Easy access and close to all the parks in Orlando
Apr 29, 2021
Love this location. Very convenient for the Orlando/Kissimmee area. Will certainly stay there again when in the area.
Apr 28, 2021
Excellent, clean park and friendly staff. Reasonable rates for the amenities and things available in the park such as continuous daily trash pickup, pool, laundry, workout equipment, very nice playground for kids, clean showers and bathroom facilities and store. We loved the campground!!!
Apr 28, 2021
clean friendly well run
Apr 28, 2021
The campground is meticulously cared for. The staff members are friendly and accommodating. I liked that this KOA wasn't huge. You don't feel cramped. We had a premium spot with a fire pit, grill, extended patio and really nice outdoor furniture. Very nice. We would definitely come back here again.
Apr 28, 2021
WiFi never worked and I called the number listed for problems and the called me 24 hours later and left a message that they would send someone over however we weren't going to be there at that time as we had previous plans made. The cable didn't work either. Three out of four of our "neighbors had dogs that barked continuously and they had them outside in pens. Couldn't do my remote work.
Apr 28, 2021
Very nice campground close to Disney
Apr 27, 2021
We had a cabin and loved it. The KOA Holiday is well maintained. Trash picked up timely, towels came quickly. Everything was perfect. We just wish we had a bigger refrigerator. next time. The pool was very nice. We loved our picnic area with the table ...
Apr 27, 2021
The campground is very clean and great location!
May 09, 2021
Great weekend, great campground, very friendly staff
- Rene Dommestrup on Google
May 07, 2021
Great KOA close to Disney. Very helpful staff!
- Joe Blanchard on Google
May 05, 2021
Really nice sites. Always someone cleaning empty sites and caring for the landscaping. Pool was awesome. Great playground area.
- Kelley Hacker on Google