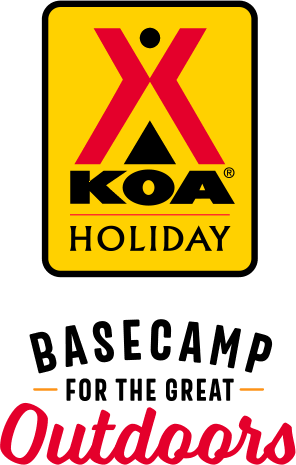 KOA Holiday Campgrounds
Whether you're exploring the local area or hanging out at the campground, KOA Holidays are an ideal place to relax and play. There's plenty to do, with amenities and services to make your stay memorable. Plus, you'll enjoy the outdoor experience with upgraded RV Sites with KOA Patio® and Deluxe Cabins with full baths for camping in comfort. Bring your family, bring your friends, or bring the whole group – there's plenty of ways to stay and explore.
KOA Holidays Feature:
RV Sites with a KOA Patio®
Deluxe Cabins with full baths
Premium Tent Sites
Group meeting facilities
Directions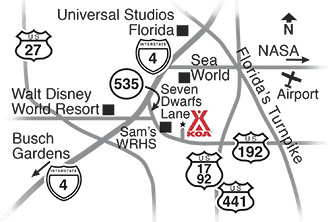 Follow I-4: Take State Route 535 S (Exit 68) for about 3.5 miles, turn left on US 192 E for 1 mile, turn left onto Seven Dwarfs Lane and then turn right into the KOA (next to Sam's Club between mile marker 12 and 13).
GPS: N28.324562, W81.469029
Get Google Directions
Dec 01, 2020
Everyone was so nice, and the cabin was clean!
Nov 30, 2020
It was a nice stay, but needs to have security guard at night or to be a gated community. Because at night it wasn't safe for kids or to leave anything out like bikes there were people walking in that were not staying in the resort. A lot of loud noise and a lot of homeless people just walking in.
Nov 25, 2020
It was our first day staff was very friendly restrooms were very clean we will definitely stay there again
Nov 23, 2020
It was a great place! Super friendly people. Sites, RVs and cabins are pretty close but overall great place. You will hear the helicopters all day though because of local tours. lol
Nov 17, 2020
Best Cabin this stay Never want to stay anywhere else for future reservations
Nov 16, 2020
Clean cabin. All good!
Nov 16, 2020
We love staying at the Orlando/Kissimmee KOA. The cabins are well kept, clean and cozy. The campground is close to all the parks and to all the activities we love to do when we are in Orlando.
Nov 10, 2020
The cabin was perfect for our needs and was very clean and had everything we needed, it was so nice to only have to bring our food and clothes. All of the staff were so friendly and helpful, they made you feel comfortable.
Nov 09, 2020
My husband and I brought our 3 young grandsons and stayed in a deluxe cabin. The cabin was immaculate as was the entire campground. We all had a blast! Would definitely visit again.
Nov 06, 2020
The staff were very nice. Its right off 192 and close to the Disney area. Its a small KOA, but has a lot to do, restaurants, shopping and parks are very close by. The pool was heated and the kids enjoyed the park and bike rentals very much. The cabin was cute and clean, but if you want a rustic outdoors feel this isn't it. If you want a clean, friendly place close to the parks, this is great!
Nov 01, 2020
I always love staying at this KOA whenever we're in Florida. Always a great camp ground and amazing staff!!
Oct 31, 2020
Very nice place and area, our only issue was the internet which barely worked, many WiFi spots came up but most wouldn't connect, but that certainly didn't ruin our visit.
Oct 30, 2020
It lovely and very neat. We willlove come back.
Oct 27, 2020
Very nice park, however I chose to stay at KOA campgrounds because of the doggy park. I have a 15 lb. dog, and a 30 lb. dog and neither one could run free in your doggy park due to the possibility of escape through the large openings in the fences and gates. My dogs are used to running and they were disappointed, as well as I was, that they couldn't.
Oct 27, 2020
nice campground, near everything. The only downside was the loud music, and I do mean loud, headache invoking (not the campgrounds fault) from the inconsiderate teens with the loud car radios. I would thing that the businesses (perhaps the local area business people) in the area demand the authorities do something about it as I'm told it's an ongoing problem. Otherwise, a great stay!
Oct 27, 2020
I took 3 boys glamming and was worried that I wouldn't be able to handle it. The campsite was setup where the boys weren't bored at any time, felt at home and had the most fun. The cabins were well prepared and CLEAN. The staff gave exceptional customer service. I'll be going back.
Oct 26, 2020
The camp ground was outstanding. We had a cabin, which was well equipped and furnished. It was just short have having a suite at a resort hotel. We also had a campsite, which was clean and provided everything we needed to set up. In all, we would happily use this KOA again in the future.
Oct 26, 2020
Overall wonderful stay, Cabin was clean and well spaced for the three of us 2 adults and a energetic 4 yrd old. Outside patio space was a nice size. We will definitely be coming back again!
Oct 19, 2020
Loved the facilities and privacy and the staff were great. Thank you Karina
Oct 12, 2020
We enjoyed the pool.
Oct 12, 2020
Very nice campground. Clean and well taken care of.
Oct 05, 2020
We stay here alot with our camper, so we tried a cabin this time. Pleased with everything had a good time other than the hot tub only open 9 to 9. I'm a older adult with a bad leg and the best thing has been able to go in after all the kids have went inside, was unable to enjoy the hot tub.
Oct 02, 2020
The cabin we stayed in was perfect! It smelled like fresh cedar and it was clean and comfortable. We will be staying there again next month!
Sep 30, 2020
Awesome would definitely recommend
Sep 29, 2020
Friendly staff! Always clean, always feel welcomed there!!! Can't wait to come back again!!
Sep 29, 2020
Nice, clean, peaceful and all around fun
Sep 28, 2020
As always, we had a great stay!!
Sep 27, 2020
Beautiful site, staff very friendly and welcoming. Mark and Paulette were particularly helpful, professional and so welcoming. We really enjoyed every minute of out trip.
Sep 26, 2020
Was great only thing wrong is no AC in second room so was warm to sleep in!! Other wise the two queen bedrooms was great!!
Sep 23, 2020
by far, our favorite KOA! Staff goes out of their way to be kind, and everything is sparkling!
Sep 23, 2020
It was very nice
Sep 22, 2020
Fun cabin to stay in. Comfy beds, space and able to cook and relax. Nicely stocked too. But the staff there are fabulous!
Sep 21, 2020
It was excellent as always.
Sep 21, 2020
This was the cleanest koa we have ever stayed at. We really enjoyed our time and loved the location. It was quiet at night and very close to all the attractions. The only thing that kept the stay from being perfect was that there was no coffee available in the morning for the 2 days we were there.
Sep 18, 2020
Great amenities and kids had a blast. Every one was extremely friendly and helpful. Especially Mr. Ralph and Ms. Vivian. Cant wait to stay again!!!
Sep 15, 2020
Another good time at Kissimmee KOA. We get rest, relaxation, and get to the Theme Parks with ease. The Kissimmee KOA is our Go-To place whenever we visit the theme parks.
Sep 14, 2020
Clean kampground and staff was exceptionally nice and helpful. Already booked our next stay in December.
Sep 08, 2020
It was a great experience and great customer service.
Nov 25, 2020
By far one of the best RV parks visited and will never look for a different one if I'm coming to Orlando
- christian cartagena on Google
Nov 17, 2020
Excellent facilities and friendly staff. Highly recommended.
- Ronell Rivera on Google
Nov 02, 2020
Nice location very close to the parks with good near-by restaurants. Clean and spacious sites. Staff was super friendly. Good small store. I did not use the pool so I can't really comment about it. Quiet campground. I will definitely come back.
- Cszepak on Trip Advisor