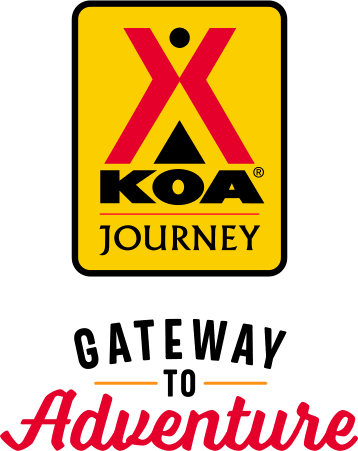 KOA Journey Campgrounds
KOA Journey campgrounds are the perfect oases after a day on the road. Whether it's along the way or a quick getaway, they've got you covered. Located near the highways and byways of North America with long Pull-thru RV Sites, they deliver convenience to the traveling camper. Pull in, ease back and take a load off.
KOA Journeys Feature:
Pull-through RV Sites with 50-amp service
Premium Tent Sites
Well lit after hours check-in service
Directions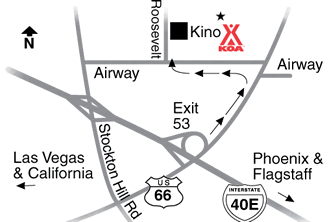 Eastbound and Westbound I-40: Take Andy Devine Exit 53. Go left 1 mile to Airway. Turn left on Airway, go 0.8 mile to Roosevelt St across from Coca-Cola warehouse. Turn right on Roosevelt.
Get Google Directions
May 04, 2021
We were only there for a night but it was a quiet night. They have a nice dog park, kids park, and a small miniature golf park. It is very clean and well taken care of. The spaces were okay, but the bushes made it difficult to put out the slides without pushing into them.
May 03, 2021
Very nice people. Everything we needed we were able to get fast & friendly help with. Sites and restrooms very clean and well maintained I REALLY wanted to leave 5 stars but we were in tent site. The sites all back up to RV storage. There is a fence but it is a short wood fence and all the motor homes parked on dirt &weeds were in our face. PLEASE put up a fence and make this a 5 star experience!
May 03, 2021
Great place for a stay!
May 03, 2021
Access roads to park in terrible shape, sites close together, Wifi not good, park appeared clean
May 03, 2021
Horrible, came to Kingman for a funeral made reservations, when we got here the space was not big enough for our rig, they would not refund our deposit, very rude management personnel, very unprofessional, I would never recommend this KOA to anybody. I guess they are so hard up for cash they have to get it anyway they can, which includes ripping you off for your deposit, when things don't work o
May 03, 2021
Awesome place to relax. Our site was great, being separated with beautiful blooming Oleanders on both sides. Quite? There was NO, I mean NO traffic or airplane noises. Except for other wonderful camper coming in or leaving. The grounds also have the most cabins we have seen in one park and nice tent sites. The staff were great and the grounds kept up and extremely clean. Thanks everyone. 5*+
May 02, 2021
Great service, nice campground. I especially like the use of oleander shrubs as privacy between sites.
May 02, 2021
Just overnight, but great place.
May 01, 2021
I told my wife that what I like about KOA is their consistency. Kingman KOA was true to form. The property was well maintain. Our fur babies enjoyed the K9 camp. We enjoyed walking the grounds and found everyone was friendly. Your personnel were friendly when encountered. Nice location in what appeared to be a residential area but close to amenities and the freeways.
Apr 30, 2021
Clean and quiet place to stay. Front desk lady was extremely rude and unfriendly. Gentleman who escorted us to campsite was very helpful and friendly.
Apr 30, 2021
Staff was courteous, place was very clean. Would stay here again.
Apr 30, 2021
This park is very nice. I like the privacy hedges between the sites. Last time I stayed, I gave it five stars. Four stars this time because when I used the dump station, it backed up. Despite adjusting flow from my motorhome, I had trouble keeping the dump pipe from overflowing. Turning the non-potable water hose on & off could have been simpler if the valve wasn't in a box in the ground.
Apr 30, 2021
All the staff was super friendly, campsites Are super clean and just an awesome place to camp.
Apr 30, 2021
From the time we checked in, everything was just great. All were very helpful. The site expansive and well maintained. Shower rooms excellent! My husband swam laps in the pool. Well done!
Apr 30, 2021
Gals at counter were helpful and welcoming. Loved the green around our site, but they were pretty tight, could not open our awning.
Apr 30, 2021
The campsite is very small and the sites are very closed to each other. Also for car parking, it doesn't have enough space for even just one car.
Apr 30, 2021
Very nice place. Mark was very eager to help. Roomy spaces, quiet, would definitely stay again.
Apr 29, 2021
Pleasant and quiet with neatness throughout
Apr 29, 2021
very nice park, pleasant people.
Apr 29, 2021
Clean and comfortable! Thank you for welcoming us.
Apr 28, 2021
Awesome! Very friendly, clean, comfortable, safe. You are one of our 'go to' KOA's when we travel. Nice places to visit in your area too. Thank you - see you again!!
Apr 28, 2021
Stayed many times there... always a very nice experience.
Apr 27, 2021
Very clean bathrooms and showers. Friendly staff.
Apr 27, 2021
Need better wifi. Employees were awesome
Apr 27, 2021
Very nice staff. Escorted us to our site and helped get positioned. The restroom/shower was immaculately clean. Very quiet. Would stay again.
Apr 26, 2021
the lady in the office was rude, telling me how to wear my mask. then telling me if I don't put my mask over my nose she was going to refuse to accept my reservation. I have an medical condition preventing me from wearing the mask over my nose. I have been vaccinated but she would not listen. Really sad that KOA still demands customers to wear mask in Arizona where there is no mask mandate
Apr 26, 2021
Cabin was nice along with the two girls that checked us in. The other mask nazi lady was not pleasant & since AZ no longer has a mask mandate....... no coffee which is a problem for people without campers. Maid was next door complaining very loudly about something & cursing the whole time.
Apr 26, 2021
Sites are so close you can touch your neighbors. WiFi from site 58 was nearly non existent, couldn't access site to plan next leg of the trip. Staff is exceptionally nice, but would not recommend this park.
Apr 25, 2021
Nice sites, well maintained and very quiet park. Bathrooms were very clean
Apr 25, 2021
The people were wonderful and happy to help us in every way. Thank you for recommending food delivery.
Apr 25, 2021
The cabin was excellent. Clean fully stocked and new
Apr 25, 2021
Staff was very friendly and helpful. Clean bathrooms/Showers.
Apr 25, 2021
Big rig, short site. Dirt sites should at least be gravel.
Apr 25, 2021
Enjoyed the cabin and very kind staff. Thank you.
Apr 25, 2021
This KOA I would highly recommend to anyone, The Staff and grounds keeper are very friendly and the campgrounds are very clean I will be staying there again Thank you for the enjoyable weekend
Apr 24, 2021
Awesome campground. Best restrooms and showers. Very clean. Helpful staff.
May 07, 2021
Great park
- Craig Keller on Google
May 06, 2021
Our stay was great.
- Bill Spangler on Google
Apr 29, 2021
Very clean, comfortable, and friendly. Mark was very willing to help with anything we needed. Great place.
- Suzanne Maier on Google