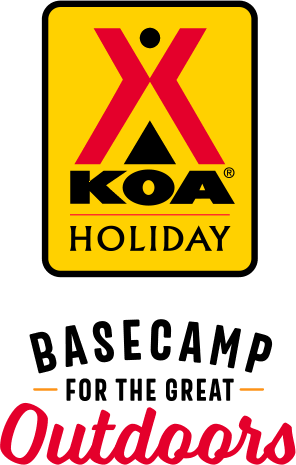 KOA Holiday Campgrounds
Whether you're exploring the local area or hanging out at the campground, KOA Holidays are an ideal place to relax and play. There's plenty to do, with amenities and services to make your stay memorable. Plus, you'll enjoy the outdoor experience with upgraded RV Sites with KOA Patio® and Deluxe Cabins with full baths for camping in comfort. Bring your family, bring your friends, or bring the whole group – there's plenty of ways to stay and explore.
KOA Holidays Feature:
RV Sites with a KOA Patio®
Deluxe Cabins with full baths
Premium Tent Sites
Group meeting facilities
Directions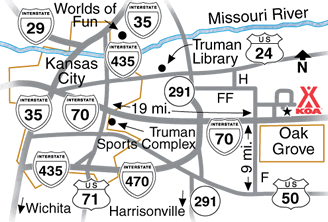 I-70, Exit 28. Go 1 block north on H Hwy, then East on 3rd St, two blocks. GPS: N39.017524, W94.125510
Get Google Directions
Oct 18, 2021
Easy 30 min drive into KC. Easy, long pull thru sites. Limited space between RVs, with slides. We moved back because our bedroom slide was over the late night neighbor's picnic table. Took a while to get level. The staff and activities were top notch! Huge jumping pad that our teen LOVED! Hayrides around the park. Loud traffic, but that means easy on/off with our 40 ft RV. Will stay again!
Oct 17, 2021
The grounds were so very well kept. The entire park was very clean. We loved our cabin. Our friends were able to park close to our cabin as we travel together and share meals, play board games and enjoy a fire in the evening. We highly recommend this KOA Kampground!
Oct 17, 2021
Clean restrooms, great staff and like the solar farm
Oct 16, 2021
Excellent KOA and one of the 2 best we have stayed at. Excellent staff and facilities.
Oct 16, 2021
I did not get my discount for being a KOA member for the 2 nights that we stayed there. I talked to the office and they said they would credit my card but I never got the credit added
Oct 15, 2021
The staff was amazing, friendly and welcoming. The store was fully stocked with a great variety of items. The campground was decorated for Halloween and there were lots of activities to keep kids having a great time. Bathrooms were clean and big. The park was well lit and the sites were large. I would recommend this campground and would definitely return!
Oct 14, 2021
Love the Halloween decorations!!! Our site was a little short but fairly level. Road noise annoying.
Oct 14, 2021
The highway noise was terrible, I70 The WiFi was very hit and miss, mostly down. Made a reservation but never got a confirmation. So I made a second reservation after they failed to answer an email to the shown address seeking confirmation. Then got charged a $10 cancellation fee when we got there to cancel the first reservation that we weren't sure we even had made. Folks nice, park clean.
Oct 13, 2021
Nice campground some sites are tight when you have slides on both side
Oct 13, 2021
So clean, such nice people! Fun playgrounds and jump pads. Great place to stay!
Oct 12, 2021
The campground was very nice, the only reason not a 5 is due to interstate noise.
Oct 11, 2021
Lots are too close together. Too close to the highway and very noisy. The corn hole boards were all splintered. The mini golf course was in poor shape.
Oct 11, 2021
The sites were very close together and the highway noise was VERY loud! We did however enjoy the kid activities, the dog area, and the employees were very nice.
Oct 11, 2021
THE NICEST EMPLOYEES! The text system before, during, and after is awesome. Every little detail is onsite: outgoing mail, abundant laundry facility, a well stocked office, daily trash pickup from your campsite, a good dog area. Walmart is 5 minutes away if you need anything. Close to I-70 yet quiet. We stay at KOAs whenever possible for the quality aspect. This KOA is at the top of our list!
Oct 11, 2021
We really enjoyed our stay. The staff was helpful, and the events for the children were wonderful. The main issue was the WIFI. This KOA advertised it had WIFI, but when we tried to use it , it didn't work. I inquired about the WIFI for our TV, and the staff at the Office said it was not strong enough for TV's, and to use our personal Cell Hot Spot.
Oct 11, 2021
I had a premium site and it is definitely premium. You have a lo of privacy with the evergreens. The swing is nice to relax on. The table and oversized wooden chairs were great for eating at. AND you have your own gas BBQ. Everything is paved one way or another. AND you have a traveled area for your fire pit. If you have not stayed at a KOA, you check in and they escort you to your site.
Oct 11, 2021
Driveway is VERY rough & tips Motorhomes a lot. Men's Restroom Code didn't work on the lock. No worries, just push open the door as the jamb was broken out. Our gravel pull thru slot was humped making it difficult to level the RV. The sewer drain was quite far back in the space. Bathrooms clean, staff nice & courteous. Most light's on power boxes burnt out. Fixes needed. Lots of highway noise.
Oct 11, 2021
Super clean. Friendly hosts. Easy access.
Oct 11, 2021
This was our second stay in this park as we needed a place to stop for the night. The spots are not level. We were unable to level our rig in the spot. Everyone is stacked on top of each other. Both of our stays were in October so we do not know how well the summer activities are for the families.
Oct 10, 2021
Fantastic staff, fantastic location. Would recommend to family and friends!
Oct 10, 2021
Super loud rumble strips on I70…. Never stopped and the playground was going full throttle at 7am… noisy place, but convenient.
Oct 10, 2021
Cabin very clean and enjoyed the mini golf.
Oct 09, 2021
we got in late, they kept me updated with text messages and made sure we had everything we needed.
Oct 07, 2021
Great place and VERY nice people working there- we stayed two nights, road noise not bad.
Oct 07, 2021
Everyone was friendly. Everything was clean and nicely decorated. We appreciated the guide to our site. We appreciated that our trash was picked up for us. These were very nice amenities!
Oct 07, 2021
It was relaxing, staff were great! Only problem was navigating the crazy roads to get there and leaving.
Oct 06, 2021
Everything was fine. I will come back if we are close.
Oct 06, 2021
Sharon and John go above and beyond. The greatest hosts. I arrived and had a major malfunction with my RV John went way beyond helping me out. Great people and a great place to stay !!!
Oct 06, 2021
Newest cleanest bathroom I've seen in a while.
Oct 06, 2021
Very helpful and friendly staff - good power - nice level site - hook-ups in good location
Oct 06, 2021
Not much to grade. Drove in late and slept and left after breakfast. Didn't use bathhouse/ restrooms. Outward appearances looked nice,
Oct 05, 2021
My husband and I enjoyed our stay very much. Thank you for your hospitality.
Oct 05, 2021
We had an enjoyable time and liked the layout of the park and how well-kept everything was. The staff in the office and outside were friendly and engaging, and willing to lend a hand as needed. In fact, we witnessed a staff member helping a guest next door with airing up a tire on the guest's truck that had deflated overnight. Quite nice.
Oct 05, 2021
Very nice and accomdating
Oct 05, 2021
More water pressure in ladies showers would be great! Great lady at front desk, she deserves a raise!
Oct 04, 2021
Very nice campground. We were only there for the night, but had no issues.
Oct 07, 2021
Got in late but nice location and quiet
- Laura Angel on Google
Oct 17, 2021
Cool little camp ground right off the highway. They have tent spots, RV spaces, sleeper cabins without bathrooms and deluxe cabins with full bathrooms. We just needed a one night stay and thankfully this place didn't require a two night minimum like many cabins. 100% better experience than a hotel, especially if you have kids and are worried about noise complaints. I stayed in a 6 person deluxe cabin. There was a neat porch swing, firepit, grill and seating area outside of the cabin. If you're staying here there isn't much space to hang out in the cabin, as it's a little cramped but definitely enough outside to enjoy the great outdoors. There wasn't a couch in the main area but a Four person table and a bed.. The heater was a tad confusing but we got it to work. If you have kids, make sure they're careful with the floor heaters, as they get really hot. No stove or dishwasher but a microwave and mini fridge. The campgrounds are very well maintained and was decked out with some pretty awesome halloween decorations, my kids loved it! They also had a seasonal outdoor pool. I would stay here again for sure! It works great for families and would be a nice getaway for a couple.
- Bailey on Google
Oct 14, 2021
Very nice campground, loved it!!
- Julie Kowalke on Google