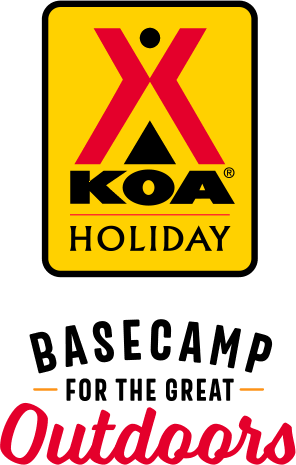 KOA Holiday Campgrounds
Whether you're exploring the local area or hanging out at the campground, KOA Holidays are an ideal place to relax and play. There's plenty to do, with amenities and services to make your stay memorable. Plus, you'll enjoy the outdoor experience with upgraded RV Sites with KOA Patio® and Deluxe Cabins with full baths for camping in comfort. Bring your family, bring your friends, or bring the whole group – there's plenty of ways to stay and explore.
KOA Holidays Feature:
RV Sites with a KOA Patio®
Deluxe Cabins with full baths
Premium Tent Sites
Group meeting facilities
Directions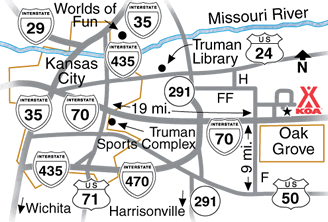 I-70, Exit 28. Go 1 block north on H Hwy, then east on 3rd St, two blocks. GPS: N39.017524, W94.125510
Get Google Directions
Jan 15, 2021
Lot of e-messages from the host very comforting as we made our way to the campground. Frindly folks and clean camping facilities. Will stay again in the future.
Jan 02, 2021
We had to leave after only a few hours to avoid the impending snow storm. Not your fault, but we can't really provide a full review on the basis of our limited time at your campground.
Dec 29, 2020
Cabin was clean and stocked with necessities. Was great!
Dec 29, 2020
Everything went smoothly in check-in out front. Site was gravel, but level and reliable hook up for my camper van AC power. The exit from I-70 is pretty weird. I wonder how many accidents occur from the confusing road routing as one exits I-70 West and finds the local road to the campground. Always truck traffic road noise is present, but considering how few year round KOA's exist along I-70....
Dec 29, 2020
The grounds were adorable. The bathroom was clean and updated. The cabins were so cute, I loved the porch swings! The staff communicated via text message very quickly. The only thing that was disappointing was the WiFi. I was not able to stay connected.
Dec 24, 2020
It was a very brief stay on our way driving from Colorado to Ohio. Everything was super clear and easy to understand. Information was communicated through text and they answered my questions in a timely and thorough manner. They also accommodated the late arrival nicely.
Dec 21, 2020
We had a great time! If we had any questions or needed any help, they were there for us.
Dec 19, 2020
Very convenient and easy for us, especially arriving when it was dark. The staff was helpful and easy to contact through text!
Dec 16, 2020
The attendant was very nice and very responsive (via text message since the office was open only on as-needed basis). The bathrooms were nice and clean. If you don't mind the highway noise, it's a great place, I feel safe. There is a BBQ place that delivers straight to your camp site too (definitely not trying to grill outside in the winter). This is our second time there and will be back.
Dec 16, 2020
Always the perfect place to stay
Dec 15, 2020
We rented a deluxe cabin. It was wonderful! With Covid, we appreciated the contactless check in. The light was left on for our late arrival and the heat was up. In the morning, a friendly KOA staff member drove by to see if we needed anything or had any questions. We will definitely be back and will recommend this location to our friends!
Dec 11, 2020
Love this place. Our group comes the first weekend of December every year and we have a blast! Nice clean facility and very friendly staff. Already reserved for next year!!! Thank you!
Dec 11, 2020
Site 10 was assigned to me on a cold December night, the power from the pole was not working properly, the plug in should have been marked as not available, and site not rented
Dec 09, 2020
clean and well maintained
Dec 07, 2020
Inbound tried to call for a reservation but no answer. 9Sunday). Stood outside office in rain for over 30 minutes until office person opened and gave a site. Site was not level, muddy, and water valve was broken off. A maintenance worker eventually came by and brought a length of hose so we could hook up to a nearby empty space. Nice park, poorly staffed.
Dec 03, 2020
Very well maintained campground. We stayed in a deluxe cabin. Price seemed a bit high, but it was clean and just what we needed.
Dec 03, 2020
Terrific staff - so helpful
Dec 02, 2020
This was only our 2nd KOA experience, and it didn't disappoint. The cabin was amazing, clean, cozy, and perfect for the weekend get away. Staff were promptly responsive to every question, call, request, etc. Very friendly and helpful! The camp is tucked away off highway and we were in another world for a few short nights. The side patio with grill, table, chairs, and fire pit was a great plus!
Dec 02, 2020
Friendly management via text and email; love the garbage pickup at the site. Nice KOA - ample room for RV. Great job of social distancing!!
Dec 02, 2020
The RV site we were on was horribly unlevel side-to-side over 5" off
Dec 01, 2020
We stayed here with a 19 ft travel trailer in mid October 2020. The employees we came in contact with did not wear masks. The laundry room was dirty, nor did we see any signs of cleaning or sanitizing. The swimming pool was closed. The lining was torn and not usable even if the weather would permit. Would not stay here again. Very disappointing for a KOA and the price we paid per night.
Nov 30, 2020
My third stay. The cabin was comfortable and spotless! A great place to stay.
Nov 30, 2020
Arrived after dark. Didn't find a reservation box for late check-in like other KoA's. Found a list of available sites and grabbed one that i could fit in. In and out in less than 12 hours. Nothing really wrong with the park. Lots of interstate noise. (trucks using jake brakes all night)
Nov 30, 2020
I tried to go to the office/store a few times, but it was closed everytime. This was on a weekday.
Nov 25, 2020
Very clean, close to freeway and fuel. Highly recommend!!!!
Nov 18, 2020
This stay was not enjoyable other times we have stayed where so much better. Of course we are in a copid pandemic however and it was Oct so getting cold kinda off season. However that is no reason to stop things like cleaning the rest rooms/shower. Fortunately our camper is self contained so we where good there. They also did not wear masks in the store/office. We have family there so do want to c
Nov 18, 2020
We enjoyed our stay at the KOA and found it to be a nice place to be while we social distanced with family. We could see that there is some construction in process and that made getting to the bathrooms a pay attention experience to stay out of the mud. The staff was very helpful and I would recommend this KOA to others.
Nov 16, 2020
It was a nice park. They were doing a little construction but still great.
Nov 15, 2020
Great staff, clean faculties
Nov 14, 2020
Had advanced reservations, by a couple weeks. Arrived late, office was closed. No advanced reservation package at check in station. No response on phone line. They had several "open sites". Chose site 5. Drove back there to find out those open sites were tore up for construction and no electrical. Drove around found open site and took it. Very poor customer service. Should be comped.
Nov 12, 2020
Clogged toilets, no toilet paper and loud interstate 70 noise. What more could you want?
Nov 10, 2020
Nice, level sites. Convenient, but a little loud next to the highway. Be sure to either order, or go to Kansas City BBQ. Amazing.
Nov 09, 2020
the? Stayed 3 nights, there are three stalls, the first was full of toilet paper and waste and the second stall was out of toilet paper the entire stay. When texted about our stay on the second day I mentioned this and got a response of okay. However as of the time we left the second stall never had the paper restocked. We like the park but if you need the facilities I recommend bring tp.
Nov 09, 2020
The women's restroom wasn't cleaned during the 2 nights/3 days we we stayed at the campground. No mention was made that the campground is 100 yards from a interstate. All day and all night long we could hear were semi's on I-70. Additionally, there is construction going on next to the campground so we got to listen to the construction workers yell profanity and use impact drivers all day.
Nov 09, 2020
To close to the highway! Heard jake breaks all night long. Doing construction on solar panels and jack hammers all day. The camp grounds were clean and well maintained but to noisy.
Nov 09, 2020
I was only in town for a quick overnight stay but my cabin was clean and safe and welcoming.
Nov 09, 2020
We have stayed here many times. On long road trips, it's a hidden gem. We drive 12-13 hrs at a time and it's so nice to pull in to your friendly place for a good nights rest. Have never had any reservation trouble at all. We appreciate you, your staff and this campground!!
Dec 18, 2020
Very clean and easy to deal with
- chad heckathorn on Google
Nov 30, 2020
Nice site. Close to the highway (we did not mind the noise).
- Jose R Garcia on Google
Nov 29, 2020
Friendly and clean KOA. We stayed at 4 KOA's on our way to and from Colorado to Georgia and back and this was the best one. They send a nice text message welcoming you and we were able to text that number to request firewood a few times. They even did a good job of spreading RV's out, so we were not right next to others. We were glad to stay at one of the deluxe patio spots with nice patio furniture, fire pit and grill. They even have trees planted between the spots to give more privacy. The bathroom and showers were clean and updated.
- Jamie Dion on Google