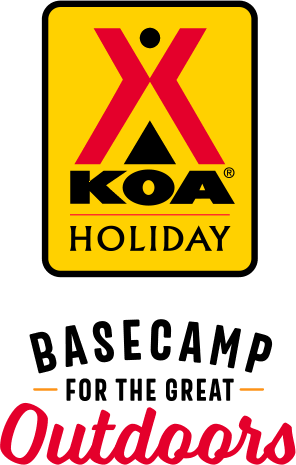 KOA Holiday Campgrounds
Whether you're exploring the local area or hanging out at the campground, KOA Holidays are an ideal place to relax and play. There's plenty to do, with amenities and services to make your stay memorable. Plus, you'll enjoy the outdoor experience with upgraded RV Sites with KOA Patio® and Deluxe Cabins with full baths for camping in comfort. Bring your family, bring your friends, or bring the whole group – there's plenty of ways to stay and explore.
KOA Holidays Feature:
RV Sites with a KOA Patio®
Deluxe Cabins with full baths
Premium Tent Sites
Group meeting facilities
Directions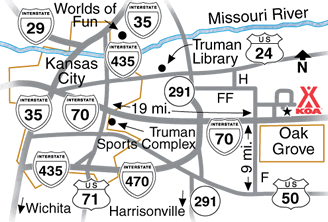 I-70, Exit 28. Go 1 block north on H Hwy, then East on 3rd St, two blocks. GPS: N39.017524, W94.125510
Get Google Directions
Jul 22, 2021
Over all fantastic. We would come again. Side 11 is very loud cause the pool is extremely close. Trees or bushes could help to get a little more privacy.
Jul 22, 2021
Loved the facility! Loved the pool and the jump pillow...would love to come back again. Loved the office. Additionally, staff helped us soo much around a lost hat that we left there and helped get it back to us! We even had BBQ delivered to the site!
Jul 22, 2021
Very nice Campground. Wonderful welcome, easy check in. Pool very refreshing after hot drive.
Jul 22, 2021
Deluxe cabin was great! Campground was a great way to relax while we travelled back home.
Jul 22, 2021
2 high price jyst wanted tent camping and she charged me for rv wouldn't work with me and give me a discount then she said they were full which was not true had spaces available
Jul 21, 2021
Very nice, clean and for the most part was quiet. Had no problems at all. Thank you!
Jul 20, 2021
It was fine but I had to weed the concrete flower container on my site. Lol weeds bothered me couldn't see flowers, got home and my beds were worse in 19 days gone. I also suggest the site we were on be used by younger kids that want to live in pool until 10 pm ....pretty noisy while we sat around our fire..site 11. Was on 12 the 3rd and it was much better.
Jul 20, 2021
Noisy I-70 100 yds from CG. Sites need leveling. Kudos for the solar power used to run the campground.
Jul 20, 2021
Awesome people/hosts! Awesome sites! Awesome sights!
Jul 20, 2021
The grounds are well kept, laundry clean, and managers very nice. Butttttttt the site are so un-level��moved into 3 sites! There were 3 other good site that they were saving for a company with 3 shorter no slides rigs that came in at night and had no trouble. We would have even paid extra but wasn't offered. They told us we could go somewhere else and they would issue us a refund, this was 8pm
Jul 19, 2021
Great customer service! Friendly, clean. Easy on/off freeway. Wish pool was open a little longer.
Jul 19, 2021
The lights on the building in the middle of the cabin area were too numerous and too bright. They shone brightly on the picnic table at night making it unusable. We did see fireflies and that was cool.
Jul 19, 2021
Because it was the start of the weekend, there should had been more staff inside checking people in. Instead there was 1 person being the registrar and store clerk serving ice cream to a family of 7, while 2 patrons were waiting to be checked in. This is a nice place but inefficient process for checking campers in.
Jul 19, 2021
The bathroom closes to our cabin wasn't working so only one bathroom and Shower room this was for the whole time we were there so over 4 days.The cabin could of been cleaned better before we showed up. There was hair clips underneath the bed in the cabin. No notification of activity or anything for the campers to know what is going on in the campground something should be posted.
Jul 18, 2021
Friendly staff, but office and pool close early and open late. Bathrooms need to be updated and shower stalls need a good cleaning,especially in the corners.
Jul 18, 2021
Great place. Clean, friendly. Would stay there again
Jul 18, 2021
We had a wonderful time and had BBQ delivered to our RV. It was delicious!
Jul 17, 2021
Awesome stay. Clean, flat, well kept grounds. Well built and well placed utility hookups. I wish all of our stops were this nice!
Jul 17, 2021
nice place to stay
Jul 17, 2021
I was given a space #35 that the water didn't work. We were told to use the water at #34 which was far away from where our hose could reach. So we had to move our trailer closer to the other space and ended up on big slant, so we couldn't level our trailer at all. This made our fridge not work. We put up with it since it was late and the whole time was ruined.
Jul 17, 2021
It is clean and nice women's bathroom, it also has a hair blower and I can wash my hair to use it without carrying my blower. I like the microwave in the cabin as well. This site sent us the information about Wifi code prior to our late arrival.
Jul 16, 2021
We loved the site we were put on close to pool! We return again tomorrow on our way back through. Not our first trip using this KOA
Jul 15, 2021
Great campground and staff
Jul 15, 2021
Great staff and great location for accessing the area.
Jul 15, 2021
Stayed there before and enjoyed it again.
Jul 15, 2021
Only over night but as always when I stay hear I am welcomed and offered help getting set up.
Jul 15, 2021
Internet was bad and the tv signal would freeze up.
Jul 15, 2021
Great place for kids!
Jul 15, 2021
Freeway noise (percussion) was unbelievable at our unlevel, too short, backin site - our truck had to be parked sideways and on the grass. Tried to change sites but were told nothing was available during our two day stay - but then several sites stayed empty. The creek behind us was overgrown and the bugs were bad. Other amenities were great - but the site was horrible.
Jul 14, 2021
This review has been removed by the moderator for inappropriate or incorrect content.
Jul 14, 2021
Bathrooms need towel dispensers. Dryers require the full cost in order for them to start instead of paying for only the amount of dry time needed. Algae growing along a water leak across the path to the main store/restrooms.
Jul 14, 2021
great staff; great site
Jul 13, 2021
The campground is well-kept and has fun activities for kids. Campsites are adequate but not spacious. Fees seem high ($70/night, incl. taxes).
Jul 13, 2021
Just a brief one nighter, but everything went well, as expected.
Jul 13, 2021
We called while on the road and had just missed the online reservation deadline. We were able to get through and they were so helpful with setting us up with a spot on short notice and it worked out perfectly. We just stayed overnight and weren't able to take in all the amenities offered but there is a lot here and we will recommend to our friends and family as the cross the country.
Jul 12, 2021
This place needs some Reno. It could be so much better. The site was uneven, and sparse grass. Not much made me want to stay again.
Jul 12, 2021
Nice park, lots of activities for kids, my daughter loved the mining area as well as the jumping pad. Very helpful and friendly staff.
Jul 16, 2021
This is my first visit to a KOA, and our first trip with our truck and trailer. Easy to find, and easy to get in to (a plus for newbies). The office staff was super-organized, welcoming and friendly - just what you need after a long day of travel. Our site was easy to find, easy to get into and set-up in with both 50 and 30 amp power, water and cable available at our site. Yes, it's close to Hwy 70 and you can hear some road noise, but with the A/C on, it's barely noticeable. I'd definitely come back here.
- ChristineM4788 on Trip Advisor
Jul 16, 2021
Great jump pads, nice shaded campground, clean pool, and they sell beer!! The sleucing bags are really well priced and produced way more than expected gems! The kids loved it here! Highly recommend.
- carolyn burrell on Google
Jul 23, 2021
Level site. Mostly gravel. Laundry expensive at $2.50 for washer and $2.50 for dryer. They promote local BBQ restaurant (KC Baby back ribs) upon arrival and hand out their menu. Restaurant is overpriced and gives small portions. Delivery to campground arrived cold.
- adamltw on Google