Alert
Updated 06/27/2020
Kamping and COVID-19 Guidelines

At Kampgrounds of America, our mission is connecting people to the outdoors and to each other.
During these rapidly evolving times, connecting people to each other takes on new meaning. It revolves around the responsibility we have for the health of our employees, our campground owners, and you, our guest.

Kankakee South KOA is encouraging a safe outdoor experience to combat and prevent the spread of the COVID-19 virus. In support of that initiative, our campground will offer:

· Contactless check-in.

· Campsite delivery of propane, firewood, ice, and other store items by texting your campsite number and needs to (815) 939-4603.
Payment will be allowed by credit card or charged to your site and settled at check-out.

· Staff trained and exhibiting safe and social distancing practices to include the wearing of masks and gloves.

· Frequent sanitization of open common areas.

For those visiting us, until further notice, Kankakee South KOA will enforce the following rules and restrictions for the use of its private park during the COVID-19 epidemic. These parameters are being put in place to ensure the health and safety of our staff and our welcomed campers.

Rules

1. All camping is currently by reservation only. Sites available are currently limited to full hook-up sites, Cabins, and limited tent sites. Campers will be spaced at a greater distance than that recommended by the Centers for Disease Control & Prevention and Illinois Department of Public Health.

2. Campers with symptoms consistent with COVID-19 should stay or go home and not engage in any outdoor activity. Symptoms include the following:
a. Fever of 100.4 or more
b. Cough
c. Shortness of Breath
d. Body Aches and Muscle Pain
e. Sore Throat
f. Loss of Taste and/or Smell
g. Chills
h. Nausea and Vomiting
i. Diarrhea
j. Skin Rashes
Immediately notify the KOA office via phone or text if someone within your campsite is exhibiting symptoms during your stay and you will need to vacate your site earlier than anticipated.

4. Campers are to maintain social distancing of at least 6 feet at all times from others, except for members of the same household.
Campers are to wear masks when social distancing cannot be assured or when in a common area with other campers.
Campers are to wash hands often with soap and water for at least 20 seconds. If soap and water are not readily available, use a hand sanitizer containing at least 60% alcohol.
Campers should avoid touching eyes, nose, and mouth with unwashed hands.
Groups (not of the same household) will be limited to 10 individuals in a campsite while practicing social distancing and/or wearing masks.
Restrictions

1. The following common areas will remain closed until further notice:
a. Pool
b. Pavilion

2. There is limited camping available for tent camping and for RV's without their own self-contained bathroom facilities.

3. Laundry is available to guests by appointment only. (Please call or text the office to reserve your time).

4. Pet park use is limited to one family occupant at a time.

5. Large group social gatherings of more than 10 non-household members are prohibited.

The Kankakee South KOA owners and staff are diligently monitoring the situation around the clock and are actively working to ensure our campground takes all recommended precautions to ensure safe and healthy stays for all our campers.
We will continue to monitor the Centers for Disease Control and Prevention (CDC) and local health agencies for developments and guidance and when warranted, the above rules and restrictions will be changed and/or removed.

Kankakee South KOA Reviews
Directions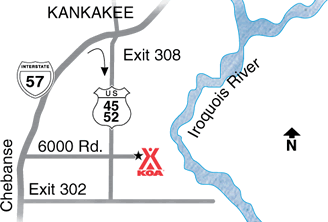 From Exit 308, I-57 and US 45-52: Go 3 miles south, then 1/2 mile east on East 6000 South Road.
Get Google Directions
May 01, 2019
I do not recommend to stay in the delux cabin because the quality of water is very bad and it seems like sewer. staff recognized these conditions but they do not think that they are going to fix this problem. You should consider before you book up!
Apr 29, 2019
The park is nice, and it's good to have the amenities it has, but the sites were not level and the 50 amp sites were far from most amenities.
Apr 27, 2019
Quite, clean and very nice park. Hope to stay again in the future.
Apr 27, 2019
Helpfully friendly staff. Tiffany was very proactive and thorough in her job. Only problem was that many of the sites were poorly drained from earlier rainfall. Other than that it was a nice place to stay.
Apr 25, 2019
this koa is everything you could want or need for a wonderful time away, the brunos and their staff go the distance to make everyone who stays at this koa "happy campers" keep up the great work! we will be back!
Apr 22, 2019
Staff is friendly and helpful. Bathrooms are clean. My kids loved the game room and park. We will definitely be back!
Apr 20, 2019
Very friendly at check in ! The place looks very old, office was clean.Our lot was nice with a cement pad Our biggest concern was the smell & odor of the water . The minute we used our shower it had a very strong smell . Don't think will come back again if we where in the area.
Apr 19, 2019
A quiet place to stay overnight when enroute home.
Apr 19, 2019
Good location. Easy to get to for a quick overnight stop.
Apr 16, 2019
Great stay. Enjoyed a great sleep. Good television service with aerial.
Apr 10, 2019
Everything was great, and the owners were very helpful, and flexible with changes in our plans. The park is great, and the only reason I can't give it the highest rating is because there was no internet access that worked. They warned us at check in there wouldn't be a strong enough signal for streaming, but we weren't able to access email or get any work done. Otherwise all was good!
Apr 06, 2019
Just an overnight. Nice restrooms. They were just getting open for the season. Not much to do in the area
Apr 03, 2019
awesome people
Dec 08, 2018
Nice quiet campground close to I-57. Owners very accommodating. Under some renovations. Nice size fenced in dog park.
Dec 02, 2018
First time at a KOA. We attended the Halloween weekend. Absolutely wonderful. Highly recommend Kankakee!
Nov 25, 2018
Good spot for stopover. Showers clean and good but wifi terrible.
Nov 07, 2018
Enjoyed the site size
Nov 04, 2018
Not kept up at all..very run down..internet was like it was turned off...wont be staying there again
Nov 02, 2018
Perfect place for a traveler, convenient store, attentive staff, will stay again and again! �
Oct 31, 2018
Nice campground, quiet with easy access to Chicago for day trip. We will definitely use again. Need to get rid of the eyesore, collapsed trailer at site 46.
Oct 30, 2018
Very well managed...neat, clean and beautiful!
Oct 30, 2018
The property is not taken care of. The pool has not been opened in a couple of years. We purchased over 30 dollars in fire wood and it was to wet to burn, You advertise falsely, your volleyball net is trash, so is the basketball goal. There is no heat in the cabins, and the wifi is non existent. Your place looks nothing like your pictures, we were very disappointed.
Oct 29, 2018
Everyone who worked at the KOA was great, really friendly and accommodating! We went late in the season and enjoyed the park not being completely full. Thanks for having us.
Oct 29, 2018
This was the second time we stayed here. Very nice campground in the woods. Roomy spots, very clean, friendly people. Will definitely come back!
Oct 29, 2018
We were only there 1 night. Was their last weekend if the season.
Oct 27, 2018
Wonderful family park.
Oct 25, 2018
We Always Have A Wonderful Time..Beautiful Staff Inside and Out
Oct 24, 2018
Excellence in everything they did for us and their place .....Kudos to you all !!
Oct 23, 2018
We all had a blast. The effort that was put out by the hosts was outstanding. Can't wait till next year.
Oct 22, 2018
The weather was horrible and we were in a tent, with that being said, I would still go back and do it all over again. This was our second time staying here. The staff was amazing and so was the campground. Loved it! And will be going back again next year
Oct 22, 2018
As always it was very nice at our camp site and they always have so much going on. Felt bad as we had some crazy weather for Saturday but after it went through they kept everything else going. Very very nice people who run this campground!!!!! and they keep it very clean also.
Oct 22, 2018
Wonderful time except for the short freaky weather but great after storm passed through
Oct 20, 2018
This campground has wonderful clean restrooms, interesting places to sit around the grounds, activities, fenced dog play area & very helpful friendly staff!
Oct 19, 2018
Campground and washrooms were clean. Late arrival was convenient.
Oct 19, 2018
Very quiet exactly what I needed
Oct 19, 2018
Level sites, good over the air TV, good Wifi
Oct 16, 2018
The Kankakee South KOA is a wonderful family campground. They had great Halloween activities scheduled for the whole weekend, geared toward children, families and adults. All were well prepared and well attended. We LOVE our stays at KOA and camp exclusively at this campground, Thanks for the great weekend!!
Oct 16, 2018
Great Halloween festivities
Oct 16, 2018
Alot of fun on Saturday when the campground had a Halloween trick-or-treat time. Many, many kids (and parents too) joined in.
Jun 21, 2020
Well kept clean, friendly staff I would definitely go back again!
- Monique Pasko on Google
Jun 19, 2020
It is beautiful and relaxing staff is very friendly can I campground very clean and well kept
- Mark Pasko on Google
Jun 01, 2020
Booking was super easy. Rob was very accommodating. The campgrounds was clean. Everything was wonderful. Couldn't have asked for a better camping experience.
- Judd Burwell on Google

Kankakee South KOA
Open April 1 - October 31
425 East 6000 South Road
Chebanse, IL 60922
Check-In/Check-Out Times
All Sites
Check-in: 2:00 pm, Check-out: 11:00 am
Accommodations
Check-in: 2:00 pm, Check-out: 11:00 am
Get Google Directions

© 2020 Kampgrounds of America, Inc.