Directions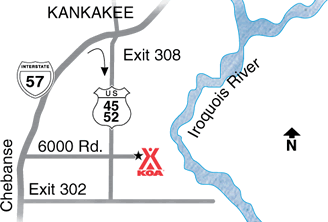 From Exit 308, I-57 and US 45-52: Go 3 miles south, then 1/2 mile east on East 6000 South Road.
Get Google Directions
Oct 30, 2020
Nice quiet campsite. Friendly staff. They were great about adhering to CDC COVID precautions (contactless check-in, etc) during our stay in October 2020. The location is convenient to lots of fun family activities in a normal (non-pandemic) year.
Oct 26, 2020
We had a blast, this was our second time staying in a cabin. It was great, nice and clean with super friendly and helpful staff.
Oct 26, 2020
We stayed in L2 and L3 cabins for the weekend with another family. The kids had a blast with the Halloween activities, texting with the KOA staff was easy, and the staff was very accommodating.
Oct 19, 2020
We spent the weekend in one of the lodges at Kankakee South KOA and had a great time! The owners put a lot of obvious effort into making the weekend fun for their campers while maintaining everyone's safety as well. Our kids loved the scavenger hunt, reverse trick or treating parade, and the light show was awesome too! Spending one weekend each fall with them will definitely be a new tradition!
Oct 19, 2020
The deluxe cabin was gorgeous, clean and well planned out. Towels, and bedding provided was a huge help. The landscape is well done. The beds were super cozy. The staff was wonderful, friendly, and helpful (they even deliver wood!).
Oct 06, 2020
We came for our 5th annual Halloween campout & knew things would be different due to COVID-19. The KOA did a really good job of coming up w/things to-do to offset. We're now a group of 25 campers. We may be outgrowing the Kankakee location, our group gets bigger (and louder) every year.
Oct 05, 2020
Great campground, extremely well maintained & updated & very friendly & accomodating owner, Rob, & staff. Practices safety precautions during the pandemic. Fun Halloween weekend.
Oct 03, 2020
This was a great waypoint for us as we traveled across the country. We appreciated being able to have a cabin to ourselves. Check-in and check-out was very easy and quick, particularly with the on-line and text messaging communications.
Sep 28, 2020
Love the trees and most fellow campers were very friendly. The campground was very clean and staff very attentive.
Sep 26, 2020
Loved the Halloween decor. I would easily give this place 5 stars except the WiFi was terrible we were right next to the front area so I figure wifi would be good compared being to the back but we could not stay connect to the wifi for more then 5 mins.
Sep 21, 2020
Hosts were helpful and pleasant, we really enjoyed our stay. This would be a great location to stay for going into Chicago for the day, Amtrak close by in downtown Kankakee. We plan to return to do that.
Sep 13, 2020
It is a beautiful campground even with the construction going on. We were in a brand new cabin. Very nice. Linens and towels was a great plus. My only disappointment was that there were no pots and pans, no glassware and no coffee maker as I have had in several other KOA cabins where I have stayed.
Sep 08, 2020
Love coming there and staying in the deluxe cabin.
Sep 01, 2020
enjoyed the time nice peaceful friendly
Aug 31, 2020
It was a girl's weekend in celebration of my daughter turning 6. We were told at the time of booking you were working on getting the pool open, but were disappointed to find it still closed. That didn't stop us from enjoying the park and our NEW deluxe cabin. We loved the privacy and patio.
Aug 24, 2020
Clean and quiet! Very nice people and clean cabins and bathrooms.
Aug 18, 2020
Very friendly staff, great Covid-19 procedures
Aug 17, 2020
I have been staying here for years. Rob is a wonderful host & is there to help. He has really updated this KOA over the years. During Covid I felt safe & he & everyone wore masks & social distance. I am returning in Oct.
Aug 13, 2020
Despite a strong storm and power outage we had a fantastic trip. The staff was accomodating and super friendly. We would recommend the cabins. It was so cozy and clean! We will be back!!
Aug 11, 2020
Wonderful place to visit
Aug 10, 2020
LOVED OUR STAY. Very responsive, helpful staff. Loved the game room/laundry room, clean cabin. Very nice facility.
Aug 10, 2020
We stayed in the 2 bedroom cabin. It was very clean. Space was perfect. Highly recommend the cabin!!
Aug 06, 2020
Loved the new cabins. If I owned this campground there would be just a few little things I'd do to enhance the experience. But overall with the world being what it is this year we had a great time.
Aug 03, 2020
We had a great stay! Staff was always friendly and requests for wood and garbage pick up were very prompt. Will definitely stay again.
Jul 20, 2020
The cabin was appropriately sized and cozy. Thermostat was not adjusting well though. Bedsheets were not changed on one of the bedrooms, there are strands of hair by the pillows. But overall the stay was very relaxing.
Jul 13, 2020
Awesome! We stayed in their new deluxe cabins. So when we booked our stay we thought we booked the cabin with two queen beds when we actually booked the one with bunks. When we got their we realized we made a mistake and we wouldn't be able to fit comfortably. Well I called office and they were so amazing and accommodating and moved us! Great service, beautiful area and maintained campground!
Jul 02, 2020
everyone was very nice, profession and helpful.we had a great time.......thank you
Jun 26, 2020
Family caring atmosphere. Exceeding customer expectations with a SMILE. Great quiet location and the train going by regularly during the day with their whistle is a wonderful sound.
Jun 15, 2020
It was very nice, ur new lodges are fantastic
Jun 01, 2020
Very peaceful and the owners were friendly and their to help with any needs you may have.
Sep 16, 2019
Rob, the owner, goes out of his way to make your stay wonderful. He has made many great changes over the years.
Sep 16, 2019
Very nice and helpful staff. Clean and comfortable cabin. Nice....
Sep 12, 2019
Very nice facility. Everything was great.
Jul 07, 2019
We had a great time! We will definitely be back!
Jun 14, 2019
Staff was amazingly friendly and accommodating. Facilities were clean and well maintained. Overall one of the best stays I have had at a KOA. I will definitely put Kankakee South KOA on my list of favorites.
Jun 11, 2019
I stayed 1 night June 9, 2019 and found new friends there
May 25, 2019
Deluxe cabin was great! Clean and tidy, fresh towels, and sheets. All windows opened smoothly and allowed for plenty of fresh air during all the rain! Staff was super friendly!
May 01, 2019
I do not recommend to stay in the delux cabin because the quality of water is very bad and it seems like sewer. staff recognized these conditions but they do not think that they are going to fix this problem. You should consider before you book up!
Oct 30, 2018
The property is not taken care of. The pool has not been opened in a couple of years. We purchased over 30 dollars in fire wood and it was to wet to burn, You advertise falsely, your volleyball net is trash, so is the basketball goal. There is no heat in the cabins, and the wifi is non existent. Your place looks nothing like your pictures, we were very disappointed.
Oct 25, 2018
We Always Have A Wonderful Time..Beautiful Staff Inside and Out
Oct 14, 2018
Always a great experience...my family & I stay at this location often, people are friendly, staff welcoming, very clean & well kept facilitiies, dog friendly. Lots of family activities during holiday. Great KOA sites!
Oct 01, 2018
It was great!! I loved it. Coming next year. Just a lil something the cabin had a bad smell I think it was septic from the sewer or water line. But other than tht awesome time. Staff preset cool too���
Oct 11, 2020
Had a great experience. Staff did all they can to make things safe yet fun for the kids.
- Dawn W on Google
Jul 02, 2017
Awesome! Reasonably priced firewood and accessories in the little store and very quiet!
- Darlene Scholtes on Google
Nov 09, 2020
Nice place ,but some of the lots a small.
- Carrie Ceja on Google