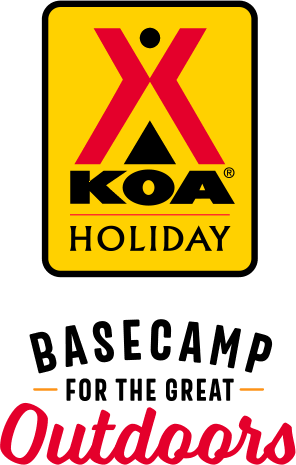 KOA Holiday Campgrounds
Whether you're exploring the local area or hanging out at the campground, KOA Holidays are an ideal place to relax and play. There's plenty to do, with amenities and services to make your stay memorable. Plus, you'll enjoy the outdoor experience with upgraded RV Sites with KOA Patio® and Deluxe Cabins with full baths for camping in comfort. Bring your family, bring your friends, or bring the whole group – there's plenty of ways to stay and explore.
KOA Holidays Feature:
RV Sites with a KOA Patio®
Deluxe Cabins with full baths
Premium Tent Sites
Group meeting facilities
Directions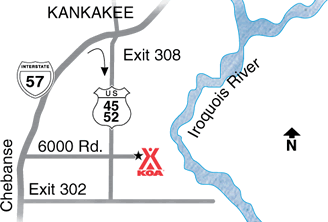 From Exit 308, I-57 and US 45-52: Go 3 miles south, then 1/2 mile east on East 6000 South Road.
Get Google Directions
Sep 25, 2021
We never have a bad stay. The staff is friendly and polite and the campground is well maintained and facilities are kept clean.
Sep 25, 2021
Awesome stay. Staff is very personable and accommodating!
Sep 25, 2021
Largest KOA K9 park! It was fabulous, high, large, grassed fenced in area! Great for larger dogs! Location is just south of Chicago in farm country, a bit off the beaten path for through travelers, but great for city folk looking for a quiet getaway! I would probably not chose this location again just due to the fact that it too far out of way for where I would be going. Clean bathrooms! Nice
Sep 24, 2021
Very nice place. Bonus- Best WiFi of any KOA in the US.
Sep 23, 2021
The staff is extremely helpful and accommodating to my needs. I had a special situation and they were kind enough to accommodate me. I was greeted with a very friendly and kind staff member. They escorted me to my site. They pick up the trash every day. The owner is very nice. It is just an over-all nice place. The campground was very clean. The bathrooms were very clean.
Sep 23, 2021
That water smell was awful. Everything else was fine
Sep 22, 2021
Nice & QUIET. The electric 30 amp service on site 24 that we stayed on was sketchy. When we had our AC going we could not use the coffee maker or anything else.
Sep 22, 2021
Great time, very friendly and helpful! Will camp here again!
Sep 22, 2021
Jackie was great! Super nice and accommodating. We will definitely be back!
Sep 21, 2021
Jackie was great, answered all our questions and then some. :)
Sep 21, 2021
Friendly staff. Nice quiet campground.
Sep 20, 2021
Great campground and even better staff. Thanks for a relaxing weekend.
Sep 20, 2021
The staff here is wonderful. They are always accommodating!
Sep 20, 2021
Always nice staff and the grounds are amazing. Been to a few different campgrounds around the area and this is our favorite.
Sep 20, 2021
The only disappointing part was how much it cost for the firewood and how much wood you got. We've paid $1 less at other campground and got double the amount of wood. Would suggest giving at least 2-3 more pieces of wood for the price you charge. You need enough to be able to have a campfire for 1 night and for it last a good 2-3 hours before having to call it a night before going to bed.
Sep 20, 2021
Staff was friendly, helpful and very informative
Sep 20, 2021
It's called no man's land. It's out in the woods.
Sep 20, 2021
We had an enjoyable stay. It was quiet and comfortable. The park host was very friendly and helpful. The GPS took us on a wild goose chase getting there, but that was not their fault. The park was beautiful. Lots of amenities.
Sep 19, 2021
Stayed here for 10 days clean well run RV park perfect for a short stay or long.
Sep 19, 2021
Only stayed one night but could have stayed longer if we had time. Very nice campground, bigger than it looks with lots of trees. Nice fenced in pet area to let your dog explore. We got the perfect spot with a garden next door. Loved it!
Sep 19, 2021
Nice facility and great hosting! Very accommodating and friendly host!
Sep 18, 2021
While this KOA seems to be smaller than some others we've stayed in, it was very clean and well-kept. The staff members we interacted with were friendly, polite and professional! The space between the sites were a little close. But, for us, we had a Deluxe site on the end and had more than ample space! Overall, we would stay here again!
Sep 18, 2021
Horrible water
Sep 18, 2021
Very welcoming and friendly staff. The campers were super friendly too. Many locals keep their rigs in the park. We got good travel directions from them. Bathrooms were clean. We would stay here again
Sep 17, 2021
Nice, quite remote campground. Off the beaten path. Tranquility!! Helpful staff.
Sep 16, 2021
Great park - quiet. Staff very friendly & helpful, from escort to our site to the gal who filled our propane tank. Would recommend to anyone going thru Kankakee area.
Sep 15, 2021
Everything was good. Site needed some work.
Sep 15, 2021
Very nice KOA, big sites with concrete slab patio, fire pit and swing. Staff was very friendly, took you to your site and made sure you were satisfied with the choice. Price was a little on the high side compared to other KOAs, but definaiely one that we will stop at again.
Sep 15, 2021
We only stated 1 night but we will be back. Camp was clean and had plenty to keep kids occupied.
Sep 14, 2021
The Kankakee KOA South was the perfect place to rest our heads after driving almost 500 miles in one day. We were greeted by lady who took the time to escort us to our site which ended up being to short so she then escorted us to a more suitable longer site. That pull thru site was long enough where we did not have to unhook our 35' 5th wheel. Thank you! We highly recommend the Kankakee KOA SO
Sep 13, 2021
Great place just wish something could be done about the water.
Sep 13, 2021
The only 2 things I would say that could've improved my experience is - the tv wi fi connection seemed poor. Continuously kept buffering. - an in room coffee maker would've helped. Overall loved it.
Sep 13, 2021
Whole campground is clean and quiet. 2 negative things are quality in water smells very bad like rotten eggs. Other is campsites are a little too close together and water/sewer connections are too far away from where they should be
Sep 13, 2021
The older section the sites were SO close and felt more like a state park. The back section was amazing. We had B2 amd LOVED it.
Sep 13, 2021
Clean and friendly. Great customer service and even the other campers were terrifically friendly. My only suggestion is that the dryers should have an option for adding a quarter at a time for a little more drying of some items.....
Sep 12, 2021
Everyone is always so friendly. The staff go out of their way to help you or service you. It's very welcoming environment.
Sep 12, 2021
We asked for satellite friendly and big rig site, put in a back-in site that satellite was blocked by huge trees. Site was large enough for our rig and had a nice patio and swing. getting out of campground was near impossible, large rocks placed around curve, could not clear with our 40 foot fifth wheel. Had to ask long term resident to move his vehicle and then do multiple backup/foward maneuvers
Sep 10, 2021
Very satisfied with the park. Only negative is the water smell, taste, and pressure. After our three nights we needed to leave.
Sep 10, 2021
Loved the campground, staff, and site. Perfect after a long day of driving!
Sep 09, 2021
Beautiful cabin by the pond.
Sep 08, 2021
Have been stopping in there now for the last 3 years. It's a great place to relax and the staff are always friendly and helpful
Sep 18, 2021
One of the nicest KOAs that we have been to, though the sites are close together in some areas as usual. Plenty of shade, friendly staff. Garbage pickup twice a day and propane filling, pickup and delivery whenever you need it just by texting the office. We had an end site across from the dog park and that was terrific, though only 30 amp. Other campers were considerate. The laundry room is small but adequate. There is a Walmart and other stores about 10 minutes away.
- Denise Hamel on Google
Sep 13, 2021
One of the better KOA'S we have been in. Great service - friendly and always ready to help. The camp was kept clean. The spaces were comfortable as to size and many were drive thru.
- rrad1956 on Google
Sep 10, 2021
Safe, quiet and well run RV park. Park hosts are friendly and helpful. All around a great experience.
- F Guntenspergen on Google