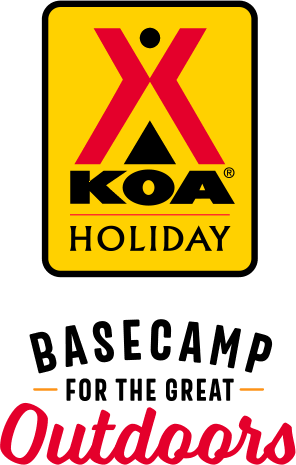 KOA Holiday Campgrounds
Whether you're exploring the local area or hanging out at the campground, KOA Holidays are an ideal place to relax and play. There's plenty to do, with amenities and services to make your stay memorable. Plus, you'll enjoy the outdoor experience with upgraded RV Sites with KOA Patio® and Deluxe Cabins with full baths for camping in comfort. Bring your family, bring your friends, or bring the whole group – there's plenty of ways to stay and explore.
KOA Holidays Feature:
RV Sites with a KOA Patio®
Deluxe Cabins with full baths
Premium Tent Sites
Group meeting facilities
Directions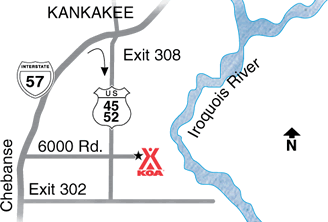 From Exit 308, I-57 and US 45-52: Go 3 miles south, then 1/2 mile east on East 6000 South Road.
Get Google Directions
Dec 30, 2022
Beautiful campground!
Dec 24, 2022
Owners keep things up, even when the weather is bad. Wonderful place.
Dec 13, 2022
Excellent KOA! Friendly staff
Nov 04, 2022
Everything was prefect for a great camping weekend. Family enjoyed the Halloween activities!
Nov 02, 2022
My family went on Halloween weekend. It was such a organized fun weekend. Hayrack rides, trick and treating, and a haunted fun house. Love all they work they did for this event.
Nov 02, 2022
Stay was fine no issues. Could not get satellite service was main issue. Pre-checkin was very good. Individual was promptly there to meet and lead us to the lot. Narrow turns for a large motor coach towing a vehicle but ok.
Oct 31, 2022
Halloween is amazing. I love the activities and light show. The staff is friendly and always go the extra mile to ensure a great time is had by all. It is why we keep coming back year after year.
Oct 31, 2022
Hosts were friendly and provided an awesome Halloween experience.
Oct 31, 2022
Great weekend a lot of great things on display for halloween. Light display was awesome!!! We will be back���������
Oct 31, 2022
This weekend was amazing! Such a great place, great people, fun for the kids!
Oct 31, 2022
Campground is always nice and well maintained. We love it!
Oct 31, 2022
Another wonderful Halloween to end the camping season! Rob, Julie and staff go all out and our Grandson declared "that was an awesome camping weekend". See you next season!
Oct 31, 2022
Very nice and always have stuff to do for the kids
Oct 30, 2022
Liked it very much, going to stay again
Oct 29, 2022
The doggie treat were an extra special touch
Oct 27, 2022
Very quite and clean just outside of town.
Oct 27, 2022
Some of the nicest and most helpful staff of any KOA I have been to. Sites were easy to get in to and the area was very clean.
Oct 27, 2022
Two complaints-both very minor. One, we arrived after dark and there was absolutely no lighting anywhere. I had to walk around with a flashlight to find our spot. And secondly, we arrived late because our GPS- I used Apple's- sent us on a wonky route- down tiny little roads- almost 1 lane between farmers fields! Twisted and turning. Just thought I would mention that in case anyone else
Oct 26, 2022
Beautifully maintained campground decked out for Halloween.The autumn maples and oak trees were gorgeous.Natural setting of gravel sites and roads make for a woodsy feel-features I look for in a campground.Sites spaced well.The bathrooms were clean and well maintained with hand-painted nature-themed murals.The woman checking us in was warm, friendly,helpful and funnyi!Loved it there We'll return!
Oct 25, 2022
This was our second year at Kankakee South KOA. They do a fantastic job making you feel at home. Their Halloween weekends are so much fun for young and old alike. The campground is well kept, the bathrooms and showers are spotless. Highly recommend!!
Oct 25, 2022
The stay was just overnight- worked out well for stop over.
Oct 24, 2022
We love this place.
Oct 24, 2022
We love coming every year, and already booked for next year! The staff is so helpful, accommodating, and generous. The kids love the trick or treating, scavenger hunt, and light show. Can't wait to see you next year.
Oct 24, 2022
Visited KOA Kankakee for a Halloween weekend with a group of friends and our 6 kids. We stayed in the cabins and they were perfect. Super clean, lots of extra blankets and pillows. The beds were very comfortable. So many fun activities for the kids and the new playground is amazing. The owners of this KOA really work hard to make the grounds nice and updated.
Oct 24, 2022
Had a great time at this KOA in Kankakee. Campground workers were amazing. Dropped off firewood within 10-15 minutes of requesting it. Very helpful and friendly. Kids loved all the events set up for Halloween. Will definitely be back!
Oct 24, 2022
We stayed for the weekend this October. They had festivities for Halloween which included a whole bunch of activities for parents and kids! We already booked for next year!
Oct 24, 2022
Rob, Julie and staff were amazing. Beautiful campgrounds, very well maintained.
Oct 24, 2022
Good campground and site. Good Halloween program, however the haunted house was not family friendly for my 5 year old. Fun scared and terrified are not the same things. Store was useful; please consider adding jam to the selection. Staff was friendly, courteous, and helpful the entire weekend. The gaga ball pit and basketball hoop will be big draws as we return next year.
Oct 24, 2022
We had a great stay! All the Halloween festivities they had for the kids were amazing! The staff was so helpful and friendly! We will be back next year!
Oct 24, 2022
we loved the halloween activities and people there were very friendly!
Oct 24, 2022
Fantastic experience! Grandkids and I thoroughly enjoyed the Halloween festivities that this KOA Team put together. Clean, neat, gorgeous campground in the country yet close to amenities (5-10 minutes travel). Shout out to Rae~ she was really personable, professional and made sure we had everything we needed. Ms. Jackie is a sweetheart, too! Bubba- you rock! We will be back!
Oct 24, 2022
They did a great job for the Halloween weekend. Great for kids 10 and under. Never been to a place that provides service like you would get at a resort. Need ice? They deliver. Need fire wood? They deliver. My wife and two kids (6 & 9) would recommend this place. 7,8,10
Oct 24, 2022
Comfortable. Staff very helpful. Clean campground. Nice activities for the kids. Glad it was not dominated by the seasonal which can be intimidating. Good selection in store. Great reservation process and check in. Enjoyed it immensely. Would love it if you had info on Kankakee River SP and Rock Creek but not a complaint.
Oct 22, 2022
He came for one of the Halloween weekends. The planned activities were fun and the staff was friendly and accommodating. The campground itself and restrooms were kept clean and the quiet hours were reinforced. We will be back!
Oct 22, 2022
We needed an early check in and they were very accommodating.
Oct 22, 2022
3rd time we stayed in the last 2 years. Very well kept campground and the workers are friendly and helpful,we have recommend to our RV friends.
Oct 20, 2022
Clean, well run, friendly staff - lovely park - sweet spot,
Oct 19, 2022
As always our stay was great, (could have been a little warmer) you have little control over that, l know but it was still great. Sadly it was our last stay for this camping season but God willing we will see you in the spring. Have a great winter and happy holiday season, always susan
Oct 19, 2022
Great place to camp!!!!!!!
Oct 22, 2022
Fantastic experience! Everyone working here is so nice and knowledgeable. Rae was so pleasant during pre-stay phone conversations and then checked us in. She is an asset to your business! The kids loved the Halloween activities; you guys knocked it out of the park! Clean restrooms with wonderful hot showers, really nice playground very clean park. Loved that it was in a rural area but only 5 miles from town.
- Constance Koch on Google
Oct 13, 2022
We had a great time at this KOA. The staff was very friendly and responsive. We happened to be there over a weekend in October where they had Halloween events. Our kids are grown but we enjoyed watching all the kids dressed up and a lot of camp sites were decorated for a contest. The camp WiFi was great and a ton of local channels. We definitely will go back.
- Tana Curtis on Google
Oct 11, 2022
Clean and cozy cabin. We stayed in the 2 queen bedroom unit with tons of outdoor space. Had a great time! Remember to bring your own kitchen items, including coffee maker, as the kitchens are not stocked. Big Weber grill made it really easy to cook out and nice patio table and chairs on a large concrete slab for dining. Love the swing by the large fire pit and big shady trees. Will stay again at this friendly campground!
- Char Hollaway on Google