Alert
Updated 06/27/2020

POOL IS CLOSED FOR THE 2020 SEASON.

Kamping and COVID-19 Guidelines

At Kampgrounds of America, our mission is connecting people to the outdoors and to each other.
During these rapidly evolving times, connecting people to each other takes on new meaning. It revolves around the responsibility we have for the health of our employees, our campground owners, and you, our guest.

Kankakee South KOA is encouraging a safe outdoor experience to combat and prevent the spread of the COVID-19 virus. In support of that initiative, our campground will offer:

· Contactless check-in.

· Campsite delivery of propane, firewood, ice, and other store items by texting your campsite number and needs to (815) 939-4603.
Payment will be allowed by credit card or charged to your site and settled at check-out.

· Staff trained and exhibiting safe and social distancing practices to include the wearing of masks and gloves.

· Frequent sanitization of open common areas.

For those visiting us, until further notice, Kankakee South KOA will enforce the following rules and restrictions for the use of its private park during the COVID-19 epidemic. These parameters are being put in place to ensure the health and safety of our staff and our welcomed campers.

Rules

1. All camping is currently by reservation only. Sites available are currently limited to full hook-up sites, Cabins, and limited tent sites. Campers will be spaced at a greater distance than that recommended by the Centers for Disease Control & Prevention and Illinois Department of Public Health.

2. Campers with symptoms consistent with COVID-19 should stay or go home and not engage in any outdoor activity. Symptoms include the following:
a. Fever of 100.4 or more
b. Cough
c. Shortness of Breath
d. Body Aches and Muscle Pain
e. Sore Throat
f. Loss of Taste and/or Smell
g. Chills
h. Nausea and Vomiting
i. Diarrhea
j. Skin Rashes
Immediately notify the KOA office via phone or text if someone within your campsite is exhibiting symptoms during your stay and you will need to vacate your site earlier than anticipated.

4. Campers are to maintain social distancing of at least 6 feet at all times from others, except for members of the same household.
Campers are to wear masks when social distancing cannot be assured or when in a common area with other campers.
Campers are to wash hands often with soap and water for at least 20 seconds. If soap and water are not readily available, use a hand sanitizer containing at least 60% alcohol.
Campers should avoid touching eyes, nose, and mouth with unwashed hands.
Groups (not of the same household) will be limited to 10 individuals in a campsite while practicing social distancing and/or wearing masks.
Restrictions

1. The following common areas will remain closed until further notice:
a. Pool
b. Pavilion

2. There is limited camping available for tent camping and for RV's without their own self-contained bathroom facilities.

3. Laundry is available to guests. (Please notify office once completed, so we may sanitize for the next guest.)

4. Pet park use is limited to one family occupant at a time.

5. Large group social gatherings of more than 10 non-household members are prohibited.

The Kankakee South KOA owners and staff are diligently monitoring the situation around the clock and are actively working to ensure our campground takes all recommended precautions to ensure safe and healthy stays for all our campers.
We will continue to monitor the Centers for Disease Control and Prevention (CDC) and local health agencies for developments and guidance and when warranted, the above rules and restrictions will be changed and/or removed.

Kankakee South KOA Reviews
Directions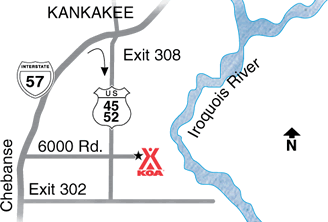 From Exit 308, I-57 and US 45-52: Go 3 miles south, then 1/2 mile east on East 6000 South Road.
Get Google Directions
Aug 07, 2020
Nice camp site. Nice shower and toilet facilities. friendly staff. WiFi provided is WORTHLESS! Because there is literally NO CELLULAR coverage at this KOA (works fine at the main road but not at campground) PLEASE INVEST in your WiFi network. Likely won't stay again because I have to drive to Kankakee or Chebanse to park for the day to get cellular coverage to work my business needs.
Aug 07, 2020
Always a nice stay this stay was only one night. Easy in easy out of the park. Really like the personalized text messages with information about arrival or about stay
Aug 06, 2020
Loved the new cabins. If I owned this campground there would be just a few little things I'd do to enhance the experience. But overall with the world being what it is this year we had a great time.
Aug 06, 2020
The campground is on a well ,so, if you can get past the well water and sulfur you're going to be okay. Highly recommend eating ar Rigo`s Place !!!!
Aug 05, 2020
Check in was quick and easy, Chris at the front was friendly and efficient. He guided us to our site, which was shady and level. The campground was clean and quiet.
Aug 05, 2020
The park is going to be a beauty someday! They are working hard and it shows. We did a lot of walking - no pool - but friendly and COVID protection was enforced. The gardens are beautiful.
Aug 05, 2020
The tent sites were in a beautiful area. The dog play area was large.
Aug 04, 2020
Good service
Aug 04, 2020
This was our 3rd stay with Kankakee South KOA. Site was very good, I asked for shade and got it. We extended our stay prior to arriving with no difficulty. Thank you, Kankakee South KOA.
Aug 04, 2020
Location and facilities work for us - we have family in the area.
Aug 03, 2020
Fantastic as always!
Aug 03, 2020
We had a great stay! Staff was always friendly and requests for wood and garbage pick up were very prompt. Will definitely stay again.
Aug 03, 2020
Good site, 44. Wifi could be a bit faster.
Aug 03, 2020
It was more crowded than I expected given the state of corona virus. I had expected more distance between units. None of the campers we saw had masks.
Aug 03, 2020
VERY NICE CLEAN CAMPGROUND AND THE STAFF WAS VERY NICE AND HELPFULL
Aug 03, 2020
I really liked the physical camp grounds, they were lovely with all of the big old trees. The shower was freezing making it very hard to wash my 2small children.I was shocked at the lack of signage regarding COVID 19 measures. We were at another KOA site last weekend and the bathrooms were cleaned 4x a day (sheet initialed on door) and masks were encouraged everywhere Only mask sign wason office
Aug 03, 2020
The staff was very friendly. The roads within the campsite were terrible with chunks of broken asphalt instead of gravel. The water was just unbearable. I realize that this isn't the fault of the site as much as the location/ situation, but honestly it was a deal breaker for ever returning.
Aug 03, 2020
Always a blast. Clean campground and clean facilities :)
Jul 27, 2020
We had a great site during our stay. The campground is what you expect from a KOA. Contactless check in was great and we were met at the entrance and led to our site. Staff were friendly and respected social distancing and wore masks. With just an hour drive from our home, we will definitely be back.
Jul 27, 2020
Quiet, well shaded, conformed to covid guidelines. only downside I couldn't get anything on my tv no real problem but I like to watch some before bed or on a rainy day, should consider putting cable in campground.
Jul 26, 2020
The only comment is we would have appreciated having a sheet telling us about trash and recycle. We loved the area we were in with very friendly seasonal residents and gorgeous landscaping with a nice cornfield backdrop. Great area to go sightseeing from!
Jul 26, 2020
Easy check in, fast service, friendly staff, the best place to stay every time we go thru Illinois.
Jul 26, 2020
Ours was a last-minute stop-over as we traveled to Minnesota. Although we stayed just one night, this was one of our favorite campgrounds on this 10-day trip. The grounds are lovely! Our site was at the end of a row and we looked out on a nicely landscaped area, trees, and a field. The site itself had full hook-up and a wooden platform. Staff were friendly and helpful.
Jul 24, 2020
Great campground, well maintained.
Jul 23, 2020
We were very excited to stay here, however, we were unable to use the water/shower because it seemed that the septic tank was leaking into the water well as the running water smelled liked sewage. We stayed at site 47. Hopefully this can be fixed to better the stay of the next person! Otherwise, the location of the site and the campground itself was great.
CAMPGROUND RESPONSE / COMMENTS:
I assure you that the septic tank is not leaking into the well. We have a high concentration of sulfur. Our water is tested through the state and deemed potable.
Jul 21, 2020
First, i sat at a nearby Walmart for hours waiting to get into my site because they don't allow early check in. So lost half a day's activities. The children that run things are clueless. My site was very sloped and the swear connection was so far back I had to buy another 10' hose extension to add onto my existing 25' hose. Definitely do not recommend the back in sites if you have over 15
Jul 21, 2020
The well water had a terrible smell, we even used a filter.
Jul 21, 2020
Great location for camping. We requested a different spot than booked which was accommodated. Thanks! Clean grounds, friendly staff.
Jul 20, 2020
As always it was a great weekend! The park is clean and tidy. Staff available to lead us to our site, check-in by text. Be back in 2 weeks!
Jul 20, 2020
The cabin was appropriately sized and cozy. Thermostat was not adjusting well though. Bedsheets were not changed on one of the bedrooms, there are strands of hair by the pillows. But overall the stay was very relaxing.
Jul 20, 2020
Easy check in, fast serving and friendly staff. We love it - always a pleasant stay.
Jul 20, 2020
We were there for 2 nights while visiting family in the area. We really didn't use the amenities but everything looked clean. The staff was extremely helpful and actually delivered ice to our campsite.
Jul 20, 2020
Excellent staff! The curbside check-in was super easy and SAFE! Wonderful measures were being taken to ensure proper social distancing and precautions. They were also very flexible with allowing us to purchase an extra campsite for the remaining members in our house (provided that it wasn't booked already and we were still safe). Excellent camping experience, we'll definitely stay here again!
Jul 20, 2020
Service was INCREDIBLE! We had to check in late and not only was someone texting with us the particulars of check in, there was also an employee riding around in a golf cart to make sure we had all we needed for the night. Amazing and serene location — very quiet — and met all the needs we had. Thank you for a great night!
Jul 20, 2020
The bathrooms were filthy. The staff was very nice.
Jul 18, 2020
Contactless checkin, nice level sites. Very friendly staff!
Jul 17, 2020
It was very clean, however, the office lacked on gifts to purchase (only a few t-shirts available) for reminders of our visit. Other KOA's were well stocked with momentos
Aug 08, 2020
What a pretty place to spend a night while traveling through the area. Eautiful mature trees and plenty of room to walk. They've done a nice job here.
- jt roberts on Google
Aug 02, 2020
It was nice and peaceful, there were a lot of trees, and it was easy check in and check out.
- Caiden Jackson on Google
Jul 19, 2020
Very quiet and small Campground. Staff were great. Bathrooms were clean. I definitely would stay here again!!
- Corey Weighman on Google

Kankakee South KOA
Open April 1 - October 31
425 East 6000 South Road
Chebanse, IL 60922
Check-In/Check-Out Times
All Sites
Check-in: 2:00 pm, Check-out: 11:00 am
Accommodations
Check-in: 2:00 pm, Check-out: 11:00 am
Get Google Directions

© 2020 Kampgrounds of America, Inc.