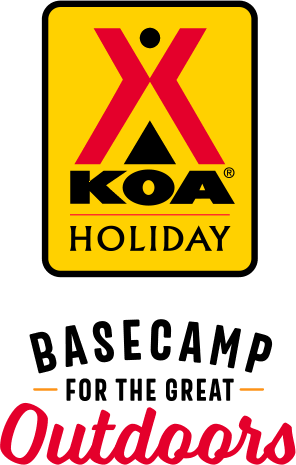 KOA Holiday Campgrounds
Whether you're exploring the local area or hanging out at the campground, KOA Holidays are an ideal place to relax and play. There's plenty to do, with amenities and services to make your stay memorable. Plus, you'll enjoy the outdoor experience with upgraded RV Sites with KOA Patio® and Deluxe Cabins with full baths for camping in comfort. Bring your family, bring your friends, or bring the whole group – there's plenty of ways to stay and explore.
KOA Holidays Feature:
RV Sites with a KOA Patio®
Deluxe Cabins with full baths
Premium Tent Sites
Group meeting facilities
Directions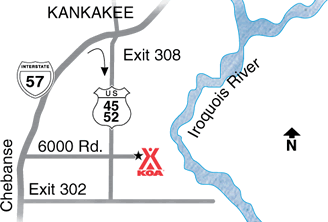 From Exit 308, I-57 and US 45-52: Go 3 miles south, then 1/2 mile east on East 6000 South Road.
Get Google Directions
May 10, 2021
By far the worst KOA we've seen. Very deceiving to have a 'Holiday' designation. Cancelled two subsequent reservations at this location. Is absolutely not representative of the KOA brand!!!!
May 10, 2021
Fast friendly service, many stays always the same - excellent! �
May 10, 2021
Older park, not fun after a rainy day, somewhat muddy. Great dog park and lots of grassy open space. Spaces decent size and reasonable space between. Managers very accommodating and helpful.
May 08, 2021
I used your showers for a shower while there. I told the camp host that I have a problem with the shower curtains. Let's say the shower is 36 inches wide. The problem is the shower curtain is only 30 inches wide. If I pull the shower curtain all the way to the left to protect my stuff from getting wet, then water is on the floor from the gap on the right. Shower curtains need to be WIDER!!!!!
May 06, 2021
Clean, easy pull through sites, nice laundry areas, bathrooms clean but water us very sulphery and stinky. Hosts very nice and accomodatibg
May 05, 2021
We stayed twice. First could not level. Had to move. 2nd we were put in the area of permanents. At 4:40 AM neighbor cranked his ram 3500 pickup with obviously nonstandard muffler, with remote start. Thought something happened in our rig. We both jumped up to check. After 10 minutes, cut off and remote start again. Did not leave until 5:04 AM. EVERY AM FOR 4 DAYS!!
May 05, 2021
Always a great visit. Thanks for your hospitality.
May 05, 2021
Loved our site B3. Blazing WIFI. super clean and friendly.
May 04, 2021
Prompt curb side check in. Park was quite and the people friendly.
May 04, 2021
Very clean and friendly campground, employees are awesome!!
May 04, 2021
The smell of the water was unbearable. We couldn't even shower. We were even double filtering. The camp roads are also in need of repair
May 03, 2021
Super friendly hosts and very clean, comfortable cabins. Rent the two side-by-side 2BR cabins to sleep up to 6 family members each (12 total), and have a big backyard to yourselves - there's a 3rd smaller cabin that sleeps 4 just a short walk away if you need more room. We enjoyed our family time and can't wait to come for another visit.
May 03, 2021
Helpful, pleasant staff. Easy in and out.
May 03, 2021
Friendly greeting and a nice spot! And a quiet night. Very nice that this park is a mile or two away from the highway!
May 03, 2021
We love the cabins! The owners are so nice and the campground is so clean. We think we are going to make it a family tradition to stay there at least once per year.
May 03, 2021
Cabin was very clean and staff was friendly and attentive. The campground itself is tight, none of the sites are "secluded," but I feel that's standard for most KOA's. Grounds appeared well-maintained.
May 03, 2021
Super friendly, clean and nice size areas. It was great! Thanks! Will be back.
May 02, 2021
Pretty nice. Staff is great. Could use some rock or pavement replacement in the front of the park. If you stay in the single digit spots or teens expect to hear semi trucks hooking up and taking off at all hours from the neighbor.
May 02, 2021
Nice campground in transition. Quiet and shaded. Great for a quick getaway. Excellent WiFi, only 30 amp service. Campground well maintained.
May 01, 2021
Love it, nice quiet, great lots. Owner is fabulous!!
May 01, 2021
Simple and easy. Appreciate the touch less check in.
Apr 30, 2021
We got what was promised but little else. Thin on hospitality. A number of campers I believe are employed locally. The campground was "threadbare". Not typical of the KOAs we have stayed in this trip
Apr 27, 2021
This is about the jankiest KOA I've ever stayed at. It's right next to a landfill for starters. They hardly have any amenities. The store is old and half empty. The cabin didn't even have a coffee pot or silverware. I've stayed at multiple KOA's thru the years and the pandemic. And I would not recommend this one.
Apr 27, 2021
Nice level site very friendly and helpful staff
Apr 27, 2021
What good are quiet hours if there is no one to enforce it. We stayed 2 nights and barley got any sleep. A group of campers took over running through our site with music and shouting that lasted past 3:30 AM. 2 guys walked around twirling a baseball bat that was intimidating enough that we only left the trailer to go eat. I didn't confront them for fear of retaliation to truck & trailer.
Apr 26, 2021
Very nice people and staff will return in the fall
Apr 26, 2021
Everything was fine with the sites, the stay and the employees were great. The playground is pretty beat up and could use some work. Also, the pool (was not open yet) but definitely looked like it could use a bit of elbow grease and a paint job. That being said, we stay at KOA's because the bathrooms are clean and the sites are always properly maintained and they were here too. Thank you.
Apr 26, 2021
Everyone was friendly and accommodating!
Apr 26, 2021
The Deluxe Cabin was beautiful and comfortably slept the 6 people in our group. While it didn't have a stove, it did have a microwave and a nice size refrigerator. My only critique is things could have been labeled better. The soap and shampoo in the shower were not labeled, the sheets stored for the pull out bed were in a kitchen cabinet and were not labeled. We had trouble turning the heat off
Apr 26, 2021
Very nice site. Full patio, swing and firepit quite serene with fields and trees.
Apr 26, 2021
Nice campground. Check in was easy and the staff were very nice and polite. The bathroom was clean. The other people camping were seemed nice and there were lots of kids having fun. The pool wasn't open of course because it's only April but it is unclear if it works and will be open this summer. I would check with them if that is important for you.
Apr 26, 2021
Very friendly and clean place. Definitely would go back.
Apr 25, 2021
We had a great time and everyone was friendly and helpful
Apr 22, 2021
Amazing place, the owners are super nice and very accommodating.
Apr 21, 2021
For this trip, we had a lot of space but I think if the site was full, we would be too close to others. The site itself was great and the service was excellent.
Apr 21, 2021
Nicely landscaped! Great WiFi
Apr 20, 2021
easy check in,escourt to our site, friendly,and helpful staff
Apr 20, 2021
We enjoyed our stay at this campground. We found the facilities and accommodations to be has expected. We would use this campground in the future. The Burrells from Bogart Georgia ���������
Apr 15, 2021
The staff were friendly and very helpful. They helped us select the best RV spot for our rig and Rob provided excellent support in helping us backing into our site. We will definetly return to this RV park when visiting the Chicago area. Only about a 45 min way drive to family in Tinley Park.
- Anutkim on Trip Advisor
Mar 24, 2021
Very clean. Best campground staff anywhere! The only glitch for me is the pool is freezing...even in 100° weather...but the kids don't care and are happy, so still a win lol
- Mom and Maddie Jecmen on Google
Mar 08, 2021
Nice people!
- marilyn everly on Google