Alert
Updated 06/27/2020

POOL IS CLOSED FOR THE 2020 SEASON.

Kamping and COVID-19 Guidelines

At Kampgrounds of America, our mission is connecting people to the outdoors and to each other.
During these rapidly evolving times, connecting people to each other takes on new meaning. It revolves around the responsibility we have for the health of our employees, our campground owners, and you, our guest.

Kankakee South KOA is encouraging a safe outdoor experience to combat and prevent the spread of the COVID-19 virus. In support of that initiative, our campground will offer:

· Contactless check-in.

· Campsite delivery of propane, firewood, ice, and other store items by texting your campsite number and needs to (815) 939-4603.
Payment will be allowed by credit card or charged to your site and settled at check-out.

· Staff trained and exhibiting safe and social distancing practices to include the wearing of masks and gloves.

· Frequent sanitization of open common areas.

For those visiting us, until further notice, Kankakee South KOA will enforce the following rules and restrictions for the use of its private park during the COVID-19 epidemic. These parameters are being put in place to ensure the health and safety of our staff and our welcomed campers.

Rules

1. All camping is currently by reservation only. Sites available are currently limited to full hook-up sites, Cabins, and limited tent sites. Campers will be spaced at a greater distance than that recommended by the Centers for Disease Control & Prevention and Illinois Department of Public Health.

2. Campers with symptoms consistent with COVID-19 should stay or go home and not engage in any outdoor activity. Symptoms include the following:
a. Fever of 100.4 or more
b. Cough
c. Shortness of Breath
d. Body Aches and Muscle Pain
e. Sore Throat
f. Loss of Taste and/or Smell
g. Chills
h. Nausea and Vomiting
i. Diarrhea
j. Skin Rashes
Immediately notify the KOA office via phone or text if someone within your campsite is exhibiting symptoms during your stay and you will need to vacate your site earlier than anticipated.

4. Campers are to maintain social distancing of at least 6 feet at all times from others, except for members of the same household.
Campers are to wear masks when social distancing cannot be assured or when in a common area with other campers.
Campers are to wash hands often with soap and water for at least 20 seconds. If soap and water are not readily available, use a hand sanitizer containing at least 60% alcohol.
Campers should avoid touching eyes, nose, and mouth with unwashed hands.
Groups (not of the same household) will be limited to 10 individuals in a campsite while practicing social distancing and/or wearing masks.
Restrictions

1. The following common areas will remain closed until further notice:
a. Pool
b. Pavilion

2. There is limited camping available for tent camping and for RV's without their own self-contained bathroom facilities.

3. Laundry is available to guests. (Please notify office once completed, so we may sanitize for the next guest.)

4. Pet park use is limited to one family occupant at a time.

5. Large group social gatherings of more than 10 non-household members are prohibited.

The Kankakee South KOA owners and staff are diligently monitoring the situation around the clock and are actively working to ensure our campground takes all recommended precautions to ensure safe and healthy stays for all our campers.
We will continue to monitor the Centers for Disease Control and Prevention (CDC) and local health agencies for developments and guidance and when warranted, the above rules and restrictions will be changed and/or removed.

Kankakee South KOA Reviews
Directions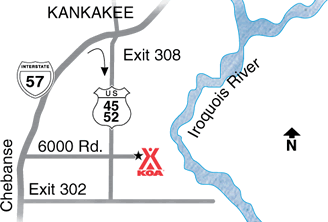 From Exit 308, I-57 and US 45-52: Go 3 miles south, then 1/2 mile east on East 6000 South Road.
Get Google Directions
Jun 01, 2020
Perfect as usual!
Jun 01, 2020
This was out first ever camping trip and it couldn't have gone better! Kankakee KOA was so accommodating and helpful. Booking was so easy. Rob was wonderful to book with. We will definitely be rebooking. Thank you!
May 28, 2020
All good except for unceasing noise from lawnmower, weed whacker and chainsaw - sometimes all 3 at once - from approximately 9a to 2p, making doing business via cellphone very difficult.
May 28, 2020
Very nice staff. Beautiful and clean campground.
May 26, 2020
Rob And Julie are great hosts, lovely and well taken care of park.
May 24, 2020
Very nice quite Park to rest in our travels.
May 17, 2020
Excellent self check in @ outside office cabinet with prior reservations made quick and efficient check-in. Call KOA 800 # on your reservation claim when you arrive to assure office your plan is acknowledged. We stayed as part of essential travel during Covid19 precautions and were well satisfied with accommodations.
May 17, 2020
Overnighter during Covid-19. Easy in, easy out. Super quiet which is hard to find. All amenities closed due to Corona but would definitely stay again when passing through.
May 16, 2020
Very unleveled site for motorhome. Very rutted and bumpy roads. Site covered in dog poop from camper in airstream next to us.
May 16, 2020
Very quiet and restful for tried travelers. Thank you
May 10, 2020
The best stay yet. Even tho it was only overnight for travel it was our 4th time there- always clean, always quiet, always enjoyable! Thanks for having the best around!
May 07, 2020
We enjoyed ourselves even in the rain
Apr 24, 2020
The owner helped me when I could not fine anywhere else to stay. The camp grounds were well taken care, I didn't see the bathrooms, but the laundry room was very clean so lm sure the bathrooms were also. Good water pressure, clean dog park.
Apr 24, 2020
Great remote service, no need for personal interaction.
Apr 21, 2020
We stayed during the Coronavirus pandemic so not all amenities were available. Nonetheless we were very pleased with Rob, Julie and Chris' (sp?) gracious hospitality. They are really thoughtful and accommodating. Minor issues are an elevated sewer drop causing some extra effort when dumping tanks and the smell of the water (it's very sulfury). Still, a peaceful and quiet place with great owner
Apr 17, 2020
There is a reason why I keep coming back to this KOA year after year, not only is the campground a 5 star by KOA standards. The sites are awsome and well laid out. This is not the main reason. That is the owner Rob B. is all in for his patrons, not only does he bend over backward for his campers, its the extra things like movies and weekend activities for the kids. Kudos
Apr 06, 2020
An OK place to stay for a one stay on your way to some place else. Or site was level, but the campground is all stone roads and sites. Rather dirty. There was grass for our dogs business duties. The staff was polite. Check your directions to this campground before you rely on your GPS. Our GPS led us to some very unfamiliar two lane country roads.
Apr 06, 2020
I was a little disappointed with this KOA, I know the country is on social distancing but It just wasn't the nice looking KOA that we are used to seeing. The internet was non existent. I am glad it was only an quick overnight stay. The one plus thing about this park is that is far way from road noise so the nights rest was good.
Apr 03, 2020
Amidst all the Covid-19 we had a pleasant overnight at your campground. The grounds looked clean and neat. Site was level, and JUST long enough we could leave our towed vehicle connected.
Apr 01, 2020
The staff is very friendly and helpful. The park looks great with their recent improvements, you can tell the owners care about the camp and their campers.
Mar 22, 2020
Stayed all summer and really enjoyed our stay. Lots of activities for the campers and great owners. Very friendly and accommodating. Very nice store and pool. Excellent.
Jan 06, 2020
Everything was there when needed a staff was wonderful... Thank you for the stay.. I would advise anyone to come an stay an will come back if in area... Best Camp ground I've seen!!! Store 2 utility room to wash your clothes gameroom change machine but most of all the fun pool!!!
Dec 23, 2019
People are very nice and help each other
Nov 17, 2019
Camped during winter (Nov 2019), campsite was closed for the season only open for winter camping but staff working renovating the store was very friendly assisting your needs. Campsite safe during the night.
Nov 03, 2019
Stayed here the last 2 nights of the camping season. It was snowing and the staff were very helpful and considerate, ensuring that we had an enjoyable stay. Pristine bathrooms.
Nov 02, 2019
Had a great time with Halloween celebrations. KOA staff is very friendly and helpful. Rob is the best host ever!!
Oct 31, 2019
I can only compliment the stay with saying that I Was treated as a guest. Not a customer. The campground is very well taken care of. The Owners and staff are wonderful and very accommodating. I really enjoy going there. Nothing better than Camping at KSKOA !!
Oct 30, 2019
We come every year, and like to come on Halloween weekend. We always return because the campground is ALWAYS clean and quiet. We are impressed that it is obvious that monies earned are out back into the grounds for improvements. It would be nice if they would fog for mosquitoes in the summer-I'm not aware if they do. We can't wait to come back in the summer!!
Oct 30, 2019
Staff just make us feel like family returning and the sites are always clean and the pet area is always stocked with bags and clean easy to use and get to. Keep up the great work!!!
Oct 29, 2019
Love the quiet, peaceful country setting.
Oct 28, 2019
Great place for us spend a long weekend with our grandkids.
Oct 28, 2019
Great lots, friendly people! Cant wait to go back
Oct 28, 2019
The guy behind the counter had very poor hygiene. The firewood was too pricy for the size of the bundle. Too close to the roads, could hear traffic all night. No hiking trails.
Oct 28, 2019
Great friendly customer service
Oct 24, 2019
Very clean and spacious campground, very friendly staff, their halloween weekends are great and all the campers are friendly
Oct 24, 2019
Real bathrooms, A shop, and an AWESOME playground for the kids! Even a pool for the summer!
Oct 23, 2019
Camp sites to close to each other. No open areas for children to play ball. Not much for children to do. Not at all what I expected from a KOA.
Oct 21, 2019
What a great Halloween stay this was. Kids LOVED it great job!
Oct 21, 2019
This place is clean , friendly and amazing . We have the best time especially during Halloween. They have hot showers! I love this place.
Oct 21, 2019
This KOA is well taken care of. the staff is very friendly and helpful.
Oct 21, 2019
Very friendly environment and friendly staff. Enjoyed our stay. Will definitely be back next season!
Oct 11, 2020
Had a great experience. Staff did all they can to make things safe yet fun for the kids.
- Dawn W on Google
Oct 05, 2020
Stayed one night but nice and peaceful seems like a great place.
- Johni Brown on Google
Sep 28, 2020
So much fun
- winston randolph on Google

Kankakee South KOA
Open April 1 - October 31
425 East 6000 South Road
Chebanse, IL 60922
Check-In/Check-Out Times
All Sites
Check-in: 2:00 pm, Check-out: 11:00 am
Accommodations
Check-in: 2:00 pm, Check-out: 11:00 am
Get Google Directions

© 2020 Kampgrounds of America, Inc.