Directions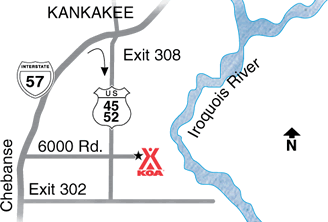 From Exit 308, I-57 and US 45-52: Go 3 miles south, then 1/2 mile east on East 6000 South Road.
Get Google Directions
Jun 30, 2020
Nice park Friendly mnagement.
Jun 29, 2020
As always Rob and his crew were fabulous! Site was tidy and mowed. No problems with water or electric. First time we were able to come out here this year and it was great to see the improvements made during the off season. Contactless check in due to covid. Wood and Ice delivered. Trash picked up from site! I can't say enough about them! See you all again soon.
Jun 29, 2020
During the initial check in, the staff member took us to the incorrect campsite. After getting to the creek campsite everything was fine. My primary complaint is the quality of their water. High sulfur content extremely odiferous. Also, the sewer hook up is 8 inches above ground. Making it problematic for proper drainage as if the designers don't understand the basic concepts of gravity.
Jun 27, 2020
Very well maintained. Staff is very helpful in supplying my every need and very friendly.
Jun 27, 2020
Everything was very well maintained and very clean
Jun 27, 2020
Site was not level, no wifi, no cable. Clean restrooms nice staff, lovely flowers. 1 hour from Chicago with lots of construction.
Jun 26, 2020
Family caring atmosphere. Exceeding customer expectations with a SMILE. Great quiet location and the train going by regularly during the day with their whistle is a wonderful sound.
Jun 25, 2020
GREAT SERVICE FROM STAF.
Jun 25, 2020
We had an absolutely wonderful time. It was our first trip with our new trailer (we are newbies) and set up was easy because of the pull through site. We will definitely be back!
Jun 25, 2020
Non contact COVID arrival was really nice. Camp sites were clean and pleasant. Amenities looked nice but because they were not open due to the virus, we did not participate in any activities. The dog fenced area was great though it had been awhile since the poop bag can had been emptied. It is clear they are doing updates to the campground and the small cabins looked really neat!
Jun 23, 2020
Just a quick in and out stay on the road! Easy in easy out!
Jun 23, 2020
I am very happy with this KOA. The people in the office were amazing. They were always very friendly every time I called with questions about my group camping trip that I was planning. I was extremely happy that they were able to get the bathrooms open in time for our trip (in spite of the pandemic). The bathrooms were very nice and always clean. The sites we stayed on were wonderful. Great time!
Jun 22, 2020
Nice opportunity for family get together
Jun 22, 2020
The KOA are cramped. Plus you have a lot of seasonal people staying at the KOA. Will give it another shot.
Jun 22, 2020
We had very little space for our dog to even sit with us as the next camper was less than 7 feet from our picnic table. The whole campground was in disrepair and I am very disappointed that I paid that much money for our stay. We were not given any rules or information about the campground when we checked in. Had no idea where to take garbage, when quiet times were, etc. Pretty disappointed.
Jun 22, 2020
Great place, friendly staff!
Jun 20, 2020
The site was not level. Towing made reposition basically impossible. Had to back up 3 feet to reach full hook up, not happy backing up while attached to our road. Clean campground, pleasant check in.
Jun 17, 2020
The staff are friendly, even guided me my RV spot until I'm all settled in. They picked up the garbage on time And do their rounds to see if we need anything during our stay. Unfortunately the bathrooms/shower facilities are closed for guests due to the COVID 19 safety measures.
Jun 16, 2020
Nice place to stay while traveling. Very quiet Curbside check in appreciated. Thanks.
Jun 15, 2020
Always a pleasure staying at the Kankakee KOA. During this time of the COVID19 and the limited facilities, the staff was well repaired making campers safe.
Jun 15, 2020
It was very nice, ur new lodges are fantastic
Jun 12, 2020
Great job by all!
Jun 10, 2020
Very accommodating for extended stay during Covid-19 pandemic. From what I understand, they opened early for fulltimers with no home. Safety precautions in place, but friendly staff and regulars. Only suggestion would be a folding table in the laundry room by the office.
Jun 09, 2020
Ok site 10 paid for water hook up and valve would not work. Not a huge deal usually travel with full tanks. Please get them water spigot fixed. I WILL BE BACK thank you.
Jun 08, 2020
The staff there were amazing. Very friendly and answered all our questions with ease. Very nice spot and quiet. Would stay again.
Jun 08, 2020
During this difficult time the staff was able to make it a seamless stay. Texting for needed services was brilliant! Highly recommend this campground.
Jun 08, 2020
Fantastic campground, friendly host, and super clean! We will be back soon!
Jun 08, 2020
We enjoyed your property very much can't wait till cool and other things can open
Jun 08, 2020
Worst experience we have ever had. We will never stay at that KOA again. Not sure if we will stay at any KOA since they are overpriced especially for what you get. Kankakee was like sardines, no wifi and the water was unusable - overwhelming sulfur smell that permeated everything. We paid $40.25 at KOA and would have done better at a rest stop for the night. No more KOAs for us.
Jun 06, 2020
Just passing through for the night
Jun 02, 2020
Fantastic spot and great service even delivered fire wood to my site
Jun 02, 2020
Quiet, nice host
Jun 01, 2020
Very peaceful and the owners were friendly and their to help with any needs you may have.
Jun 01, 2020
Perfect as usual!
Jun 01, 2020
This was out first ever camping trip and it couldn't have gone better! Kankakee KOA was so accommodating and helpful. Booking was so easy. Rob was wonderful to book with. We will definitely be rebooking. Thank you!
May 28, 2020
All good except for unceasing noise from lawnmower, weed whacker and chainsaw - sometimes all 3 at once - from approximately 9a to 2p, making doing business via cellphone very difficult.
Oct 11, 2020
Had a great experience. Staff did all they can to make things safe yet fun for the kids.
- Dawn W on Google
Jul 02, 2017
Awesome! Reasonably priced firewood and accessories in the little store and very quiet!
- Darlene Scholtes on Google
Nov 09, 2020
Nice place ,but some of the lots a small.
- Carrie Ceja on Google