Directions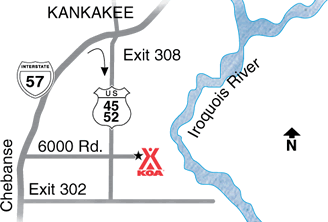 From Exit 308, I-57 and US 45-52: Go 3 miles south, then 1/2 mile east on East 6000 South Road.
Get Google Directions
Jul 18, 2018
We had a nice stay here. It was quiet at night and owners were very nice and accommodating. Bathrooms/showers were clean.
Jul 18, 2018
Just an overnight stay. Our inquiry was done with a pleasant person and our stay fine.
Jul 17, 2018
It was fun and quite!!! But for the most part it is a nice family spot !!
Jul 17, 2018
It was very, very nice. We brought our grandchildren with us and they had a good time also. Everything was clean and the people working there were so nice and helpful bringing our fire wood and anything else we might need. When we setup the gentleman that helped was super!!!! We plan on coming back soon and again in October did hear that they do something every weekend in Oct. for Halloween.
Jul 16, 2018
Every one was very friendly and helpful. We enjoyed our overnight stay very much.
Jul 16, 2018
Friendly people, clean rest room and nice area enjoyed my stay
Jul 15, 2018
We have been coming for several years. We really enjoy the amenities, and the care and cleanliness is evident. What truly impresses us the most is it is evident that any monies they accrue is put right back in the campground, always bettering the visitors stay. WE LOVE IT!
Jul 15, 2018
1st time KOA user. We set up our tent around 2:30 p.m. when we got back around 10:00 p.m. that night about 10 people was on our campsite. They had moved our tent out of the way and unplugged our electrical outlets letting our stuff get hot and said that the campground gave us the wrong site. KOA does not provide proof of site like a state park does so we had to leave. Never use KOA again!!
Jul 13, 2018
We were in the B section - nice and we enjoyed it very much. I feel it is wrong to put the really big units there because of the limited space for them to pull out - resulting in an accident because of the very tight turns for the really big rigs - a Motorhome doesn't bend in the middle and when it is pulling a big trailer or vehicle if most are not gone from their sites they can't make it.
Jul 13, 2018
Very clean facilities.
Jul 12, 2018
Very attentive staff. Nice distance away from hiway, no noise at all. Clean facilities.
Jul 12, 2018
I was disappointed that there were no changing tables in the bathroom! I consider KOA's to be family friendly but with no way to easily care for my child I was disappointed in this KOA.
Jul 11, 2018
Was very disappointed. Not KOA Quality and overpriced for what you have to deal with. Hard to get in and out of the park trees need to be trimmed grossly.
Jul 11, 2018
limited 50 amp service area, should advise people water filters are needed before they commit, space's ground was very soft/uneven made it harder to level unit.
Jul 11, 2018
Quiet. Lots of dirt and gravel. They should do something about the water. As an environmental engineer I know that it's safe. But the sulfide smell is very bad. I think aeration might solve it
Jul 10, 2018
Bathrooms and showers were clean. Pool was usually over crowded. The staff was courteous and friendly. The sites were mostly level and there was a reasonable amount of room between sites. The park was good, but not perfect.
Jul 10, 2018
The staff was very friendly, but - unfortunately- the property is set up for maximum profit instead of traveler's comfort. In most cases, camping sites are on top of one another and there is no privacy. When it is full, as it was during our stay, it has the air of a refugee camp. It is a place to overnight, not to stay.
Jul 10, 2018
Great time will go again
Jul 10, 2018
We had a very nice stay! The staff was very helpful and nice! Everything is clean,neat and well cared for!
Jul 10, 2018
It was much better than I expected. Another great feature of KOAs is that you can reserve online anytime (even you have to do a last minute plans like me:). Most others required 48 hours notice and call for reservations.
Jul 10, 2018
Difficult to get to this campground due to road closures, but the campground is great.
Jul 09, 2018
The roads are very narrow. My husband came back late on Friday the 6th of July and barely could fit his F350 around the curve to our site in B Circle . It was like that the whole week we were there. The one site had 4 vehicles parked 2 on both ends . Also on our loop dog poop was not picked up and it was bad in dog run area . Kids were unattended in pool. Rules were not enforced.
Jul 09, 2018
friendly, lovely trees
Jul 09, 2018
Super loud people at 5am were pretty rude. For the price of a primitive site, a little seclusion would have been nice but we had neighbors right on top of us and had to listen to drunks riding around in golf carts.
Jul 09, 2018
This feels like camping! In comparison to other RV parks, here people do enjoy the outdoor experience of camping and not just lock themselves into their air conditioned home of the wheels. Spacious, shady sites, firering, tablets, no interstate or train noise, all a campers heart needs! Very friendly and helpful staff, highly recommended! We'll come back!
Jul 09, 2018
Reservation was fast, check in pleasant. They have a few attractions on the site. Quiet and nice wooded area. Pool is a bonus. Would highly recommend.
Jul 08, 2018
stayed in cabin,would have given a 10 but slight odor of a dog was in the cabin
Jul 08, 2018
Extremely clean pool!!! Wow! The staff was super friendly and accommodating. Thank you for the wonderful experience for my family of 4!
Jul 07, 2018
Peaceful, idyllic rural setting only an hour from the big city! You can leave your rig and get a rental car in Kankakee. Super nice people work at this KOA. Clean and well maintained. Locals come regularly as well and are lovely to talk with.
Jul 06, 2018
This is our 3rd or 4th time to stay at the cabin here. It is a great option for us with two kids and a dog. Fun activities this year with the added movie night and game room. Kids enjoyed the pool. Only negatives are the stinky sulfur smelling h2o (which I get can't be helped) and the fact that a cardinal dive-bombed the windows of the cabins about 300 times between 5 and 8 am.
Jul 05, 2018
Stayed in little cabin with 2 grandchildren they loved it and the pool and playground.
Jul 04, 2018
Nice spacious pull-through site.
Jul 04, 2018
Nice campground. Nice shade from mature trees. Fairly level spot, some compacted gravel, others were concrete. Everything was good except had to ask to have the 30 amp circuit breaker replaced right away, because it would not hold amps for our a/c. The owner responded and fixed it right away.
Jul 02, 2018
The campground was super clean, everyone we came across was super friendly. What a nice little place that made us feel we were welcome and a very quiet stay. Would definitely be back again soon.
Jul 02, 2018
Always good place for camping
Jun 30, 2018
Came down from Wisconsin to visit my grandkids and what wonderful way to spend a few days camping and swimming with them. Staff was kind and caring, pool was fantastic, bathrooms and showers were in excellent shape and sites were clean and comfortable. Lots of trees for shady spots.(We had a primitive tent site.) My grandkids and I had a great visit together, thanks so much!
Jun 30, 2018
Very peaceful, quiet and just what we pay for in an RV park
Jun 29, 2018
Nice place nice owners
Oct 11, 2020
Had a great experience. Staff did all they can to make things safe yet fun for the kids.
- Dawn W on Google
Oct 05, 2020
Stayed one night but nice and peaceful seems like a great place.
- Johni Brown on Google
Nov 09, 2020
Nice place ,but some of the lots a small.
- Carrie Ceja on Google