Directions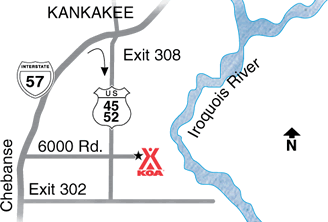 From Exit 308, I-57 and US 45-52: Go 3 miles south, then 1/2 mile east on East 6000 South Road.
Get Google Directions
Jun 01, 2019
The site was nice. However, the water was undrinkable, fine for shower and bathroom, but had to use bottled to make coffee even. Kids loved all the other children around and because the park is rather small it was ok to let them run. Employees are extremely nice. Campground was clean. I dont know if there is anything to be done about the standing water. Firewood purchased di not burn.
Jun 01, 2019
The staff was very nice, the grounds are well maintained, the bathrooms are clean.
May 31, 2019
People were friendly and the facilities were fine. Nice dog park--I think you should mention that on your website.
May 31, 2019
Friendly people, but needs lots of work on the grounds.
May 29, 2019
It was very enjoyable the wife and I and kids loved it the bathrooms were immaculate. Also we felt very safe with security driving around at night everybody was very friendly and accommodating.
May 28, 2019
EXCELLENT hospitality and by far, the friendliest and most receptive staff compare to anywhere that we have stayed. Go TEAM RAMROD!!!
May 28, 2019
We had a nice time. Wish there could have been more activities for the kids planned.
May 27, 2019
Had a greatbtime.
May 25, 2019
Deluxe cabin was great! Clean and tidy, fresh towels, and sheets. All windows opened smoothly and allowed for plenty of fresh air during all the rain! Staff was super friendly!
May 24, 2019
We are completely new to travel trailer camping and were so very pleased with the experience and camp site. Personnel were very friendly, helpful and encouraging. Campgrounds, sites, and facilities clean and well kept.
May 23, 2019
It's an ok campground for a one night stay
May 23, 2019
I was in town for a quick one night stay, I had a tent site. The girl at the front desk had me staying in lot 1 but she was conscious to the fact that it was going to rain that night and said that spot gets pretty wet so she moved me to a better spot. The owners were very friendly!
May 23, 2019
The service is always friendly, the campground clean and the price beats most other campgrounds.
May 21, 2019
Really nice owner.
May 20, 2019
Nice campground No problems Great camp store
May 19, 2019
it would have been GREAT if not for the rain which made all the sites muddy and caused lots of dirt inside. Not your fault.
May 18, 2019
We've stayed here 4 or 5 times and have enjoyed ourselves each time.
May 18, 2019
Clean!! Everyone was helpful & friendly!! Reasonable rates!!
May 18, 2019
Nice location, clean and easy access to things. Friendly staff.
May 17, 2019
Lousy weather but cheerful and very helpful staff made stay very good. Had problems with our fuses but Robb was able to help. Great time
May 17, 2019
We stay here quite often for the weekend as it is not too far from home. The staff are friendly and helpful. You are escorted to your site and guided in. They deliver wood to your site, pick up trash twice a day from your site but there are numerous cans around the park. It seems like they do extensive work during the off season and this year there are more site descriptions and a new map! We'
May 17, 2019
Very nice staff. Very clean facilities. Nice lots with big trees!!
May 14, 2019
We only stayed over nite and left early. what we saw of it as we drove out - it looked very nice. would stop there again if we are in the area
May 13, 2019
Rob and his crew are always the best! Peaceful campgrounds with all the amenities!!
May 11, 2019
Every thing was very nice. The people were very friendly
May 04, 2019
Clean and nice and quite.
May 02, 2019
Although it rained the entire stay, it was obvious how much work had been put into making this campground landscaped and attractive. Plus very friendly staff.
May 02, 2019
Very nice owners and accommodating. Restrooms and showers very well maintained.
May 01, 2019
I do not recommend to stay in the delux cabin because the quality of water is very bad and it seems like sewer. staff recognized these conditions but they do not think that they are going to fix this problem. You should consider before you book up!
Apr 29, 2019
The park is nice, and it's good to have the amenities it has, but the sites were not level and the 50 amp sites were far from most amenities.
Apr 27, 2019
Quite, clean and very nice park. Hope to stay again in the future.
Apr 27, 2019
Helpfully friendly staff. Tiffany was very proactive and thorough in her job. Only problem was that many of the sites were poorly drained from earlier rainfall. Other than that it was a nice place to stay.
Apr 25, 2019
this koa is everything you could want or need for a wonderful time away, the brunos and their staff go the distance to make everyone who stays at this koa "happy campers" keep up the great work! we will be back!
Apr 22, 2019
Staff is friendly and helpful. Bathrooms are clean. My kids loved the game room and park. We will definitely be back!
Apr 20, 2019
Very friendly at check in ! The place looks very old, office was clean.Our lot was nice with a cement pad Our biggest concern was the smell & odor of the water . The minute we used our shower it had a very strong smell . Don't think will come back again if we where in the area.
Apr 19, 2019
A quiet place to stay overnight when enroute home.
Apr 19, 2019
Good location. Easy to get to for a quick overnight stop.
Apr 16, 2019
Great stay. Enjoyed a great sleep. Good television service with aerial.
Oct 11, 2020
Had a great experience. Staff did all they can to make things safe yet fun for the kids.
- Dawn W on Google
Jul 02, 2017
Awesome! Reasonably priced firewood and accessories in the little store and very quiet!
- Darlene Scholtes on Google
Nov 09, 2020
Nice place ,but some of the lots a small.
- Carrie Ceja on Google