Directions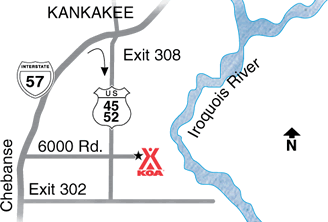 From Exit 308, I-57 and US 45-52: Go 3 miles south, then 1/2 mile east on East 6000 South Road.
Get Google Directions
Aug 06, 2019
Campground was great. All the staff was courteous and helpful.
Aug 06, 2019
Nice place. Internet/WIFI could be better.
Aug 05, 2019
AlwAys a good time here. Love the staff.
Aug 04, 2019
A solid KOA, but not the best. Good location and pretty park. Good customer service and responsive workers. But the WiFi was bad... and we were camping not far from the office... as more and more people are using digital devices, campgrounds NEED to update older systems.
Aug 04, 2019
Nice campground. Well maintained with great staff. Great family oriented place to stay.
Aug 04, 2019
Pull throughs were too close together. Staff was very friendly and helpful. Had a very bad experience at Phillips RV for service. KOA staff recommended them to us. Please stop recommending that facility.... you'll do future campers a favor.
Aug 03, 2019
Just 1 night but another one in a few days after visiting Nauvoo. All was good. Very pleasant and Very clean bathrooms.
Aug 03, 2019
visiting someone in the area
Aug 02, 2019
Large non-skid bath mats are needed in showers, wet floors at your facility's showers both in the shower area and outside it made for a major slip hazard. Other than that one major flaw, great campground.
Aug 01, 2019
We had a great time. Great owners and workers.
Aug 01, 2019
Camp grounds looked nice and clean. Easy in and out.
Jul 31, 2019
Nice, well maintained campground. Friendly courteous service.
Jul 31, 2019
Stay was acceptable. Facility is filthy, with trash strew all over. This is what one should consider as a desperation stay.
Jul 29, 2019
awesome place to stay awesome people too
Jul 28, 2019
We enjoyed our stay at Kankakee South KOA. Clean facility, and very gracious hosts and employees.
Jul 28, 2019
Beautiful an excellent
Jul 24, 2019
Customer service good. Not enough showers or rest rooms for size of park. Main road needs pot holes filled in.
Jul 22, 2019
The owner was a great guy, the site was unbelievable!!!! We paid a lil extra for the site with the swing, but wow. It was great. With it was not 1000 degrees every day we where there. The staff was great, very nice and always with a smile. We will be back there agin before the year is up. The kids loved the wet wagon ride, they never wanted to get off the wagon.
Jul 22, 2019
An older 30 amp breaker would not stay closed. It would open about every 3 to 4 hours. I suspect it had tripped often.
Jul 20, 2019
We are hoping you'll be open the end of October. We plan on coming back to Olivet Homecoming in 2021
Jul 20, 2019
Nice location, great staff despite their youth. Poor or no WiFi
Jul 20, 2019
THE PLACE TO STAY!!!!! My wife and I are traveling across the United States celebrating our retirement. While visiting Chicago, we decided to stay at Kankakee South KOA. The hosts Rob and Julie were absolutely AWESOME!!! Hard working, respectful, caring owners and crew. Highly recommend anyone traveling the area to stay at Kankakee South KOA!!!!
Jul 18, 2019
Friendly, helpful and well maintained park
Jul 18, 2019
was fine, good stop-over for a few days.
Jul 17, 2019
The campground continues to improve, but the water odor is still an detractor.
Jul 17, 2019
very disappointed. Pool was filthy and in poor condition. Restrooms didn't look clean. I didn't take a shower because of how dirty everything looked. Staff was pleasant, spaces long enough to fit our rig. We reserved one of the less expensive sites and glad we did because didn't see any sites warranting a higher price. We will never stay there again, and certainly will never recommend to anyone.
Jul 16, 2019
Rob and all of the employees were very nice and accommodating. We don't have young kids anymore but the kids seemed to be enjoying themselves. We enjoyed our long bike rides through the corn and wheat fields and along the river. It was pretty convenient for our Chicago 'without the rv' adventure too. The bad here is the sulfur smell and taste from their well water - yuk! Bring your own water
Jul 15, 2019
We had a great time with our two dogs , enjoyed using the swimming pool and also meeting other happy campers and still thinking of ideas of what we can do while we are camping we are counting the days for our next time we visit your KOA !
Jul 14, 2019
We stayed for 2 months and was very pleased with almost everything. We were only able to get a 30A site and with an all electric coach it was learning time in power management. We will be back in another month and this time we will have a 50A site.
Jul 14, 2019
Nice people working here! Nice sites !
Jul 14, 2019
We were only there for 1 night but it was a great stay! My husband was very impressed and happy with it. Thanks so much!
Jul 13, 2019
Very quite campground and close to the freeway. New game is great and the host make it a family adventure. As must stay!
Jul 13, 2019
The park is fine. It's old and a ways from town. The water smells so bad there, almost makes me sick.
Jul 12, 2019
We had a great stay!
Jul 09, 2019
Sites are very close together which made it very cramped since it was full. It also could have been kept up better. Garbage can was overflowing, grass overgrown, & lots of weeds everywhere. Grounds were not kept up like other KOA's. Sort of feels like a trailer park...
Jul 08, 2019
Nice And Quiet where we were parked. Everyone was very friendly.
Jul 08, 2019
Nice campground for our short stay in the area. Fun activities for the kids included a wagon ride around the park.
Jul 08, 2019
Bathrooms were decent, but only 3 shower and 3 bathrooms per gender in the whole campgrounds. Had an unruly group really impact our stay and took quite a while before management did anything about it. It was a holiday weekend and had very few activities compared to other locations we've been. Not a lot of rules which can be nice. Tent spots not very shaded.
Jul 07, 2019
We had a great time! We will definitely be back!
Jul 07, 2019
The campground was overcrowded, the sites were not level or maintained well, and the pool was small and very dirty and cloudy. This was not the standard I expect from other KOA's I have stayed at.
Oct 11, 2020
Had a great experience. Staff did all they can to make things safe yet fun for the kids.
- Dawn W on Google
Oct 05, 2020
Stayed one night but nice and peaceful seems like a great place.
- Johni Brown on Google
Nov 09, 2020
Nice place ,but some of the lots a small.
- Carrie Ceja on Google