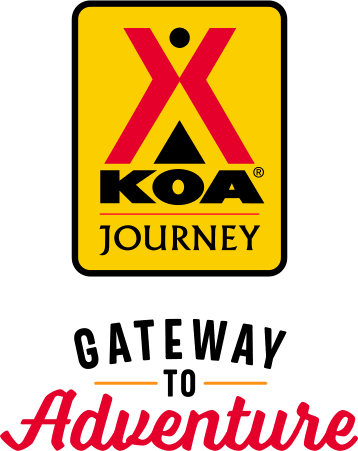 KOA Journey Campgrounds
KOA Journey campgrounds are the perfect oases after a day on the road. Whether it's along the way or a quick getaway, they've got you covered. Located near the highways and byways of North America with long Pull-thru RV Sites, they deliver convenience to the traveling camper. Pull in, ease back and take a load off.
KOA Journeys Feature:
Pull-through RV Sites with 50-amp service
Premium Tent Sites
Well lit after hours check-in service
Directions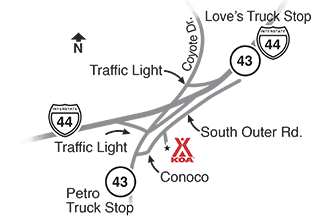 I-44, exit #4 Eastbound; at end of exit, KOA is just across divided highway. Turn,right on 43 Hwy, immediate left at lights [100 yd] toward Conoco, stay on service road 1/4 mile. Westbound; cross over freeway, left at first traffic light toward Conoco, stay on service road 1/4 mile.
Get Google Directions
May 22, 2023
Enjoyed our stay very much. The campground was very nice. Cabin, restrooms, showers were nice and clean. Great place for a weekend getaway with kids.
May 15, 2023
Friendly welcome from office staff. Ants in our cabin. Enjoyed feeding fish.
May 01, 2023
Dog park had poop bags and was cleanest I have seen. Staff was a available and helpful. Definitely will return
Mar 06, 2023
Clean cabin and bathrooms. Friendly staff. Easy on/off.
Nov 15, 2022
Positive: clean and well-appointed kabin, with mini-fridge, microwave and climate control. Negative: incredibly noisy environment after sunset, due to a very close by fuel station which probably serves as international headquarters for the open-pipe society. I feel for the owners but they should consider putting up some sort of noise screen. Could not sleep very well.
Oct 20, 2022
This is a friendly and convenient location .Best thing is PET FRIENDLY!!
Oct 06, 2022
cabin was nice and comfortable by the catch and release pond. had a duck that came over and was real friendly. Was a pleasant stay.
Sep 19, 2022
Clean, comfy cabin! Will probably stay again as the location is convenient!
Sep 13, 2022
Deluxe Cabin was nice but the outside deck needed to be replaced: Large gaps, sunken center, screws and nails popping out. Friends stayed at camper sites and those needed some help also: patios at sites were ankle breakers needed to add gravel and dirt to flatten those out and the swings at both sites had multiple nails popping out that we had to hammer in so we could sit. Small maintenance needed
Sep 04, 2022
The cabins are very nicely located around a small pond. There are fish, turtles, frogs, and a huge duck. Very fun to watch. Also, the hosts are very attentive and helpful.
Aug 21, 2022
Night check in person rude and condescending. Let his dog run loose and running up to my dogs. Cabin was dirty especially toilet. Ants. Grounds unkept high weeds didn't want walk dogs afraid of snakes.
Aug 12, 2022
They were very accommodating. They even have coffee and breakfast items available in the morning - complementary.
Aug 11, 2022
Great stay as usual........we'll see you the next time we come through the area.
Aug 10, 2022
Great friendly staff reception at the front desk; cabin was immaculate and easy to find. Escort to our cabin was nice. We will be back!
Jul 23, 2022
We stayed in a camping cabin. It was perfect. Just what we needed for the night.
Jul 18, 2022
Well it didn't have a 0 for Joplin KOA so I had to give it a 1. People was nice but the campground was nasty the cabin was run down terrible and the bathrooms was disgusting. So that would be a no!!!
Jun 27, 2022
The manager is rude. Charged us $45 for sleeping in our van. Didn't use any amenities. Nothing to do. Beds lumpy. 1 bathroom for whole camp
Jun 27, 2022
Very clean, very helpful staff! We would definitely stay here again!
Jun 21, 2022
Convenient, clean, well-organized, quiet. Pretty much perfect.
Jun 21, 2022
I wasn't planning to swim but for those who do want to swim, I think making a reservation should definitely include the information that the pool was not operational. As a kid I would have been broken-hearted to get there, expecting to swim and then being totally disappointed. And especially so in the 90+ degrees that it was when we were there.
Jun 04, 2022
The cabin was clean. The bathrooms and showers were a different story. There was always a puddle of urine by the urinal and there was a "glob" of something in the shower. Had to move into another shower after I seen it. Had to go ask for trash bags.
Mar 24, 2022
Easy to find and well maintained. The cabins are great. Thanks for having the heater set up for us!
Mar 04, 2022
We called for a cabin since we were towing a trailer, they said they had plenty of cabins, so we booked one. Got there only to be told the cabin is not close to a bathroom and does not have any sheets/blankets, or pillows. Then she tells me the bathroom does not have any hot water to take a shower. At that time of night too late to find other lodging. Why would you not be up front when reserved?
Jan 20, 2022
Don't stay in cabins in cold weather. The space heaters weren't adequate. As usual, everything was clean and satisfactory except for antique heaters.
Dec 02, 2021
Nice people and they went out of their way to accommodate us. Thanks
Nov 22, 2021
It was nice and what I expected. However the price seemed a little high. We stayed the night before at the Historic Route 66 location in St. Louis and for the same exact lodging the price was $40. Plus the bathroom was closer but that really wasn't a big deal.
Nov 15, 2021
Very nice host, showed us to our cabin. Clean and friendly.
Oct 25, 2021
Loved it. The bathrooms need a little work!
Oct 24, 2021
We stayed overnight in a Deluxe Cabin. I had to clean all surfaces before use, repair the doorknob & hang tarps @ windows. The bedroom & front door had mini-blinds, but the main room is open to view. A couple of narrow, curled strips of cotton fabric hung from most windows, except the kitchen, which had none. Curtains are inadequate & do not provide privacy. Nonfunctional socket.by door. Improve!
Oct 12, 2021
Good accommodations for our needs.
Oct 03, 2021
Very peaceful
Sep 30, 2021
Second time we have stayed here and I have recommend this place multiple times already. It will be a regular stop on our road trips from Illinois to Texas.
Sep 27, 2021
It is a really nice campground, but the cabin that we stayed in was pretty run down. Also I would not recommend it to anyone that has back trouble. It had what I thought was a reclaimed prison mattress. So I would recommend staying there but do not stay in the cabins. At least the one that looks like a trailer house.
Sep 17, 2021
Great time, we had a blast and it was very relaxing.
Sep 13, 2021
Nice enough but hosts were not all that personable.
Aug 21, 2021
The staff were very friendly and helpful! The cabin description for beds did not meet the arrangement in the cabin. We were one adult with 2 elementary age kids and needed 3 separate beds. The description states the room has 2 single bunks; it was one full bed… it complicated our sleeping arrangements as we had to share a bed between non-family members.
Mar 24, 2023
The Joplin Journey KOA is a great campground on I44 in Joplin, Mo. easy access off and on ramps. The Owners / Managers are very nice and accommodating. There are restroom/ showers available , a full laundry , playground and dog park. You can also refill propane. In addition there are Large RV Pull-thru sites that can accommodate large RV's. Various tent sites with level ground and access. Easy check-in service for late arrivals. There are Truck plazas, fast food, grocery supplies all nearby. There is a small store on site with many convenience supplies. I full time and travel in a 40 ft Motorhome towing. ** there are dirt and gravel roads the owners grates so roads are not primarily paved but still in good condition and maintained. This is a campground that can easily accommodate large rvs with pull thrus and large groups. This is not a Rv resort but instead has nature and very clean and quiet. There is some noise level at various hours of the day due to the close proximity of the Interstate and nearby businesses. I have stayed at this park numerous times and will continue to stay because of the kindness of the local owners. The park is a family oriented park that is quiet and doesn't have loud parties and feels safe.
- Extraordinary239809 on Trip Advisor
Mar 07, 2023
This place is very clean and pleasant Dave and Tina are helpful just ask... You can feed the turtles and geese ... Which is cool ...I'm staying in a long-term spot and it's nice . I hope they get the pool going !!
- Krissy Thompson on Google
Mar 07, 2023
Pleasant overnight stop
- Rochelle Phillips on Google