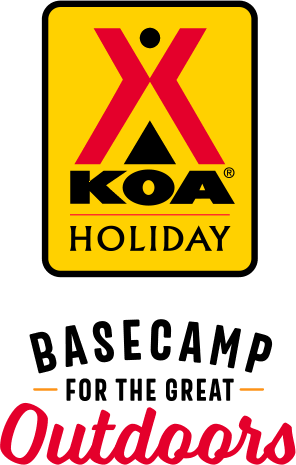 KOA Holiday Campgrounds
Whether you're exploring the local area or hanging out at the campground, KOA Holidays are an ideal place to relax and play. There's plenty to do, with amenities and services to make your stay memorable. Plus, you'll enjoy the outdoor experience with upgraded RV Sites with KOA Patio® and Deluxe Cabins with full baths for camping in comfort. Bring your family, bring your friends, or bring the whole group – there's plenty of ways to stay and explore.
KOA Holidays Feature:
RV Sites with a KOA Patio®
Deluxe Cabins with full baths
Premium Tent Sites
Group meeting facilities
Directions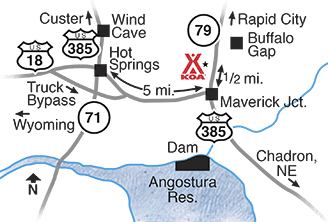 From Wyoming - US 18 Truck Bypass to US 385. Turn right, go 5 miles east, then 1/2 mile north on Hwy 79.
From Nebraska - US 385: go 1/2 mile north of Junction Hwy 79.
From I-90 - US 16 (Elk Vale Road) to Hwy 79 for 48 miles. Located at mile marker 27.
From US 385 - go through town, then go 5 miles east past Taco Johns to Hwy 79. 1/2 mile north on Hwy 79
GPS: N43.40825. W103.39412.
Get Google Directions
Oct 17, 2021
Amazing place to stay, safe, super clean bathrooms, and so much around the area to do. Would definitely stay there again.
Oct 16, 2021
Friendly helpful staff. Spotlessly clean restrooms!
Oct 16, 2021
Nice park with helpful, friendly staff. We enjoyed our stay and seeing the wild turkeys everyday!!
Oct 16, 2021
Nice campground, restrooms & showers were clean, hot water, friendly hosts, will return.
Oct 15, 2021
Lovely campground that has everything you need, but offers some sense of intimacy as well. It's just the right size to be "there" and also be secluded. We ended up spending 2 nights in a cabin due to an October snow storm. The staff was very helpful and friendly, and we felt welcomed to hunker down till the roads opened up. I'd stay here again whenever our travels allow.
Oct 14, 2021
Friendly, caring staff went out of their way to accommodate my request for special cleaning due to pet allergies so I could safely stay in a kabin. Staff were friendly and helpful throughout our stay. We've been here twice and I would happily come back again!
Oct 14, 2021
Work on the bathrooms. Cut the dead trees
Oct 13, 2021
Very friendly staff and the grounds are clean.
Oct 13, 2021
Stayed 1 week and totally enjoyed our stay. The owners were extremely friendly and staff as well.
Oct 13, 2021
We really liked staying in the deluxe cabin. It was very clean and nice. I would recommend it for sure.
Oct 12, 2021
We live in Rapid City but wanted to get out of town for the long weekend. We were very impressed at the campground. The hosts were very nice and helpful. The bathrooms were kept very clean and our campsite was perfect. The only thing I would suggest is a few more items added to the kids playground. Maybe a swing set or something? Also, being next to the highway, it was not very loud at all!
Oct 12, 2021
Our family favorite. Second stay, booked for next summer. Campground is beautiful, staff goes above and beyond every time. Thank you!
Oct 12, 2021
This is a very nice Campground set in the Ponderosa Pines. We had visits from wild turkeys daily and abundant sunshine! The hosts Tom and Suzanne were very friendly and helpful and accommodating. I love this part of South Dakota and I hope they will be here next season because we want to come back!
Oct 11, 2021
We stayed there for six nights, hosts Peter and Joyce were the best, always very helpful! Would recommend night lighting to the main bathrooms. Internet and cable could have been better, but on vacation, no worries �
Oct 11, 2021
Perfect location, very friendly staff, amazing value for the price and very clean
Oct 11, 2021
Just a quick stay but we havd a great time.
Oct 11, 2021
We enjoyed it and the people working there.
Oct 11, 2021
A little too much road noise
Oct 09, 2021
The futon wasn't very comfortable but other than that it was an awesome place to stay. The employees were absolutely the best!!!
Oct 09, 2021
The cabin we stayed in was very nice and well maintained. The campground was very clean and quiet. It was a good location for visiting several locations in the southwestern corner of South Dakota.
Oct 09, 2021
The staff were very friendly. We only stayed over night. Nice site restrooms were clean. They had lots to do we just didn't have time.
Oct 09, 2021
Hosts were very friendly and knowledgeable about the area. In laws got stuck due to some mechanical issues and hosts were very helpful and had a gave them the name of a mechanic.
Oct 09, 2021
The grounds were clean and accessible. Peter was the best! Kind, friendly, and helpful.
Oct 09, 2021
Great place to stay. Staff was exceptional in both friendliness and helpfulness. Location was perfect for touring the area . We went to Wind Cave, Custer State Park, Mamoth Museum and many other places. Restrooms and park in general were clean and well maintained.
Oct 08, 2021
Awesome staff and owners, good size spaces and peaceful
Oct 08, 2021
Lovely well-maintained park. Nestled in pine forest with plenty of room between sites and some nice open areas. Convenient for exploring Black Hills area. Only real downside is traffic noise from highway. Trucks using engine braking are quite loud and annoying. It wouldn't keep me from staying here again. I would only subtract half a star if I could.
Oct 05, 2021
Love this campground, the peaple that work there are really GREAT, helpful all the time, I will go back.....
Oct 05, 2021
Very good hosts. Lots of trees. Clean bathrooms. Cabins had a/c and a fan and a heater plus a tv. Wow all for $50
Oct 04, 2021
Great place to stay, wonderful staff, great location, clean bathrooms and easy to access.
Oct 03, 2021
Conveniently located near Wind Cave NP and the southern end of Custer SP, this park is relatively quiet (truck engine brakes being the most annoying). Great hosts and many nearby conveniences make this a good stop for a couple of days of exploring.
Oct 02, 2021
The Host were super helpful if you needed help with your set up and very informative on where to see the best sites. Camp is very clean and lots of outdoor activities to do in the nice weather. My only comment is the sites are not all that level very nice shade with the tall pine trees however several campers including ours had issues with the tires off the ground after it was level?
Oct 01, 2021
FANTASTIC . AS ALWAYS . WE LOVE THIS KOA .
Sep 30, 2021
Very tight close spots. Cable was broke and they failed to tell people when they checked in. Several people were checking their own systems thinking they had problems. Poor WiFi. We were in a class A in a pull thru site 56 that was level.
Sep 30, 2021
Staff was very helpful and friendly. Some of the tent sites are on a slant. Make you reservations early as possible, they give out the slanted sites last. Had pancake breakfast for sale, which was not too bad. The pancakes were very popular. At their prices for the sites, pancakes could be included. Close proximity to the area attractions. All told, very nice campground. :)
Sep 29, 2021
The best KOA we have ever stayed at. Staff was awesome
Sep 29, 2021
Outstanding!!!
Sep 29, 2021
Great scenic location to visit Rushmore/Crazy Horse. Friendly helpful staff.
Sep 29, 2021
No working wifi and no ice for sale. Disappointed in both failures.
Sep 28, 2021
Staff were quite friendly and helpful, happy to offer helpful information. The dog yard was nice, bags provided, and the extensive dog walk area was great. The grounds were clean but the trash cans were overflowing. WiFi was very, very slow. Cable TV was down for most of our stay (4 nights) and when back on, gave very fuzzy picture. These are correctable and should not discourage other visitors.
Sep 28, 2021
Awesome site and the price was right. The people were great and helpful.
Oct 14, 2021
Staff was extremely friendly. Nice grounds and set ups. Some spots have concrete pads with grills and table and chairs.
- Todd Watkins on Google
Oct 09, 2021
Friendly staff! Nice park! Dog stations!
- Glenn Coco on Google
Oct 05, 2021
Great staff! Our favorite KOA so far! They have a great dog park and even free mini golf! Super accommodating and friendly staff. We will be back!!
- Mandy Mantovani on Google