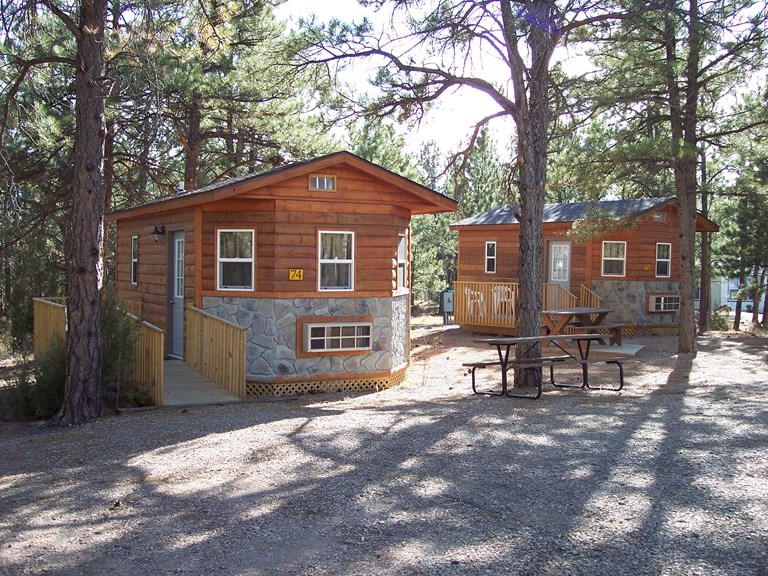 Hot Springs / Black Hills KOA Reviews
WE'RE OPEN with all utilities! Store, main baths, laundry, pool open. Monthlies welcome too!
Directions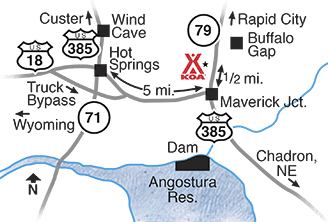 From Wyoming - US 18 Truck Bypass to US 385. Turn right, go 5 miles east, then 1/2 mile north on Hwy 79.
From Nebraska - US 385: go 1/2 mile north of Junction Hwy 79.
From I-90 - US 16 (Elk Vale Road) to Hwy 79 for 48 miles. Located at mile marker 27.
From US 385 - go through town, then go 5 miles east past Taco Johns to Hwy 79. 1/2 mile north on Hwy 79
GPS: N43.40825. W103.39412.
Get Google Directions
Jul 05, 2020
We had the best time. The amenities were excellent and everyone was so friendly. My daughter was so sad to go!
Jul 05, 2020
Our family tent camped and enjoyed the setting among the pines. There wasn't much privacy between you and your neighbors, but there was plenty of shade. The pool was delightful and the staff friendly!
Jul 05, 2020
Great, second time staying here. Nice employees, super helpful.
Jul 04, 2020
Clean facilities and nice staff
Jul 03, 2020
What a great place to stay
Jul 03, 2020
Our kids loved the pool and store. The Kottage was nice and mattress comfortable. We liked the location, off the beaten path. We were a little disappointed the breakfasts were not offered except on weekends, especially because the website had not been updated with that information. We likely would have brought more breakfast foods.
Jul 03, 2020
Excellent!! We will absolutely be back.
Jul 02, 2020
Wonderful management team here at the KOA! Very clean park and amenities. Thank you for a wonderful stay. Guests: you may see reviews about hearing trucks engine break during the night. We did not have a problem at all with noise! Wonderful site.
Jul 02, 2020
Staff was very friendly. They came around and let us know a storm was coming in and we should take our awning down. Everything was clean. Pool was great!
Jul 01, 2020
It was a much needed relaxing, good time. I wish it lasted longer. Thank you for your hospitality.
Jul 01, 2020
Park was clean,attractive and staff was friendly. Location was nice,abit of highway large truck noise. Spaces were somewhat hilly and challenging to level.
Jul 01, 2020
The sites are very close together. Not very attractive, but a reasonable location for some of the area activities.
Jun 30, 2020
They had everything we needed. Great amenities and activities.
Jun 30, 2020
Bathrooms were very clean. The staff was friendly, kind and helpful. I would definitely come back here.
Jun 30, 2020
Great People Nice Campground
Jun 30, 2020
Nice clean campground. Spot was close to bathrooms. Bathrooms were very clean. Came in late but was essily able to find spot.
Jun 30, 2020
Excellent. Staff very helpful!!!!
Jun 29, 2020
We loved our stay here, we came for a family reunion and it was perfect for our group. Thank you!
Jun 29, 2020
We had our family reunion here and it was perfect for our group. The campground itself was nice with plenty of trees for shade. I reserved both a deluxe cabin and an RV site to accommodate our family, both were wonderful! The electric went out on the RV site but was promptly fixed. I would definitely recommend to others!
Jun 29, 2020
Our site had great trees for shade and there was a number of things for the kids to do between our off site adventures.
Jun 29, 2020
Friendly, helpful staff. Nice tent sites. Pretty area
Jun 29, 2020
Very well kept facilities and the staff was helpful and kind. I highly recommend this place when visiting the Black Hills.
Jun 29, 2020
Had a wonderful time!
Jun 29, 2020
The girl at the check in desk was very friendly and helpful. Our site did not have a gravel pad or picnic table.
Jun 29, 2020
Thank you for having us! We will see you next time!
Jun 28, 2020
Clean campground, well stocked store. Friendly staff
Jun 28, 2020
Nice location, friendly folks, good site, easy traveling to Mt Rushmore, Crazy Horse, Rapid City, & Badlands.
Jun 28, 2020
Tent spots to small and to close to neighbors. Trees touching top of our tent. Only one bathroom. Its close to Angostura Reservoir, that's the upside.
Jun 27, 2020
The staff was very helpful and very informative about the area, where to go, what to see and so on!!! The campground was excellent, very clean. Bathrooms were kept up very nice. Wife said water pressure in womens bathroom could have been stronger for the showers but she was glad to have a clean shower so didn't complain much!!! We would definitely stay at this campground again!!!
Jun 27, 2020
Enjoyed the camp ground and people very much.
Jun 26, 2020
Staff is great, friendly and helpful. Location is good, convenient to stores, nice little town
Jun 26, 2020
Well kept. Friendly, helpful staff. Really nice for families. Quiet and lovely setting. Near to all Black Hills attractions. We will recommend it to our kids and their families.
Jun 26, 2020
Great place and great staff! Second time we've stayed there and will definitely do so again!
Jun 26, 2020
We had a great time. Todd and Suzette are awesome. Cannoli
Jun 26, 2020
We had a great stay in a clean and well maintained campsite/campground. Employees were very kind and helpful!!
Jun 26, 2020
Great staff. Everything was very good.
Jun 26, 2020
Everyone is super friendly and Park is really nice. Our site (#9?) was really uneven. Even with three blocks on our front tires we were still uneven. Other than that, it was a great stay and we would come back again.
Jun 25, 2020
Fantastic place to camp. Hosts were very friendly and helpful. Grounds, bathrooms and pool were very clean. Our 11 year old son remarked that the bathrooms were the cleanest he has ever seen at a campground and my wife and I had to agree! Great location based upon proximity to the Black Hills, Mammoth site and other Hot Springs attractions.
Jun 25, 2020
Awesome place. We loved being there. Thanks.
Jun 25, 2020
Not the best KOA we have stayed at. To level our 36' motor home we had three wheels off ground. Did not see a level spot in park. Otherwise it was a very typical KOA. Lot's of camp fires and kids.
Jun 25, 2020
Friendly staff, nice faculties, fun amenities, and nice tent sites.
Jun 25, 2020
stayed 6 nights great people and very clean couldn't ask for more
Jul 08, 2020
One of the best KOA's I've stayed at. The sights are close together but doesn't feel like you are on top of your neighbors. The pool was really clean and the staff was super friendly and helpful.
- Sarah Lio on Google
Jun 23, 2020
Friendly, clean, and comfortable.
- Mark Gefaller on Google
Jun 14, 2020
I must admit our first reason for choosing this location involved price and availability to Mount Rushmore and Crazy Horse. With all of the Covid issues we were not expecting much. Now to the good part, when we arrived we were checked in and given a lot of information on local attractions and events. We were then guided to our campsite and they helped in setting up our trailer. They have on site full hook ups with semi private campsites. The also have, propane fill ups, a playground, small miniature golf course and a swimming pool with lounge area. The people are friendly and the location is kept very clean.
- James H on Trip Advisor

Hot Springs / Black Hills KOA
Open March 1 - November 30
27585 SD Highway 79
Hot Springs, SD 57747
Check-In/Check-Out Times
RV Sites, Tent Sites
Check-in: 1:00 pm, Check-out: 11:00 am
Accommodations
Check-in: 2:00 pm, Check-out: 11:00 am
Hot Springs / Black Hills KOA
Get Google Directions

© 2020 Kampgrounds of America, Inc.