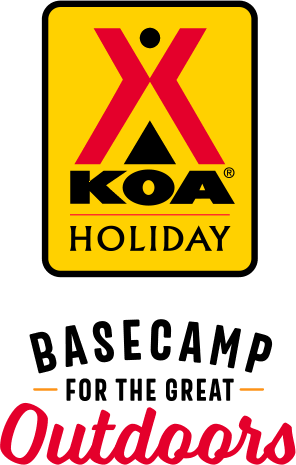 KOA Holiday Campgrounds
Whether you're exploring the local area or hanging out at the campground, KOA Holidays are an ideal place to relax and play. There's plenty to do, with amenities and services to make your stay memorable. Plus, you'll enjoy the outdoor experience with upgraded RV Sites with KOA Patio® and Deluxe Cabins with full baths for camping in comfort. Bring your family, bring your friends, or bring the whole group – there's plenty of ways to stay and explore.
KOA Holidays Feature:
RV Sites with a KOA Patio®
Deluxe Cabins with full baths
Premium Tent Sites
Group meeting facilities
Directions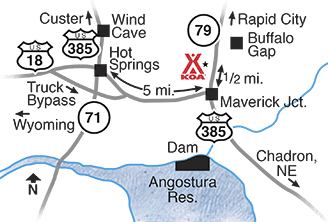 From Wyoming - US 18 Truck Bypass to US 385. Turn right, go 5 miles east, then 1/2 mile north on Hwy 79.
From Nebraska - US 385: go 1/2 mile north of Junction Hwy 79.
From I-90 - US 16 (Elk Vale Road) to Hwy 79 for 48 miles. Located at mile marker 27.
From US 385 - go through town, then go 5 miles east past Taco Johns to Hwy 79. 1/2 mile north on Hwy 79
GPS: N43.40825. W103.39412.
Get Google Directions
Jul 24, 2021
Clean cabin. Friendly staff
Jul 24, 2021
Great pool nice staff would stay again. Breakfast excellent.
Jul 24, 2021
Nice place, friendly helpful staff. Thank you!
Jul 23, 2021
We really enjoyed our stay. Thank you!!
Jul 23, 2021
Site was unlevel
Jul 23, 2021
1 night with 5 y/o grandson, we had a wonderful time. Clean campgrounds and polite staff, along with a pool made that a place we will always remember and cherish!
Jul 22, 2021
Nice campground just sites are a little tight
Jul 22, 2021
This is an absolutely gorgeous spot to camp. I wish we had booked more than one night! The grounds were spotless! The pool was perfect. And breakfast? What a delightful surprise! We will most definitely be back - already looking to book for another year for a longer stay! (Please don't share this - we kind of want to keep it our secret! )
Jul 21, 2021
Very restful.
Jul 21, 2021
Great campground, close enough to things and nice shaded sites. Everything was great
Jul 21, 2021
This is a very nice and well maintained KOA. The location is great. plenty to do for the kids. the pool is a great thing to jump into on those hot days. They have a breakfast that they cook for purchase. Very close to the Mammoth dig sight; and Hot Springs.
Jul 21, 2021
Super nice tent sites and hosts. Well maintained and clean.
Jul 20, 2021
I stayed in a Cabin and had numerus spider bites during the night, might think about fumigating the rooms.
Jul 20, 2021
The hosts were so kind. The best. Campground was so clean and with all the amenities ! The sites with patios are awesome !! Totally recomand
Jul 19, 2021
Nice, clean, and quiet campground. You'll have to drive a ways to get to a grocery store, but it's not that big a deal. Staff was friendly and helpful.
Jul 19, 2021
Check-in was easy and the staff provided excellent customer service. The pull-in area was level and easy to hook up to. The facilities were all clean and in working order. We enjoyed the pizza and thought it was a great offering. They also had a selection of local wines which we picked up. The mini-golf was under construction but the course looked great. Its a great area to stay in.
Jul 19, 2021
Great break in our tent camping adventure. At check in we were given information on the area that really helped us make the most out of our time! Very nice dog park to let my pups burn off some energy from a day in the car. All of the staff was so nice and helpful. Cannot recommend enough!
Jul 19, 2021
We were able to select our tent site. Manager was kind enough to allow such options. Bathrooms were clean; the pool was great. Even the kids playground was super. Being on the highway frontage, there were some engine breaking early in the evening. We stayed for 3 nights and the experience was awesome.
Jul 19, 2021
Awesome. People friendly and very clean
Jul 19, 2021
Excellent cabin and knowledgeable owners and staff. Good location to parks and sites.
Jul 19, 2021
The park was located in good location. The staff was very friendly and the site was great. Nice patio set and grill were in great shape.
Jul 18, 2021
This was our first stay. We will definitely return. Very nice property - very clean and well maintained. The campsites were well shaded. At the same time, we were able to use our satellite dish. Very good amenities. Staff was very friendly and helpful.. Had a very nice breakfast menu.
Jul 18, 2021
Great campground, very clean, nice location, clean bathrooms. Really enjoyed staying here.
Jul 18, 2021
The employees were incredibly nice, and you can tell they take pride in their resort. Space was incredibly limited, with 4 kids it was pretty tight.
Jul 18, 2021
The amenities are nice but, the spaces are too close together. We stayed in cabin 27 and the electric and water hookups were right next to our fire pit. The night we stayed there was not an RV in the spot but a car with people sleeping in it was right next to where we were sitting at our picnic table and fire pit.
Jul 17, 2021
The prettiest koa we've ever been to.
Jul 17, 2021
Excellent facilities, staff was extraordinarily helpful. Food was great. Dog park was very clean, but could have been better if there was water available.
Jul 17, 2021
Friendly helpful staff. Some sites are steep (28 inch jack on an 8 inch foot barely leveled our trailer) but that did help run off the torrential rain storm during the night so there was no standing water in the morning.
Jul 17, 2021
It was a nice place to stay. Staff was amazing. Served breakfast and had a variety to choose from. First time staying at a koa and I was very pleased
Jul 17, 2021
Friendly staff, clean restrooms, and good breakfast served.
Jul 17, 2021
Never have we experienced truly great service like we did here. They did everything to be accommodating! Great place for families....
Jul 16, 2021
Very helpful and pleasant staff.
Jul 16, 2021
It is a very well kept property. Very Clean. Bathrooms were very clean. Laundry was very clean. Sites are not too close together. Very welcoming upon arrival and our cabin was ready early! Great location!
Jul 16, 2021
We had a great visit! The staff was very friendly and helpful! The coffee and breakfast was delicious! The cabin was awesome, I loved that it had a fridge and tv!�
Jul 16, 2021
We loved it ! The place was spotless, staff was very kind and they have a terrific breakfast menu every morning! I would definitely stay here again and recommend it . One of the nicer KOA campgrounds
Jul 16, 2021
Extremely nice clean camper cabin with patio, outside seating,grill and fire pit. Very pleasant stay.
Jul 15, 2021
Cable was not the best.
Jul 15, 2021
Too much truck brake noise. We stayed in tent site and one of your workampers across from us had an air conditioner unit that sounds like a jet engine when it ran. Not a very peaceful or quiet place to stay. But facilities were very nice.
Jul 14, 2021
The staff was super helpful and very happy to help with all questions regarding the best sites to see and overall info about the campground itself. It was really clean and my kids had a great time! We had a site with a patio / pull through for our RV which was perfect for s'mores and late afternoon relaxing. Great place to stay and would recommend!!!!
Jul 14, 2021
Very clean, great accommodations and friendly staff
Jul 13, 2021
Excellent amenities and the friendliness staff.
Jul 27, 2021
Really enjoyed breakfast
- Janis Schirer on Google
Jul 26, 2021
We had the best stay here. The place is exceptionally clean and easy to navigate. The staff is not only friendly and helpful, but they actually seem to enjoy their jobs. The breakfast was outstanding - eggs, sausage, gravy, hash browns, pancakes, etc. It was also fun to sit outside with other campers from all over every morning drinking our coffee and talking about the adventure from the previous day or the plans for that day. Others grabbed their food and went back to their sites to relax, options for everyone. The location is in great proximity to the Mammoth site and Hot Springs, less than an hour to all of the action. We enjoyed having a little distance from the scene. It gave us a chance to see the beauty of the Black Hills - including wildlife - every day before navigating the traffic, people and parking in the park.
- Karen Woods on Google
Jul 25, 2021
Only disadvantage about this KOA was that the sites were pretty compact. Bathrooms were clean, the office hours were open late enough, sites were pretty level from left to right though there were some incline issues front to back. Don't leave without trying the breakfast burrito (and breakfast in general) - very good and reasonably priced. Staff helpful and friendly, nice pool, good shade around campground, convenient to Custer and Wind Cave, etc. Great KOA!
- Dave Evans on Google