Local Area Attractions Near Hot Springs National Park KOA Holiday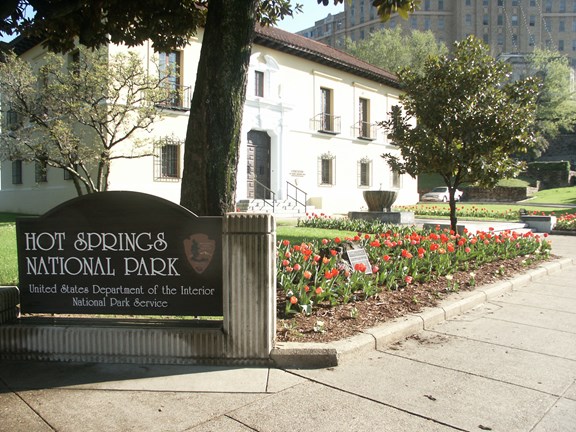 Hot Springs National Park
Water. That's what attracts people to Hot Springs.
Old documents show that American Indians knew about and bathed in the hot springs during the late 1700s and the early 1800s. Their ancestors may have also known about the hot springs.
Some believe that the traces of minerals and the temperature (143 F/62 C) gie the waters whatever therapeutic properties they may have. People have used these hot springs for more than two hundred years to treat illnesses and to relax.
Both rich and poor came for the baths, and a town built up around the Hot Springs Reservation to accommodate them. Together nicknamed "The American Spa," Hot Springs National Park today surrounds the north end of the city of Hot Springs, Arkansas.
Come - touch and taste the water. The hot springs are open for all to enjoy.
515 Central Ave
Hot Springs, AR 71901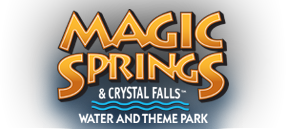 Magic Springs & Crystal Falls
There is no better place for family fun in Hot Springs than Magic Springs and Crystal Falls. Arkansas' only water and theme park.
Splash around in the Crystal Falls wave pool. Catch waves on the Boogie Blast surf simulation ride. Then dry off on high flying thrill rides, including the Arkansas Twister, the Gauntlet and the X-Coaster, which shoots 150 feet into the air and corkscrews down at more then 65 mph!
There is fun for the little ones on family and kids' rides. Plus when the sun goes down on summer Saturday nights, the lights go up in the Timberwood Ampitheater for all-star entertainers to take center stage.
1701 E. Grand Ave
Hot Springs, AR 71901

The Belle of Hot Springs
Your ticket is your passport to beautiful Lake Hamilton. Sit back and relax aboard the Belle, a 250 passenger riverboat, and enjoy the captain's narration as he unfolds secrets of America's "Spa City."
His entertaining tour includes million dollar mansions, natural islands, quaint resorts, panoramic views of the Ouachita Mountains, colorful anecdotes, humorous stories, and well researched historical information.
The Belle has sailed beautiful Lake Hamilton since 1984 and continues to entertain visitors to Hot Springs National Park on a daily basis. Enjoy our 15 mile cruises for sightseeing, lunch, or our most popular cruise, the sunset dinner/dance cruise passenger
5200 Central Highway 7 South
Hot Springs, AR 71913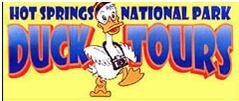 National Park Duck Tours
Come climb aboard one of our 12 World War II ducks and enjoy a 75-minute sightseeing adventure of Lake Hamilton and beautiful Hot Springs National Park on a National Park Duck Tours ride.
The "Ducks" depart across from Historic Bathhouse Row in downtown Hot Springs and proceeds through town to Lake Hamilton for a cruise around St. John's Island.
We invite you to come have a "quacking" good time!
418 Central Ave
Hot Springs, AR 71901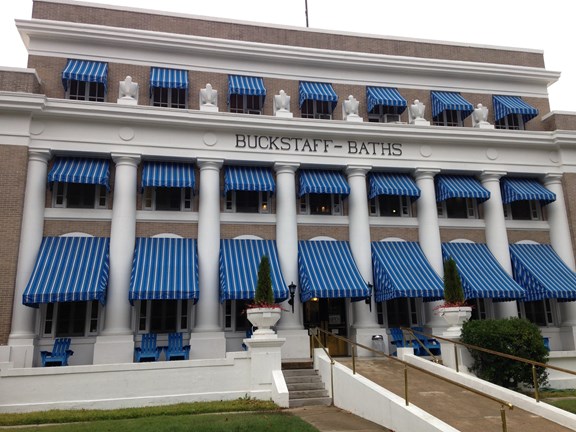 Buckstaff Bath House
Located On Historic Bath House Row in beautiful downtown Hot Springs, Arkansas, the Buckstaff is the only remaining operational bath house within the boundaries of the Hot Springs National Park and has been in continuous service since 1912.
Still today the visitor to our city can experience the natural unadulterated thermal mineral waters, that have been known for centuries for their therapeutic value in the relief of common ailments such as arthritis, bursitis, rheumatic and gouty conditions and other common afflictions.
Weary visitors can utilize the same waters and treatments to relax and unwind from a fantastic vacation or business trip.The Buckstaff Bath House still offers a traditional style treatment with its staff of highly trained and dedicated personnel. Offering you the privacy of individual tubs, with an all men's department on the first floor and the 2nd floor being dedicated to the ladies.
To bathe at the Buckstaff, you need only present yourself during the admission times (no reservations or appointments accepted). All supplies and linen are provided to cover your self Roman style between your bathing stations (bathing suits optional). Each department has locking lockers and small valuables may be deposited at the front desk in private lock boxes. Some age and health restrictions may apply, your inquiry welcome.
509 Central Avenue
Hot Springs, AR 71901