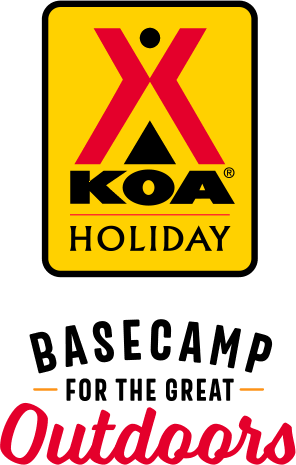 KOA Holiday Campgrounds
Whether you're exploring the local area or hanging out at the campground, KOA Holidays are an ideal place to relax and play. There's plenty to do, with amenities and services to make your stay memorable. Plus, you'll enjoy the outdoor experience with upgraded RV Sites with KOA Patio® and Deluxe Cabins with full baths for camping in comfort. Bring your family, bring your friends, or bring the whole group – there's plenty of ways to stay and explore.
KOA Holidays Feature:
RV Sites with a KOA Patio®
Deluxe Cabins with full baths
Premium Tent Sites
Group meeting facilities
Directions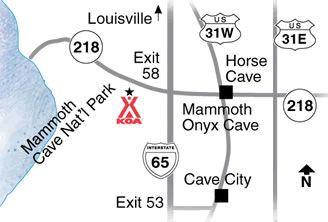 Exit 58 off I-65 on Hwy 218 only: 0.2 miles off exit ramp. entrance to KOA is located between gas station and hotel.
GPS address: KOA Ave, Horse Cave, KY.
GPS: N37.201987, W85.940852
Get Google Directions
Jun 03, 2023
Amazing campground. The only thing that would make it absolutely perfect is a noise walk between the camp and highway.
Jun 03, 2023
Kia staff friendly and helpful we had slide problem.Bathrooms are awesome
Jun 02, 2023
The office staff have been wonderful working with us to have a place to stay. Our bus was disabled the morning we were supposed to check out. Eating on mobile service from Cummins.
Jun 02, 2023
Absolutely beautiful kept KOA. GREAT job!
Jun 01, 2023
This was a very new KOA. The facilities were really clean.
May 31, 2023
Everyone was so nice and everything was kept nice and clean. Definitely would recommend
May 31, 2023
The stay was very good. We missed our first day because of mechanical issues but they held our site for us. Was disappointed we did not have a site with sewer,but we made do. Our family all met there and good time was had by all.
May 30, 2023
The park was well maintained and clean. Staff was very pleasant. Lots of things for the kids to do.
May 30, 2023
Very nice and well kept campground !
May 30, 2023
Great weekend! Everyone is always very nice and it's a quiet campground
May 28, 2023
Very difficult to get level on pull thru site 87. No trees whatsoever. Just gravel on a slope. Very close to interstate so road noise was really bad. Laundry is nice.
May 27, 2023
Very nice KOA near Mammoth Cave and Hidden River Cave in Kentucky. Didn't see the insides but they had some very cool looking tree houses, Conestoga wagons and teepee. Shower facilities were super nice: 10 basically full baths in the building attached to the office. A nice enclosed dog park with agility equipment. Very nice lady at the front desk. The only detractor was the noise from I65.
May 27, 2023
The location was perfect for all of the activities available in the area. The grounds were well maintained and the overall amenities were great. Individual bathrooms were a huge plus. But, There are also some downsides. DO NOT EXPECT YOUR SITE TO BE LEVEL! This KOA is built on the side of a hill so leveling can be a real challenge, especially in a motorhome. CLEAN THE SHOWER FLOORS!!
May 26, 2023
Very nice campground
May 25, 2023
We can't really rate the campground because we didn't make it. Without reminders (at least one maybe the day before arrival), it was easy for us cross-country travelers to lose track of our orig confirmation. We totally forgot we had res at KOA and so instead pulled in somewhere else. We were reminded only when we got a receipt and survey the morn AFTER our sched stay. So we paid for nothing
May 25, 2023
Our last spot was off level in our RV was leaning.
May 24, 2023
Our stay was very nice and we loved the camp ground! The only disadvantage is how close the interstate is because of noise!
May 24, 2023
Site very unlevel . Could not even get close to level with blocks under motorhome . Otherwise nice park lots of road noise from hiway .
May 23, 2023
The campground met our needs but won't be back. It's awkward. Most campsites were pull offs. There ABSOLUTELY needs to be speed bumps put in place on the main road as this is a busy area with kids at play. The dump station is nonfunctional- wrong side. An alternative option should be aval. for for their PAYING guests. An hour lost- had to stop at Love's and pay for the dump service.
May 23, 2023
We had site 27, it had rained that Fri night we had very little gravel on our lot we had a big muddy mess. The mud was up to the sides of our shoes and our rug and camper was a mess. I told the girl at the counter and asked her if we could get a little Rock to make a path. She said yes but no one ever came to help. Still loved your place, baths were the best we have ever seen.
May 23, 2023
Our spot was parallel with the road so we had many 6' at the most between the side of our mh and the road, so there was no relaxing outside. The site was very uneven, dirt and so skinny that the table was behind us, we had no fire pit. The people across from us used our spot to back in almost hitting our car. It would be okay for a 1 night stay, but I wouldn't stay any longer.
May 22, 2023
We loved our visit. I just wish we didn't have to check out at 11:00 a.m.
May 22, 2023
Very clean, friendly. Loved there covered wagon's where you could rent and sleep' cookers outside also the tree houses and the tee pee's for sleeping.I'm missing a lot. a must visit - Loved it. Thank You for having us, Bob and Cindy
May 22, 2023
Our spot was not very level and the electric, water and sewer hook-ups were so far apart we had to pick which one we wanted to use. So we dumped our tanks and filled our fresh water tank and then we parked near the electric station. It worked but was annoying.
May 22, 2023
Beautiful campground with lots of amenities!
May 21, 2023
The only thing better would've been cable TV. I'm sure this is not common, but the person who checked us in, a young lady with light hair was not especially upbeat. I guess a bit disinterested. She was not rude, but not helpful. The dark-haired young lady, was more welcoming and very friendly. The park was very nice, and we were very satisfied with our stay..
May 20, 2023
Everyone was very helpful. Biggest issue we had was the severe slope our trailer was put on for the pull through. That and the road noise can get to be a bit much from the interstate.
May 18, 2023
The campground was very clean and nice. The shower facility was exceptionally clean as well. The office staff was very helpful and friendly. We had a great time.
May 18, 2023
Excellent view and enjoyed campsite #7. Thank you...
May 18, 2023
43 feet coach campsite so un level. Slides and jacks won't open Will not stay there again
May 18, 2023
We just stayed overnight.
May 16, 2023
I love the environment, things to do at the KOA and the Location to other activities.
May 16, 2023
Disappointed that we were not escorted to our site Disappointed that the pool was not open and in use Your bathrooms are beautiful though
CAMPGROUND RESPONSE / COMMENTS:
We escort starting Memorial weekend just like our pool is to be open Memorial Weekend.
May 15, 2023
EXTREMELY Clean and WELL MAINTAINED Spacious Campsites Friendly Staff Great Location.
May 15, 2023
We had a great time, lovely large Koa. We were in a back in site with full hook ups. Sites are nice but we, and neighbors had to work hard at getting camper level
May 15, 2023
1st KOA, got the membership because we loved it so much. Spacious, clean, inviting, and cozy.
May 15, 2023
Very Clean. Great people at the counter. Two young girls who have a wonderful attitude, and great customer service.
May 14, 2023
We stay one night several times a year when passing through this way. Convenient, clean showers, lots of options for camping.
May 14, 2023
The entrance of the park is very nice looking and clean, along with rest of park but it stops when you get to your pull thru site. We had site # 85 and from front to back was unlevel by 2.5' we could not get the coach level to put out our sides, in 6 years of full-time travel this was hands down worst site of any KOA or private park that we stay in, would not stay their again if site not level
CAMPGROUND RESPONSE / COMMENTS:
I am sorry for the unpleasant stay. As our discussing we are working on getting these sites concreted.
May 12, 2023
Very accommodating for a very late reservation. one of the nicest campgrounds I've ever stayed at, the individual bathrooms with showers were top notch. The lovely southern lady who took our reservation and helped us when we arrived was just the sweetest woman. We will stay again the next time we are in the area. Thank you for your hospitality.
May 11, 2023
Park has potential. The tree in the middle of the entrance is a huge obstacle and blocks access. Cement curbs are problematic as gravel sites are lower so its easy to bottom out your rv if you aren't careful. Staff are wonderful, bathrooms are superior and the park is very clean. Highway noise is very loud but we were fine by the second night.
May 09, 2023
Nice and clean campground, don't expect to pick up any channels on tv if using antenna. WiFi is weak, had to use hotspot on phone to stream channels.
May 09, 2023
Wonderful stop, wonderful people. A must stop. Restrooms are amazing & so clean. Views too! So many amenities for adults & children. Looking forward to staying again in June. Thank you ��
May 08, 2023
Beautiful campground! Loads of things for kids to do. Lots of area attractions.
May 08, 2023
Paid for a pull through. They tried to give me a back in spot. The lot they gave us was narrow. We walked right out into the road from our camper.
Jun 06, 2023
The campsite had a lot of gravel, so definitely needed the sleeping pad. Additionally, there is a good bit of highway noise, and the fire ring doesn't have a cooking grate, so plan accordingly. The staff was very pleasant, and the bathrooms were very clean and looked to be recently updated. They also have a ton of amenities for kids to play with, which was great.
- Craig Schreiner on Google
Jun 05, 2023
Great place
- Tracey Nunyabiz on Google
Jun 04, 2023
This was our first time staying at the campground and we were extremely impressed. The staff was beyond kind, the campsite is the cleanest we've ever stayed at, everything seemed to be brand new, and the landscaping was beautiful. Would recommend!
- Cheryl Davidson on Google