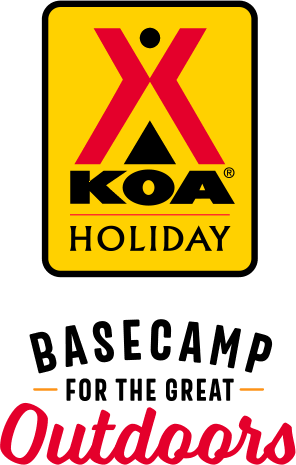 KOA Holiday Campgrounds
Whether you're exploring the local area or hanging out at the campground, KOA Holidays are an ideal place to relax and play. There's plenty to do, with amenities and services to make your stay memorable. Plus, you'll enjoy the outdoor experience with upgraded RV Sites with KOA Patio® and Deluxe Cabins with full baths for camping in comfort. Bring your family, bring your friends, or bring the whole group – there's plenty of ways to stay and explore.
KOA Holidays Feature:
RV Sites with a KOA Patio®
Deluxe Cabins with full baths
Premium Tent Sites
Group meeting facilities
Directions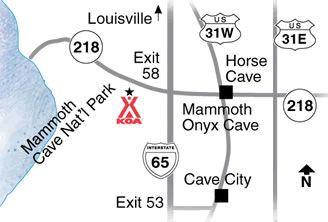 Exit 58 off I-65 on Hwy 218 only: 0.2 miles off exit ramp. entrance to KOA is located between gas station and hotel.
GPS address: KOA Ave, Horse Cave, KY.
GPS: N37.201987, W85.940852
Get Google Directions
Oct 25, 2021
Location is too close to highway and unfortunately too noisy for us to stay again. Another issue is that many of sites are not level and are in need of crushed stone to level them out, especially around the new pavement. Our site had big tire ruts the entry, a cigar and chicken bones left on the site, and a rotted and broken picnic table. The wagon cabins and treehouse cabins were incredible.
Oct 25, 2021
We really liked this one. It's much more dimensional than you see from the map or photos, built on terraced levels in the side of a hill, nice mature trees and woods surrounding. It is right off of highway I-65, which you can see and hear, but this didn't bother me like I thought it might. Was a nice reminder that there's a busy world out there, but the campground itself is very peaceful.
Oct 25, 2021
Hosts were wonderful to work with; very accommodating. Restroom/shower areas very clean. Always a fun time at this KOA
Oct 25, 2021
We stayed in the covered wagon for a long weekend and were impressed with the décor and comfort of the wagon. The view was absolutely beautiful! We will definitely be back for another stay.
Oct 25, 2021
To close to the highway and the sights are all not level
Oct 25, 2021
Several of the sites had excessive slope from front to as make leveling a motor coach impossible. Please level sites 77 thru 83 or don't rent to motor coaches
Oct 25, 2021
The deluxe cabin is so beautiful! The furniture and beds are adorable and super comfy. The location of the deluxe cabin at horse cave is HORRIBLE!!! Right by the highway, I won't stay here again but I will at another KOA cabin where it's not right by a hotel and a highway. The counters in the kitchen were disgusting, no bath products at all and no warning that they were awaiting a shipment of
Oct 25, 2021
Great experience. We'll maintained campground and friendly staff...
Oct 25, 2021
nice large area. new camp. nice clean restrooms. need a remote restroom.
Oct 24, 2021
Not suitable for a 45' Class A. Maybe 3 sites. Ours had no sewer. Shame on us for not verifying services. Our site needed more gravel. If they want to attract big rigs, they need to lengthen sites and level them. Location was fine. Wagons looked cool!
Oct 24, 2021
4th time we camped overnight between our trips from Tennessee and Indiana enjoyed it each time.
Oct 24, 2021
All was great just a little noisy from interstate traffic
Oct 23, 2021
Enjoyed the facility! Very nice office and shower house. All KOA staff were kind and courteous. Campsites are nice and all hookups worked great. Picnic table on site 41 needs attention as does the fire pit and the gravel against the street curb.. Miniature golf is a nice distractions but again needs attention. Nice distraction that my wife and I enjoyed. Will stay again!
Oct 23, 2021
Just an overnight w/late arrival and early departure. Facilities were clean but reserved site with full hook up and assigned to spot without sewer. At least tell me on the confirmation and don't charge me the full hook up rate.if you don't have the site available.
Oct 21, 2021
Very good but our site near I-65 so traffic was loud. Other than that it was great
Oct 21, 2021
Friendly staff and they brought the firewood to our camp spot. They also let us check out late during the week because we had a cave tour in the morning.
Oct 21, 2021
Loved my stay and the staff was wonderful!!!
Oct 21, 2021
Wonderful hosts, and activities. The kids loved the giant pillow and playgrounds. We even played mini-golf. Staff was great and helpful. Our spot was not perfectly level, but we made due. The Amish store and Zoo across the freeway were great and just down the road was lots of things to do.
Oct 20, 2021
Easy location. Good size sites.
Oct 19, 2021
We stayed at one of the pull through sites which were close to the highway so it was very noisy. We were not told Saturday was trick or treat night so we had no treats for the trick-or-treaters
Oct 19, 2021
The lot we were told to take was impossible to access with the trees right across from site. We tried another one which was so uneven we couldn't level our camper. The lots were not what the map showed some with no lot whatsoever. Will never stay there again.
Oct 18, 2021
We have stayed before in the wagons and love it. The Halloween weekend was a bit of a disappointment as no one knew who won any contests especially the age brackets or decorating. My boys put a lot of effect into both. Trash can outside were very full and the bathrooms could use more cleaning attention.
Oct 18, 2021
We so enjoyed our stay here. Would recommend to any family or friends.
Oct 18, 2021
First time staying in a cabin at KOA - very nice! Was so glad to be able to bring dogs. Cabin was clean and the campgrounds were very nice
Oct 18, 2021
Wonderful and amazing! I highly recommend!
Oct 18, 2021
Need to finish fixing the roads and pulling in and out of camp spots. More gravel on camp sites where site 81 is it got messy with the rain. Eliminate large areas where rain water sits.
Oct 18, 2021
The campground was quiet
Oct 18, 2021
Just spent 1 night, entrance not labeled well, I did arrive late at night and missed the small red arrow so pulled in the wrong way and no obvious place to turn around in park, had to exit and reenter, curb on front of campsite made it more difficult to back in since it wasnt back filled behind it, glad it didn't tear up my tires, other than the difficulty getting in, the park looked pretty nice.
Oct 18, 2021
Dump station is made for when you drive in NOT FOR when you leave you have to drive down to gas station and turn around or just carry waste . I JUST LEFT
Oct 17, 2021
The park is very clean and spacious. Lots of fun things for the kids to do. The staff were very friendly and helpful. Enjoyed our stay immensely.
Oct 17, 2021
Nice pull in sites. Level. Very clean shower house. Have stayed there twice, just for passing through. Didn't spend alot of time there. Would stay again.
Oct 17, 2021
Friendly staff. Clean cabin. Nice gift shop. Mini golf was challenging but very plain could use some color or decorations. Good dog park, lots of green space. Pool was closed (early OCT) even though it was still very hot. Maybe consider keeping open longer. Too close to interstate, could use a tree screen. Some fire pits needed improvement. Close to tourist attractions. Overall good stay.
CAMPGROUND RESPONSE / COMMENTS:
Our pool closes after Labor Day.
Oct 16, 2021
Campground is very clean and has great things for kids to do. However, the campground is right off the interstate and the noise from the traffic driving by is very loud. Seclusion is very nice when camping. I would recommend planting a bunch of trees beside the interstate to block the sound and view of the cars. Other than that this campsite is very nice.
Oct 16, 2021
Great staff! Beautiful area; beautiful park! Had an issue finding a level lot for our motorhome.
Oct 16, 2021
We arrived just as the office was closing. The girl was more concerned about leaving than making sure we knew where our site was. She locked the door on another group trying to get a place for the night. LIghting was terrible and we drove around the park looking for the site. Several of the other campers helped us find the site.
Oct 15, 2021
First time staying there or any Koa…..we had a great time staying in one of the wagons! Brought our grandchildren and they loved it….they're already talking about coming back!