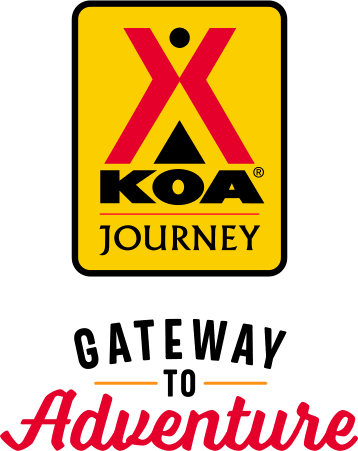 KOA Journey Campgrounds
KOA Journey campgrounds are the perfect oases after a day on the road. Whether it's along the way or a quick getaway, they've got you covered. Located near the highways and byways of North America with long Pull-thru RV Sites, they deliver convenience to the traveling camper. Pull in, ease back and take a load off.
KOA Journeys Feature:
Pull-through RV Sites with 50-amp service
Premium Tent Sites
Well lit after hours check-in service
Directions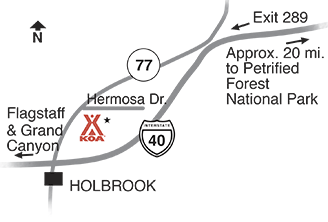 Driving east on I-40: Exit 286, left under I-40, 1 mile to Hermosa, take a right 100 yards to entrance.
Driving west on I-40: Exit 289, right 1.5 miles to Hermosa, left 100 yards to entrance.
Get Google Directions
May 08, 2021
There was dog poop all over our campsite. There was still debris in the grill area. The campsites were just too close. The shower head forced you to touch the wall while showering with what little water pressure there was. The pool was nice but it was overflowing and filthy. The 2 girls at the desk were very kind. We would not come back nor recommend.
May 08, 2021
Nice clean space! Very pleasant stay.
May 08, 2021
Camp staff not wearing masks while guest waiting for service were masked; we found very disrespectful during Covid times
May 08, 2021
we were very pleased with the attractiveness and quiet. The picnic areas with plenty of grill units gives it a special perk.
May 07, 2021
great property and great staff
May 07, 2021
Gave me 1 of the 2 sites w/o a shade trellis canopy over picnic table, the other 8 sites had them. Grass was sparse, water spigot had no handle.
May 07, 2021
Narrow spaces. So narrow we ripped our roof trying to get out of one to move to another. I don't understand why they put us in the first spot because when you reserve you tell them you have slide outs. Good cable and Wi-Fi. Great store.
May 07, 2021
Hook-ups all functional; showers adequate. That's all we needed for one night. However, the basic "non-luxury" spaces are literally packed cheek by jowl. When I went around to open our water & electric, I could have sat at our neighbor's picnic table. I understand the need to recoup infrastructure costs, but the spaces were ridiculously tight. Our least favorite KOA to date.
May 06, 2021
Love this KOA. Stayed in a site with a paw pen and my dog was in heaven. Friendly staff. Spacious, gravel sites. Good WiFi. Large fenced dog park. Good cable TV. Quiet even with the freeway nearby.
May 06, 2021
Stayed on our way East and we're very pleased with the improvements since our previous visit in September 2020. Sites are level, not spaced to close and a lot of ongoing improvements being done such as the fencing between sites. Very nice and no problem getting our 45' MH and towed pickup in or out! We will stay longer next time and visit more of area!
May 06, 2021
Staff are friendly and the campsites are big, we asked to be near a restroom and we were accomodated. The campground is maintained but the restroom drains smell like a dirty mop, which was offputting. The town and area it's located is not very vibrant, but it's close to some of the Route 66 sites, WigWam hotel, Winslow, Crater and petrified forest.
May 06, 2021
Nice facility, no issues on an overnight stay. Not a fan of crushed rock on roads/site.
May 06, 2021
Beautiful surroundings!
May 06, 2021
Hosts very accommodating.
May 05, 2021
Small, quiet, friendly neighbors, friendly and helpful staff. The only thing I would personally like is to be able to select a site when reserving. We arrived around 3.30 pm and only one site left!
May 04, 2021
I was in a tight spot that had my door right in front of my neighbor's sewer connection.
May 04, 2021
Warm, friendly, helpful and accommodating.
May 04, 2021
The positives; the park sites are much improved from last year. They are ample for our big 5th wheel to manuver and the site hookups look brand new. The new trees are a big plus. The negatives; the park owner is not the friendliest I've ever meet. He lests his frustrations with COVID spill into his contacts with customers. I don't need to hear hs political views about this or that president.
May 04, 2021
Holbrook KOA is great! I have stayed in a RV site and a cabin there. Clean and courteous is a good description of this KOA. The rates are fair. Take time to see the Petrified Forest.
May 04, 2021
Friendly staff and well maintained. Only negative is the wifi is weak.
May 04, 2021
Great place very quiet ��
May 04, 2021
Campground was unkept. Picnic tables were located right next to the black water sewage dumps, which is unsanitary when you're trying to eat. Very disappointed in this campground.
May 04, 2021
Lots of equipment for the children but most is old and needs to be updated. Pancake breakfast was advertised but the gentleman at the desk stated they hadn't started that yet. Shouldn't be advertised then or dates should be given. Dog walk area has no bags in the containers just rocks. My girlfriend stated that this KOA had won the Presidential Award. I responded "Which one, McKinley?"
May 04, 2021
We stayed one night. Our site was nice and wide. It was easy to get to and to get in and out of the campground. We were not escorted to our site, which isn't a problem for us but might be for new rvers. The cable was somewhat lacking but was sufficient for one night.
May 03, 2021
Fantastic! Great location and very accommodating.
May 03, 2021
I booked a one-night space for three RVs. The park and the bathrooms were very clean. The office and store was friendly and helpful. We thought that the spaces were narrow for RVs with pop-outs. Someone pulled in next to us at 6PM, just as I was setting the table for a group dinner, and the pop-out was only two feet away from our picnic table. Too close for comfort.
May 03, 2021
Spaces for overnighters are very close together. When sitting outside or at picnic table you see neighbors hookups. Maybe install a small wooden wall to separate sites a bit? Otherwise, campsite is okay for overnight stay.
May 03, 2021
Our site was very narrow. All we saw was the RV next to us. Other sites looked better. I wouldn't make a online reservation for this park. If you call you would probably get a site that would fit your needs.
May 03, 2021
We had a full hook up site but the sewer line was too far away to be usable. The playground has MANY safety concerns. I have photos detailing the playground problems. Our previous stay was in a perfect site. This site was not as nice or roomy.
May 03, 2021
The campground was clean and our patio was very nice. Staff were friendly and helpful. Cable was in need of upgrades.
May 03, 2021
I might stay at Holbrook KOA again, but it needs to be cleaned better. The showers were always FILTHY and I cringed every time I entered, but I had to use them. When I arrived, my space contained a lot of cigarette butts, bottle caps, etc., which I picked over the fours days I was there. The camp kitchen sinks and the sink outside the restrooms were FILTHY too. Nice KOA, but needs better cleaning!
May 02, 2021
We had a great wide lot. The staff was wonderful... very friendly and helpful. Their recommendations for food and drink were perfect.
May 02, 2021
More like a 3.5. This is a decent place to spend the night or even stay to see the Petrified Forest. We stayed 4 nights. Didn't have any problems. It's all gravel but I guess you can't expect more in the middle of the desert. Will definitely use this as an overnight stop on anytime we head west.
May 02, 2021
Space 19 is way too close to 18. The wooden pergola took up all the space and didn't provide any shade. I really don't understand the purpose of it.
May 02, 2021
Super convenient right off freeway. Excellent check in process. Great overnight waypoint
May 02, 2021
The bathrooms, most especially the toilets, near the tent sites were a mess. All drains were full of mud and hair, as if they had not been cleaned in a while. The tent site was "clean enough," but had cigarette butts, dog poop, and bottle tops strewn about. I appreciate that renovation seems to be "in the process," but this campground was not up to snuff compared to other KOA campgrounds.
May 02, 2021
We tent camped and the spot was OK but there was a lot of highway noise. Bathrooms were clean, which was great! But the wifi didn't seem to reach our site so that was a bummer.